262Uploads
178k+Views
165k+Downloads
Objective: To better understand and use keywords in the cells and diffusion topic. Who is it for: Scientists who have poor literacy, recall and spelling skills. Differentiation opportunities: Use the Spiderman Glossary for struggling scientists. What is in the resource? - Spiderman themed glossary comic - Dominoes activity matching key words with definitions - Activity circle with 6 activities. To use this I put students in groups of 3, each student choosing 2 of the activities. Alternatively you could use this as a "hot potato" activity by giving students a set time (3 minutes) to start the task and then they have to pass their work on to the person on their left. They will then continue where the previous student left off etc. - Giant Wordsearch and hidden message - Kinasthetic activity where students have to unjumble a sentence relating the topic. Wherever possible I have included the answers.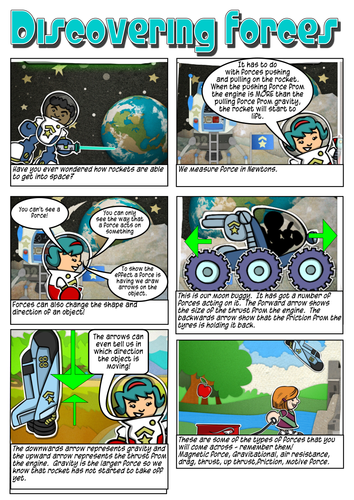 Suitable for KS3 and SEN GCSE students. Learning Targets - to name some forces, draw suitable forces arrows, describe types of forces There are three parts to the resource, - a comic strip explaining what forces are and how to draw force arrows - a newspaper template for students to complete, with instructions - a comic strip type activity to demonstrate that they are able to draw force arrows, name forces and describe them. This type of resource presents information in a more student-friendly manner than textbooks, so very suitable for the reluctant reader.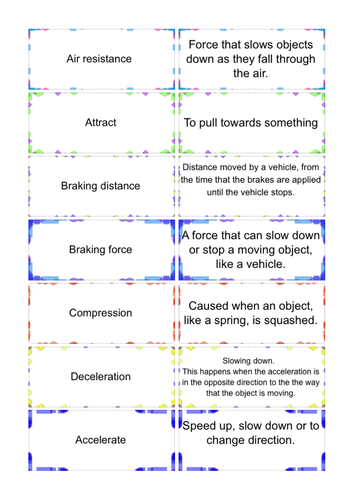 This resources contains 2 activities, one a set of 26 flash cards ideal for revision and a second file with the same 26 terms and definitions in the form of a card sort. This is an ideal activity for GCSE revision or a starter for the new year 10 physics curriculum.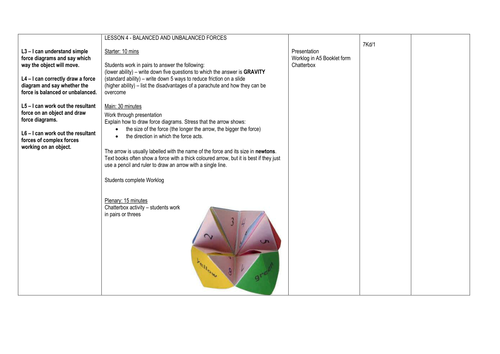 Ready to go lesson. There is no practical in this lesson. Differentiated by outcome. L3 – I can understand simple force diagrams and say which way the object will move. L4 – I can correctly draw a force diagram and say whether the force is balanced or unbalanced. L5 – I can work out the resultant force on an object and draw force diagrams. L6 – I can work out the resultant forces of complex forces working on an object.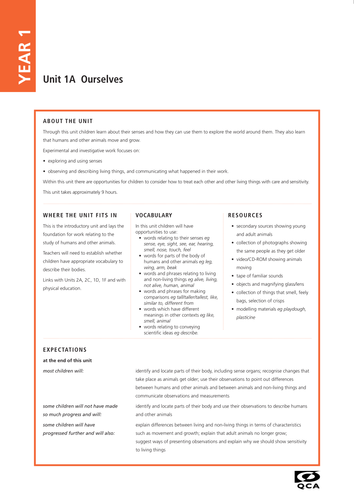 I found this document after a long search on the internet. It dates back to early 2000 and has the complete breakdown of topics, learning objectives, outcomes, possible activities and teaching notes. Published by the QCA.
A wide selection of activities all checked against the new specifications and suitable for teaching in 2018. Suitable for KS3 and KS4 Foundation.
This is a lesson in a box - all you need for a great, engaging lesson! The resource is for all GCSE students from grade 1 to grade 8. It includes 2 knowledge organisers from which they answer the questions. The Organic Chemistry tube map question sheet (questions differentiated by the route colour) Tube Map Students are given instructions to get from one underground tube station to another answering questions or doing tasks along the way. Grade 1 - 3 Will use the black and yellow route Grade 4 - 6 will use the Red and yellow route Grade 7 upwards will use the brown and dark blue route (this is shown at the bottom of the worksheet). The activity is highly engaging as students try to navigate a route through stations. Although this works perfectly well as an independent task, students gain much from the discussions and debates around the answers. Your groups will be best set in pairs of similar achievement.
A very good revision or consolidation activity, suitable for level 1 - 5 students. This can be used as a pair or an independent activity. This is a very engaging activity, usually lasting up to 30 minutes. Ideally the end product should be peer assessed. Highly suited to SOLO taxonomy. Some ideas on how to use the resource: 1. Students work in groups of 2 and make as many sentences as they can using the words in the grid. The scores are then totalled for each sentence. For example: " Photosynthesis produces oxygen and glucose" each of these words carries a 5 point score, totalling 15 points for that sentence. 2. Students are given a set of dice, student A roles and for example, should they role a 6 and 3 those are the co-ordinates for word 1. Student B then roles a set of co-ordinates and together they need to formulate a sentence to show how these words are linked. 3. Students are placed in groups of 2. Student A makes a simple sentence using only 2 of the grid words, for example: photosynthesis produces oxygen. Student B then has to add a third word to the sentence: photosynthesis produces oxygen and glucose. Student A then tries to add another word and so on until one is unable to complete the sentence, the total point score for that sentence will then go to the last student to add a word.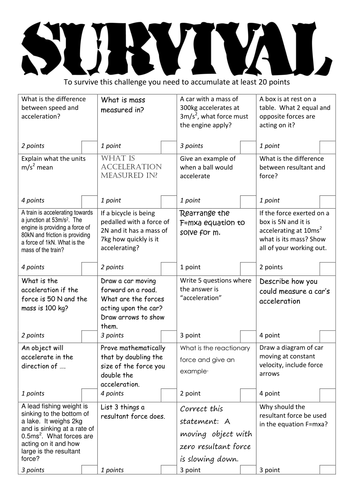 A resource for my mixed ability groups with a focus on challenge and independence. Students select the questions they would like to answer - each has a point value, higher points are more difficult questions. Answers attached
Show students the presentation that explains each step of the fertilisation and germination process. Students are given the images sheet and asked to include a narration/description/explanation for each image. There is a help sheet included for those who struggle. Students can present this in a number of ways, storyboard, leaflet etc. however I prefer them to do it on a foldable as shown in the photograph. See the link to show you how to make the foldable.https://www.youtube.com/watch?v=R7UZ6Iv8b_Y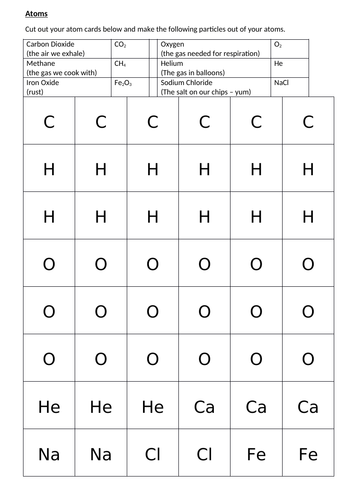 This resource asks students to make simple compounds (chemical formulae given) using element cards.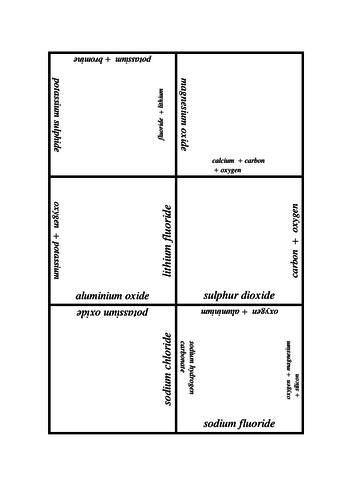 Tarsia Puzzle with reactants and products. Forms a square - 16 pieces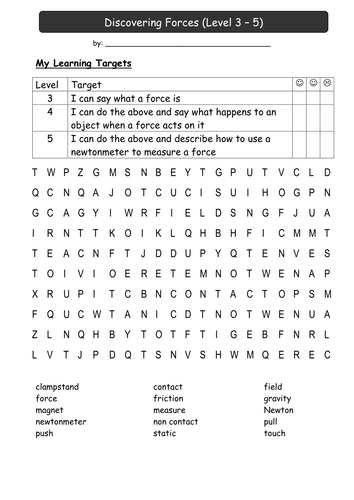 Lesson 2 can be found here http://www.tes.co.uk/teaching-resource/Forces-Yr-7-Less-2-Friction-6347935/ The first lesson of this SoW, follow the link for lesson 2. Designed to encourage students to work with peers and consists of 3 similar, but differentiated activities and is great for a mixed ability or setted groups. The lesson plan is detailed enough to give all the information you need. I usually use this as a the introduction to year 7 Forces.
This resource is suited to either foundation or higher students and focuses on recall and application of knowledge. All information on the cards relate directly to AQA spec. The resource consists of 4 resource cards (double sided) 8 question sheets (best if copied onto A3) A grade 1 - 5 worksheet A grade 6 - 9 worksheet How to run the activity:- Put students into 8 mixed achievement groups. Issue each group with a different coloured felt tip. Group selects a scribe. Each group is given the set of cards (Card 2 is the most challenging). The students are given 5 minutes to read and recall their information. Put the 8 x A3 questions around the room and allocate a group to each. Students have 30 seconds to answer the question WITHOUT USING THEIR CARDS. Students rotate to the next sheet of paper with a different question (using their same coloured pen) and are going to add to the existing answer on the paper. Rotate groups until they are back at their original question. Groups then use their cards to check and add to the answers and feedback a consolidated answer to the group. As a final consolidation exercise students can work individually to complete the differentiated Y-diagram activities.
Objectives: Understand the difference between alternating and direct current. Describe the role of the live wire and neutral wire in the mains electrical supply. How to read oscilloscope traces. How to use an oscilloscope. Suitable for higher or foundation. This is a complete lesson and includes: -Starter (on presentation) Complete presentation that clear explains and links to the objectives Plenary (on presentation) A worksheet that focuses on the objectives A feedback sheet that includes WWW and EBI as well as text to help them answer the feedback questions. I use this in conjunction with a demonstration of the oscilloscope and signal generator, although it is not essential as the presentation is very detailed.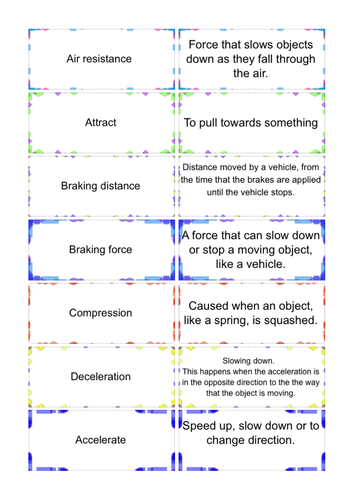 This resources contains 2 activities, one a set of 26 flash cards ideal for revision and a second file with the same 26 terms and definitions in the form of a card sort. This is an ideal activity for GCSE revision or a starter for the new year 10 physics curriculum.
This resource is most suited to KS3 biologist or as a KS4 lesson for struggling scientists. The presentation has all of the information necessary for students, however a 2 page student text is available with all of the information on (and some extra for those you want to stretch) There are a range of activities to choose from depending on your groups. These include: - A set of notes in dyslexic font and comic sans. - A ready-to-complete graphic organiser to help students describe and give examples of levels of organisations (text books or the notes above are suitable aids). - A multiple choice question bank (11 questions) and answer sheet. - A cloze word search for your struggling scientists with an answer sheet. I have included a photograph of some of the resources.
Objectives: Say what a plug casing is made of and to identify the colours and positions of wires in a plug. Describe the function of each of the wires. Explain the safety features associated with mains electricity Suitable for upper foundation and higher. Included are:- A complete presentation including starter and plenary An activity Comprehensive notes Feedback Marking Sheet with Tasks.
Suitable for foundation students. Objectives: To revisit/revise/summarise the reproduction and inheritance topic. Running Time: 30 minutes What do you get: - A double sided A4 Knowledge Organiser, with keyword definitions, key point summaries, diagrams. - A worksheet with 15 questions that vary in difficulty from grade 3 - grade 5 (see image) - A help sheet for those who are really struggling. - An answer sheet for peer assessment. A basic lesson guide: Do it now/starter: - Read Knowledge Organiser to remind students of key points Main: - Students complete the worksheet - differentiate by giving the knowledge organisers to some and knowledge organisers and help sheets to others - higher achievers in the class shouldn't need either. Peer Assess using the mark scheme. Plenary: - multiple choice assessment (this will inform future planning) I would suggest using Quick Key App to scan the answer sheets and get instant feedback (https://get.quickkeyapp.com). Its free, quick and saves time marking (I've included the link above).
Full lesson, presentation, worksheet, feed back sheet, , revision activities, recall activities
THIS RESOURCES CONTAINS A SET OF FLASH CARDS, RECALL CARD SORT AND A 21 QUESTIONS ACTIVITY WITH SEPARATE ANSWER SHEET. SUITABLE FOR FOUNDATION AND STANDARD DEMAND STUDENTS. AVAILABLE IN BOTH FULL COLOUR AND BLACK AND WHITE
These resources match the AQA separate science specification and are suitable as in class or revision activities. Included are: a set of 21 revision flash cards and answers a large card sort suitable for paired or individual work a hexagon activity which forces links between concepts a set of questions based on factual recall
Simplified text for your SEN, EAL, or reluctant readers. Topics include: Sexual and Asexual Reproduction, DNA and Genome, Inheritance in Action Images for all of the pages you are purchasing are available in the preview. They print well in colour or black and white. It allows struggling scientists to access text with all the key information, but with a lower overall reading age. On average the text is suitable for those with a reading age of 11 years or greater (using Flesch-Kinkade). The diagrams are clear and uncluttered. Content is focused on key points. Each resource is approx 2 A4 pages.
Objective: Understand the differences and similarities between specialised cells. Understand the adaptations of specialised cells. Understand how to build a content rich paragraph. The fact builder is suitable for higher ability KS3 and KS4 students. Used in conjunction with textbook or other reference material it forces students to clarify their thinking before writing, as well as encouraging their interaction with text. There are 5 fact builder worksheets, all similar to the one displayed, including: - red blood cells, sperm cells, root hair cells, leaf cells and muscle cells I have included the Power Point file and the pdf should you wish to tailor them to your students. Instructions: Students use their text books to find out about the adaptations, design and function of the cell in question. Students choose 5 of the most important keywords and write it in the space provided Finally students answer the question incorporating the keywords they have identified.