275Uploads
184k+Views
170k+Downloads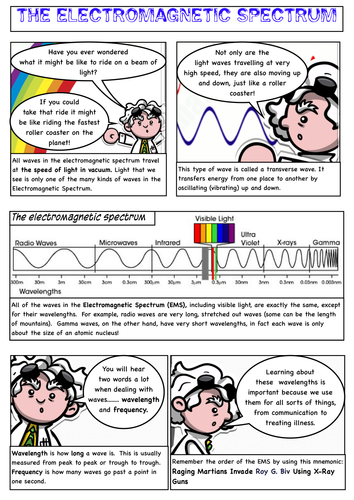 Activity Length: 40 minutes Suitable for GCSE students of all abilities. This is a 3 part resource. The first is a comic book style text that introduces EM waves as being transverse and as waves of different lengths and frequency (there is an explanation as to what these terms mean). The second part is a user friendly worksheet, again in a comic book style, where students can use textbooks, video or internet to discover the uses, dangers, advantages, disadvantages, frequency and wavelengths of the spectrum. My students enjoy using the comic-book style textbooks, in particular my reluctant readers and dyslexic students, however, there should always be an alternative source information around, like a text book, to ensure that they are exposed to text of all types. The third is a powerpoint file of the comic book if you should wish to present it rather than printing it. The activity will challenge the higher abilities as they will be expected to apply their knowledge in a compare and contrast activity, while also being expected to produce work that shows a deeper understanding. Keywords: transverse wave, electromagnetic spectrum, light, communication,
This is suitable for struggling scientists at ks4 or KS3 at any level. Following the Specification of the new curriculum as at 2017, the lesson objectives are as follows: To understand the relationship between mass and weight, that mass is a property of an object and how to calculate weight using the equation W=mxg. The resource has a short introduction to mass and weight and has 2 activity sheets, one for low achievers and another for higher. I have included the .jpg files of each in case you wanted to put them in any other formats.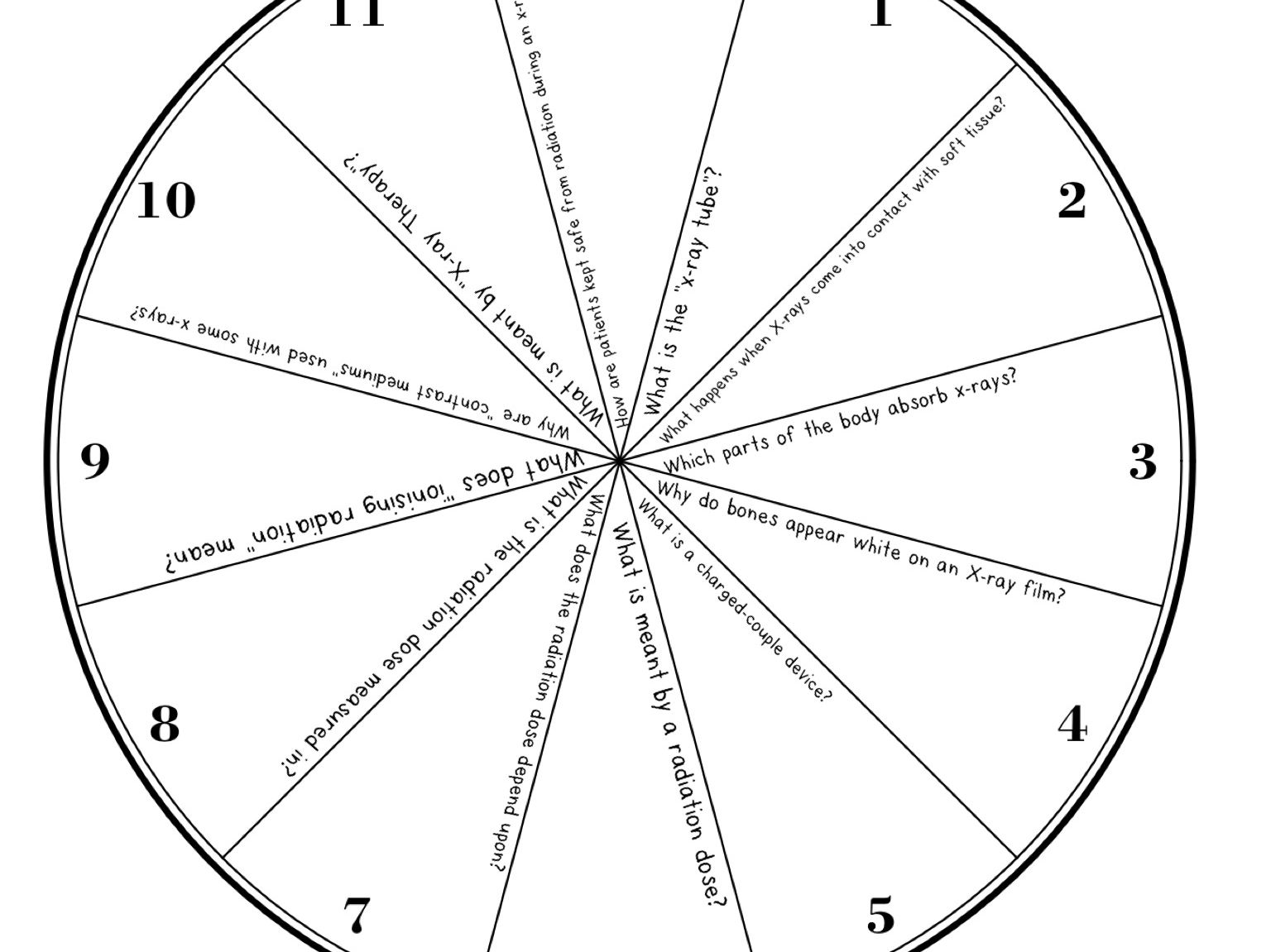 Objective: To understand what x-rays are used for, the dangers and safety precautions related to medical x-rays and how x-rays work. Clock activity is suitable for all abilities and can be used in a variety of ways: - "hot potato", seat students in pairs and issue the clock questions, in their pairs students choose a question and are given 2 minutes to find and write and answer. The sheets are all rotated and students choose another question to answer on the next sheet. Sheets are rotated 12 times and students end up with their original sheet in front of them. Go through the answers and students correct where appropriate. - give students information on x-rays (printed webpages, textbooks etc), and working in pairs complete the activity. Webquest activity is suitable for higher achievers. Students are required to complete a set of notes on a graphic organiser and then using only those notes, write a newspaper report. Both of these activities lend well to peer assessment and paired work.
A complete lesson and extra activities. Objectives: Describe how the ear works Recall the parts of the ear and their functions. Your pack includes a presentation, tarsia puzzle, cut and paste jigsaw, worksheet.
This resource is ideal for both the new and legacy AQA course. It consists of 2 identical crosswords, excepting that the one for foundation students has some of the letters already inserted. A very good resource to consolidate learning or for revision.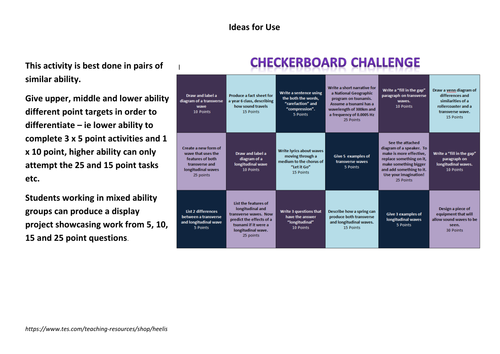 Suitable for all GCSE groups and higher KS3 Activity is designed to foster challenge in a fun and engaging way. The checkerboard is made up of a number of activities, each with a point value depending on difficulty. Students then choose the tasks they would like to do, however, teachers can control the level of challenge by assigning "total score targets" depending on ability. The activities force independent enquiry so it is always handy to have textbooks and dictionaries to hand if possible. Every time I have used this activity I am surprised by the enthusiasm and quality of work produced.
PLEASE CONSIDER BUYING THIS AS PART OF A BUNDLE AND MAKE FURTHER SAVINGS. Included are a piece of text on cables and plugs, a codebreaker activity and hidden message wordsearch.
This resource is made up of a puzzle and questions relating to Energy Transfers. There is also a task asking students to design a rollercoaster taking into account the energy transfers needed to make it more thrilling.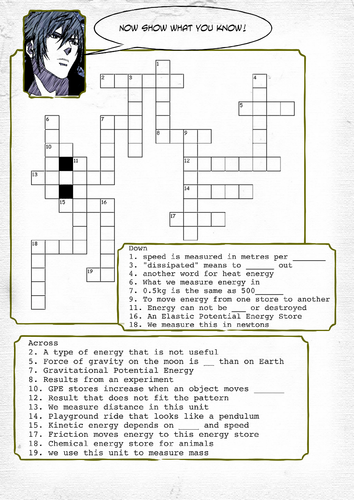 Error now corrected Suitable for lower achievers at KS4 or higher at KS3. Page 1 has content relating to energy types, transfer, dissipation, GPE and KE, work done. Page 2 is a crossword based on the above. You can save on this purchase by buying this as part of a bundle https://www.tes.com/teaching-resource/new-2018-aqa-physics-energy-11356971
THIS RESOURCES CONTAINS A SET OF FLASH CARDS, RECALL CARD SORT AND A 21 QUESTIONS ACTIVITY WITH SEPARATE ANSWER SHEET. SUITABLE FOR FOUNDATION AND STANDARD DEMAND STUDENTS. AVAILABLE IN BOTH FULL COLOUR AND BLACK AND WHITE
Objectives: Understand the difference between alternating and direct current. Describe the role of the live wire and neutral wire in the mains electrical supply. How to read oscilloscope traces. How to use an oscilloscope. Suitable for higher or foundation. This is a complete lesson and includes: -Starter (on presentation) Complete presentation that clear explains and links to the objectives Plenary (on presentation) A worksheet that focuses on the objectives A feedback sheet that includes WWW and EBI as well as text to help them answer the feedback questions. I use this in conjunction with a demonstration of the oscilloscope and signal generator, although it is not essential as the presentation is very detailed.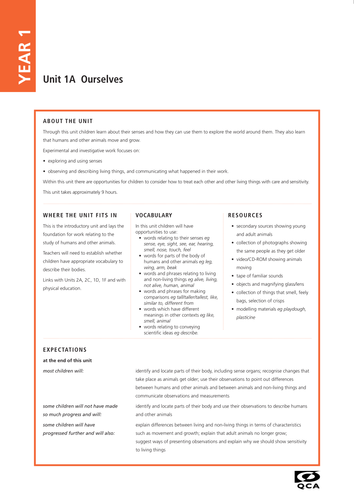 I found this document after a long search on the internet. It dates back to early 2000 and has the complete breakdown of topics, learning objectives, outcomes, possible activities and teaching notes. Published by the QCA.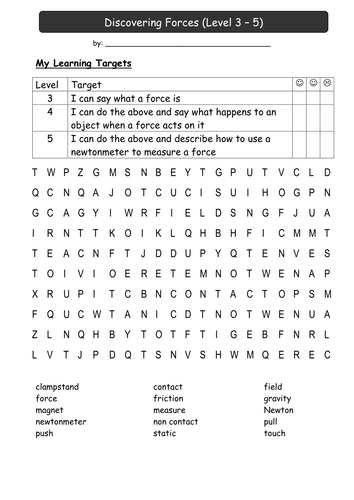 Lesson 2 can be found here http://www.tes.co.uk/teaching-resource/Forces-Yr-7-Less-2-Friction-6347935/ The first lesson of this SoW, follow the link for lesson 2. Designed to encourage students to work with peers and consists of 3 similar, but differentiated activities and is great for a mixed ability or setted groups. The lesson plan is detailed enough to give all the information you need. I usually use this as a the introduction to year 7 Forces.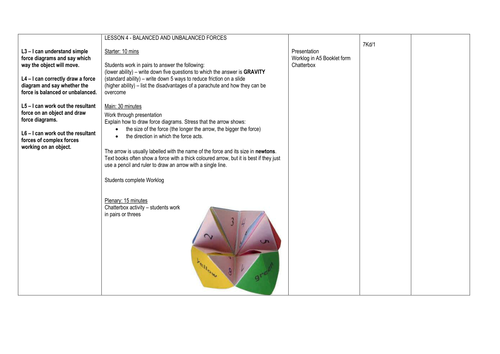 Ready to go lesson. There is no practical in this lesson. Differentiated by outcome. L3 – I can understand simple force diagrams and say which way the object will move. L4 – I can correctly draw a force diagram and say whether the force is balanced or unbalanced. L5 – I can work out the resultant force on an object and draw force diagrams. L6 – I can work out the resultant forces of complex forces working on an object.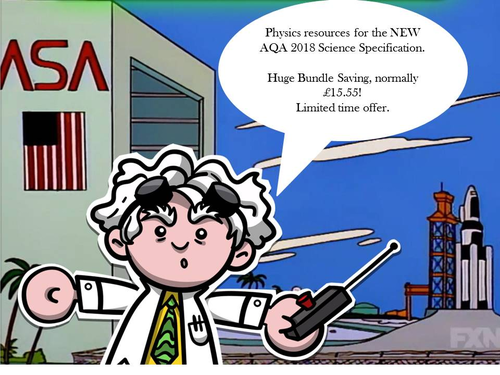 A handpicked selection of 20 engaging physics resources suitable for the new NEW 2018 AQA GCSE. Includes, calculations, homeworks, in class activities and presentations. Energy Stores, Acceleration, Power, Electricity, Stars, Specific Heat Capacity etc.
A very good revision or consolidation activity, suitable for level 1 - 5 students. This can be used as a pair or an independent activity. This is a very engaging activity, usually lasting up to 30 minutes. Ideally the end product should be peer assessed. Highly suited to SOLO taxonomy. Some ideas on how to use the resource: 1. Students work in groups of 2 and make as many sentences as they can using the words in the grid. The scores are then totalled for each sentence. For example: " Photosynthesis produces oxygen and glucose" each of these words carries a 5 point score, totalling 15 points for that sentence. 2. Students are given a set of dice, student A roles and for example, should they role a 6 and 3 those are the co-ordinates for word 1. Student B then roles a set of co-ordinates and together they need to formulate a sentence to show how these words are linked. 3. Students are placed in groups of 2. Student A makes a simple sentence using only 2 of the grid words, for example: photosynthesis produces oxygen. Student B then has to add a third word to the sentence: photosynthesis produces oxygen and glucose. Student A then tries to add another word and so on until one is unable to complete the sentence, the total point score for that sentence will then go to the last student to add a word.
This is a lesson in a box - all you need for a great, engaging lesson! The resource is for all GCSE students from grade 1 to grade 8. It includes 2 knowledge organisers from which they answer the questions. The Organic Chemistry tube map question sheet (questions differentiated by the route colour) Tube Map Students are given instructions to get from one underground tube station to another answering questions or doing tasks along the way. Grade 1 - 3 Will use the black and yellow route Grade 4 - 6 will use the Red and yellow route Grade 7 upwards will use the brown and dark blue route (this is shown at the bottom of the worksheet). The activity is highly engaging as students try to navigate a route through stations. Although this works perfectly well as an independent task, students gain much from the discussions and debates around the answers. Your groups will be best set in pairs of similar achievement.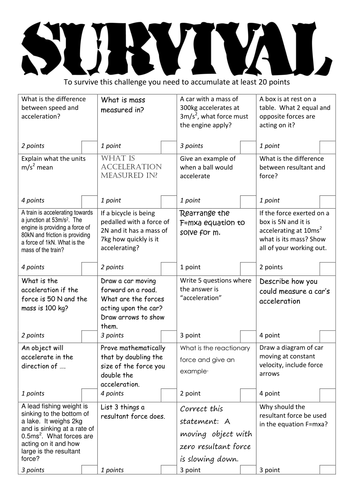 A resource for my mixed ability groups with a focus on challenge and independence. Students select the questions they would like to answer - each has a point value, higher points are more difficult questions. Answers attached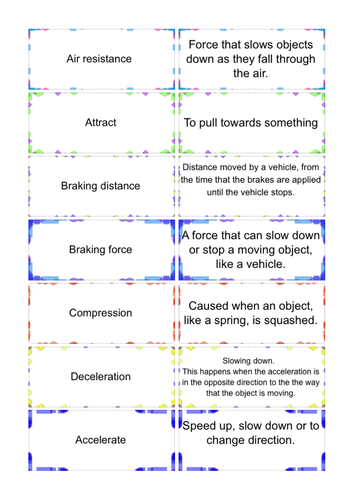 This resources contains 2 activities, one a set of 26 flash cards ideal for revision and a second file with the same 26 terms and definitions in the form of a card sort. This is an ideal activity for GCSE revision or a starter for the new year 10 physics curriculum.
This activity can be used in a variety of ways. Students can be given the puzzle and activity sheets or just the activity. Alternatively the company "pin board" can be used as an excellent revision tool or starting point for notes. Another way in which to use it is to ask lower achieving students to complete an exam question using the board.