Objective: To better understand and use keywords in the cells and diffusion topic. Who is it for: Scientists who have poor literacy, recall and spelling skills. Differentiation opportunities: Use the Spiderman Glossary for struggling scientists. What is in the resource? - Spiderman themed glossary comic - Dominoes activity matching key words with definitions - Activity circle with 6 activities. To use this I put students in groups of 3, each student choosing 2 of the activities. Alternatively you could use this as a "hot potato" activity by giving students a set time (3 minutes) to start the task and then they have to pass their work on to the person on their left. They will then continue where the previous student left off etc. - Giant Wordsearch and hidden message - Kinasthetic activity where students have to unjumble a sentence relating the topic. Wherever possible I have included the answers.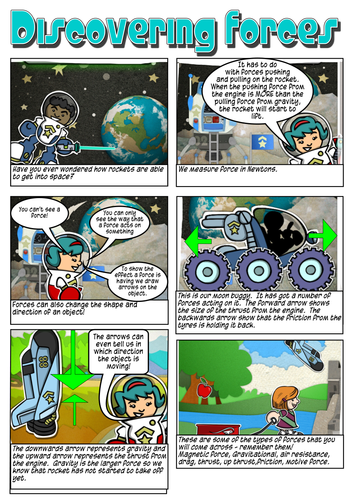 Suitable for KS3 and SEN GCSE students. Learning Targets - to name some forces, draw suitable forces arrows, describe types of forces There are three parts to the resource, - a comic strip explaining what forces are and how to draw force arrows - a newspaper template for students to complete, with instructions - a comic strip type activity to demonstrate that they are able to draw force arrows, name forces and describe them. This type of resource presents information in a more student-friendly manner than textbooks, so very suitable for the reluctant reader.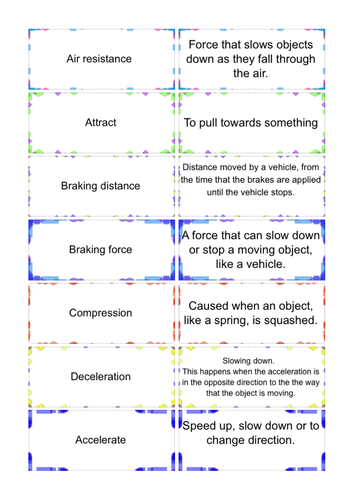 This resources contains 2 activities, one a set of 26 flash cards ideal for revision and a second file with the same 26 terms and definitions in the form of a card sort. This is an ideal activity for GCSE revision or a starter for the new year 10 physics curriculum.
A complete lesson and extra activities. Objectives: Describe how the ear works Recall the parts of the ear and their functions. Your pack includes a presentation, tarsia puzzle, cut and paste jigsaw, worksheet.
This resource is suitable for KS3 or foundation GCSE. Outcomes: - Describe how sound travels - Explain the link between particles and sound moving through a medium and which medium sound can move the easiest through - Use their knowledge to predict where and when sound waves will not travel Key words: energy, vibrations, particles, medium, solid, liquid, gas, sound waves, squash, compress Lesson Plan Outline Starter Teams get 2 minutes thinking time to brainstorm what they know about sound – write one main idea on their whiteboards. Use a Rubens Tube, speaker and beads, or tuning fork in water to explore ideas and questions. Main: First hand experience to build concepts Small circus of experiments Students use a ruler on desk or an elastic band to explore how sound travel Students put ear to desk and knock to experience how sound travels Explain: Teacher input to formalise concept or extend - Sound is made through vibrating air particles/pressure changes - Particles in air, liquid and gas can all transfer sound, but particles travel quickest through solids Elaborate: Demonstrate Learning Students use resources to complete their hotmap and write up their description. Extend: Apply to unfamiliar concepts Via Hotmap Evaluate (AfL): Pupil reflection (self or peer) Self assess using learning log
Objective: To recall and understand key terms Running Time: 30 minutes The activity consists of 2 sheets one for standard/higher demand and the other for lower demand. Students match key words with definitions or for higher tier, students write their own definitions. This can be stretched by asking students to link the concepts.
Suitable for foundation students. Objectives: To revisit/revise/summarise the reproduction and inheritance topic. Running Time: 30 minutes What do you get: - A double sided A4 Knowledge Organiser, with keyword definitions, key point summaries, diagrams. - A worksheet with 15 questions that vary in difficulty from grade 3 - grade 5 (see image) - A help sheet for those who are really struggling. - An answer sheet for peer assessment. A basic lesson guide: Do it now/starter: - Read Knowledge Organiser to remind students of key points Main: - Students complete the worksheet - differentiate by giving the knowledge organisers to some and knowledge organisers and help sheets to others - higher achievers in the class shouldn't need either. Peer Assess using the mark scheme. Plenary: - multiple choice assessment (this will inform future planning) I would suggest using Quick Key App to scan the answer sheets and get instant feedback (https://get.quickkeyapp.com). Its free, quick and saves time marking (I've included the link above).
This resource is most suited to KS3 biologist or as a KS4 lesson for struggling scientists. The presentation has all of the information necessary for students, however a 2 page student text is available with all of the information on (and some extra for those you want to stretch) There are a range of activities to choose from depending on your groups. These include: - A set of notes in dyslexic font and comic sans. - A ready-to-complete graphic organiser to help students describe and give examples of levels of organisations (text books or the notes above are suitable aids). - A multiple choice question bank (11 questions) and answer sheet. - A cloze word search for your struggling scientists with an answer sheet. I have included a photograph of some of the resources.
Designed to put the ideas in a clear and concise manner for those who struggle with literacy or science. The reading age of this text is around 11 years.
Simplified text for your SEN, EAL, or reluctant readers. Topics include: Sexual and Asexual Reproduction, DNA and Genome, Inheritance in Action Images for all of the pages you are purchasing are available in the preview. They print well in colour or black and white. It allows struggling scientists to access text with all the key information, but with a lower overall reading age. On average the text is suitable for those with a reading age of 11 years or greater (using Flesch-Kinkade). The diagrams are clear and uncluttered. Content is focused on key points. Each resource is approx 2 A4 pages.
A range of resource to use with year 10 foundation groups. Focused on the photosynthesis aspect of Bioenergetics, it is particularly useful to go over the key concepts of the topic. This works well in groups for the card sort activity, or as an independent learning task when using the question activity. It is also a good revision resource with over 20 flash cards. Answers are provided.
A very good revision or consolidation activity, suitable for level 1 - 5 students. This can be used as a pair or an independent activity. This is a very engaging activity, usually lasting up to 30 minutes. Ideally the end product should be peer assessed. Highly suited to SOLO taxonomy. Some ideas on how to use the resource: 1. Students work in groups of 2 and make as many sentences as they can using the words in the grid. The scores are then totalled for each sentence. For example: " Photosynthesis produces oxygen and glucose" each of these words carries a 5 point score, totalling 15 points for that sentence. 2. Students are given a set of dice, student A roles and for example, should they role a 6 and 3 those are the co-ordinates for word 1. Student B then roles a set of co-ordinates and together they need to formulate a sentence to show how these words are linked. 3. Students are placed in groups of 2. Student A makes a simple sentence using only 2 of the grid words, for example: photosynthesis produces oxygen. Student B then has to add a third word to the sentence: photosynthesis produces oxygen and glucose. Student A then tries to add another word and so on until one is unable to complete the sentence, the total point score for that sentence will then go to the last student to add a word.
Suitable for content to be first examined in 2018.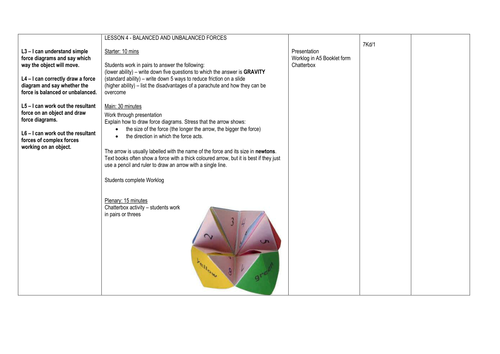 Ready to go lesson. There is no practical in this lesson. Differentiated by outcome. L3 – I can understand simple force diagrams and say which way the object will move. L4 – I can correctly draw a force diagram and say whether the force is balanced or unbalanced. L5 – I can work out the resultant force on an object and draw force diagrams. L6 – I can work out the resultant forces of complex forces working on an object.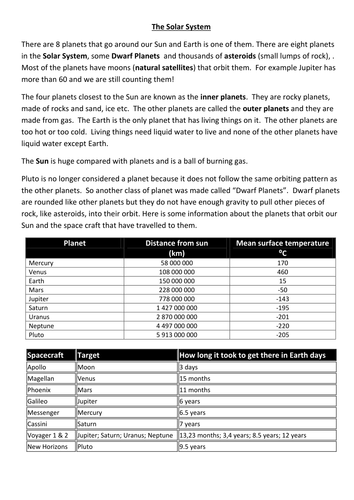 This activity is in the style of a takeaway menu and caters for all students from level 3 -8. Students are given the Information Sheet and Takeaway Menu. They then choose any starter, main and dessert to complete independently. cressida-bowden takes credit for the solar system cards http://www.tes.co.uk/ResourceDetail.aspx?storyCode=6073029 and the takeaway menu format credit to @teachertoolkit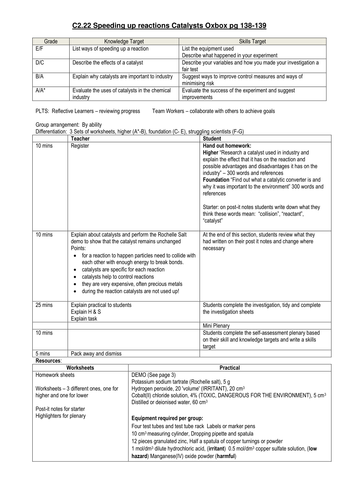 Use the presentation and the lesson plan as an overview. 3 different worksheets (best printed as booklets) for different groups (struggling scientists are the lower ability groups). Lesson starts off with the most fabulous colour changing catalytic reaction showing that catalysts do not change or get used up in the reaction. I found it best to print these in small booklet form.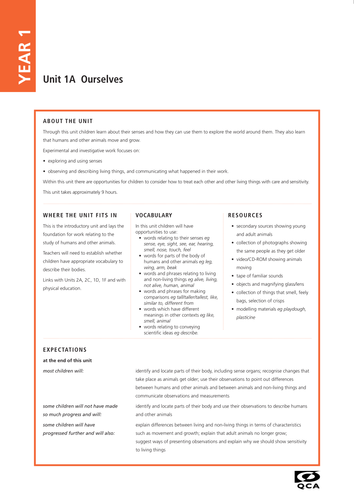 I found this document after a long search on the internet. It dates back to early 2000 and has the complete breakdown of topics, learning objectives, outcomes, possible activities and teaching notes. Published by the QCA.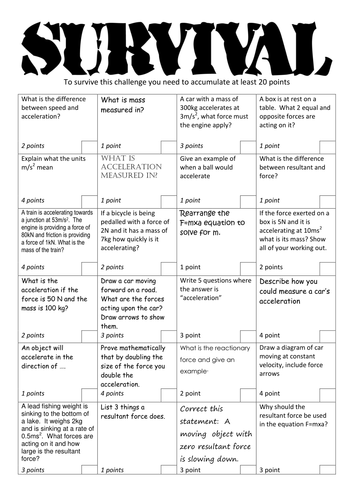 A resource for my mixed ability groups with a focus on challenge and independence. Students select the questions they would like to answer - each has a point value, higher points are more difficult questions. Answers attached
Objective: Understand the differences and similarities between specialised cells. Understand the adaptations of specialised cells. Understand how to build a content rich paragraph. The fact builder is suitable for higher ability KS3 and KS4 students. Used in conjunction with textbook or other reference material it forces students to clarify their thinking before writing, as well as encouraging their interaction with text. There are 5 fact builder worksheets, all similar to the one displayed, including: - red blood cells, sperm cells, root hair cells, leaf cells and muscle cells I have included the Power Point file and the pdf should you wish to tailor them to your students. Instructions: Students use their text books to find out about the adaptations, design and function of the cell in question. Students choose 5 of the most important keywords and write it in the space provided Finally students answer the question incorporating the keywords they have identified.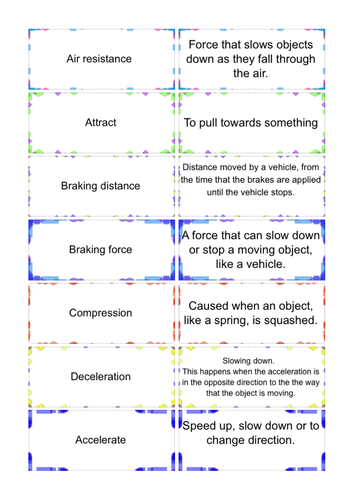 This resources contains 2 activities, one a set of 26 flash cards ideal for revision and a second file with the same 26 terms and definitions in the form of a card sort. This is an ideal activity for GCSE revision or a starter for the new year 10 physics curriculum.
SUITABLE FOR LOWER FOUNDATION STUDENTS AND THOSE WITH POOR LITERACY SKILLS. This activity is designed to gauge level of understanding. It has 7 questions that tests student's ability to recall the function of parts of a cell. There is an associated piece of text (suitable reading age 12+) and feedback activities for them to undertake. As a rule I use this before starting the GCSE cells topic or the GCSE Inheritance topic. Please see my other resources at: www.tes.com/teaching-resources/shop/heelis
DESIGNED FOR NEW SPECIFICATION FOR FIRST EXAMINATION IN 2018 Suitable for lower foundation students and those with literacy issues. Lesson Objectives: To understand the differences between sexual and asexual reproduction and the advantages and disadvantages of both types of reproduction. The lesson consists of: - Textbook pages x 2 - designed for reading age of 12 upwards (using Flesch-Kincade reading scale) - Pick and Mix activity - students choose the questions they want to answer, all differentiated by point value. (I usually give different bands of students different point values to work to depending on previous achievement. - Independent "test-style" worksheet - Powerpoint presentation with a starter and metacognition plenary. Lesson Outline: - Starter, draw an label an animal cell - Main 1, Teacher Input through presentation and students complete the pick and mix task using the text to help them. -Main 2 - Assess via independent work sheet - Plenary - Metacognition activity
A substantial bundle of differentiated resources to help with your planning of the new GCSE course. With over a dozen resources ranging from the electromagnetic spectrum and light to seismic waves. The activity types include comic style activities, literacy, jeopardy activities etc. Save more than 80% by buying as a bundle.
Suitable for foundation students, or those who need extra support with key words and definitions. The resources consists of a 2 page keywords list (shown in image), a crossword with answers, and a support crossword with some of the letters filled in. I've tried to keep the descriptions of the words as simple as possible without loosing their precise meaning and have included images to help students remember.