POWERPOINTS: THE ROMAN EMPIRE INTRODUCTION: Introduces the topic by putting the era in context with the Stone Age, Bronze Age and Iron Age in Britain, on a timeline. It includes an explanation of how Rome was founded, where it is, and how it changed from a kingdom to a republic and then an empire. JULIUS CAESAR: Explains who Julius Caesar was and the attempted invasions in 55 and 54BC. THE ROMAN EMPIRE BY AD 42: Begins by discussing the assassination of Julius Caesar and the formation of the Roman Empire. Looks at the first Emperor, Augustus, mentions Tiberius and Caligula, then talks about Claudius and how he gained power. Then looks at the Roman way of life in the Empire, how powerful it was and what area it covered. THE ROMAN ARMY: Investigates how the Roman Army was made up; of centuria, cohorts and legions; and auxiliary soldiers.Looks at how they were trained, what types of jobs they did, and why nobody could beat them in battle. THE ROMAN INVASION OF BRITAIN: A detailed account of the invasion by Claudius in AD 43, British resistance by Boudicca and Caractacus, Hadrian's Wall, and the end of Roman rule. THE ROMANISATION OF BRITAIN: Looks at how the Romans build civitas, or towns for different tribes in Britain, looking briefly at Caerwent. Explains and gives examples of Roman technology, culture and beliefs and what lasting impacts they have had. TIMELINE OF THE ROMAN EMPIRE: A 1 page timeline, can be printed or viewed as an animated show. TRIBES CONQUERED BY THE ROMANS: A 4 page presentation, detailing how the Romans conquered each tribe in Britain. Can be printed or viewed as a show. WORKSHEETS: Roman Empire topic covers x 4 What I already know / would like to find out about the Roman Empire Worksheet - Romulus and Remus Writing sheets - Julius Caesar (lined and unlined) Blank map of Europe Worksheet - living in the Roman Empire in AD 42 Design a Roman scutum Worksheet - weapons of a Roman soldier Pictures of Roman soldiers in black and white Writing sheets - The Roman Army (lined and unlined) Map of tribes in Britain Tribes in the local area Worksheet - Living in Britain in the Iron Age Writing sheet - Boudicca Report writing sheet - Roman settlements in the local area OTHER: De Bello Gallico - Accounts written by Julius Caesar of his first and second visits to Britain Roman Empire Planning - An adaptable outline medium term plan in Word
A set of resources for a British Values display. It contains: 9 A4 posters with headings, image and explanations. The headings are: Democracy The Rule of Law Individual liberty Mutual respect Tolerance Election Voting Parliament Government PLUS British Values word clouds - 2 versions, one in a Union flag design the other in a British Isles design, both containing relevant words for the topic 2 x A4 headings 'British Values' A-Z Lettering with a union flag background Banner 'British Values' - prints onto 4 pages Border strips - union flag images to frame a display Bunting - in colour and black and white, with Union flag Flags - of England, Scotland, Ireland, Britain God Save the Queen - words Large Union flag
Powerpoints to teach different aspects of life in the sixties, plus headings and lettering. It contains 9 PowerPoint files for use on an interactive whiteboard; suitable for teaching children aged 8-11; plus a banner and lettering for display INTRODUCTION TO THE 1960S - A short introduction explaining what a decade is and how many decades ago the Sixties were. Poses some questions for the children to think about, with a page for mind mapping. (4 slides) LIFE IN THE 1960S - How people in the 1960s had 'never had it so good'; Money - Explanation of pounds, shillings and pence with illustrations of the coins and notes; Shopping - how supermarkets started expanding, Green shield stamps, and food eaten in the Sixties; Transport - Expansion of motorways, popular cars, and air transport; Technology - Police call boxes, public telephones, telephones in the home, computers, computer games, the forerunner to the Internet, lasers, calculators. (25 slides) SCHOOL IN THE 1960S - What it was like going to school in the 1960s. (10 slides) KEY EVENTS OF THE 1960S - A timeline of events from 1960 to 1969, with three highlighted events in each year. (11 slides) HOMES IN THE 1960S - New housing developments, tower blocks and older houses that needed modernising; How the washing and cleaning was done; Home fashions - kitchens, lounges, ornaments, and furniture; Television, and how it progressed over the decade. (12 slides) FAMOUS PEOPLE OF THE 1960S - Neil Armstrong, Yuri Gagarin, Alfred Hitchcock, John F Kennedy, Jacqueline Kennedy, Muhammad Ali/ Cassius Clay, Mary Quant, Andy Warhol, and Twiggy. There is a page for each person, with a short description of what they are famous for. (11 slides) FASHION IN THE 1960S - How fashioned changed from the beginning to the end of the decade; how it was influenced by music. (17 slides) MUSIC IN THE 1960S - How people listened to music in the Sixties - records and record players; radios and Pirate radio stations, introduction of tape players, jukeboxes; Sixties music fans - Mods and Rockers, Skinheads and Hippies; Sixties bands and singers - The Beatles, Elvis Presley, Chubby Checker, Cliff Richard, The Beach Boys, The Rolling Stones, The Kinks, The Monkees, Jimi Hendrix, and the Woodstock Festival. There is a picture and description of each band / singer, and a their most popular hit of the Sixties. (20 slides) TOYS IN THE 1960S - Pictures of popular Sixties toys, with short descriptions. (9 slides)
This pack contains over 30 resources to teach the objectives for reading and writing numbers to 20 in Y1. The set contains: POWERPOINT PRESENTATIONS x 8 Number formation: Interactive activity which demonstrates correct numeral formation Writing numbers in words to 10: pictures and written number names Writing numbers in words 11-20: pictures and written number names Numbers and number names to 10: pictures, numerals and written number names Numbers and number names 11-20: pictures, numerals and written number names Number flashcards x 3: To 20, to 50 and to 100. Each shows random numbers for children to recognise ACTIVITIES and WORKSHEETS Bingo: 3 versions; in digits, in written numbers and a blank version so the children can choose numbers to put in. Coloured digits: for cutting and sticking activities Number cards to 10: 2 versions, one in digits, one in words for matching games Number bookmarks: Number characters to colour in; to 20 Large hollow numbers: for play dough activities, tracing, colouring in etc 4 x handwriting worksheets to practice writing digits 4 x worksheets to practice writing numbers to 20 DISPLAY Number formation display Numbers in digits and words display Numerals, words and counters display
POWERPOINT LESSON: Number bonds to 10 with numicon ACTIVITIES: Bingo Addition cards - 9 different sets Jigsaw cards to 10 Jigsaw cards to 20 Set of posters showing numbers 1-10 in words and digits with corresponding numicon tiles Set of posters showing numbers 11-20 in words and digits with corresponding numicon tiles Set of cards with digits, words and numicon tiles for matching games (2 sets, one to 10 the other to 20) Different ways of making... 3 to 10 worksheets Missing number worksheets - 2 sets; 50 worksheets altogether Numicon fans for class activities Large numicon - for display or for the teacher to show (2 sets; 1 to 10 and 11 to 20) Number line to 10 for table top activities Topic cover Numicon die IMAGES: Also included in this pack are clipart images of coloured numicon and black and white numicon so that you can make your own worksheets / display. DISPLAY: A4 colour border with numicon pattern Banner - prints onto 4 pages Borders for display 2 x A4 headings Numicon lettering - A-Z plus numbers with a numicon pattern. Ways of making 10 poster - to help with number bonds
This pack contains resources to teach the objectives for fractions in Y1. It covers halves and quarters as equal parts of an object, shape or quantity. It consists of powerpoint lessons, display, headings, worksheets and activities The set contains: POWERPOINT LESSONS x 2 Halves : Visual activity, showing how objects, shapes and quantities can be halved. Quarters: Visual activity, showing how objects, shapes and quantities can be halved. ACTIVITIES and WORKSHEETS Dividing shapes into 2 worksheet Dividing shapes into 4 worksheet Shapes: large shapes to print out to cut or fold into halves and quarters Halves and quarters b/w: To colour / cut Halves and quarters coloured: To cut / use for display etc DISPLAY Fractions Lettering (prints onto 3 A4 pages) Halves and quarters posters: 13 A4 pages showing halves and quarters; plus an A4 heading. Plus weblinks to fractions games and activities
This pack contains 2 powerpoint lessons: Parenthesis: How brackets, dashes or commas can be used to indicate parenthesis. Commas: Gives examples of what can happen if commas are omitted, and how they are important to the intended meaning.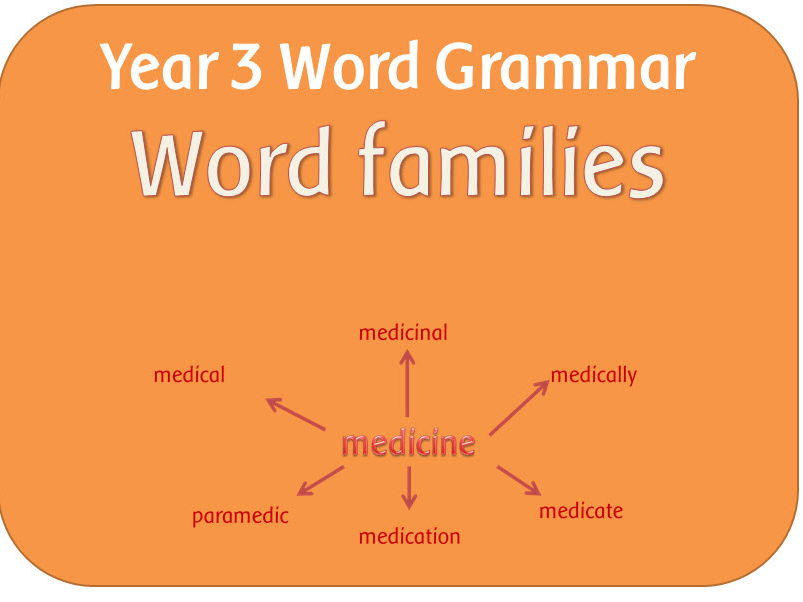 3 POWERPOINTS: Words and families: Explains what word families are and how to make them. It follows with 10 common exception words and related words . Roots, affixes and word families: Explains how word families can be built by using affixes. Gives examples of the word family related to the word 'act' and also the word 'light'. Word families: Building words using a matrix of prefixes, root words and suffixes. PDF WORKSHEETS & ACTIVITIES: Cards (x6 – act/give/light/pass/press/sign) containing words belonging to each word family Word derivation sheet – blank Word family – give Word family – pass Word family –press Word family –sign Word list – Latin root words and families (extension work) Plus a Y3 VG&P plan
A powerpoint lesson explaining what subordination and co-ordination are with accompanying worksheets and posters.
A pack of 12 A4 posters covering the spelling rules: The /f/, /l/, /s/, /z/ and /k/ sounds are usually spelt as ff, ll, ss, zz and ck if they come straight after a single vowel letter in short words. The /ŋ/ sound can be spelt n before k. The /tʃ/ sound is usually spelt as tch if it comes straight after a single vowel letter. English words hardly ever end with the letter v, so if a word ends with a /v/ sound, the letter e usually needs to be added after the 'v'. The /f/ sound is not usually spelt as ph in short everyday words (e.g. fat, fill, fun). 'wh' can make the same sound as 'w'. When a word ends in an /i:/('ee') or /ɪ/ ('i') sound, it can be spelt -y Each poster states the rule and gives examples of each type of words, with accompanying pictures. Each set comes with an A4 heading.
A powerpoint teaching about how to indicate degrees of possibility using adverbs or modal verbs might, should, will, must.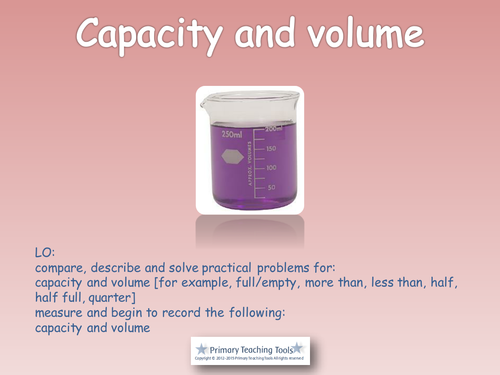 A powerpoint explaining what language to use for different types of capacity, eg full/empty, more than, less than, half, half full, quarter, and a capacity vocabulary display.
A set of resources to teach all the rules for adding suffixes in Year 2
A set of resources looking at how animals need the right types and amount of nutrition; and how humans and some other animals have skeletons and muscles for support, protection and movement.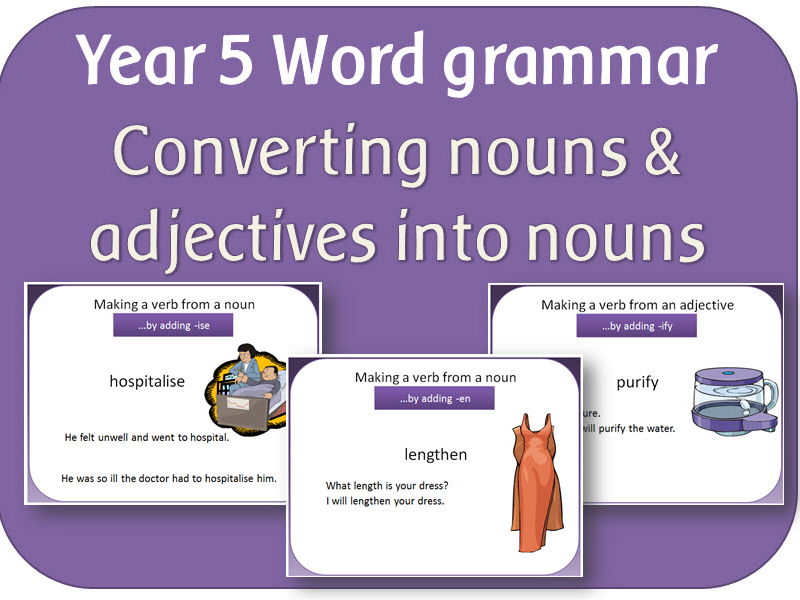 A set of 6 powerpoint lessons and 7 printable games and activities. POWERPOINTS: Suffix recap: Looks at suffixes learnt previously and their meanings / uses Nouns, verbs and adjectives recap: Activity to reinforce understanding of the terms Making verbs by ading ate Making verbs by adding ify Making verbs by adding en PRINTABLE FILES (PDF): -en verbs from adjectives word cards -ify word cards Jigsaw cards (x4) ate, en ify and ise Jigsaw cards suffixes ate ise ify and en Word list (in Word)
A powerpoint lesson and a jigsaw activity to teach the spelling guidelines: Hyphens can be used to join a prefix to a root word, especially if the prefix ends in a vowel letter and the root word also begins with one.
A set of powerpoint lessons looking at evolution and inheritance. POWERPOINTS: FOSSILS AND CHANGE: What fossils are and how we get information from them HUMAN VARIATION: Similarities and differences in humans INHERITANCE AND VARIATION: Variation in offspring - how children are not identical to their parents. EVOLUTION: simple explanations of how plants and animals adapt to their environment and how this may lead to evolution. NATURAL SELECTION: survival of the fittest and how the neck of giraffes became longer. HABITATS AND ADAPTATION: Different types of habitat and the types of life they host. ACTIVITY: Families and offspring pictures Plus an outline adaptable medium term plan with activities and web links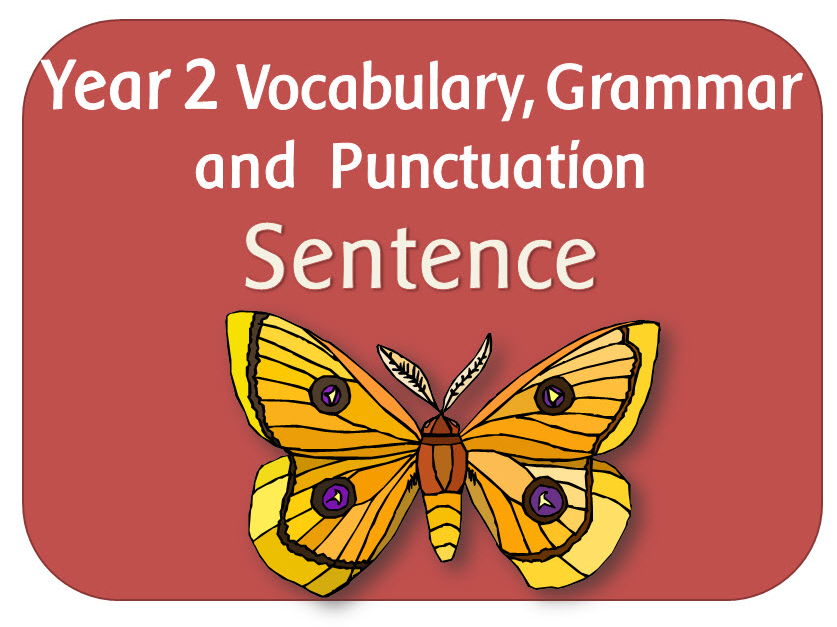 A PowerPoint demonstrating how to add adjectives to make expanded noun phrases. Ends with different pictures for the children to add words to describe and specify.
A set of powerpoints showing photographs of the most popular toys of the pre-50s, 50s, 60s, 70s, 80s, 90s and modern toys; an introduction to the history of toys - going back to dolls in Ancient Greece to computers today; a look at portraits of children from the past playing with toys; a sorting toy activity into old and new, and an old poem about the wonders of a toy shop. There are also 4 maths powerpoints looking at addition and subtraction in the toy shop, with cards to print for games. The activities include: An acrostic poem template Animal cut-out templates to join together to make a moving toy Colouring sheets Pictures of new/old teddy Puppets for role play Russian doll set to print and laminate for size ordering 6 x Santa lists to use around Christmas A thaumatrope template with instructions 3 x cover templates for a topic book Toy sorting cards - to sort into different materials/ properties. Toys from the past questionnaire to take home to fill in with parents. A copy of an old book 'What shall we do next' from 1907 full of games and activities that children played The Wonderful Toymaker fairy tale to read An outline planning document with cross curricular links that can be adapted. DISPLAY Old toys display - photographs Children's portraits playing with toys Toys banner Toys heading Toys in the past heading Toys timeline
A set of resources for a British Values display. It contains: 9 A4 posters with headings, image and explanations. The headings are: Democracy The Rule of Law Individual liberty Mutual respect Tolerance Election Voting Parliament Government PLUS British Values word clouds - 2 versions, one in a Union flag design the other in a British Isles design, both containing relevant words for the topic 2 x A4 headings 'British Values' A-Z Lettering with a union flag background Banner 'British Values' - prints onto 4 pages Border strips - union flag images to frame a display Bunting - in colour and black and white, with Union flag Flags - of England, Scotland, Ireland, Britain God Save the Queen - words Large Union flag
A set of resources for the new science curriculum. It contains: 1a. INTRODUCTION TO THE TOPIC - LO: To find out what the children already know about materials. WORKSHEET: A sheet for the children to record what they already know and what they would like to find out about materials. 1b. MATERIAL PROPERTIES - LO: To compare and group everyday materials together POWERPOINT: A look at 12 different properties of materials, with examples of the materials with those properties. It can also be printed out for display. WORKSHEET 1: Material properties worksheet 2. DISSOLVING - LO: To know that some materials will dissolve in liquid to form a solution, and describe how to recover a substance from a solution POWERPOINT: Explains the meaning of dissolve and gives examples of different materials that can be dissolved. 3. SEPARATING A MIXTURE - LO: To use knowledge of solids, liquids and gases to decide how mixtures might be separated. POWERPOINT: Looks at different mixtures and how they can be separated, including sieving, filtering and evaporating. 4. USES OF EVERYDAY MATERIALS - LO: give reasons, based on evidence from comparative and fair tests, for the particular uses of everyday materials POWERPOINT: Asks the children to study objects to see what properties different materials have. Asks questions about which properties and materials would be best for making certain objects. WORKSHEET 1: Air resistance activity WORKSHEET 2: Weight in water and air recording sheet 5 & 6. REVERSIBLE AND IRREVERSIBLE OBJECTS - LO: look at dissolving, mixing and changes of state, and reversible and irreversible changes. POWERPOINT: Explains the meaning of reversible and irreversible changes, giving examples of each. Ends with a quiz where the children have to decide what changes have taken place to certain materials. 7. MATERIALS QUIZ: Recap of all the learning objectives. POWERPOINT : A quiz WORKSHEET : Sheet for recording quiz answers WORKSHEET : Sheet for recording what they have learnt OTHER RESOURCES A-Z lettering, with a picture background A4 Properties and changes of materials title Materials banner/lettering to cut out Materials topic booklet front cover - with space for children to draw their own design. Vocabulary PowerPoint - can be used as a show and printed out for display. Photo cards - 12 objects made from different materials Investigation and recording sheets - A folder of blank tables, graphs and planning and recording sheets Year 5 Materials medium term planning: An outline of the activities and learning objectives with websites and ideas. It can be added to and amended for your own use.
A series of PowerPoint lessons, worksheets and activities to teach how the Vikings and Anglo-Saxons fought for the Kingdom of England up to the time of Edward the Confessor. POWERPOINTS: 1) ANGLO-SAXON ENGLAND AD 780 Life in in England before the main arrival of the Vikings towards the end of the 8th century / How the Anglo-Saxons lived / How the towns were structured / The importance of the monks. 2) VIKING RAIDS AND INVASIONS AD 797 - 783 Timeline / Introduces the Anglo-Saxon Chronicle as evidence / The first known attack on Britain by the Vikings / The second attack on Lindisfarne/Holy Island / Viking longships / Viking warriors and equipment / Beginning of Viking settlement in England 3) THE VIKINGS SETTLE & ALFRED FIGHTS BACK AD 866 - 927 Viking invasions and settlement / The Heathen Army / York / King Alfred / Guthrum / Danelaw / Alfred the Great and his fight against the Vikings / Edward the Elder / Athelstan / The Battle of Brunanburh 4) VIKING DAILY LIFE Family life / Clothing / Homes / Daily life / Viking law / Music / Food / Sport / Arts and crafts / Viking beliefs, Asgard and gods, days of the week named after Viking gods / Viking burials 5) ATHELSTAN, ETHELRED AND ANGLO-SAXON LAWS AD 927 - AD 991 Athelstan and government of England / The Witan / Hundreds / Moots / Reeves / Laws / / Punishments / Wergild / Ethelread the Unready 6) THE RETURN AND END OF THE VIKINGS AD 991 - 1066 Further Viking raids / St. Brice's Day massacre / Sweyn Forkbeard / King Canute / Edward the Confessor / Harold Godwinson / William the Conqueror / The Battle of Hastings / The end of the Viking era 7) LOOKING AT EVIDENCE Place names / Viking sagas / Anglo-Saxon Chronicles / Surnames and DNA / The Bayeux Tapestry / Archaeology / Treasure discoveries / Runestones RESOURCES TO PRINT (pdf): Most sheets are open-ended worksheets, with an image and lines for research, reports etc. What I already know about the Anglo-Saxons and Vikings What I would like to find out about the Vikings The arrival of the Vikings The Vikings attack the monasteries Danelaw King Alfred the Great The Heathen Army The Treaty of Wedmore Viking daily life Anglo-Saxon laws Athelstan Ethelred the Unready Battle of Hastings Battle of Stanford Bridge Death of King Harold Edward the Confessor King Harold The Vikings return Bayeux Tapestry Viking place names Viking runes Topic covers x 3 Viking ships Viking warriors Writing border - Edward the Confessor Writing border - Viking ship Plus a copy of the Anglo-Saxon Chronicle (in Word) Vikings & Anglo-Saxons medium term adaptable plan, with web links.
This progress tracker allows you to monitor the children's attainment at a glance. All you need to do is add the details of your children and update the spreadsheet each term with the children's progress in each area of learning. There are two versions, one includes a baseline column for on entry assessment. The tracker automatically collates data in the following areas: INFORMATION ON DIFFERENT GROUPS: Boys Girls Ethnicity Key person groups N1 (3 terms) N2 (3+ terms) Summer born children Non - summer born children AM/PM children Achievement in relation to attendance Achievement in relation to language COMPARING TWO GROUPS: Allows you to choose two of the above groups and gives a comparison bar chart INDIVIDUAL CHILDREN: Allows you to choose any child and see their progress from term to term INDIVIDUAL TERM 3 RESULTS: Allows you to choose any child and see the term 3 results of each area of learning in a bar graph. It can also be printed out for parents. Also included: Areas of learning: A condensed version for use in the setting Tracker sheets for each area of learning: Blank sheets to record children's progress EYFS Progress Tracker Instructions: Step by step instructions of how to fill in the children's names, DOBs etc. You will need Microsoft Excel version 2007 or later to view the tracker. It is very user friendly but it will be helpful if you have previous experience of using Excel.