11Uploads
901Views
41Downloads
ACL History
I use this sheet and stick it on the front of student exercise books. Every time they have used a word or phrase they highlight or tick it off. Encourages independent literacy. It could be laminated and placed on tables or used as a display.
To ease marking, this is an assessment grid. Students RAG whether they have met the objective of the lesson, this can be done as a peer or self assessed. The teacher would then add to the grid and either add a comment or wish.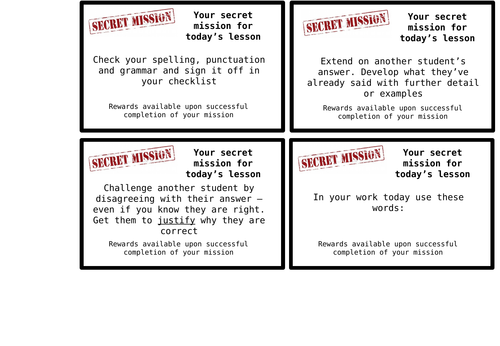 This is a PowerPoint full of cards to be printed and laminated. I utilize in different ways: I give challenging students them so they focus during the lesson; I use them to stretch and challenge individual students; I like to leave them in books when I've marked them; stick them under chairs in the lesson. Some are very creative missions whilst others are used for behavior management. Whenever a student passes their secret mission, they receive a reward - a sweet, postcard or phone call home.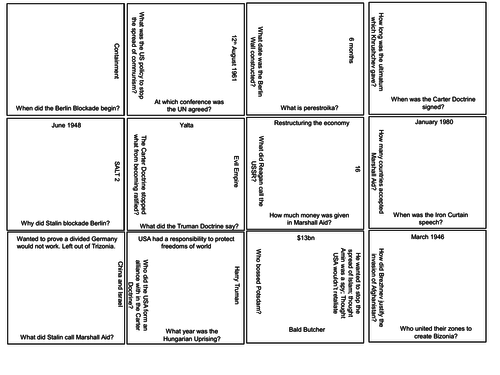 Based on the Edexcel spec this is great activity for an overview or revision. It lasts about 30-40 minutes depending on the level and ability of the class. Just print and cut out and you're good to go. It's one of those resources that once you have, you can use over and over again.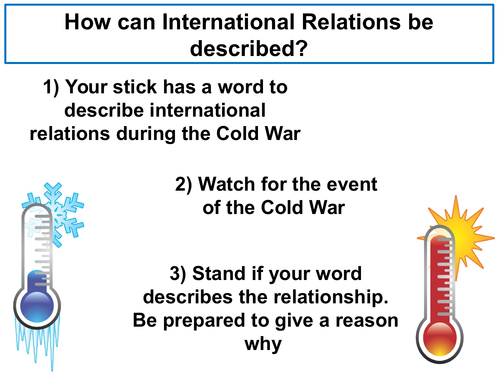 I utilize this in so many ways - originally created for Cold War Edexcel. I have lolly sticks that have words to describe international relations. Students have to use the sticks to describe whether the event improved or worsened relations. It can be played simply as taboo where students have to describe the event without naming it. Great for that knowledge revision. A good end of topic, or end of class game!
Used for an assembly for Black History Month detailing the life of Mancunian boxer Len Johnson. There is a lot of information in the notes section for anyone who is not familiar with him. I have used in lessons as well especially with motivating challenging and disadvantaged students.
38 questions including a printable Guess the Celeb Baby round; Geography in 2017; Politics in 2017; Sport in 2017; Movies in 2017; TV in 2017 and Music in 2017. Answers are at the end of the PPT so that students can mark their own. Will last an hour and perfect for ages 11-18. Perfect for Christmas!!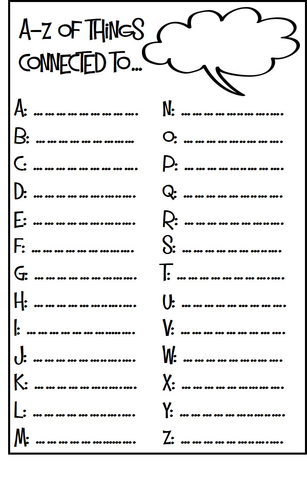 Utilise this revision aid for end of topic assessments or exams. Have students list the A-Z of the topic. Use dictionaries so they have to come up with obscure words and explain how they link to the topic.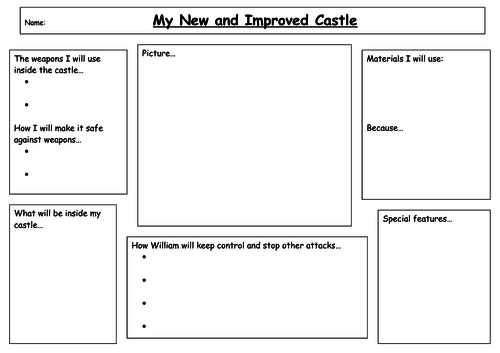 Used in our Y7 scheme of work on the middle ages, this can be easily adapted as a classroom activity or homework. It's one sheet that can be printed off. Students create their own castle and have to think about what it's made of; how strong it will be; where it will be located.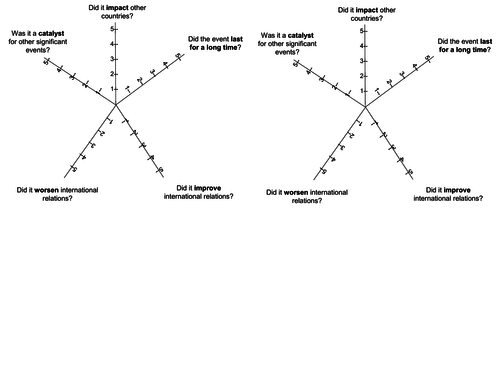 This is a great activity or revision tool, created with the edexcel specification in mind for Cold War. Students have to rate events on the star and annotate to develop their explanation. This has been created on PPT which means it is easy to clip and add onto your own lessons or print straight away as a resource.
This is one of my favourite lessons for revision and the students adore it! This pack includes instructions and quizzes for printing. Students work in groups of 2-3. They use their exercise books and textbooks. On the board you draw a grid with their team names and round 1, 2, 3, 4 etc. The aim is to get 10/10 on quiz 1 before they can move onto quiz 2; 10/10 on quiz 2 before they can move on to quiz 3.. and so on. It gets extremely competitive as I refuse to correct students work, so when I write on the whiteboard 8/10 it's up to students to decode which is their wrong answer. This activity lasts an hour (in fact, sometimes an hour and half). It's perfect for whole topic revision, getting in the hang of using exercise books and textbooks and teamwork.