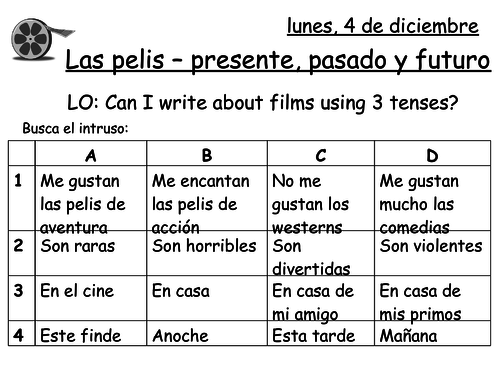 Includes a review of past, present and future tenses, some sentence building and translation activities, and an extended written piece to help pupils put together 3 paragraphs (past, present & future) on films. Also, a word mat to support pupils in writing their work.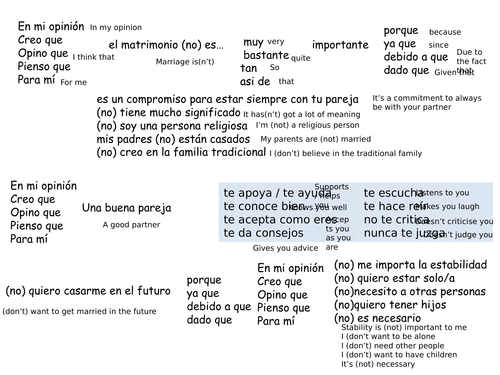 Sentence builder for answering whether or not marriage is important and why. Includes translation exercise to practice creating sentences.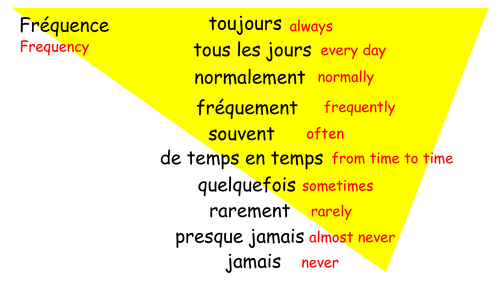 An inverted pyramid to display adverbs of frequency. Pupils can refer to it in class to say how often they do things - rarely, never, often etc.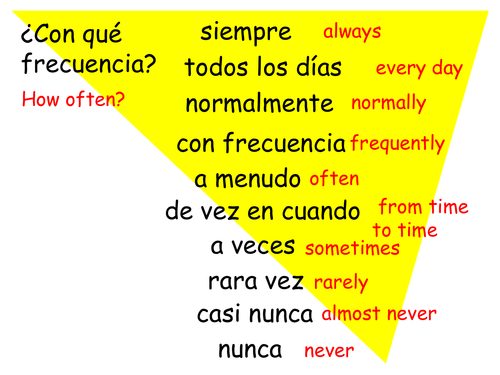 An inverted pyramid to display Spanish adverbs of frequency. Displayed on classroom wall for pupils to access when needed. Print off at least A3 size to make it easy to see.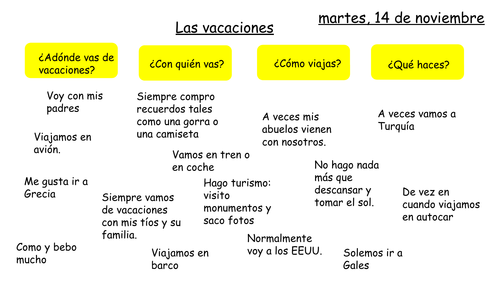 Perfect for revising KS3 holidays topic when beginning topic at KS4. Allows pupils to talk about where, who with, how they get there and what they do - focussing on extended sentences in present and past tense, but also some support for future and putting all 3 together at the end. Includes dice game, translation, adverbs of frequency.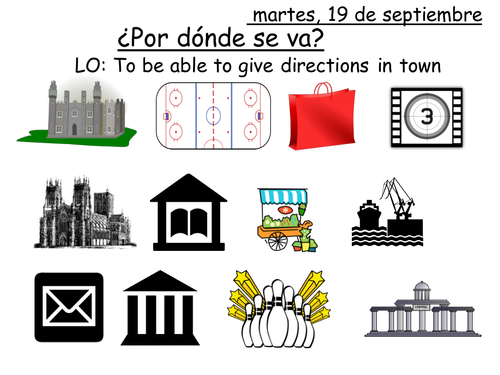 GCSE Spanish revision lesson on directions & places in town. Asking for and understanding directions. Includes visual support, games, matching activity, vocabulary sheet and map activity.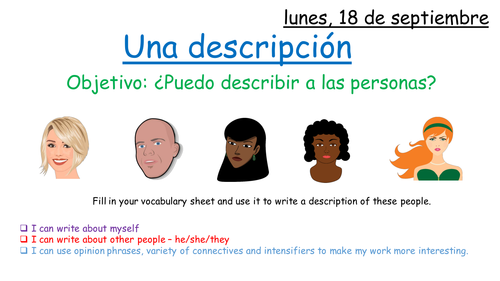 A resource to get ks4 pupils who have previously done this topic in ks3, to get reading, writing and speaking in Spanish - descriptions of themselves. Includes a visual starter where pupils use a vocab sheeet to describe some images, an extended text for reading with multiple choice questions, simple questions with sentence starters for speaking and a criteria for what to include in a short written paragraph.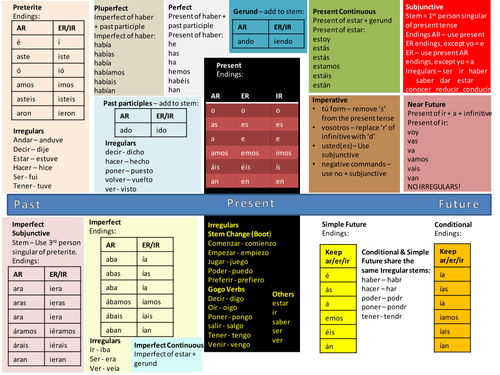 Spanish Verb Mat for Higher GCSE and A Level. Students can see at a glance how to form all tenses required for GSCE and A Level on one page. Preterite, imperfect, imperfect subjunctive, imperfect continuous, pluperfect, perfect, past participles, present, gerund, present continuous, imperative, simple future, conditional, near future, subjunctive. Also includes lists of irregulars for each tense. Assumes pupils have basic knowledge of infinitives, stems etc. Great Revision resource, especially now that translation and grammar feature more prominently in the GCSE exams.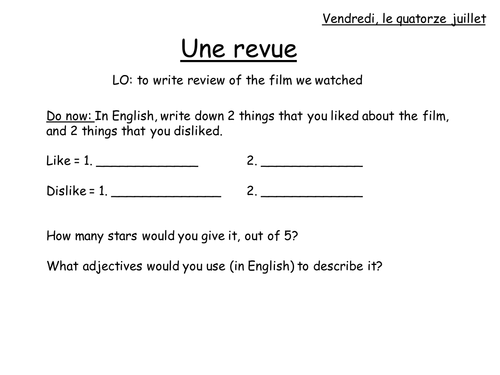 KS3 - KS4 Film review. Play trapdoor for speaking or use as a scaffold to write a review of a film you have watched in class. The example uses Kirikou and La Famille Belier, but you could quite easily change those details to write about any film you have watched. One slide includes all of the words in English.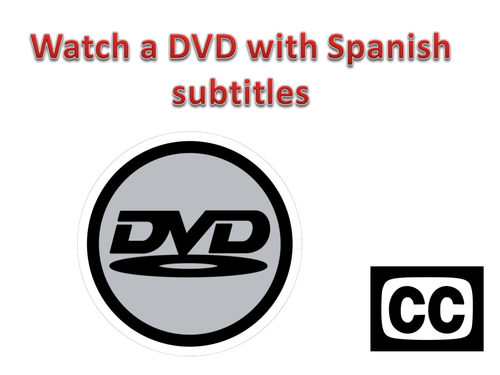 Let pupils know that Spanish is fun to learn if they choose activities that interest them, and that they will succeed if they're enjoying their language learning. 15 suggested activities for pupils to complete outside of class to boost their knowledge. Can be displayed on board or printed off for pupils to check off the activities they've completed.
Two texts for a Y9 end of year test - translation from Spanish to English and English to Spanish. The topic is region and environment. Incorporates 3 tenses - could be used for GCSE level too.
A list of questions on the topic of Region and Environment with sentence starters to help pupils begin to prepare answers. Also includes a checklist of components for pupils to include - connectives, opinion phrases, intensifiers, adjectives. Can be used as a prompt to create a written piece - just write the points into paragraphs instead of individual questions. I downloaded a word list from tes which pupils used to compose their answers. Could be used for year 9 to GCSE groups.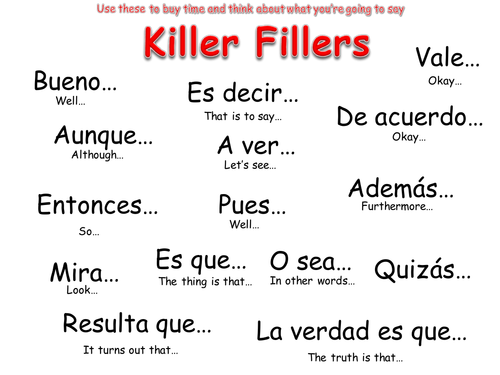 Poster to print off or could be displayed on whiteboard. Lots of Spanish filler phrase to use in speaking to buy more thinking time and add fluency and spontaneity to conversations. Use regularly with conversation questions to get pupils in the habit of using them. Bueno, pues, a ver, es decir, la verdad es que, o sea, aunque, entonces etc.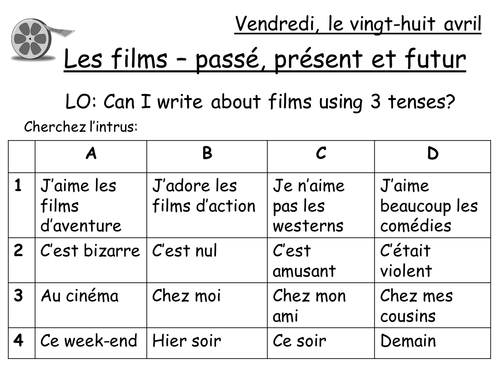 Lesson to bring together learning on film topic and write about films using 3 tenses. Activities include Odd-one-out, Quiz-quiz-trade, translation, Multiple choice reading quiz, guess the sentence from the first letter and a couple of truly terrible jokes (sorry!). Also includes writing frame and word mat.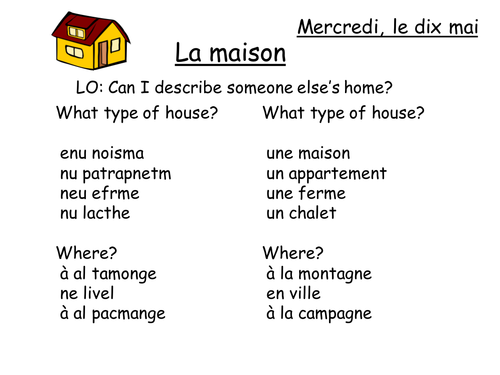 Describing features of a house - what there is/isn't - il y a une cave, un balcon, un jardin, une piscine etc. Ideal for low to middle ability groups - lots of visual support and interactive games, co-operative learning. True/False celebrity house reading exercise and culminating in written work about pupils' chosen celebrities houses.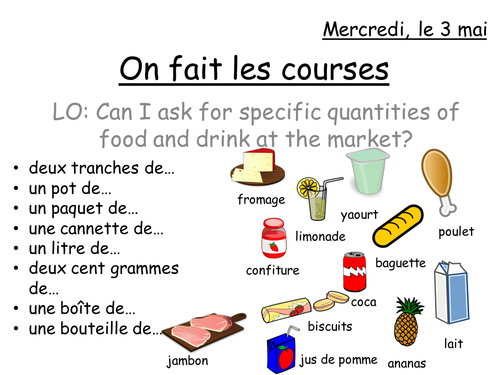 Powerpoint slideshow for teaching how to order from a market - revision of foods and quantities, role play activity, slap the board game and translation activity.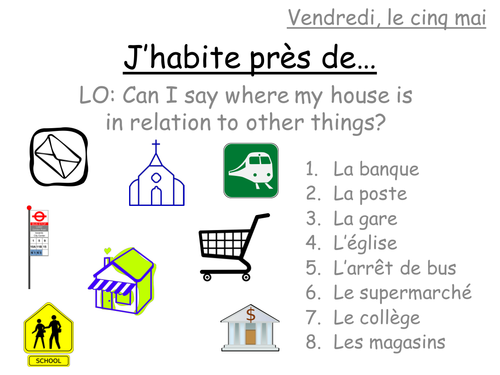 LO: Can I say where my house is in relation to other things? Powerpoint to teach vocabulary to give a more precise location, following on from house and area. La banque La poste La gare L'église L'arrêt de bus Le supermarché Le collège Les magasins près de / loin de /à côté de / en face de du / de la / de l' /des Matching activity, Splat, O&X games, translation activity.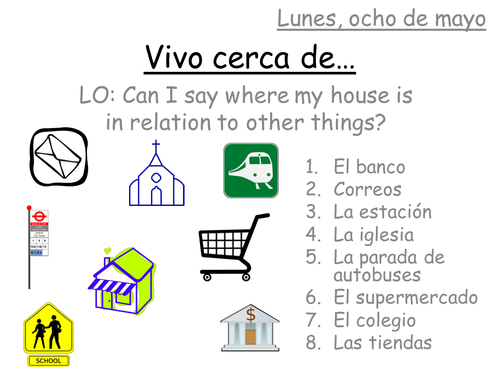 LO: Can I say where my house is in relation to other things? El banco Correos La estación La iglesia La parada de autobuses El supermercado El colegio Las tiendas Articles - matching activity, splat & o&x games, translation & writing
Reference and revision resources for GCSE Spanish. When combined, gives pupils the grammatical knowledge required at GCSE level.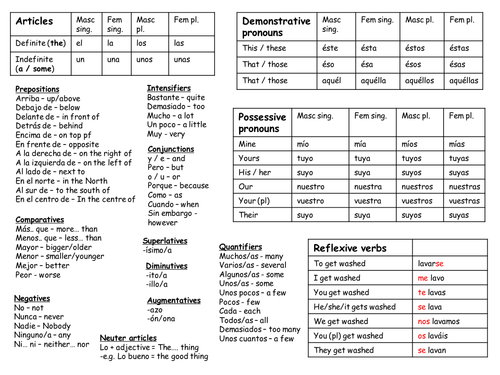 GCSE Grammar Mat to support with all of the grammatical knowledge required at GCSE level, all on one page. May be used as a revision resource, or as a reference to support classwork and homework. Includes articles, prepositions, intensifiers, comparatives, superlatives, conjunctions, diminutives, augmentatives, negatives, neuter articles, quantifiers, demonstrative pronouns, possesive pronouns, reflexive verbs.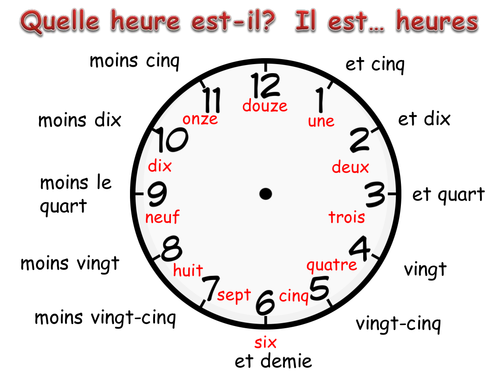 French time display. Also includes clock for pupils to cut out and make so that they can respond when they hear the time in French.