j Pooley's Shop
Lots of resources for Spanish and French KS2-4
65Uploads
8k+Views
2k+Downloads
Lots of resources for Spanish and French KS2-4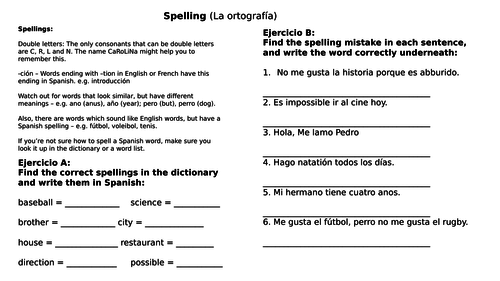 Explanation of some common mistakes in Spanish spelling, with a couple of activities to consolidate: A dictionary exercise, and some sentences with mistakes to find and correct. Pupils should then go back to their books to find and correct their own spelling mistakes.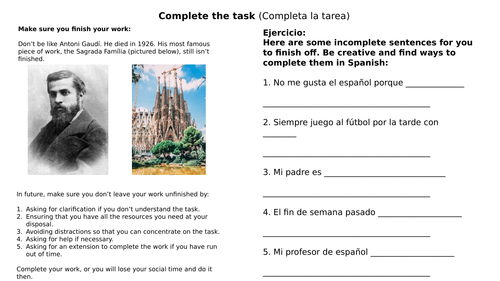 For pupils who fail to complete tasks, here's a reminder of what they need to do to get the work done. Also contains some unfinished sentences for them to complete as practice - to be done in detention or at home, in addition to completing the unfinished work.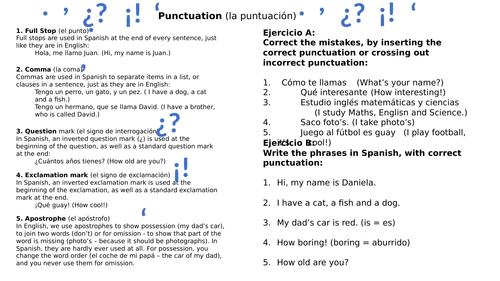 This worksheet is for pupils whose punctuation needs a little attention. There is an explanation of how to use full stops, question marks, commas, exclamation marks and apostrophes correctly in Spanish, followed by a couple of exercises to allow pupils to practice what they have learned. Pupils can then go back to their exercise book and look for punctuation to correct in their books.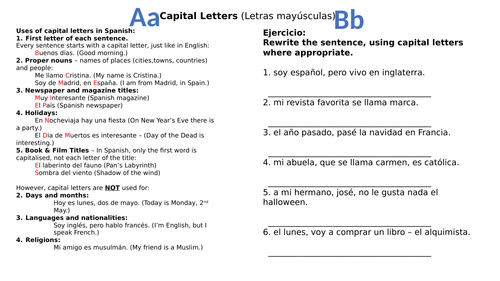 An explanation of the differences between use of capital letters in Spanish and English, followed by a short activity in which pupils rewrite sentences with capital letters, using the rules they have learned. Use as practice in feedback activity before pupils go through their own book to find and correct mistakes.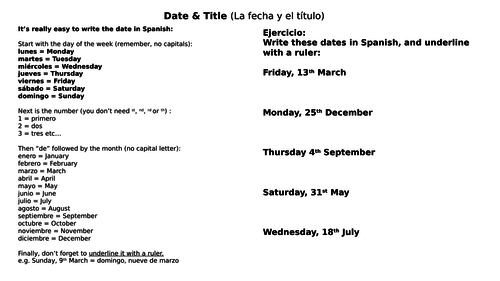 Activity for pupils who struggle or are reluctant to write the date and title in Spanish. An explanation of how to write the date in Spanish, followed by some example dates to put in Spanish and underline. Soon they won't even have to look at the board, they'll be able to write the date before it's even on the board!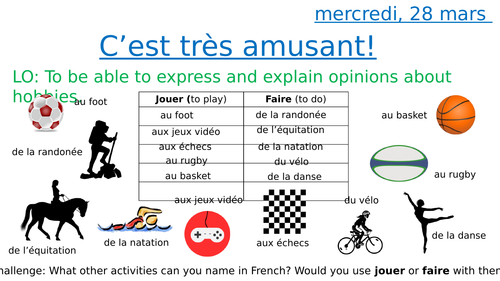 A lesson based on leisure activities, opinions, reasons and near future tense. Aimed at Year 8, to challenge them to extend sentences using a variety of structures - opinion phrases, time markers, connectives, intensifiers and so on. Includes games, translation, reading and writing.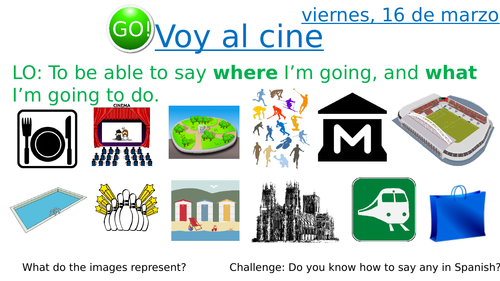 Lesson comparing the use of voy a & place vs. voy a ir & infinitive. By the end of the lesson pupils can write where they are going, and what they are going to do. Includes vocabulary introduction, picture and vocabulary matching, slap the board game, sentence building activity, translation exercises and reading task. Places Include: Voy al restaurante Voy al cine Voy al parque Voy al polideportivo Voy al museo Voy al centro comercial Voy al estadio Voy a la piscina Voy a la bolera Voy a la playa Voy a la catedral Voy a la estación Infinitives include : ir ver comer jugar beber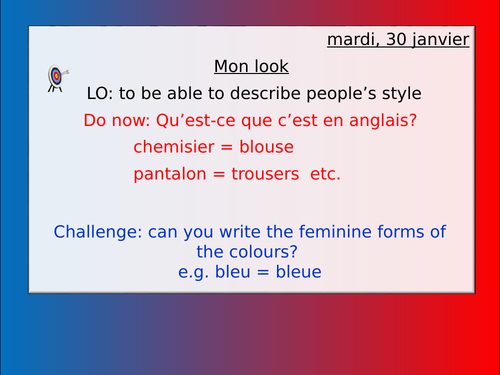 Powerpoint for describing my style - past present and future. Includes visual reference of masculine and feminine clothes vocabulary, review of gender and number agreement, reading text with comprehension questions, translation to adapt the text, and finishing with writing task to put it all together.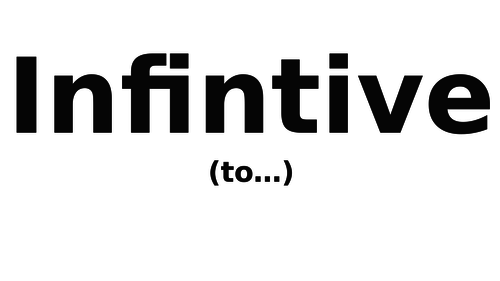 Infinitive, present, preterite, imperfect, future and conditional tenses for key Spanish verbs - ir, ser, estar, hacer, tener, querer and poder. Also includes acronyms DOCTOR and PLACE to help pupils with ser vs. estar. Get these verbs into your pupils' heads by having them permanently on display in your classroom!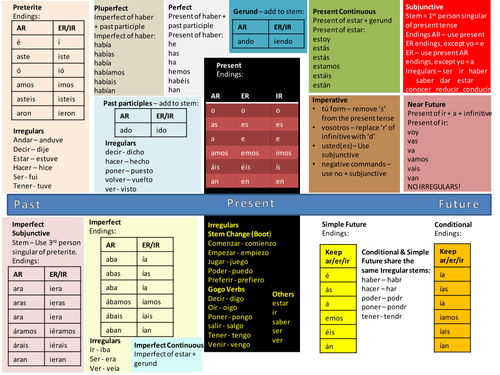 Spanish Verb Mat for Higher GCSE and A Level. Students can see at a glance how to form all tenses required for GSCE and A Level on one page. Preterite, imperfect, imperfect subjunctive, imperfect continuous, pluperfect, perfect, past participles, present, gerund, present continuous, imperative, simple future, conditional, near future, subjunctive. Also includes lists of irregulars for each tense. Assumes pupils have basic knowledge of infinitives, stems etc. Great Revision resource, especially now that translation and grammar feature more prominently in the GCSE exams.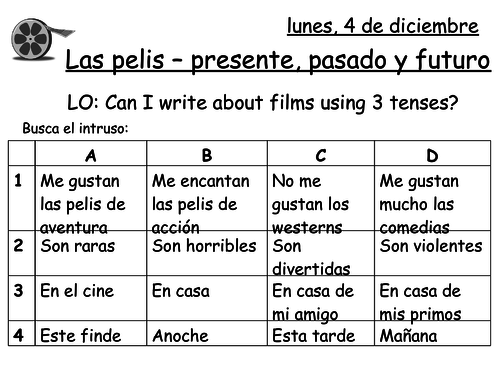 Includes a review of past, present and future tenses, some sentence building and translation activities, and an extended written piece to help pupils put together 3 paragraphs (past, present & future) on films. Also, a word mat to support pupils in writing their work.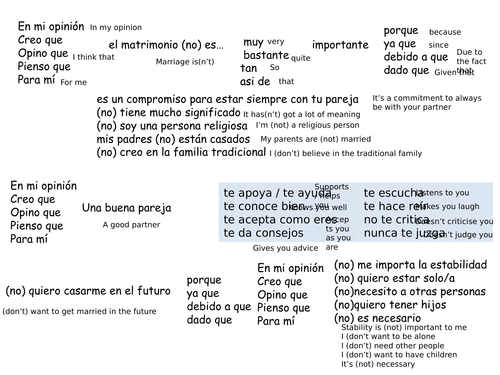 Sentence builder for answering whether or not marriage is important and why. Includes translation exercise to practice creating sentences.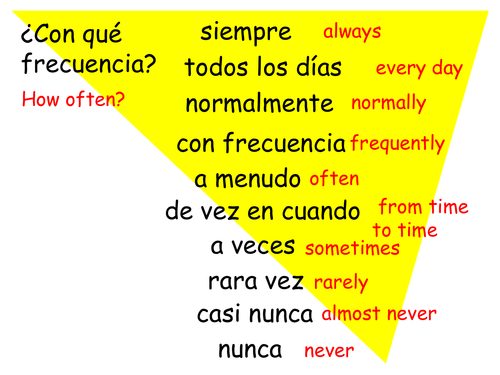 An inverted pyramid to display Spanish adverbs of frequency. Displayed on classroom wall for pupils to access when needed. Print off at least A3 size to make it easy to see.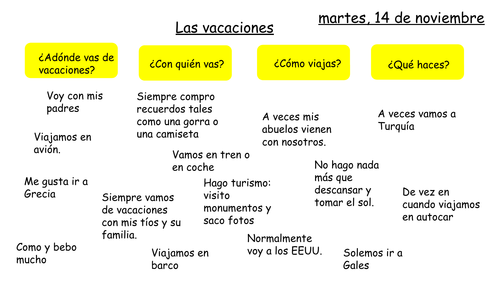 Perfect for revising KS3 holidays topic when beginning topic at KS4. Allows pupils to talk about where, who with, how they get there and what they do - focussing on extended sentences in present and past tense, but also some support for future and putting all 3 together at the end. Includes dice game, translation, adverbs of frequency.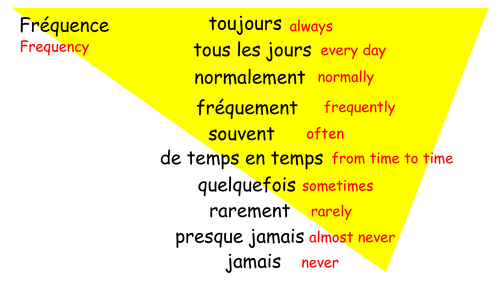 An inverted pyramid to display adverbs of frequency. Pupils can refer to it in class to say how often they do things - rarely, never, often etc.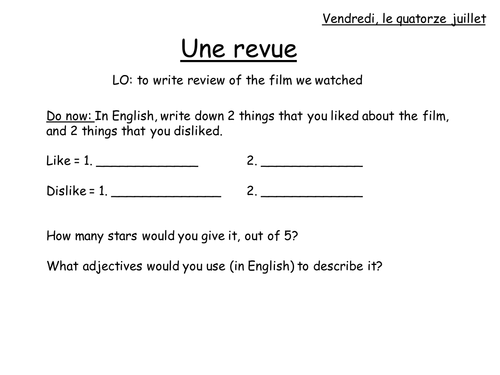 KS3 - KS4 Film review. Play trapdoor for speaking or use as a scaffold to write a review of a film you have watched in class. The example uses Kirikou and La Famille Belier, but you could quite easily change those details to write about any film you have watched. One slide includes all of the words in English.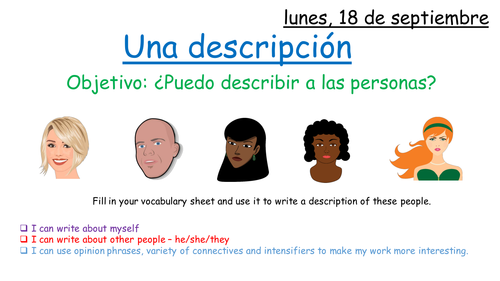 A resource to get ks4 pupils who have previously done this topic in ks3, to get reading, writing and speaking in Spanish - descriptions of themselves. Includes a visual starter where pupils use a vocab sheeet to describe some images, an extended text for reading with multiple choice questions, simple questions with sentence starters for speaking and a criteria for what to include in a short written paragraph.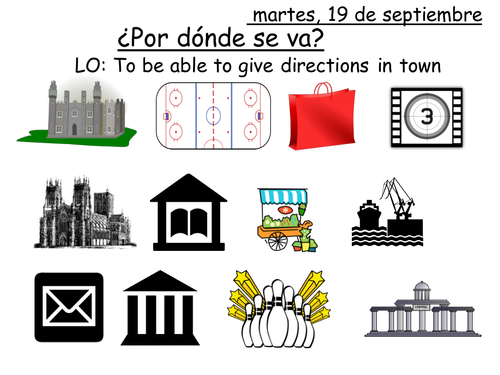 GCSE Spanish revision lesson on directions & places in town. Asking for and understanding directions. Includes visual support, games, matching activity, vocabulary sheet and map activity.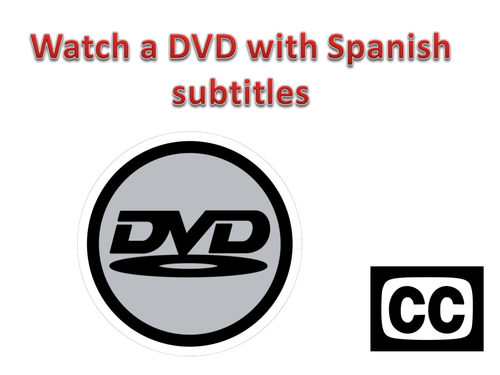 Let pupils know that Spanish is fun to learn if they choose activities that interest them, and that they will succeed if they're enjoying their language learning. 15 suggested activities for pupils to complete outside of class to boost their knowledge. Can be displayed on board or printed off for pupils to check off the activities they've completed.
Two texts for a Y9 end of year test - translation from Spanish to English and English to Spanish. The topic is region and environment. Incorporates 3 tenses - could be used for GCSE level too.
A list of questions on the topic of Region and Environment with sentence starters to help pupils begin to prepare answers. Also includes a checklist of components for pupils to include - connectives, opinion phrases, intensifiers, adjectives. Can be used as a prompt to create a written piece - just write the points into paragraphs instead of individual questions. I downloaded a word list from tes which pupils used to compose their answers. Could be used for year 9 to GCSE groups.