Apple Pie Resources
Sweeten your classroom with teaching resources "a la mode!" (Shop was previously called Creative Classroom Resources)
47Uploads
34k+Views
6k+Downloads
Sweeten your classroom with teaching resources "a la mode!" (Shop was previously called Creative Classroom Resources)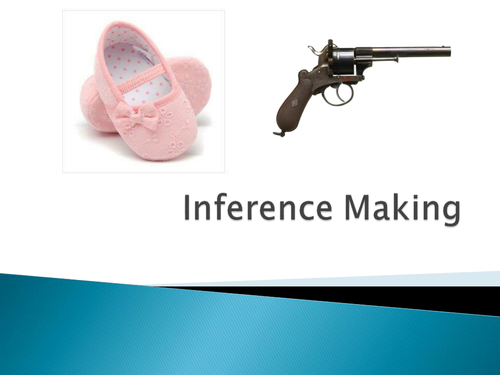 After learning what it means to make inferences, students will be surprised at how much they can infer with very little information. This lesson is easy to adjust depending on time and background knowledge and is a great lesson to springboard into other activities.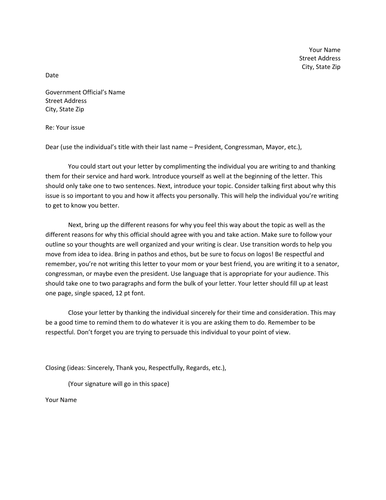 This is one of my favorite units. I did it almost every year I was teaching and always had a good response. It works well because the writing assignment involves choice and authenticity. They aren't writing what you tell them to write and they aren't writing to you. This works great for a persuasive writing unit in English or a government unit in U.S. History. Students write official letters to their government representatives. Included in this set is a page for the teacher explaining how I taught this unit, a page on ethos/pathos/logos that can be used as a handout or a lesson, a planning page that guides the student's research and outline, a letter format page to help the student understand how to write an official letter, and a peer edit page for the revising process.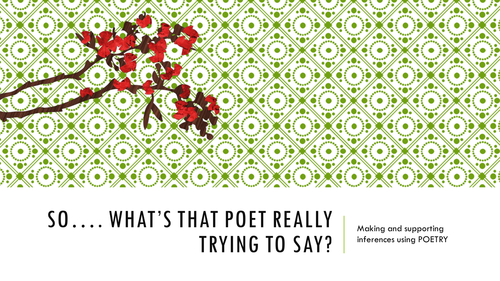 This engaging presentation will teach your students what an inference is, how to make them first using pictures and then using simple poems, and teach them how to back up their inferences with evidence. Includes a fun activity where students will solve poetic riddles and then create one of their own. Neat and clear presentation. Easy to adapt to your needs.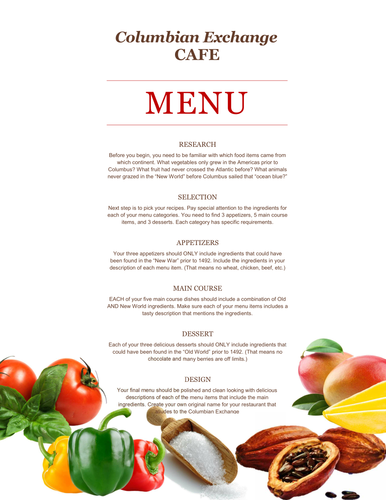 Students will create a menu complete with appetizers, main course items, and desserts. Each menu item should reflect your students' understanding of how the Columbian Exchange changed the world, specifically the world of food. Includes a handout and a rubric. This resource will be a part of "Age of Exploration Part 3."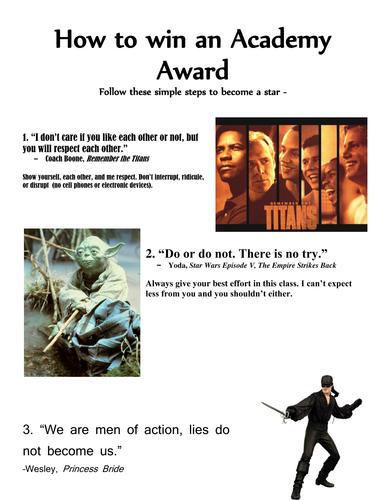 I used this in my classroom to make the rules more memorable and fun for my students. The file is in word so feel free to edit as needed. My philosophy was simple, easy to remember, positively stated rules.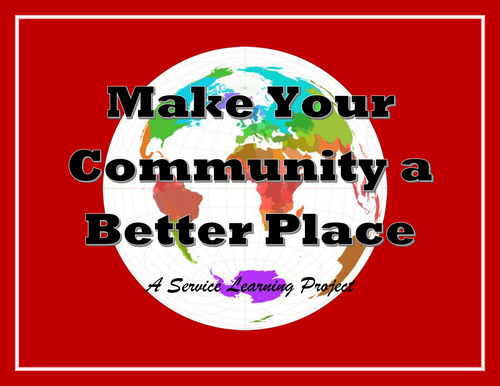 A creative idea for an open project that gets kids thinking and giving back. Great to use during a unit on civics and government. I had great success with this project in my classroom. It is best to not use it at the beginning of the year. This is a handout that includes a description of the project, ideas, a simple rubric, and a place for students to write their proposals and for you, the teacher, to approve of before they begin.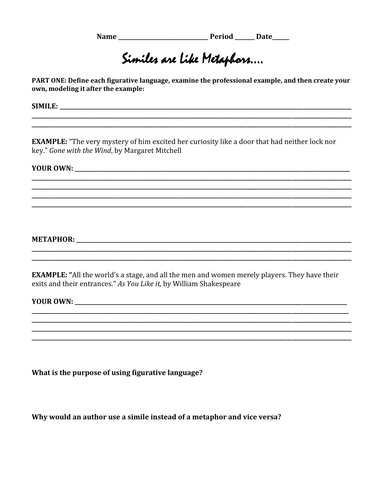 This is designed to be used near the beginning of a poetry unit for middle school. It could be used as an introduction to figurative language, specifically similes and metaphors. Students define simile and metaphor, example famous examples, and then create their own, modeling after the professional. They then examine two short poems by Langston Hughes, putting what they learned into practice. They will identify and examine, analyzing why mostly similes are used in one poem while Hughes relies heavily on metaphors in the other. In the lesson, the teacher should work with the student to understand the purpose of similes and metaphors in general and how they relate to these poems. I have included both a PDF and a word document version for editing.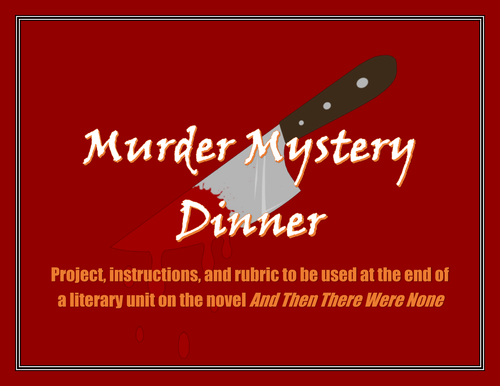 This is a fun and engaging final activity that the students work towards throughout a literary unit on Agatha Christie's novel, "And Then There Were None." This set includes a handout for the students, a rubric, and an explanation page for the teacher. Get ready for an exciting day filled with classroom discussion and accusations as students literally get in character and try to figure out "who done it!"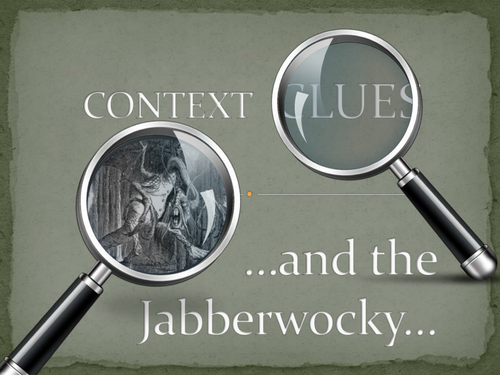 An engaging presentation where students learn about context clues through inquiry and then identify types at the end of the lesson instead of the beginning. Students will discover they can define words such as "bellwether" and "saxicolous" through careful reading and context clues. The PowerPoint presentation includes an attention grabber, an activity, and notes. Can be completed in as short as 15 minutes or longer depending on your students' background knowledge and how in depth you decide to take the discussion. Includes a fun worksheet that uses Lewis Carroll famous poem, "The Jabberwocky" to put context clues into action. Great way to assess what the student's have learned.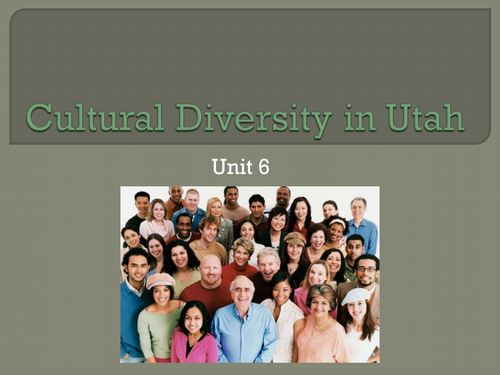 This powerpoint and guided notes could be used during the final unit in Utah Studies where students learn about the diversity of Utah today including new immigration, refugees, festivals, issues, etc. The powerpoint includes an introductory activity, notes, and an analysis of cultural diffusion at the end which could easily turn into a class discussion. It also includes links for the teacher to relevant news articles and a place online where you could have the students take a sample citizenship test to see how they would do!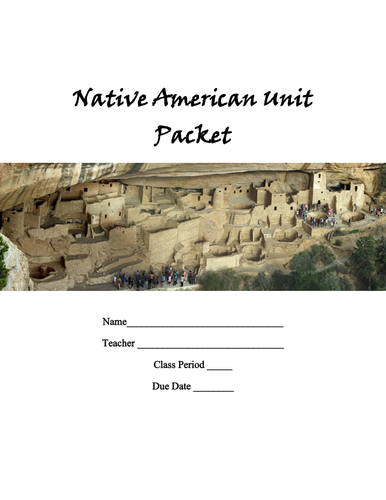 This is designed to be a unit for about two weeks. The packet itself is 18 pages. I have included the packet as both a PDF and a docx as well as a teacher version with answers, explanations, and tips. This packet includes introduction pages, a geography portion, big questions, guided notes, a group project, primary sources analysis, and an individual creative project. The unit is modeled using Blooms Taxonomy: it starts with knowledge, but rises quickly through the different levels until the students are creating and making judgments of their own. It follows closely to three big questions that will help students differentiate myth from fact, analyze the way Native Americans used resources to the way we use them today, and look closely at how artifacts can help us better understand the cultures that left them behind. The most important part of the packet is a primary source analysis that allows students to compare and contrast information from 5 primary sources about the downfall of the Aztecs. These are sources that were carefully picked for this age group that are interesting and easy to understand. Please message me if you have any questions. I will also divide the packet up and sell it separately if that interests you. If you'd like, you can browse through any of my resources that begin with "Native American Unit" and get a better idea of what is included.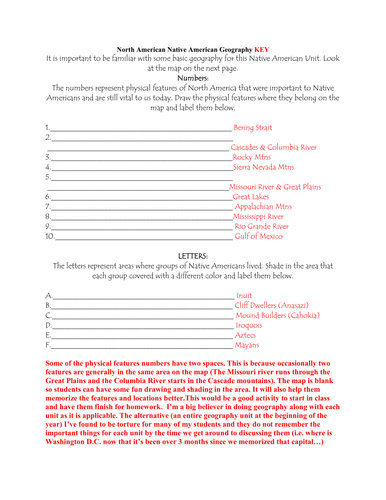 I'm a big believer in doing geography along with each unit as it is applicable. The alternative (an entire geography unit at the beginning of the year) I've found to be torture for many of my students and they do not remember the important things for each unit by the time we get around to discussing them (i.e. where is Washington D.C. now that it's been over 3 months since we memorized that capital…). This worksheet and map will have your students drawing on physical features that were important for Native Americans and continue to be critical for us today. It also has your students shade in areas where Native American groups lived that will be studied throughout the Native American Unit (Inuit, Cliff Dwellers/Anasazi, Iroquois/Haudenosaunee, Mound Builders/Cahokia, Aztec, and Mayans). This activity is included in the unit packet that can be purchased in my store: "Native American Unit." Please message me if you have any questions.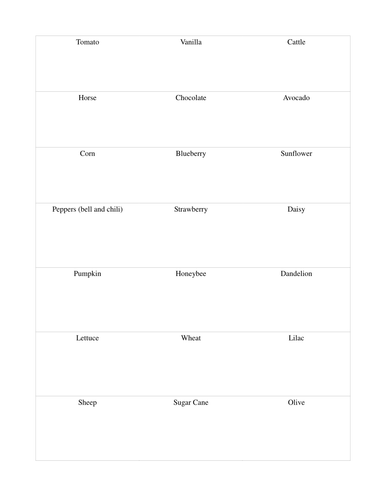 In this activity, students will learn how Christopher Columbus's discovery of America led to a global chain of events that changed and shaped the world. This activity is easily adaptable. You could simply use this as a boring notes page if you are short on time. It could be completed individually or with partners as a research assignment. Or you could turn it into a fun game where students race each other in teams, using their background knowledge and textbooks to try and place the cards in the correct box. Any way you do it, at the end the students are provided with a visual understanding of how this event changed the world. There are two versions of the actual worksheet, a word version for editing and a PDF file for simplicity. I have also included a key. The final two files are "cards." The cards are supposed to be cut out so students can move them around and experiment. It makes it easier for the teacher to come and check and tell them yes or no and have them experiment again without continually erasing. The complete set does not have pictures. The other set is not complete, but has pictures if you are interested.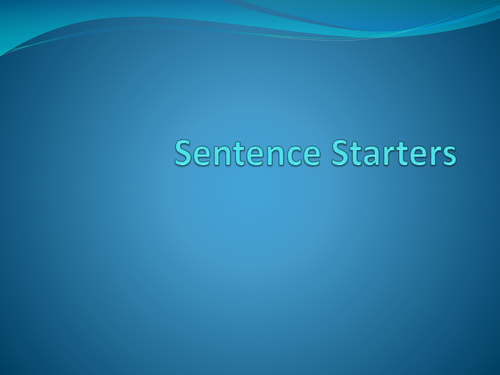 Fun pictures to help get kids writing. My students in the past responded well to these pictures (i.e. giraffes waterskiing, iceclimbers, etc). They can be used in a variety of assignments and are in an easy to edit PowerPoint format.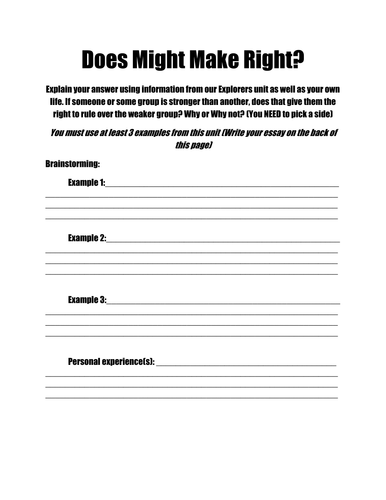 Included in this set are a basic planning page and a writing page. I introduced this topic at the beginning of our unit on explorers and we referenced it throughout the unit. It was the student's final project for our unit. This is in a word document so you may edit as needed.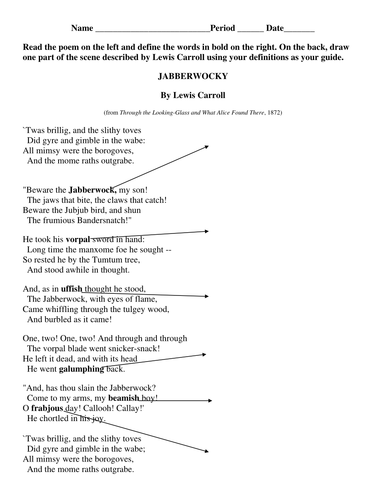 Students will practice their knowledge of context clues and connotation by studying Lewis Carroll's famous poem "The Jabberwocky." There are two activities in this worksheet which both lend themselves to great discussions. Students enjoy this poem and it is a great way to explain how connotation and context clues work together (the way the words make us feel help us understand what they mean). It is also great for teaching how certain SOUNDS can even make us feel a certain way. This is important in any poetry unit. Basically there are a lot of fun things to do with this poem and a lot of different directions to take it.

Stop lecturing about history and help your students engage with it! They will use the highest levels of thinking in this challenging, but engaging activity as they figure out for themselves who Christopher Columbus really is: A Hero or a Villain? I had great success with my students and this activity as spontaneous debates erupted in the classroom over which title this controversial character deserves. This is part two of a three part unit on the Age of Exploration. This section is a primary source analysis where students will use 9 documents to determine if Christopher Columbus deserves the title "Hero" or "Villain." These engaging documents include primary and secondary sources about the explorer. Students will analyze paintings, illustrations, letters, journal entries, reports, and news articles that share a variety of opinions about Columbus and who he was. Each document is fairly short, the longest being a page, and so are very manageable for students. Depending on the length of your class periods, this activity could take up to two days. If you have purchased the Aztec primary source set from my Native American Unit, this set is designed the same way and will help your students continue to build on those skills as the year progresses. A PowerPoint is included to help you be successful as well as a packet for you that includes a key and tips in order to simplify your lesson planning and help you make the most out of this teaching tool. Please let me know if you have any questions or would like to see a sample: jennalyn.mackay@gmail.com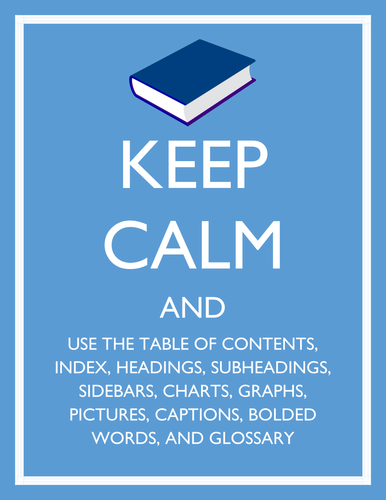 A presentation to teach students HOW to use a textbook and a class poster to remind them. When I was teaching, I found a lot of students were completely unfamiliar with HOW to read nonfiction, informational texts, and textbooks. This is a necessary life skill and one worth teaching in EVERY classroom. 85% of what we read as adults in nonfiction, not to mention the fact that if our students going to make it through middle school, high school, and college a few tips about how to conquer those daunting texts are be more than necessary. In this engaging presentation filled with examples and tips, students can find out just how to conquer these texts and make textbooks work for them. This also includes a fun assignment with a rubric that has students making their own "textbooks" all about their favorite subject.... their lives ;) (I've also include the External Text Features Scavenger Hunt just for your convenience. This is one of the free resources in my shop)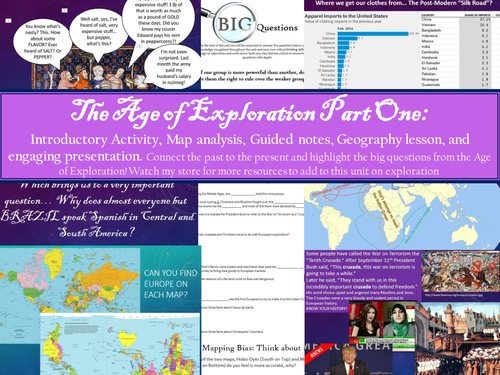 This is Part One of a unit on European Exploration. This section covers an introduction to the unit with an attention grabber activity, intro to the Big Questions of the Unit, a lesson on how maps can be biased, a geography assignment built into a guided notes presentation, and an engaging presentation. The presentation, guided notes, and geography portion explain the why behind European exploration and connects the past to the present without weighing the students or the teacher down with meticulous details. It covers the main ideas while bringing up important points and questions. It'll have the students connecting events that happened over 500 years ago to current events like calling the War on Terror as a "Crusade" and current level of imports to the U.S. from Asian countries. These questions will help students grasp the importance of being sensitive to historical events, what we can learn from them, and the ways they still impact us today. As a bonus, there are links to a couple entertaining, but applicable, clips to break up the note taking. Keep a look out for Part Two and Part Three which will contain a Primary Source Analysis and engaging group and individual projects and assignments. If you like this unit, consider purchasing my Native American unit which is similar in scope, style, and focus.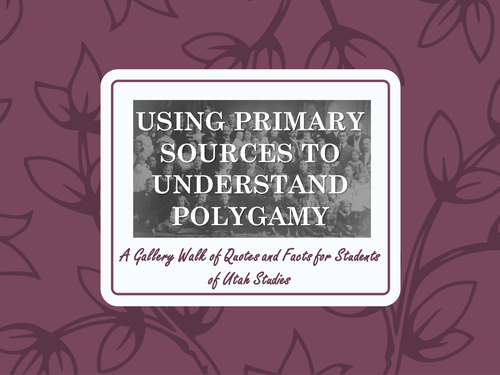 Help students understand what life was like for those in a polygamous family in Utah in the 1800s. Primary sources can help students grasp difficult and foreign topics (such as polygamy) far better than basic facts and figures. Have students explore the different perspectives from those involved as well as read actual facts about Utah Polygamy in the 19th century. Includes 12 quotes and 12 facts, a short presentation explaining the assignment, and a handout for students to record their findings.