Jennytribe's Shop
I am a Science teacher who loves chemistry and all things creative in Science!
32Uploads
18k+Views
15k+Downloads
I am a Science teacher who loves chemistry and all things creative in Science!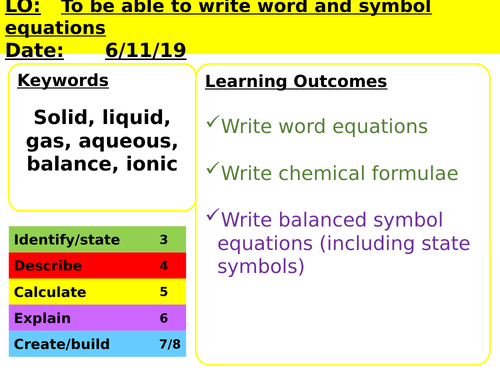 A stand alone presentation about writing word and symbol equations. This can be used during revision sessions or as part of topic Edexcel CC8 acids and bases. I have used it as a refresher at the start of year 11 too.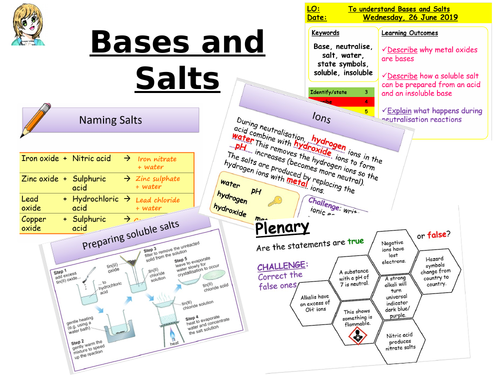 Edexcel Combined Science CC8c Bases and Salts. This powerpoint starts by looking at naming salts made from metal oxides and acids. It explains what happens to the ions during salt formation and then guides students as to how to make a soluble salt in preparation for the core practical next lesson.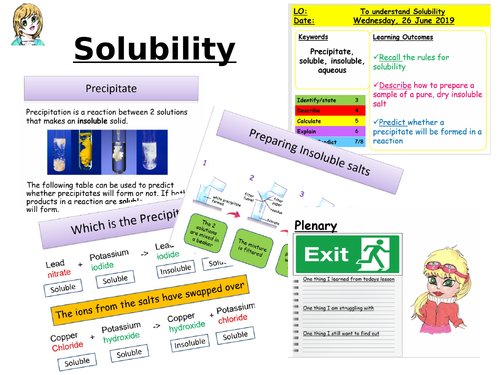 Edexcel CC8g Solubility. This powerpoint starts with a demo of lead nitrate and potassium iodide reacting together to give a bright yellow precipitate. I try and and make this a bit of a magic show! This then leads on to looking at the solubility rules and deciding which salts are soluble or not. After some practice of finding the precipitate, the students are then shown how to make an insoluble salt. The lesson finishes with an exit ticket which could be handed in so that the teacher can find out what students are still unsure of.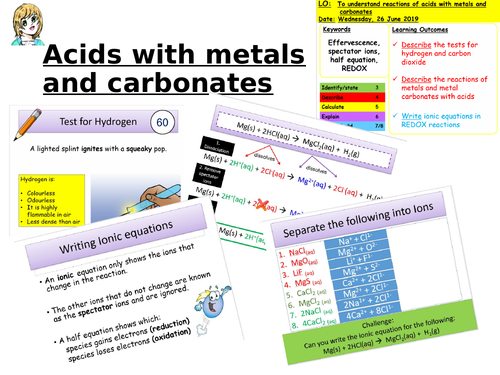 Edexcel CC8f Reactions of acids with metals and carbonates. This powerpoint starts by looking at the tests for hydrogen and carbon dioxide. It then looks at how metals react with acids and how metal carbonates react with acids discussing what products are formed in each case. It then guides the students slowly through writing ionic equations step by step, mentioning spectator ions and half equations.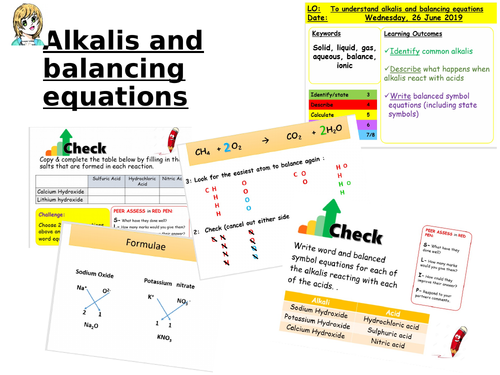 Edexcel Combined Science CC8d Alkalis and balancing equations.This powerpoint starts off with looking at some common alkalis and how to name salts formed from alkalis reacting with acids. It then guides the student through how to write word and balanced symbol equations in easy to follow steps with plenty of examples to practice.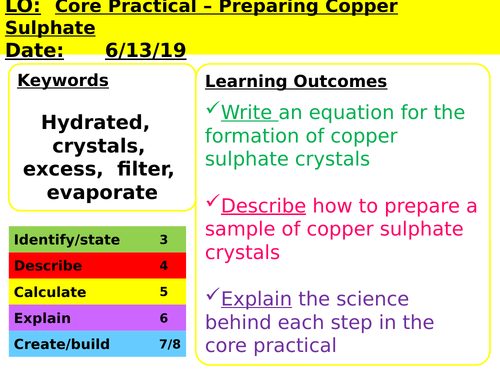 A powerpoint to help students through the CC8c Core practical - Preparing Copper sulfate crystals. This includes setting the task, a method for students to follow and relevant questions to ask following the practical. The last slide is one I print off and laminate as an aid for students to keep or it could go on a display of core practical in the lab.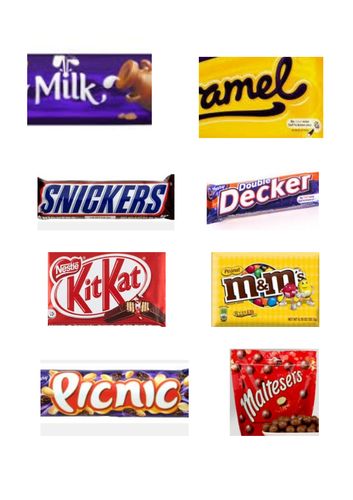 I use this presentation for ITE students but it can be used equally for whole school training. It identifies features of good behaviour for learning (BfL). and considers different strategies for creating, promoting and maintaining good behaviour for learning and finally encourages you to reflect upon your own strengths and areas for development. The point of this presentation is to encourage discussion rather than be led by you.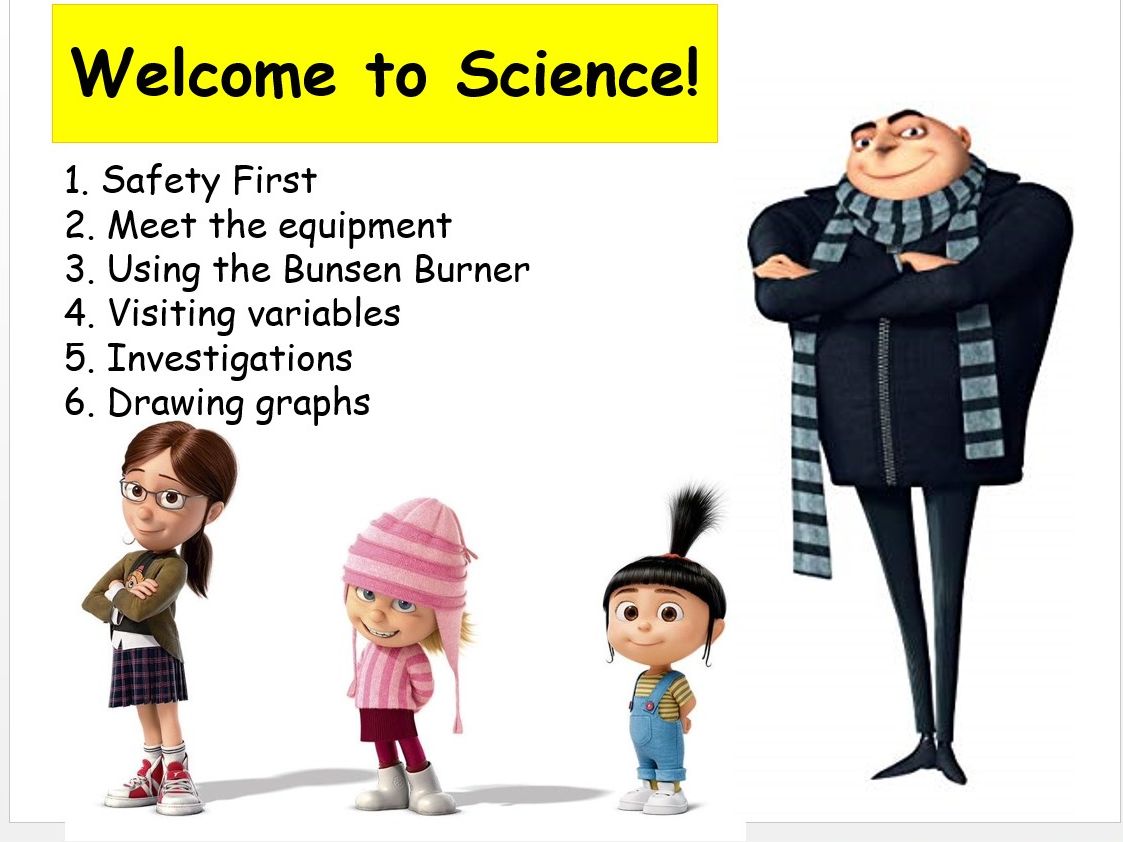 An introduction to Science suitable for year 7 or primary school age. This series of 6 lessons includes the following: Safety in Science Meet the equipment Using the Bunsen Burner Visiting Variables Investigations Drawing graphs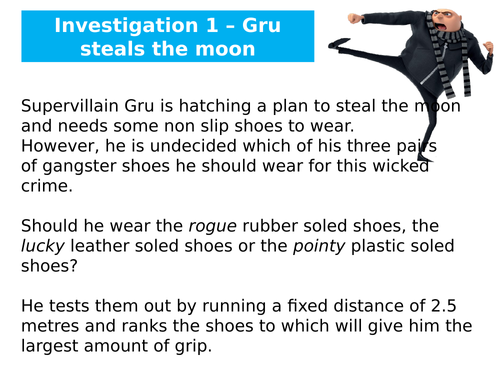 This is the fourth lesson in a series of 6 lessons to introduce year 7 to Science. This lesson is titled 'Visiting Variables' and guides students how to identify independent, dependent and control variables in different scenario's. The presentation is self explanatory and there is a series of 4 slides that I print out and laminate to hand out as part of the lesson. The next lesson is 'Investigations'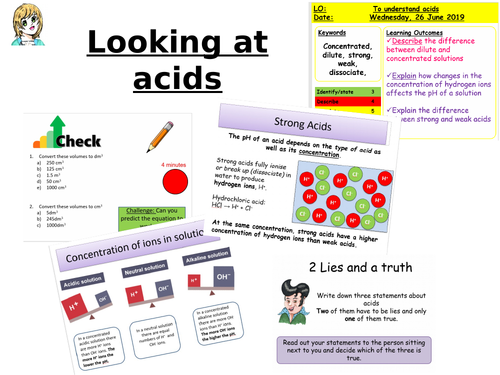 Edexcel Combined Science CC8b Looking at acids - higher students. This powerpoint starts with practice at converting between cm3 and dm3 and vice versa. (Maths skills - converting units) It looks at the difference between strong and weak acids and concentrated and dilute acids. It also discusses the ions in solution and how they relate to pH. (Maths skill - factors)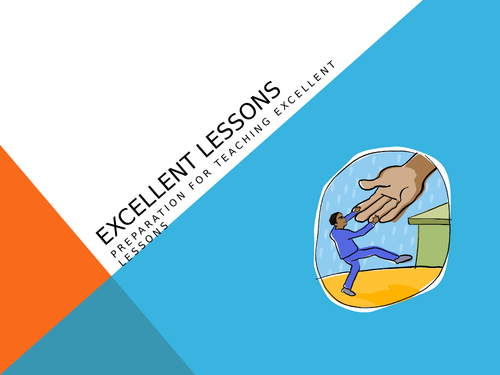 This presentation is used for new teachers guiding them through the process of becoming excellent teachers. It talks about how effective feedback, engagement and sufficient challenge all lead to excellent progress which in turn creates an excellent teacher. This is a long presentation and may need to be split into more than one training session as the interactive activities take some time ( making a toilet roll mummy!)

This is the whole topic of CC8 for Edexcel including the core practicals. The lessons included are as follows: Acids and indicators Looking at acids (H) Bases and salts Core prac - preparing Copper Sulfate Alkalis and Balancing equations Core prac - Investigating neutralisation Alkalis and neutralisation Reactions of acids with metals and carbonates Solubility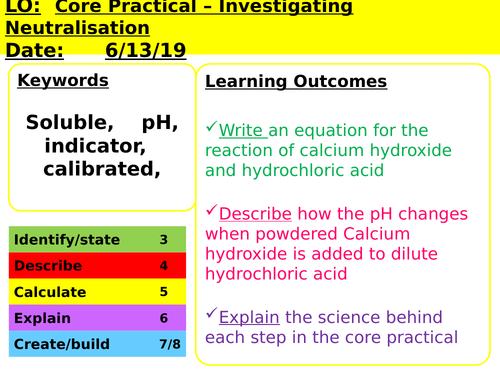 Edexcel CC8d Core Practical - Investigating Neutralisation. This powerpoint leads the students through the setting of the task, the method and hazards and risks associated with th practical. It ends with some questions commonly asked about the practical and the final slide is one I print off and laminate ande ither display around the classroom or allow students to use during the lesson.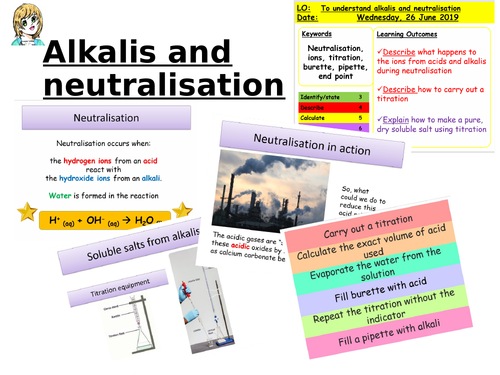 Edexcel Combined Science CC8eAlkalis and neutralisation. This powerpoint starts with a quick recap of previous lessons, followed by looking at neutralisation and what happens to the ions involved. Neutralisation in action is discussed and then students are guided through how to make a pure, dry soluble salt from alkalis using titrations. The plenary can be printed off and laminated to make a card sort if desired.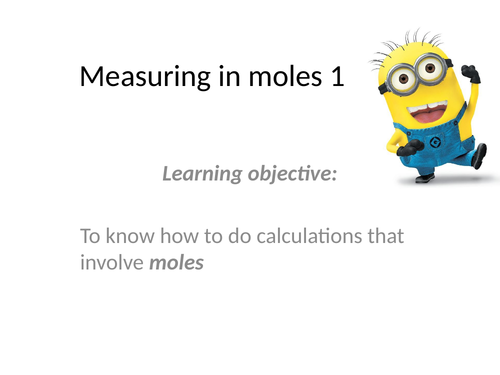 This is a stand alone presentation I use for after school revision throughout the year to show students how to approach calculations involving moles. The slides can be adapted or quantities changed each week so that students practice new problems each time.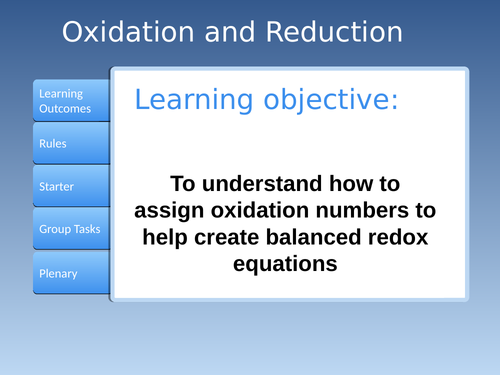 OCR AS Oxidation numbers presentation and associated worksheets used in the presentation. I get the students to print off the oxidation rules and laminate them for reference in their files rather than continually turning back. Thanks for looking.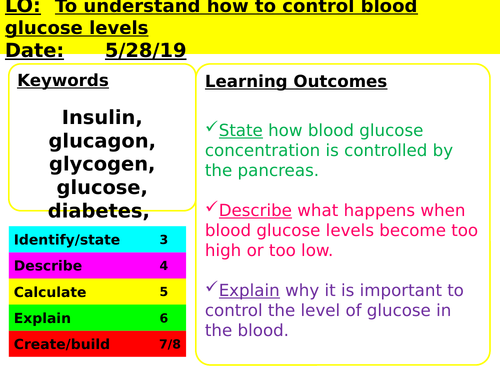 A lesson introducing the control of blood glucose levels. This lesson mentions both types of diabetes but does not go into details of treatments. The practical I did was with clinistix and I have included the 3 solutions I used in the notes section of one of the slides. However, you could use Benedicts solution to test for sugar if you would prefer.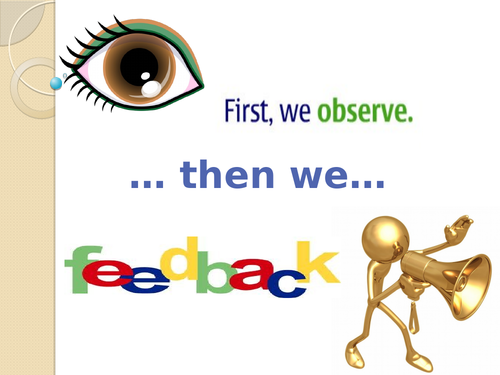 This is a presentation I use for both mentors and classroom host teachers when ITE students start to arrive at the start of a new academic year. It reminds everyone of the key points about how to give good and meaningful feedback and what pitfalls to avoid. I have also included a template of the feedback sandwich which I laminate and hand out to each teacher as an aid memoire and also a fictional lesson plan for demonstrating a good and poor lesson.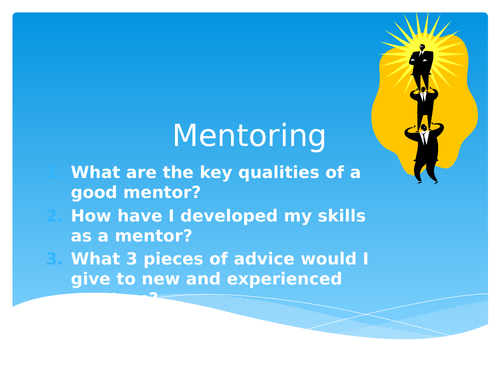 This is a presentation I have used several times to good reviews for new ITE mentors. It introduces them to the idea of mentoring and what it entails. The fairy tale activity works really well with new ITE trainees and enables the mentor to really get an idea of how the trainee is feeling without it being personal. I have included 3 examples to look at but its much better if you get your own trainees to do one and use that as an example instead.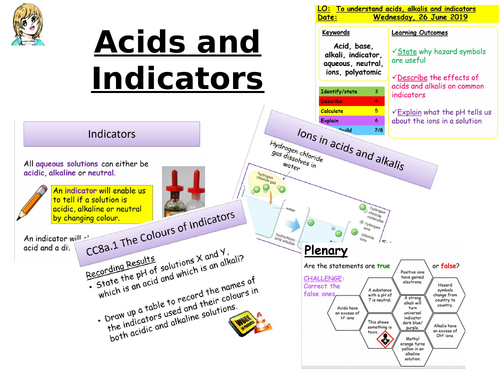 Edexcel Combined Science CC8a Acids and Indicators. This presentation includes details on hazard symbols and their meaning, acids, indicators, pH and ions in acids and alkalis. It also includes the practical for testing indicators with solutions of different pH (CC8a.1) the reference to worksheet CC8a.3 refers to the Edexcel published worksheets.