Jerome Sauvin's Shop
French resources for all levels, mostly PPT presentations but also videos and worksheets.
135Uploads
24k+Views
5k+Downloads
French resources for all levels, mostly PPT presentations but also videos and worksheets.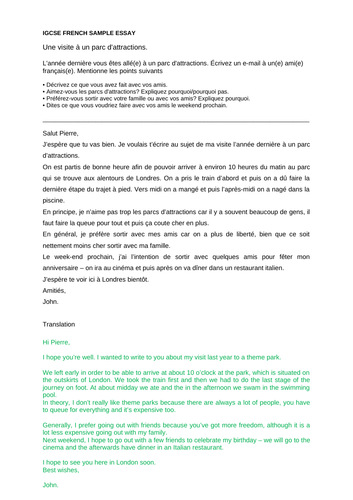 This resource is a series of seven GCSE French sample essays based on the most common topics: Holidays, School, Hobbies, My Area, Family, Chores and Visits. It follows the NEW GCSE/IGCSE format for the essay writing: 4 bullet points, around 150 words, 3 tenses Each essay includes a range of A star structures and has the translation in English below. Each essay includes some complex structures to reach Level 9. My students found this resource very useful to expand their complex structures and build a range of set phrases. This resource is also suitable both for AQA, Edexcel and Cambridge IGCSE students. Enjoy!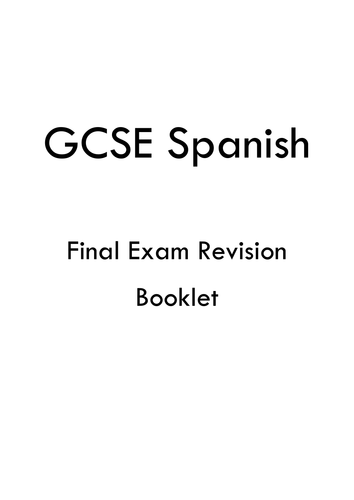 This bundle consists of 2 booklets: _ A revision booklet (52 pages) in Word format with plenty of key vocab and structures drawn from the GCSE exam list and split into topics. It also includes 15 reading activities and some useful exam tips. This resource can be used in class or independently by the students throughout the year. It is suitable for Foundation and Higher Level students and fits all exam boards, including Igcse. Booklet has around 5 hours of work. _ A different Revision booklet in PPT format made of 32 slides, to revise core structures for Productive skills _ A Grammar game also in PPT, to add a bit of fun.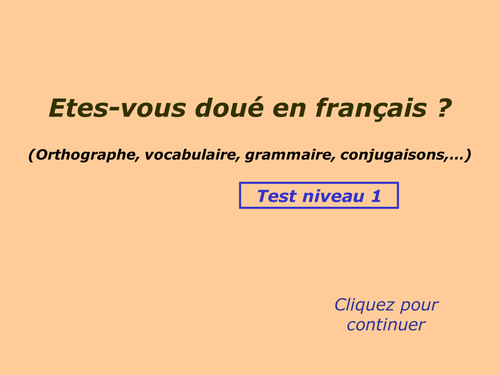 Comprehensive and interactive multi choice grammar quiz (72 slides) to revise a range of grammar points: tenses, adjectives, gender etc …in a fun way. Suitable for As and A2 students, this is a very effective resource to revise a range of grammar points in 30mn.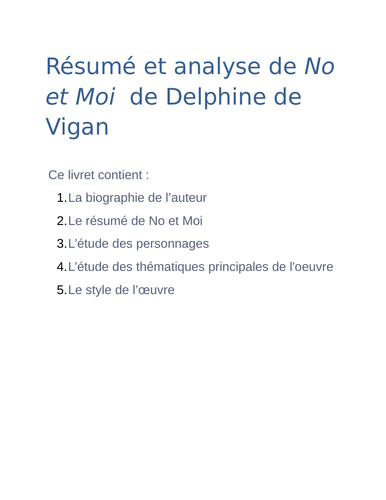 This in-depth and informative booklet in French ( 15 pages) brings you: • A biography of Delphine De Vigan • A complete plot summary • Character studies • An Analysis of the Key themes and symbols • Reflection on the style of the novel It will help the A Level students with essay writing . It can be used in class or for independent study.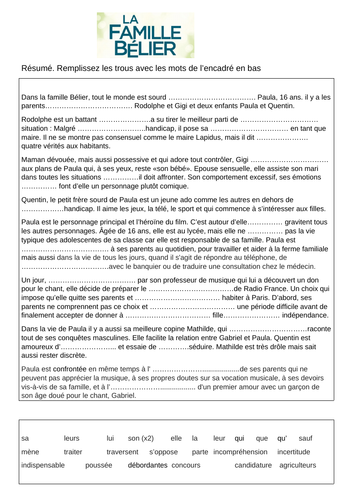 This resource consists of 3 Study booklet on la Famille Belier suitable for A Level / Higher GCSE. One is a 40 slides PPT presentation and brings you: • A complete plot summary • Character studies with characterisation task • Some comprehension questions & exercises • Activities on the trailer • An extract from the film and a gap filling task on the famous song from Michel sardou, and a portrait of the main actress. • Useful quotes The second booklet is a 11 pages booklet in Word format with lots of interactive activities. It must be used in conjunction with the PPT presentation. The third booklet is a 10 pages long, also in Word format, with other activities. Booklet can be be done after watching the movie.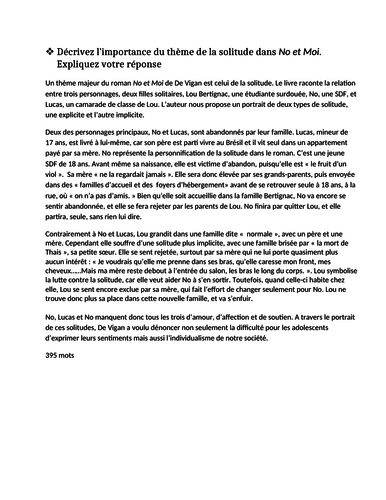 This resource includes 6 model essays in French on No et Moi suitable for the new As/ A Level exam. The titles of the essay are the _ A study of the topic of loneliness _ whether Lou can be seen as a hero _ No et Moi as a novel for teenagers. _ The style of De Vigan's style in the novel. _ A study of t the topic of homelessness _ The similarities between No and Lou The essays are between 300 and 450 words, except the one on style which is a comprehensive critical analysis of more than 1300 words… This is the title that students usually find the most challenging so I wanted to give them as much help as possible. My students found theses essays very useful to organize their paragraphs and use analytical language.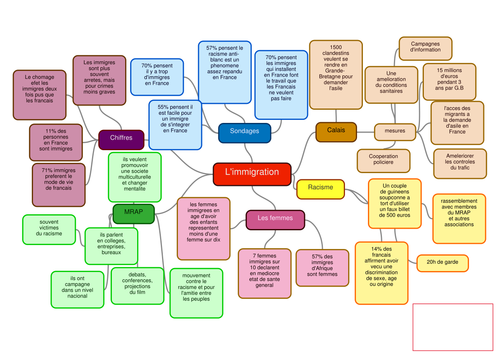 This is a collection of 8 resources to introduce and reinforce the topic L'Immiigration. There is a comprehensive PPT with 73 slides exploring the issues of immigration, integration and racism in France through the ages with lots of facts, but also quizzes, film extracts, study cases and testimonies . _ 3 video questionnaires _Two mind maps on immigration and multiculturalism to be used for oral practice. _ Vocabulary set phrases and questions on this topic to be used for oral and writing practice _ A vocab worksheet with 6 activities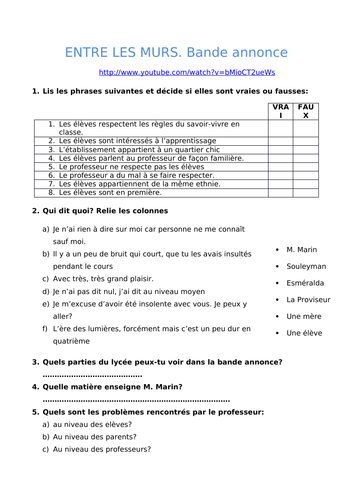 This resource consists of 2 model A Level essays on the film *Entre les Murs *adapted to the new A Level AQA exam. The first essay explores the relationships between Francois Marin and his students, and the efficiency of his teaching. The second one looks at the efficiency of Mr. Marin's teaching. The titles are set as A Level essays with bullet points but it is suitable both for As and A Level students as they are very thorough, around 700 words each and include quotes. . Each essay is structured logically with Intro, 3 or 4 paragraphs with Points, Evidence, Evaluation and a conclusion. Also attached is an activity about the trailer and a 10 pages study booklet on the film.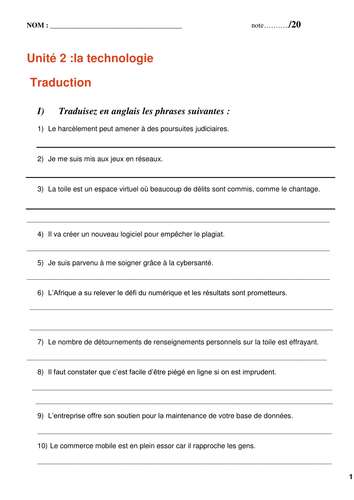 Attached is a bundle of four End of Unit tests for the NEW AQA As FRENCH. The topics are: 1. Les nouveaux types de familles et les relations. 2. Les nouvelles technologies 3. Le bénévolat 4. Le patrimoine Each end of unit tests assesses 5 skills: Translation, Reading , Listening, Grammar and Writing All the language is taken from the activities and vocab lists in the textbook. Each test starts with a Translation activity with 10 sentences to translate from French to English and 10 from English to French. This is followed by : _ a Reading Section made up of up 1 or 2 exercises, _ a Listening Section with the audio tracks provided _ a Grammar Section to test the points covered _a Writing Section with some questions This can be done at the end of each unit or for exam revision. It is suitable both for As and A2 students.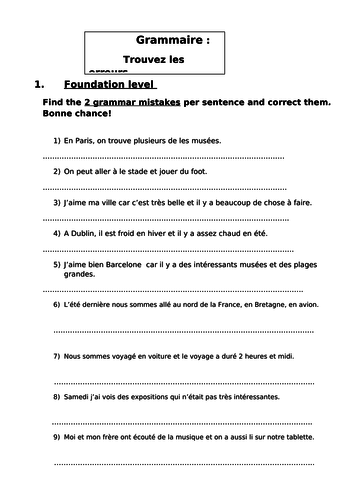 This resource consists of two series of 20 phrases with 2 Common Grammar mistakes in each sentence. First part is a series of 20 Foundation phrases and second part is series of 20 Higher Level sentences. Mistakes can be on conjugation, adjectival agreement, gender, prepositions. Students have to identify the mistakes and correct it. I compiled this list of mistakes from the essays of my students. Also incuded at the end are 5 Sentences to Translate from English to French for early finishers. This is suitable for both Foundation & Higher Tier students as there's a mixture of easy and complex sentences The sentences cover the five main topics and are taken from mistakes I have seen in students productions. This activity lasts around 1 hour with the corrections and can be used as a diagnostic activity to check pupils grammatical knowledge.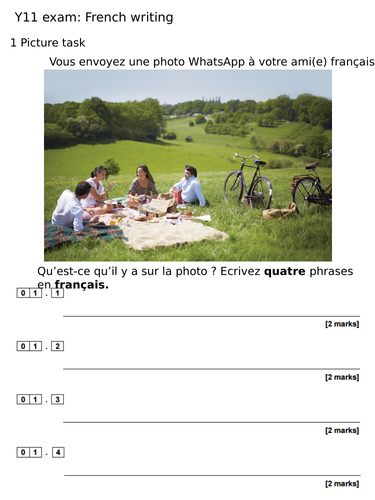 This is a Writing Assessment based on the New GCSE Exam. It follows the lay out of the new exam format. The PPT contains a picture description, a 40 Word Writing tasks and three 90 Word Writing tasks, and a transaltion activity. Also included is an extra Word doc with Translation task and a follow up on this task. It is suitable both for Foundation and Higher students revising for the GCSE.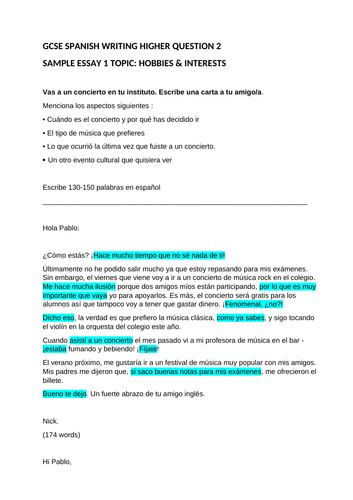 This resource consist of 4 GCSE sample essays based on popular topics: Holidays, School, Hobbies, Health& Fitness and Visits. It follows the NEW GCSE format for the essay writing Higher Question 2: 4 bullet points in target language, around 140 words and use of 3 tenses Each essay includes a range of A star structures highlighted and has the translation in English below. Some essays have also got some useful tips on the side about the structures. My students found this resource very useful to expand their complex structures and build a range of set phrases before their exam. This resource is also suitable both for Edexcel and Cambridge IGCSE students. Enjoy!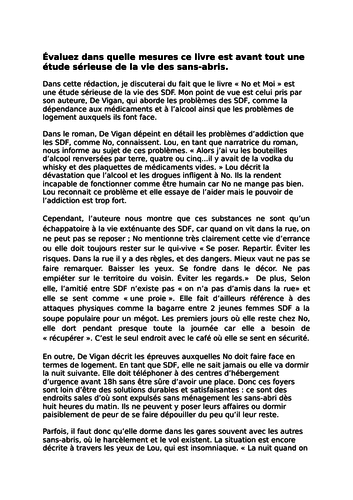 Attached are 2 new essays on No et Moi suitable for the new French A Level exam, the first one looks at whether the novel can be seen as a study of homelessness, while the second one examines whether Lou and No get on well because they have similar lives. Each essay is around 700 words, and includes quotes. My students found them useful to write their own essays on the novel. This bundle contains a collection of 16 Cultural and linguistic PPT quizzes on France and French language for KS 3-5 students, depending on the resource. Most of them are in French but a few for KS3 are in English. The length of each quiz varies between 15 and 45mn . Most of theses Quizzes are interactive PPT and can be displayed on whiteboard and are fully editable. The title indicates the targeted audience. These quizzes are best used either at the end of term or for starters/plenaries. Students really enjoy them as it's covering a very wide range of cultural topics about France : medias, geography, history, famous people etc… and it's a refreshing change from the purely linguistic side of their French studies. Faites-vous plaisir! Below is a selection of various grammar points in PPT and word formats for A Level students . _8 PPT presentations cover the following points : Pronouns, Adjectives, Subjunctive, Prepositions Comparatives, Relative pronouns, Indirect Speech, Perfect, Imperfect Tenses. _ You also have 2 Grammar booklets and conjugation exercises to practice these various grammar points. This is a module of work on the topic Le Patrimoine for students preparing the New A Level French comprising: _ 4 Reading Comprehension on some of the most famous landmarks in Paris such as Sacré-Coeur, Musée d'Orsay, Tour Eiffel, Notre Dame and some less well-known such as Les arènes de Lutece. _ 5 Reading activities on Le Patrimoine in the Pdf booklet _ 2 Writing and Speaking tasks to complete for homework or in class _ 3 stimulating and fun quizz in PPT and Word format about French Culture and General Knowledge about different aspects of France. Answers are provided. The quiz work best when done in small groups. _ 2 pictures to elicit Discussion, they can be used as a warm up or as an end of lesson recap. This bundle consists of 40 GCSE tests, each on a specific topic and covering different grammar points. Each test is made up of 2 or more Reading Activities, some Grammar exercises and a Writing Task. Each test lasts between 45mn and 1h20. It is aimed at GCSE Higher but easily can be adapted for Foundation. The following topics are covered : _ FOOD _ HEALTH _ HOBBIES _ NEW TECHNOLOGIES _ FAMILY _ HOLIDAYS _ TRANSPORTS _ SCHOOL _ ROUTINE _ SHOPPING _ OUTINGS _ CLOTHES & FASHION _ ENVIRONMENT _ DESCRIPTION _ JOBS _ HOUSE & AREA All the grammar points for GCSE These assessments are in Word docs and are therefore fully editable. Some of them will have the answers provided, so they can be used for independent learning. It's ideal to prepare for GCSE exam.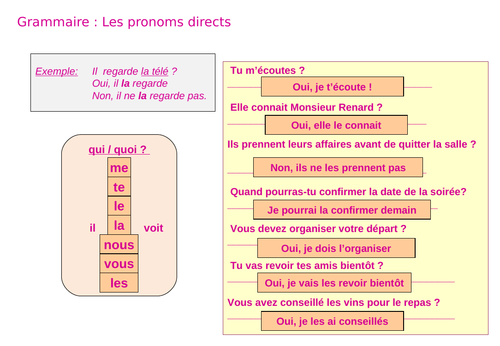 This interactive PPT presentation on Direct, Indirect, Y and EN pronouns explains clearly the differences between these four types of pronouns with practical sentences. Students work out how to answer the questions with the correct pronoun, then check their answer. It's a very efficient way to introduce and revise pronouns with A Level students.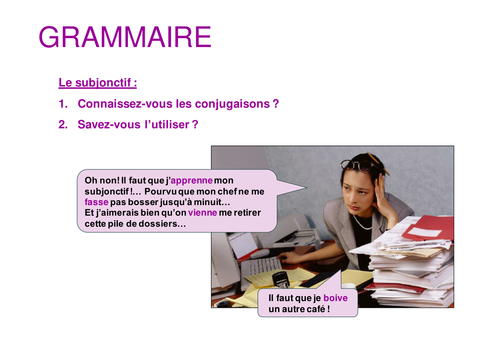 This is an interactive lesson I produced for my A Level students. It can be used to introduce and to recap the subjunctive. it contains a starter, then a tutorial, and five exercises to practice the various cases. There's a thorough table of regular and irregular verbs as well as a comprehensive list of structures commanding the subjunctive. Students find it very helpful to revise this tense and remember the complex structures. This extensive grammar booklet, 81 pages, is intended for GCSE and French A Level students. It covers all aspects of grammar points. Each chapter starts with a recap of the rule and is followed by a range of functional exercises in context organized in level of difficulty. This is an excellent resource for reviawing and practsing some specific grammar points. It is Word Format so it is fully editable.