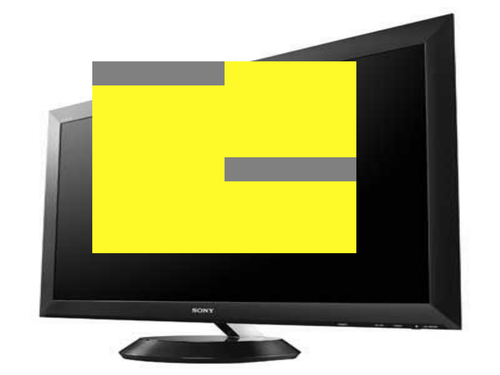 This resource consists of 3 docs: 1. A PPT to introduce and recap the various TV programs and opinions. 2. A vocab worksheet on TV and cinema with 6 activities 3. Another worksheet on Film and television. This is suitable for Year 10-11 students
A very comprehensive powerpoint (114 slides) which introduces and practises language on the topic of sport and hobbies for GCSE French. It is suitable for KS3 to introduce the vocab or KS4 to revise and provide further practice. It includes a tutorial on which verbs and prepositions to use for each sport. An editable Word booklet with 10 Reading and Writing further practice on sports and hobbies is provided.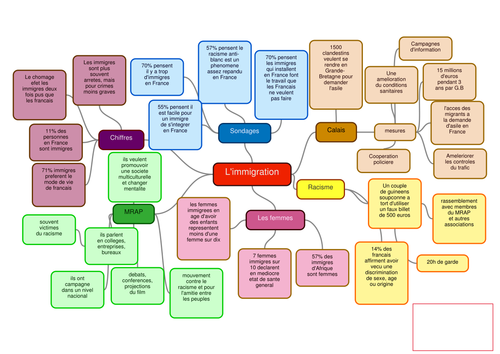 This is a collection of 5 resources to introduce and reinforce the topic LA FRANCE MULTICULTURELLE. _There is a comprehensive PPT with 69 slides exploring the issues of immigration, integration and racism in France through facts, quizzes, film extracts and games. _ Two mind maps on immigration and multiculturalism to be used for oral practice. _ Vocabulary set phrases and questions on this topic to be used for oral and writing practice _ A vocab worksheet with 6 activities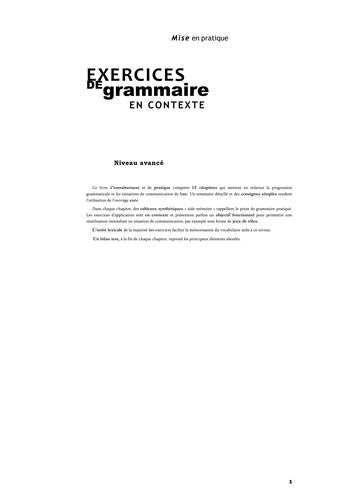 This extensive grammar booklet, 144 pages, is intended for French A Level students. It covers 15 grammar points. Each chapter starts with a recap of the rule in the shape of the table and is followed by a range of functional exercises in context organized in level of difficulty. A test at the end of each chapter recaps the points. Three general tests with corrections are provided at the end of the booklet. This is an excellent resource for reinforcing the A Level grammar points throughout the 2 years of the course.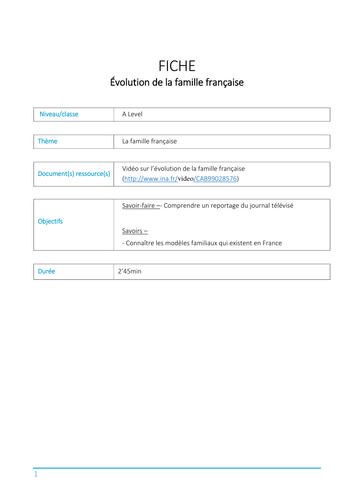 This resource consists of a bundle of activities on the topic Ma Famille and is suitable for the New A Level French: _ A comprehensive video activity about the evolution of family _ 7 Reading activities _ 2 Translations, one French to English and another English to French _ An extensive Vocab worksheet with 5 activities The Word document for the video consists of an extensive questionnaire with global and detailed comprehension activities and independent work to be done at home .Answers are provided along with transcript, links and further information on the evolution of family. It is suggested to spend at least 45 mn on this activity.T he video file is provided. The Word doc with the reading activities help to introduce and practice the vocab on the various types of family; it can be done in class or at home and takes around 1 hour to complete.
This bundle consists of 8 interactive PPT presentations, on the most important GCSE vocab topics such as: _ Daily Routine _ Descriptions _ Food _ Weather _ Introducing oneself _ School _ Sports _ Shopping _ Holidays Each PPT is comprehensive, from 10 to more than 100 slides, and consists of a presentation followed by some practice. The vocabulary is contectualized in relevant and challenging activities. These PPT can be used throughout the year either to introduce the topic or to renforce it. It can also be used by students for independent learning. Bonne aventure!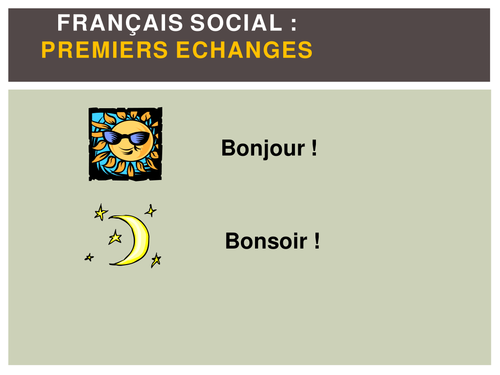 This is a comprehensive and interactive PPT with 42 slides on greetings and personal information. The first part goes through the various ways of greetings, both formal and informal. The second part looks at how to ask and respond to a range of personal information: name, age, phone number, date of birth, where I live and come from, nationality, job, where you work. It is followed by some practice and a who's who game with pictures of famous people. It is suitable for KS3 students but I also found it very useful for KS4 students in preparation for the role-plays, as they often forget how to ask and respond properly to basic questions.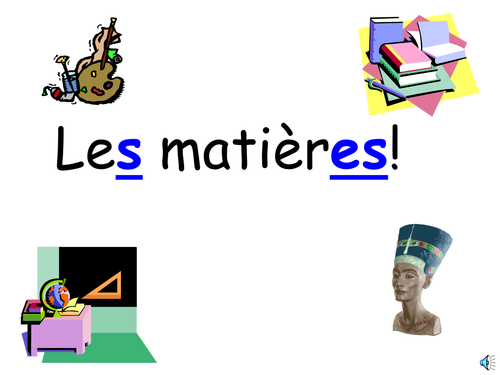 Comprehensive and interactive PPT presentation (90 slides!) on the topic School. It includes a tutorial with some activities on the following sub-topics: _ School subjects _Opinions on subjects, teachers, school uniform, homework _ Extra-curricular activities _ Routine activities at school _ Time and timetable _ School equipment _School system in France This can be used for KS3 and 4 for a whole lesson either to reintroduce or reinforce this important GCSE topic. Attached is also a worksheet to practise the structures of opinions on school-related matters
This bundle consists of 10 PPT tutorials with practice, each resource covering a different grammar points. The points covered are: _ the main tenses in French ( Present, Perfect, Imperfect, Future and Conditional, all with irregular verbs) _ Adjectives _ articles _ Comparatives _ Pronouns _ Prepositions + An editable booklet to revise all these points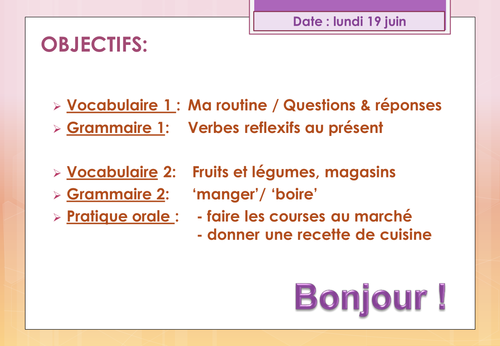 This is a comprehensive PPT presentation on Routine and Shopping for food with 35 slides. It starts with a presentation of various daily routine actions and moves on to the grammar rule and some some practice on reflexive verbs in the present tense. Two slides contain questions about routine with different tenses which provide an excellent practice for the GCSE general conversation. It also covers shopping for food and the partitive articles. This PPT is interactive so students have the opportunity to provide the answers and participate. Its aim is to consolidate and extend students' knowledge on routine and shopping for food.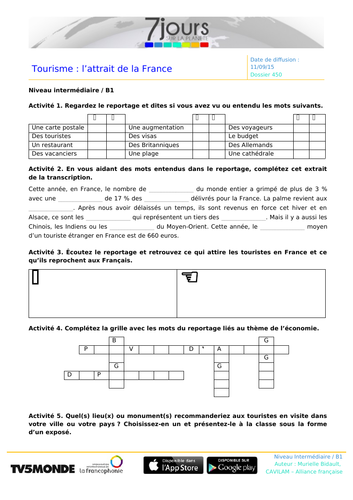 This is a video with worksheets, transcription and answers about the attraction of France for foreign tourists. It fits well with the A Level topic "Le Patrimoine".
Attached is a bundle of 5 Videos resources with with a comprehension worksheets and transcription on various A Level topics: Immigration, New Technologies, Heritage, Volunteering and Tourisme. These video are an excellent way to broaden student's knowledge, improve their listening skills and elicit conversations and debates.
Below is a selection of various grammar points in PPT and word formats for A Level students . _8 PPT presentations cover the following points : Pronouns, Adjectives, Subjunctive, Prepositions Comparatives, Relative pronouns, Indirect Speech, Perfect, Imperfect Tenses. _ You also have 2 Grammar booklets and conjugation exercises to practice these various grammar points.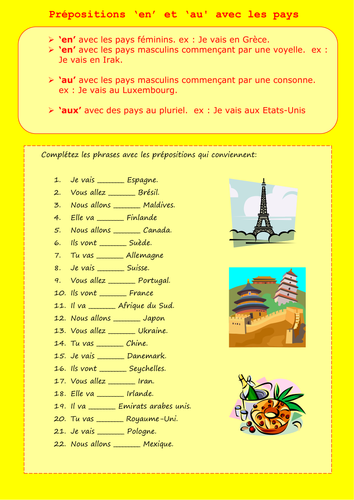 Two worksheets on Prepositions in French, one with countries and nationalities and another one to practise the following prepositions: du ; de la ; des ; à ; au ; aux ; en ; sous ; sur ; dans ; avec ; de et pour . It is suitable for KS3 and KS4 students, but could be used as a refresher at As Level.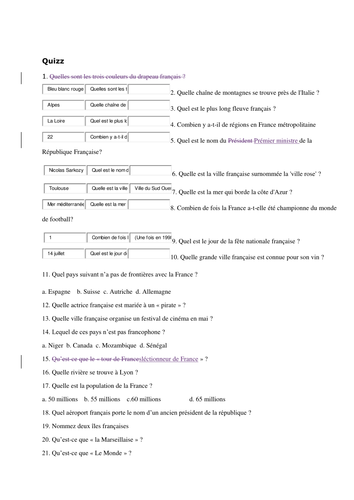 This is a collection of 14 quizzes on France and French language for KS 3-5 students, depending on the resource. Most of them are in French but a few for KS3 are in English. The length varies between 10 and 30mn . Most of theses quizzes are interactive PPT so they can be displayed on whiteboard and are fully editable. The title indicates the targeted audience. I use these quizzes either at the end of term or for starters/plenaries with great effect. Students really enjoy them as it's covering a range of cultural topics about France ( medias, geography, history, famous people) and it's a refreshing change from the linguistic side of their French studies. Enjoy!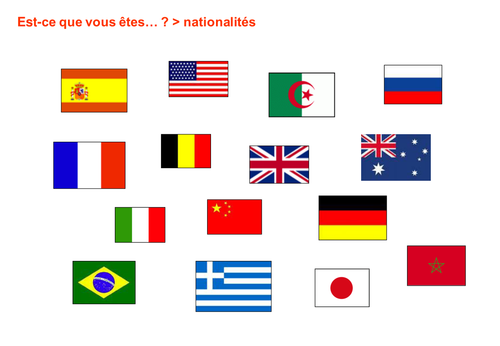 Comprehensive PPT tutorial and practice about questions words in French. This presentation consists of 40 slides and provide lots of practice on asking and answering questions. This is suitable both for GCSE and A Level students.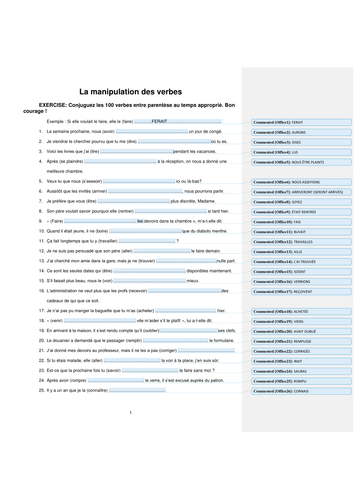 Conjugation exercise with 100 sentences. Students conjugate the verb in bracket in the right tense. Answers are provided when to select Review tab, then Final: show up. Students find this activity useful to revise tenses and also learn some set phrases. Can be used as a translation exercise as well. It provides an opportunity to review any area of weakness student might have. Can be set in class ( usually takes minimum 45mn, with corrections and explanations) or for homework. It is suitable for exam revision, for all exam board.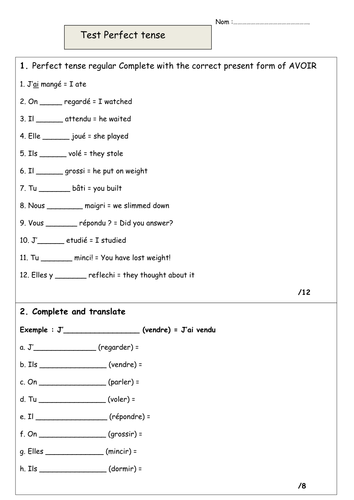 This is a list of 3 assessment sheets on present, perfect and future tense in French. The aim is to test the students knowledge of the conjugation of these tenses in the regular and irregular forms. Some of the activities are contextualised by topic. It is suitable for KS4 students preparing for GCSE/ IGCSE exam and also for As students. It is made up of 10 pages overall, all in Word format, so you can edit it as you wish. My students found it very useful to develop their productive skills and to build a list of set phrases for the essay writing.