Jerome Sauvin's Shop
French resources for all levels, mostly PPT presentations but also videos and worksheets.
173Uploads
94k+Views
33k+Downloads
French resources for all levels, mostly PPT presentations but also videos and worksheets.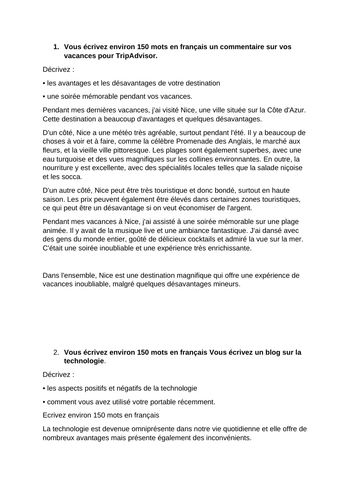 This resource consists of 8 French Higher GCSE Model Essays for the 130-150 words task ( 24 markers) based on Edexcel & AQA Past Writing Paper. It a fully editable Word doc The following topics are covered: _ Food& Drink _Sports & Hobbies _ New Technologies _ Friendship & Relationships _ Holidays _ School _ My area and the Environment _ Future Work These essays are also useful for the IGCSE 130-150 words essays . This is a comprehensive Powerpoint presentation made of 64 slides which recaps most of the topics covered at Primary Level. Topics include: Greetings, Days and Months, Giving personal information,Numbers up to 31 Answering basic questions, Towns and countries and Classroom language. The presentation is interactive and fun. This is a suitable for Year 4, 5 and 6, and can be used at the end of term for general revision or at the beginner of term for a refresher. Here is a compilation of 45 practice speaking cards to for A Level AQA on the 12 topics that , there are 3 to 6 cards per topics and they follow the format of the exam: Q1.Describing the card Q.2 Opinion on the issue Q.3 Knowledge question Some cards have a few extra questions.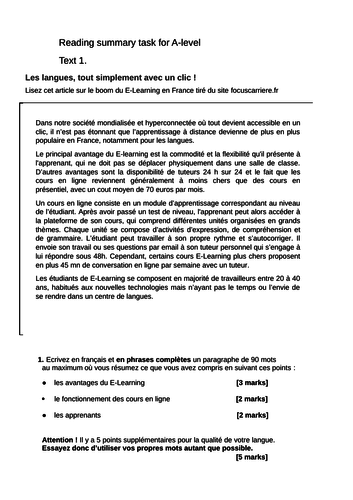 Attached are 2 texts on Technology and Dating with a model summary for each one, based on the new A Level AQA exam. It follows the AQA format: Each text is around 200 words and is summarized into a 80 words summary using the 3 bullets points provided. The first text is about the rise of online Language learning and the second one about online dating. My students found them very helpful to understand the skills required for this task. Attached are 4 A Level Model Essays on the following A2 titles : ''La Haine est avant tout un film anti-police." "Kassovitz a réussi à bien dépeindre l'exclusion sociale en France dans La Haine." "Dans quelle mesure peut-on éprouver de la compassion pour Vinz ? "Examinez les similarités et les différences entre Saïd, Vinz et Hubert dans La Haine. These resources include the analysis of the main themes of the film. they can also be used for revision or teaching for other exam boards. _A synopsis and film summary _ A worksheet with 25 questions on the film _Activities to explore the main characters _ Analysis of 6 key scenes _ Extracts from the film to illustrate the main themes _ Analysis of the representation of the Barcelona, the flat _ Questions on the main topic: Un film d'apprentissage _ An interview with Klapish _ A study of the trailer and the film poster This is a bundle of activities on French Gastronomy as part of the Unit on French heritage and is suitable for A Level students. It includes: _ 6 Video/Listening activities with questionnaires on Gastronomy _ 5 Reading activities on Gastronomy with answers provided _ PPT presentation on food Some caricatures to trigger discussion _ Idiomatic expressions with food _ 2 Texts on Specialities from the Provence and the Savoie Areas _ A matchup exercise with Specialities and their region _ A level Questions on food _ Quiz on French cheese _ A recipe from a French chef All the comprehension resources are in Word Format and fully editable. Bon appétit!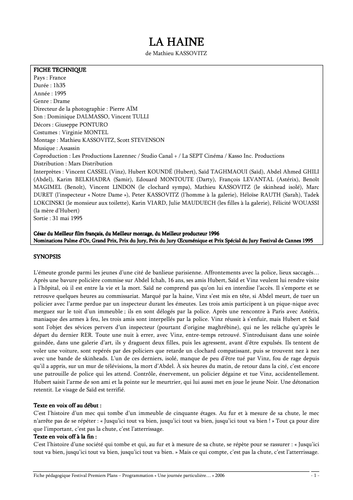 This resource consists of 16 documents, including: in-depth and informative booklets mostly in French on La Haine : A complete plot summary Reviews and analyses of the movies A biography of Kassovitz In-depth Analysis of Key Scenes 6 study guide & Character studies In-depth Analysis of the main themes Analysis of Techniques Revision booklet covering various topics and grammar points for Beginners/ Intermediate students. It contains 9 chapters, each one covering a few topics / grammar points. Each area contains 4-5 worksheets for practice and more than 30 worksheets are provided overall. This booklet is suitable both for teenagers and young professionals as there is a focus on business French. It can be done either in class using a projector or at home . I wanted to show my students that the language can be used in real work life situation. They enjoyed this work and found it a nice change from the usual exam practice. Below is a list of the topics covered: • Greetings and introductions • Basic sentences • Basic questions • Spelling • Numbers up to 20 • More personal information • The negative form • Introducing a third person • Masculine and feminine • Numbers • Date and time • Telling about the weather • Talking about your daily routine • Ordering at the bar • Identifying objects • "avoir" • Shopping and paying • Conjugating regular verbs • Identifying food • Saying what you like to eat • Saying where you go, how and why • Saying what you like doing • At the restaurant • Grammar: basic rules and verbs • Vocabulary: countries • Geography: France A company profile and history Talking about your education and career Comparing company performances Describing people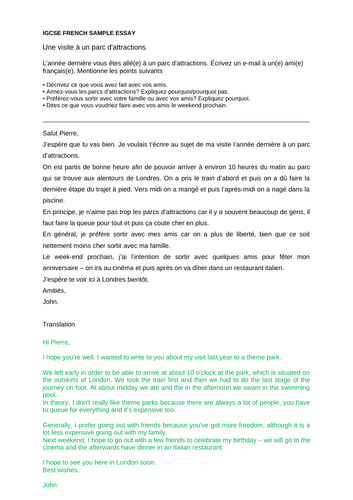 This resource is a series of seven GCSE French sample essays based on the most common topics: Holidays, School, Hobbies, My Area, Family, Chores and Visits. It follows the NEW GCSE/IGCSE format for the essay writing: 4 bullet points, around 150 words, 3 tenses Each essay includes a range of A star structures and has the translation in English below. Each essay includes some complex structures to reach Level 9. My students found this resource very useful to expand their complex structures and build a range of set phrases. This resource is also suitable both for AQA, Edexcel and Cambridge IGCSE students. Enjoy!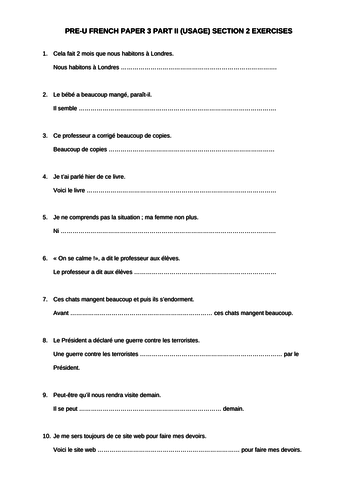 This resource consists of 12 worksheets to revise all the A Level grammar points. Each worksheet consists of 35 sentences and takes 30 to 45 minutes to complete. Half of them are gap filling exercises and the other half are Sentences Restructuring. Answers For answers, select REVIEW > ALL MARKUP on the word documents below. This is very useful to reinforce grammar points and identify possible areas of concern.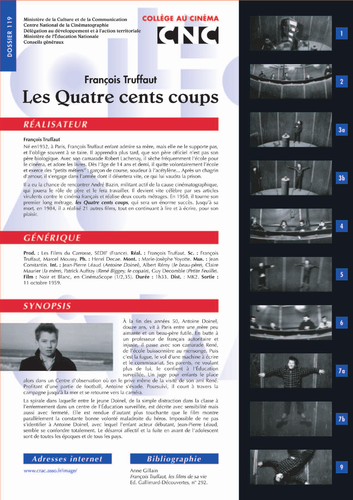 This resource consists of 11 documents, including 8 in-depth and informative booklets mostly in French on Les 400 Coups, covering : • A complete plot summary • A study guide &Character studies • In-depth Analysis of the Key themes, Scenes and symbols • A biography of Truffaud Other docs include Comprehension Questions on the film, reviews and Truffaut's career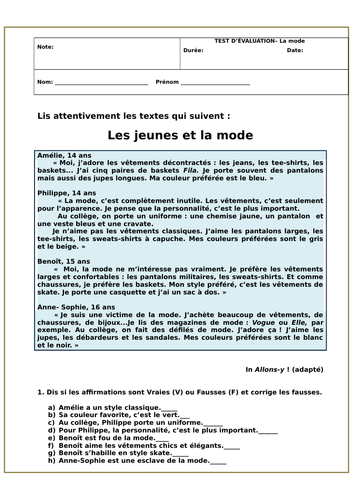 Attached is a series of 3 GCSE tests on the topic Fashions and Shopping for Young People. Each test is made of a long Reading Comprehension, some vocab exercises, a writing task and a few grammar points such as present tense, prepositions, adjectives and pronouns. Each test lasts between 45mn and 1 hour. This is a Reading, Vocab, Grammar & Writing Assesment on School, lasting 45 mn to 1h. This fully editable resource is suitable for the new GCSE Higher exam and can be adapted for Foundation.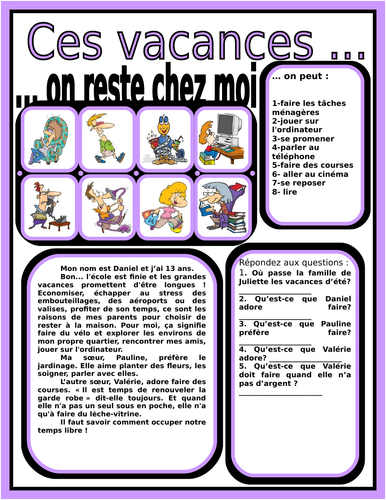 This bundle contains 11 editable word documents: Five coloured worksheets to work on the vocab to do with various types of holidays: _ A la mer _ A la montagne _ A la campagne _ Chez moi _ A l'Etranger Each worksheet starts with matching up picture with activity, and is followed by a Reading comprehension recycling the vocab from the previous exercise. 3 Short Writing activities on holidays using a frame Two speaking activities: Questions and Model Answers on Holidays for Speaking activities+ Find someone who A Dictation This bundle covers all subtopics on Holidays: Accommodation, Holiday preferences, Past and future holidays Shopping and souvenirs Tourist office and visitor information Transport Weather and climate It would be suitable for KS3 students as well.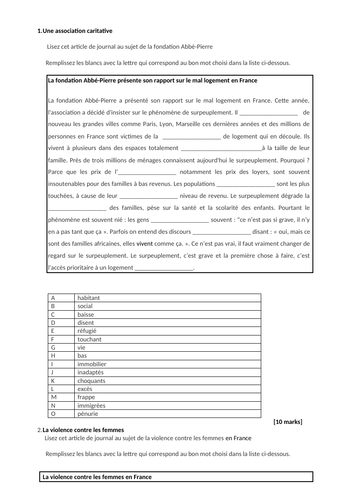 Attached is a list of 4 A Level AQA style gap-fill tasks, following the format of the exam task: 10 gaps and a choice of 15 words to choose from among verbs, adjectives, nouns and adverbs. Students are often struggling with this type of task which is worth 10 marks in the Reading Paper. Answers are provided. Document is a Word format and fully editable.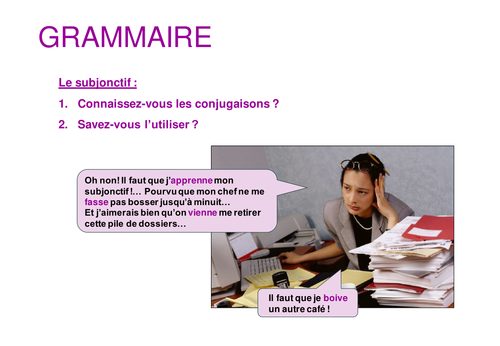 This is an interactive lesson I produced for my A Level students. It can be used to introduce and to recap the subjunctive. it contains a starter, then a tutorial, and five exercises to practice the various cases. There's a thorough table of regular and irregular verbs as well as a comprehensive list of structures commanding the subjunctive. Students find it very helpful to revise this tense and remember the complex structures. This bundle contains a range of activities on Unit 8 for AQA A Level French : LA MARGINALISATION ET LA DISCRIMINATIO, covering these subtopics: _ La pauvreté _ les SDF _ Les handicapés _ La discrimination contre les femmes, les minorités ethniques et sexuelles It includes 3 Gap fill activities, 3 Video activities,1 listening task, 2 Reading tasks, a list of exam type questions on this topic, 2 booklets on Discrimination and Handicap for French School children, a list of facts.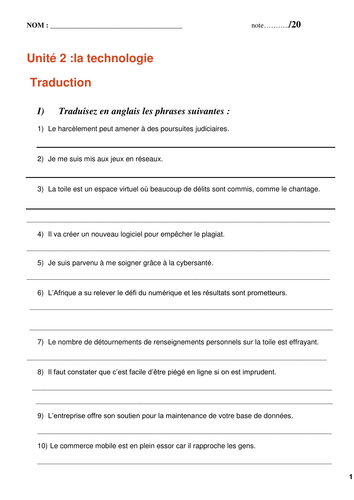 Attached is a bundle of four End of Unit tests for the NEW AQA As FRENCH. The topics are: 1. Les nouveaux types de familles et les relations. 2. Les nouvelles technologies 3. Le bénévolat 4. Le patrimoine Each end of unit tests assesses 5 skills: Translation, Reading , Listening, Grammar and Writing All the language is taken from the activities and vocab lists in the textbook. Each test starts with a Translation activity with 10 sentences to translate from French to English and 10 from English to French. This is followed by : _ a Reading Section made up of up 1 or 2 exercises, _ a Listening Section with the audio tracks provided _ a Grammar Section to test the points covered _a Writing Section with some questions This can be done at the end of each unit or for exam revision. It is suitable both for As and A2 students. This is a collection of 10 resources to introduce and reinforce the A Level topic L'Immigration. There is a comprehensive PPT with 73 slides exploring the issues of immigration, integration and racism in France through the ages with lots of facts, but also quizzes, film extracts, study cases and testimonies . _ 4 video questionnaires + links to web link to graphs on immigration _Two mind maps on immigration and multiculturalism to be used for oral practice. _ Vocabulary set phrases and questions on this topic to be used for oral and writing practice _ A vocab worksheet with 6 activities _ Exam practice: Translation and gap-fill Task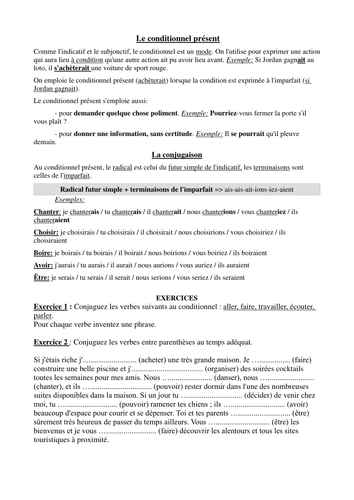 Attached is a bundle that covers all aspects of the conditional and Si Clauses. It includes: _ 3 comprehensive PowerPoint to introduce and practice the conditional tense and clauses in French. These Powerpoint are designed both at implementing basic conditional notions for KS4 students and provide more complex work with KS5 student, such as the 3 types of Si clauses. It covers regular and irregular verbs. It includes 10 slides with various exercises, including a song. Also attached are 7 worksheets in word format to practise the various aspects of the conditional tense (regular and irregular ), past conditional in French clause including a song and a boardgame. This level is indicated by the title of the doc. These are particularly useful for A Level students who are often confused with Si clause but is also suitable for GCSE students.