Jerome Sauvin's Shop
French resources for all levels, mostly PPT presentations but also videos and worksheets.
135Uploads
21k+Views
4k+Downloads
French resources for all levels, mostly PPT presentations but also videos and worksheets.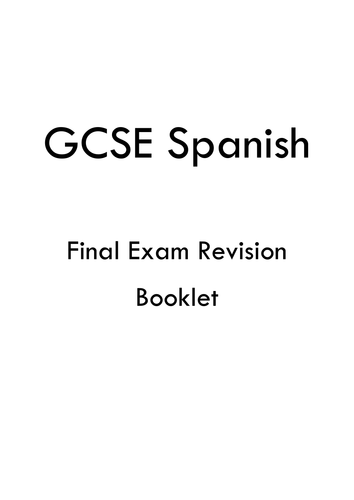 This bundle consists of 2 booklets: _ A revision booklet (52 pages) in Word format with plenty of key vocab and structures drawn from the GCSE exam list and split into topics. It also includes 15 reading activities and some useful exam tips. This resource can be used in class or independently by the students throughout the year. It is suitable for Foundation and Higher Level students and fits all exam boards, including Igcse. Booklet has around 5 hours of work. _ A different Revision booklet in PPT format made of 32 slides, to revise core structures for Productive skills _ A Grammar game also in PPT, to add a bit of fun.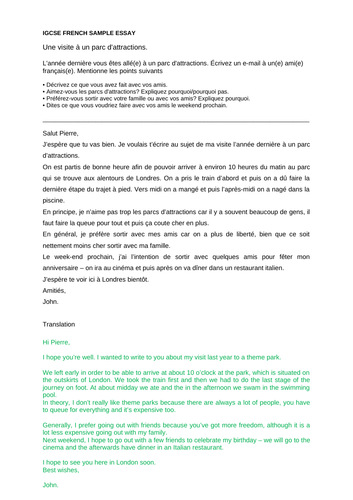 This resource is a series of seven GCSE French sample essays based on the most common topics: Holidays, School, Hobbies, My Area, Family, Chores and Visits. It follows the NEW GCSE/IGCSE format for the essay writing: 4 bullet points, around 150 words, 3 tenses Each essay includes a range of A star structures and has the translation in English below. Each essay includes some complex structures to reach Level 9. My students found this resource very useful to expand their complex structures and build a range of set phrases. This resource is also suitable both for AQA, Edexcel and Cambridge IGCSE students. Enjoy!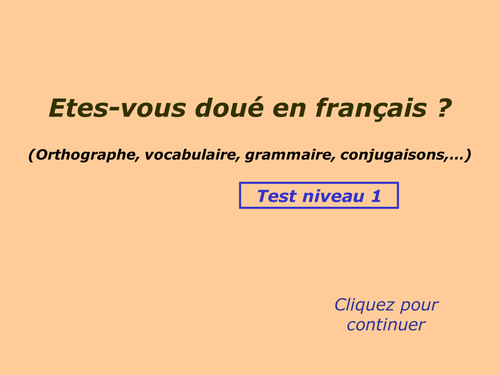 Comprehensive and interactive multi choice grammar quiz (72 slides) to revise a range of grammar points: tenses, adjectives, gender etc …in a fun way. Suitable for As and A2 students, this is a very effective resource to revise a range of grammar points in 30mn.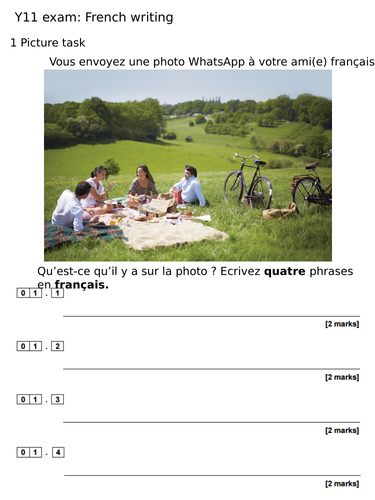 This is a Writing Assessment based on the New GCSE Exam. It follows the lay out of the new exam format. The PPT contains a picture description, a 40 Word Writing tasks and three 90 Word Writing tasks, and a transaltion activity. Also included is an extra Word doc with Translation task and a follow up on this task. It is suitable both for Foundation and Higher students revising for the GCSE.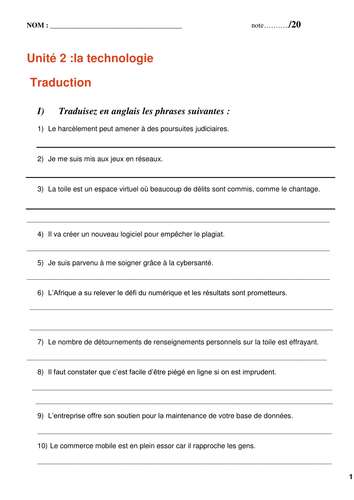 Attached is a bundle of four End of Unit tests for the NEW AQA As FRENCH. The topics are: 1. Les nouveaux types de familles et les relations. 2. Les nouvelles technologies 3. Le bénévolat 4. Le patrimoine Each end of unit tests assesses 5 skills: Translation, Reading , Listening, Grammar and Writing All the language is taken from the activities and vocab lists in the textbook. Each test starts with a Translation activity with 10 sentences to translate from French to English and 10 from English to French. This is followed by : _ a Reading Section made up of up 1 or 2 exercises, _ a Listening Section with the audio tracks provided _ a Grammar Section to test the points covered _a Writing Section with some questions This can be done at the end of each unit or for exam revision. It is suitable both for As and A2 students.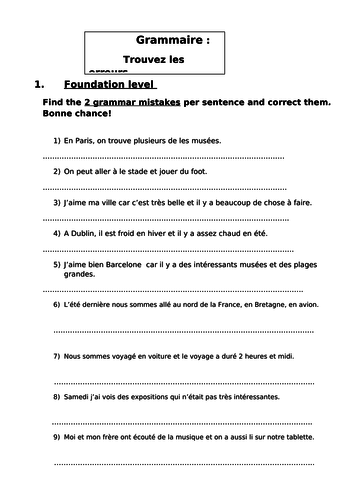 This resource consists of two series of 20 phrases with 2 Common Grammar mistakes in each sentence. First part is a series of 20 Foundation phrases and second part is series of 20 Higher Level sentences. Mistakes can be on conjugation, adjectival agreement, gender, prepositions. Students have to identify the mistakes and correct it. I compiled this list of mistakes from the essays of my students. Also incuded at the end are 5 Sentences to Translate from English to French for early finishers. This is suitable for both Foundation & Higher Tier students as there's a mixture of easy and complex sentences The sentences cover the five main topics and are taken from mistakes I have seen in students productions. This activity lasts around 1 hour with the corrections and can be used as a diagnostic activity to check pupils grammatical knowledge.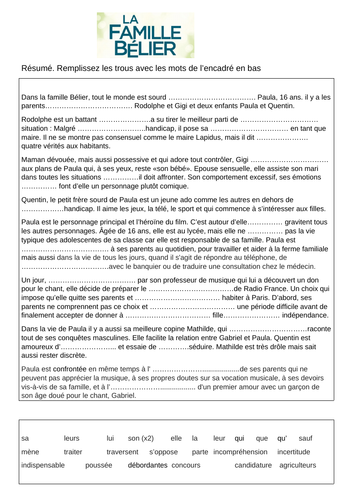 This resource consists of 3 Study booklet on la Famille Belier suitable for A Level / Higher GCSE. One is a 40 slides PPT presentation and brings you: • A complete plot summary • Character studies with characterisation task • Some comprehension questions & exercises • Activities on the trailer • An extract from the film and a gap filling task on the famous song from Michel sardou, and a portrait of the main actress. • Useful quotes The second booklet is a 11 pages booklet in Word format with lots of interactive activities. It must be used in conjunction with the PPT presentation. The third booklet is a 10 pages long, also in Word format, with other activities. Booklet can be be done after watching the movie.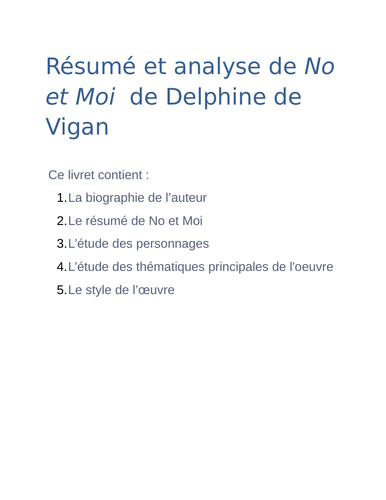 This in-depth and informative booklet in French ( 15 pages) brings you: • A biography of Delphine De Vigan • A complete plot summary • Character studies • An Analysis of the Key themes and symbols • Reflection on the style of the novel It will help the A Level students with essay writing . It can be used in class or for independent study. This extensive grammar booklet, 81 pages, is intended for GCSE and French A Level students. It covers all aspects of grammar points. Each chapter starts with a recap of the rule and is followed by a range of functional exercises in context organized in level of difficulty. This is an excellent resource for reviawing and practsing some specific grammar points. It is Word Format so it is fully editable. This resource is a series of 5 model essays on No et Moi written based on titles from the A Level Legacy past papers, but adapted to the new A Level AQA exam, both at As and A2 Level. Each essay is minimum 400 words. The first 2 essays are on an important topic in the book, the third one is on a main character, the 4th essay is a stylistic analysis of the book and is very comprehensive, 1386 words. The last one explores the various social backgrounds in the novel. My students found these model essays very useful to structure their own essays and improve their analytical skills. I have also attached a video link to an interview with De Vigan about this novel.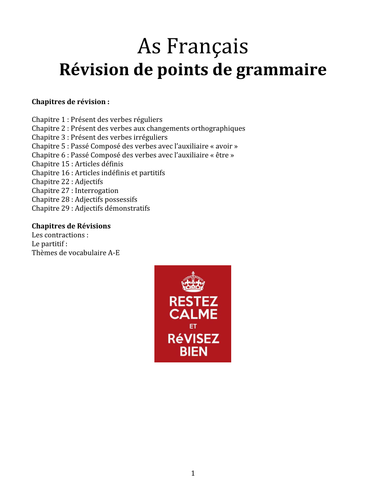 Grammar Revision booklet for GCSE/As French students with explanation and exercises on the following 15 grammar points: Présent des verbes réguliers Présent des verbes aux changements orthographiques Présent des verbes irréguliers Passé Composé des verbes avec l'auxiliaire « avoir » Passé Composé des verbes avec l'auxiliaire « être » Articles définis Articles indéfinis et partitifs Adjectifs Interrogation Adjectifs possessifs Adjectifs démonstratifs Les contractions : Le partitif A very comprehensive powerpoint (114 slides) which introduces and practises language on the topic of sport and hobbies for GCSE French. It is suitable for KS3 to introduce the vocab or KS4 to revise and provide further practice. It includes a tutorial on which verbs and prepositions to use for each sport. An editable Word booklet with 10 Reading and Writing further practice on sports and hobbies is provided.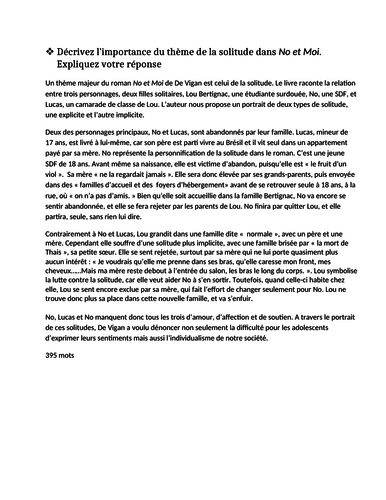 This resource includes 6 model essays in French on No et Moi suitable for the new As/ A Level exam. The titles of the essay are the _ A study of the topic of loneliness _ whether Lou can be seen as a hero _ No et Moi as a novel for teenagers. _ The style of De Vigan's style in the novel. _ A study of t the topic of homelessness _ The similarities between No and Lou The essays are between 300 and 450 words, except the one on style which is a comprehensive critical analysis of more than 1300 words… This is the title that students usually find the most challenging so I wanted to give them as much help as possible. My students found theses essays very useful to organize their paragraphs and use analytical language.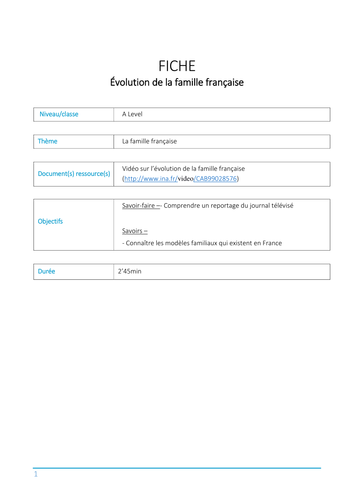 This resource consists of a bundle of activities on the topic Ma Famille and is suitable for the New A Level French: _ A comprehensive video activity about the evolution of family _ 7 Reading activities _ 2 Translations, one French to English and another English to French _ An extensive Vocab worksheet with 5 activities The Word document for the video consists of an extensive questionnaire with global and detailed comprehension activities and independent work to be done at home .Answers are provided along with transcript, links and further information on the evolution of family. It is suggested to spend at least 45 mn on this activity.T he video file is provided. The Word doc with the reading activities help to introduce and practice the vocab on the various types of family; it can be done in class or at home and takes around 1 hour to complete. This bundle of 12 resources ia aimed to practice for the New GCSE Oral exam, so all resources follow the exam format. It consists of 4 Powerpoint presentations with interactive role play situations on the following topics: _Holidays _Shopping _Booking _School _ 4 pdf docs with a range of 10 Role Plays on various topics. Examiner's card is included in a separate doc _ A list of 40 possible Role Play questions (with translation) with answers categorized by topics. _ A worksheet with 6 exercises to practise Role-Play Sentences _ 2 mats for picture description for Foundation & Higher Level with a range of pictures based around the 5 main topics. _ A list of questions for the General Conversation This bundle consists of 10 PPT tutorials with practice, each resource covering a different grammar points. The points covered are: _ the main tenses in French ( Present, Perfect, Imperfect, Future and Conditional, all with irregular verbs) _ Adjectives _ articles _ Comparatives _ Pronouns _ Prepositions + An editable booklet to revise all these points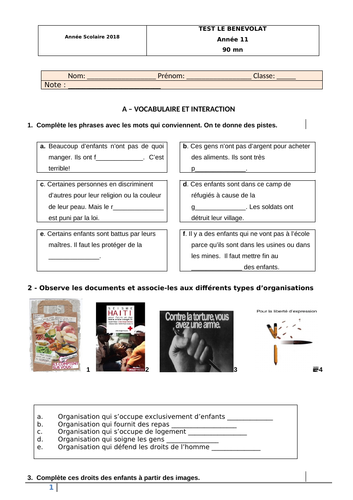 Attached is a comprehensive test on the New GCSE TOPIC LE BENEVOLAT, suitable both for Foundation and Higher Tier GCSE. This 1 hour test is made of 4 vocab activities, a Reading Comprehension with 3 exercises each, 2 writing tasks and 3 grammar exercises on imperfect, passive and, adjectives and future tense. The doc is in Word Format, fully editable so can be adapted for As Level.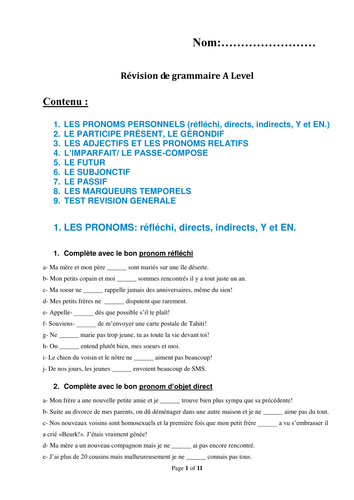 Attached are 2 docs: one is a booklet to revise 10 Key grammar points covered in the New A Level exams and the other is a grammar test made up of 19 exercises. Students revise each grammar point by completing the exercises provided. At the end of the booklet, a general grammar multiple choice exercise recaps all the points covered. Answers are provided on last page. This booklet can be done in class or independently. My students found it useful for exam revision. It is suitable for all A Level French exam boards. Once students have finished the booklet, they can do the test attached.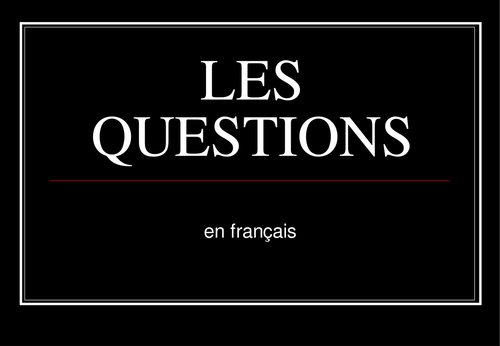 This is a comprehensive and interactive PPT on asking questions in French. It goes through: _ 3 different ways of asking a question in French _ Asking closed and Open questions _ Using all the question words There are 50 slides and half of them are practice activities: gap-filling, multiple choice, sentence building, translation. It is suitable for KS3,4 and even A Level students. I also included some worksheets for more practice. French quizz with 10 slides on French History, Geography, Arts, Literature, Music, politics and gastronomy. This game can be played in pairs, individually or with whole class. Suitable for A Level. My students found it very useful to consolidate their general knowledge of France. Answers are provided on last slide.