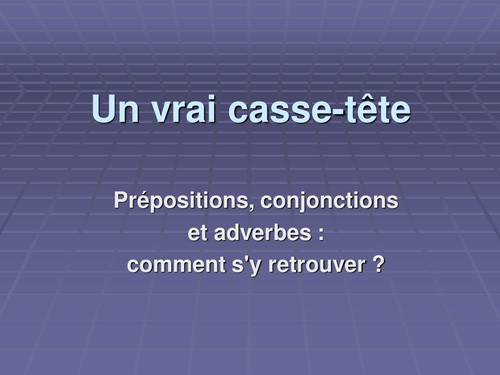 I noticed that students are often confused with the grammatical terminology in French and make mistakes such as useing adjectives instead of adverbs. Hence this interactive PPT presentation on Prepositions, conjunctions and adverbs in French will clarify the function of each category and will help them with sentence building . Some gap-filling exercises provide students with practice. This is suitable for intermediate and advanced learners of French.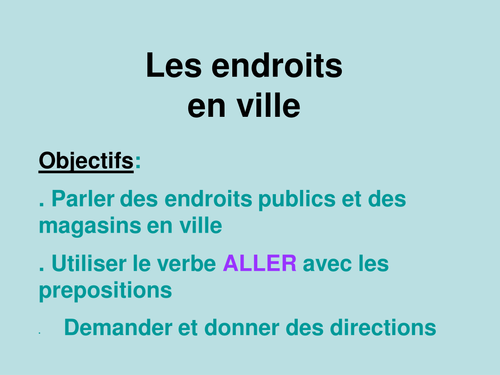 Interactive PPT with Tutorial and Activities on Places and Directions with more than 100 slides. It is divided into 3 parts: _ a comprehensive list of public places and shops. Students guess the name of the place on the picture on each slide and answer is then provided with the appropriate article gender. _ How to use the verbe Aller in present tense + preposition _ How to ask and give Directions with lots of practice in group or in pairs It is suitable for KS3 and 4 students. You can spend the whole lesson on this. 3 useful worksheets on places and a game in Word docs are also provided.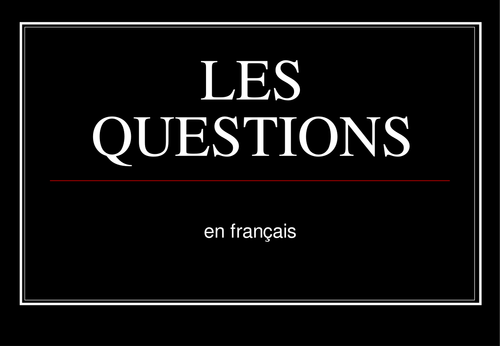 This is a comprehensive and interactive PPT on asking questions in French. It goes through: _ 3 different ways of asking a question in French _ Asking closed and Open questions _ Using all the question words There are 50 slides and half of them are practice activities: gap-filling, multiple choice, sentence building, translation. It is suitable for KS3,4 and even A Level students. I also included some worksheets for more practice.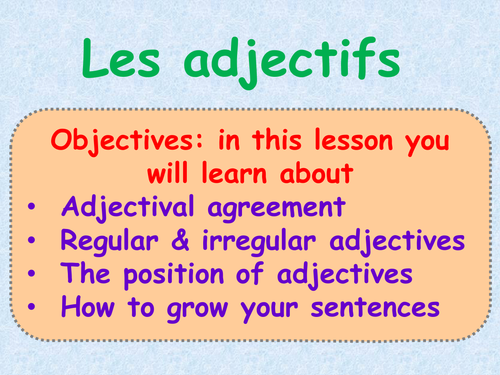 Mistakes on adjectives is the most common type of error at GCSE Level. This resource is a comprehensive and interactive PPT on Adjectives with more than 100 slides which aims at using adjectives accurately. It covers adjectival agreement for regular and irregular patterns as well as the position of adjectives and how to make long sentences with many adjectives and adverbs . The rules are immediately followed by some practice exercises. The last slides give students the opportunity to use the language creatively by making their own sentences. This is suitable for KS3 and 4 students, uop to GCSE standarts. Some worksheets in Word format are also included with the level indicated in the title,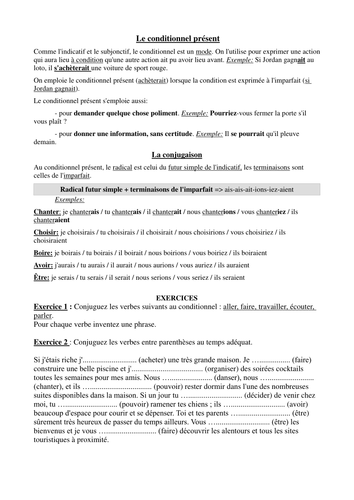 Attached is a bundle that covers all aspects of the conditional. First a comprehensive PowerPoint 23 slides to introduce and practice the conditional tense and clauses in French. This Powerpoint is designed both at implementing basic conditional notions for KS4 students and provide more complex work with KS5 student, such as the 3 types of Si clauses. It covers regular and irregular verbs. It includes 10 slides with various exercises, including a song. Also attached are 5 worksheets in word format to practise the various aspects of the conditional tense (regular and irregular ), past conditional in French clause including a song and a boardgame. This level is indicated by the title of the doc. These are particularly useful for A Level students who are often confused with Si clause and do not use enough the conditional in their speaking exam. Answers are provided.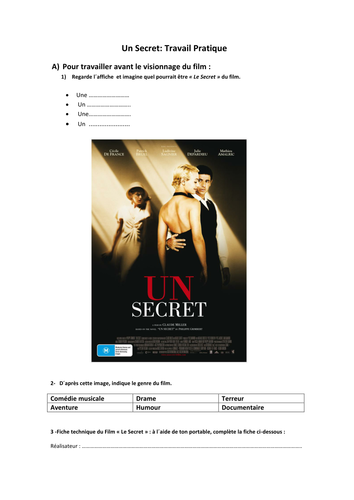 Attached are 2 booklets to analyse the novel and the film Un Secret from Philippe Grimbert. The Word document is a general recap of the story and can be done once students have finished reading the novel. The pdf file is an in depth analysis of the novel in French and looks at the themes, charcters, plot and style of the book.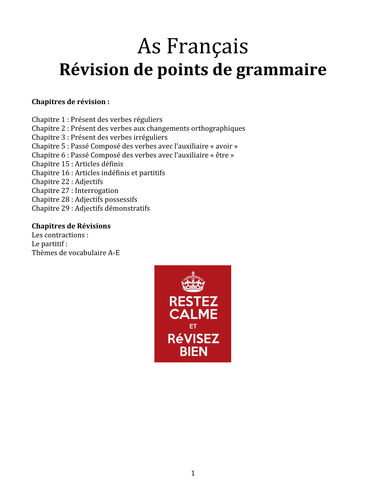 Grammar Revision booklet for GCSE/As French students with explanation and exercises on the following 15 grammar points: Présent des verbes réguliers Présent des verbes aux changements orthographiques Présent des verbes irréguliers Passé Composé des verbes avec l'auxiliaire « avoir » Passé Composé des verbes avec l'auxiliaire « être » Articles définis Articles indéfinis et partitifs Adjectifs Interrogation Adjectifs possessifs Adjectifs démonstratifs Les contractions : Le partitif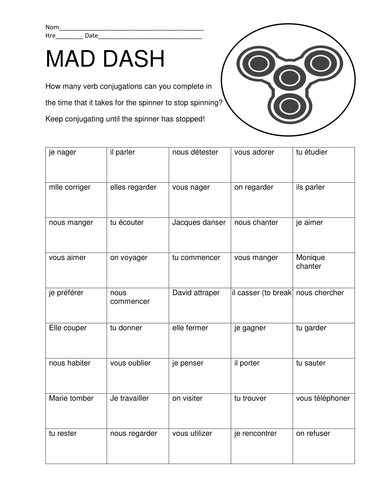 Attached are 3 Board games to practise French tenses for GCSE and A Level students. It work best if students work in groups. The length of the games varies between 15 and 30mn. This is an interactive and fun way to practise grammar in French and the boardgame can be adapted to various levels. You can ask more able students to say a full sentence instead of simply the verb conjugation.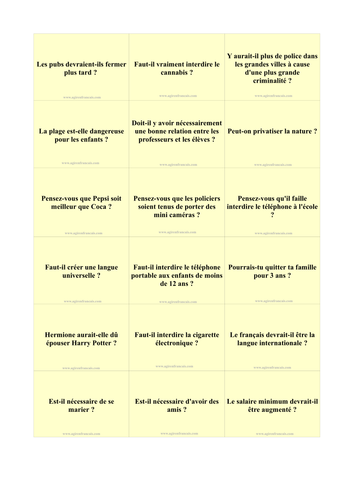 This is a bundle of 10 resources to introduce and practice the subjunctive at various levels in different ways. There are 3 PTT with tutorials, practice activities in Word docs and also pictures and boardgame for speaking practice. You can pick and choose the resources that suit your students best. The board game is especially popular and efficient with A Level students.
A very comprehensive powerpoint (114 slides) which introduces and practises language on the topic of sport and hobbies for GCSE French. It is suitable for KS3 to introduce the vocab or KS4 to revise and provide further practice. It includes a tutorial on which verbs and prepositions to use for each sport. An editable Word booklet with 10 Reading and Writing further practice on sports and hobbies is provided.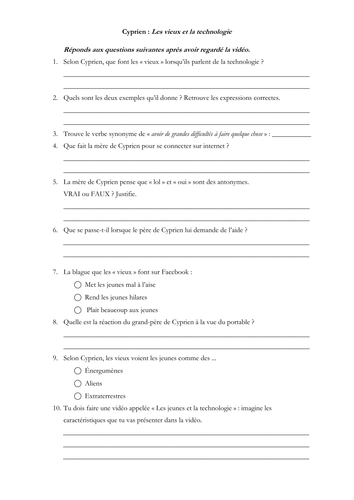 Here is a fun ressource by a Youtuber about the challenges of new technologies faced by the people over 50's. Cyprien's video has subtitles, so it helps understanding. The attached comprehension exercise is suitable for A Level students and can be a starting point for generating a devbate on the advantages and disadvantages of new technology.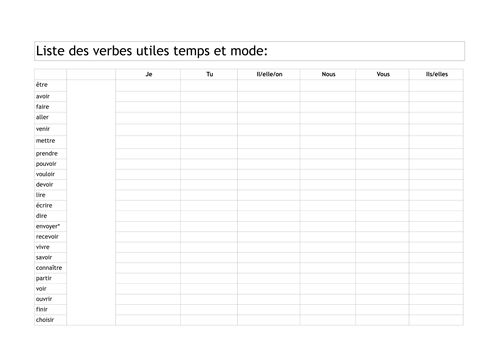 This is a comprehensive fully editable revision work on the major tenses: Present, Perfect, Imperfect and Future. It starts with a verb table with all the major verbs, regular and irregular verbs, in all 4 tenses. First page is a blank table for students to fill in and second page provides the answer. The other 5 pages are conjugation exercices categorized by tense. You have a list of between 30 and 40 sentences for each tense, with verbs in the infinitive to conjugate in the gap. It is a very effective grammar drill both for GCSE and A Level students, and can be used either for homework, classwork or assessment.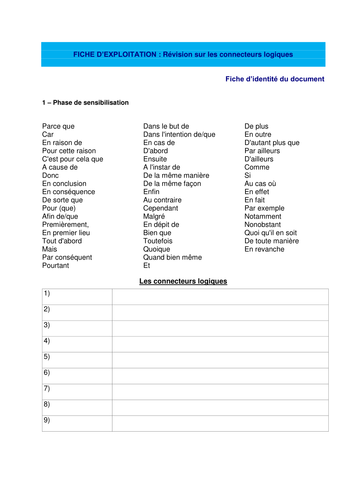 Revision activities on all the major connectives with a tutorial and a range of exercises with the correction. Suitable for A Level students to practise oral debate and essay writing.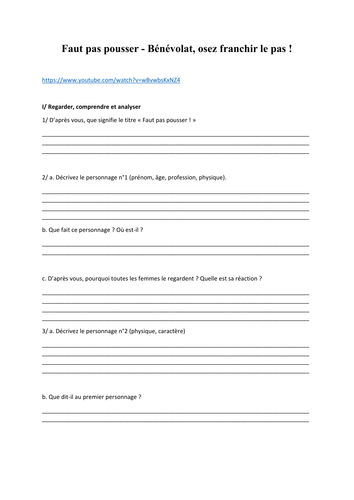 This is a video resource with worksheet and answers provided to introduce the topic of volunteering. The video lasts almost 2mn and is a mini-fiction to encourage and promotele volunteering. The worksheet consists in comprehension questions followed by further research, and extension speaking and writing activities. The whole activity should last between 30 and 45mn and is suyitable for A Level students.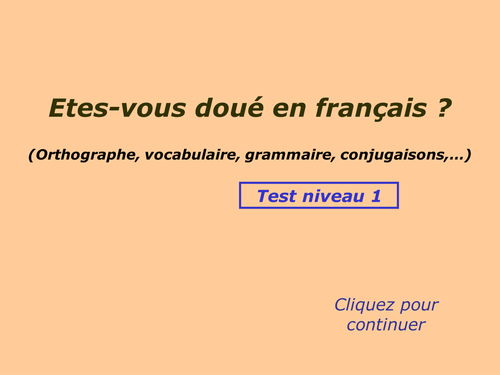 Comprehensive and interactive multi choice grammar quiz (72 slides) to revise a range of grammar points: tenses, adjectives, gender etc ....in a fun way. Suitable for As and A2 students, this is a very effective resource to revise a range of grammar points in 30mn.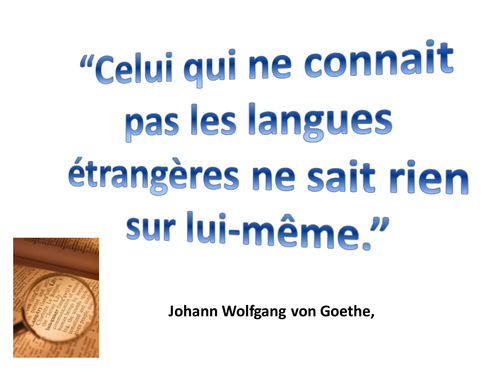 This is a compilation of 25 quotes about the function and value of language learning. One PPT is in French, the other one has the translation in English. These inspiring quote helps students ( and teachers!) to see other reasons for foreign language, apart from getting a GCSE or A Level grade! This is a great activity to do on Language Day. Also to use possibly for the Language Day, are a PPT quiz for this year's Language Day, a PPT presentation on the EU ( with UK still in it!) in French, and another one on the Geaography of Europe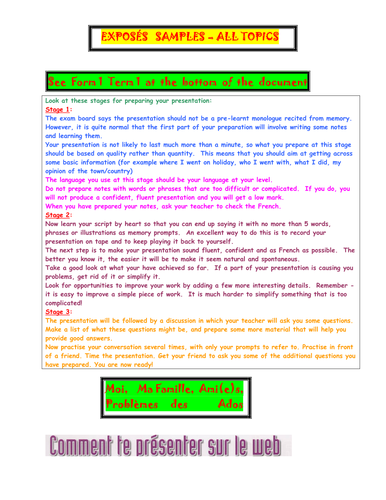 This extensive booklet in color, 91 pages, covers all the GCSE topics across the 4 skills. Each topic includes a some set phrases for foundation and higher level which are really useful both for the Speaking and Writing exam. The use of colour and highlight for complex structures will help students with sentence building. Some Model answer with notes and exercises are provided for the Writing activities. A vocab list is also provided for each topic. The Reading, Speaking and Listening activities are taken from various GCSE resources and are fully relevant to the new GCSE syllabus. Transcript and translation are provided for all listening activities together with the link to access that activity.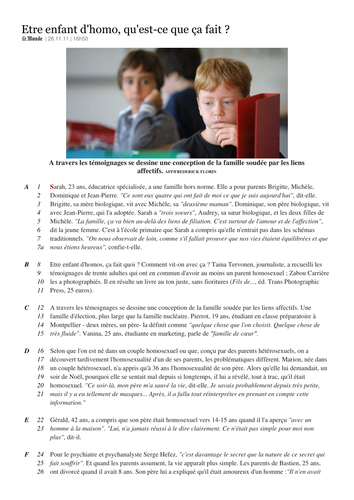 Attached is a range of 10 resources on the PACS. It includes 3 PPT with some activities such as gap-fill, 5 reading comprehension with answers provided and a couple of article on the subject. All the activities are pitched for As/A2 students.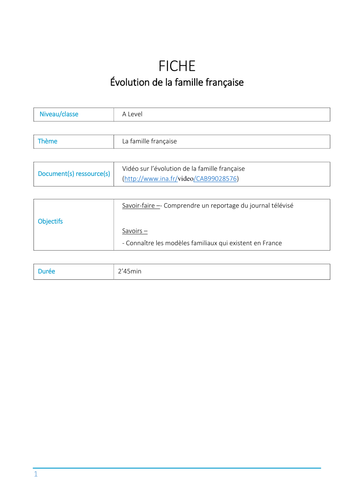 This resource consists of a bundle of activities on the topic Ma Famille and is suitable for the New A Level French: _ A comprehensive video activity about the evolution of family _ 7 Reading activities _ 2 Translations, one French to English and another English to French _ An extensive Vocab worksheet with 5 activities The Word document for the video consists of an extensive questionnaire with global and detailed comprehension activities and independent work to be done at home .Answers are provided along with transcript, links and further information on the evolution of family. It is suggested to spend at least 45 mn on this activity.T he video file is provided. The Word doc with the reading activities help to introduce and practice the vocab on the various types of family; it can be done in class or at home and takes around 1 hour to complete.
Below is a selection of various grammar points in PPT and word formats for A Level students . _8 PPT presentations cover the following points : Pronouns, Adjectives, Subjunctive, Prepositions Comparatives, Relative pronouns, Indirect Speech, Perfect, Imperfect Tenses. _ You also have 2 Grammar booklets and conjugation exercises to practice these various grammar points.
Attached is a bundle of 5 Videos resources with with a comprehension worksheets and transcription on various A Level topics: Immigration, New Technologies, Heritage, Volunteering and Tourisme. These video are an excellent way to broaden student's knowledge, improve their listening skills and elicit conversations and debates.