18Uploads
9k+Views
3k+Downloads
Two templates to create cohesive medium & long term planning for any art or technology department. The long term planning proforma breaks down the three teaching terms into projects, outcomes and skills, whereas the medium term template looks at what will be taught each week along with learning objectives, teaching & learning, outcomes and space to plan for resources.
A huge range of 120+ artists ranging from portraits and landscapes to natural forms and abstract art. A great resource for the start of projects, to look at after reading exam papers, or to give inspiration mid project. Images are all artists own, this is a bank of artist images and not my own images.
6 Art History Lessons based on a range of Art Movements Links to approporiate videos on Tate Kids Worksheet to complete after discussion Practical activity to build up a timetline over the 6 lessons We are using as 1 lessons per half term over the space of a year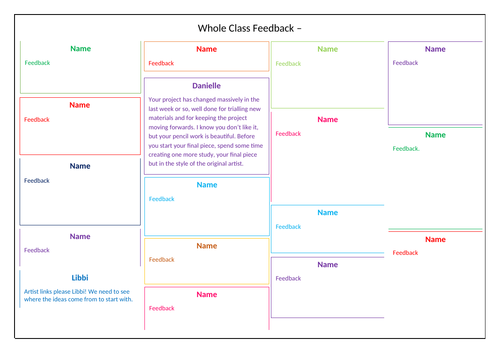 This template allows for quick and insightful feedback to be given to students in line with the Ofsted feedback policy, Whole class feedback allows teachers to give general or specific feedback depending on how the template is used, pick up general misconeptions or grammatical errors buy highlighting multiple students, or give priase to individual students for their succeses. "Ofsted does not expect to see a particular frequency or quantity of work in pupils' books or folders. Ofsted recognises that the amount of work in books and folders will depend on the subject being studied and the age and ability of the pupils. Ofsted recognises that marking and feedback to pupils, both written and oral, are important aspects of assessment. However, Ofsted does not expect to see any specific frequency, type or volume of marking and feedback; these are for the school to decide through its assessment policy. Marking and feedback should be consistent with that policy, which may cater for different subjects and different age groups of pupils in different ways, in order to be effective and efficient in promoting learning. While inspectors will consider how written and oral feedback is used to promote learning, Ofsted does not expect to see any written record of oral feedback provided to pupils by teachers. If it is necessary for inspectors to identify marking as an area for improvement for a school, they will pay careful attention to the way recommendations are written to ensure that these do not drive unnecessary workload for teachers."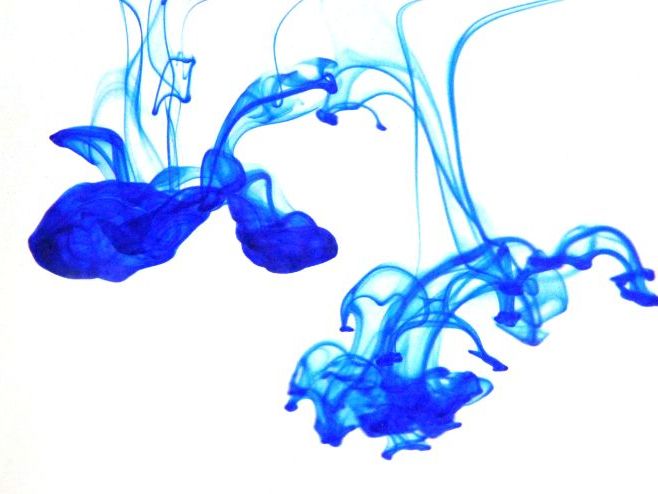 Hi All, This is a step by step guide of creating ink drop water photography without any flash or speed lighting. For this lesson you will need: A camera A computer Food Colouring or Drawing Ink Pipette Pint Glass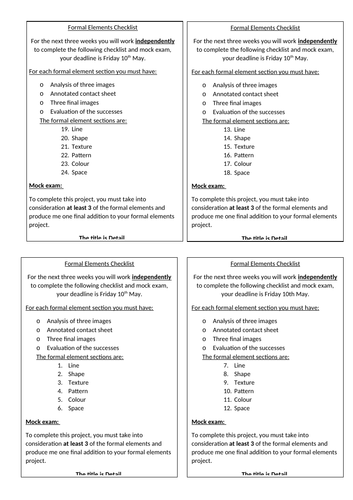 An 8 week project based on some formal elements in photography Includes a 4 step process for each formal element, analysis contact sheet finals evaluate PLUS a mock exam to end the project to explore indepedency Also includes student examples from each formal element from Year 9
12 Lessons to help develop skills in colour theory, portraiture and working in the style of an artist. Students produce a final piece based on the work of Jon Burgerman. All slides include Lesson Objectives, Success Criteria and Tasks. Some slides include starter and connect activities.
A microsoft word document with a step by step guide on how to create a Low Poly Animal in Photoshop. Ideal for KS4 Photography lessons - can be used for portriats / landscapes etc once the skill has been learnt
This PowerPoint breaks down the vital information about Shutter Speed and Aperture for students starting out in Photography. Broken down into two clear sections, examples are provided to demonstrate the effects both settings can have on photographs and students are then expected to create shoot tests showcasing both. This is a start up lesson and could be built further into a project.
A two part resource, two posters that can help students to start their art projects, improve or continue to refine their sketchbooks. The posters can be placed in books for students to refer back to when they are stuck for what to do next, it can be used as a resource to refer to the poster before asking a teacher.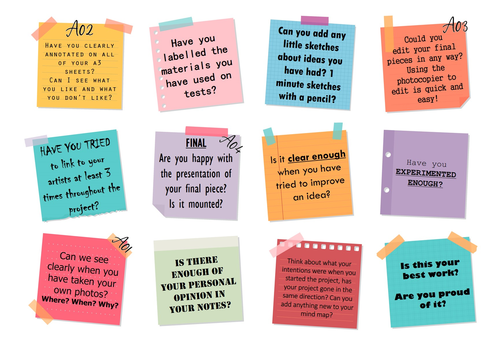 This A3 sheet is useful to share with students before their exam starts to maximise the work they have completed.
A 10 lesson project on creating a staple city in the style of artist Peter Root. Students are introduced to depth of field and creating artwork to photograph, rather than finding art to photograph. The focus of the lessons are to test, investigate and explore their camera and then re shoot to improve. The base of the lessons are powerpoint but could easily be transferred to book work. The power point is task based and broken down into lessons. Checklist templates are included. Images are artists own: Peter Root or students work.
A4 knowledge organisers for a range of Photography projects Basics of Photography Layers of Meaning Formal Elements Magazine Project Be a Bug Look up Project Food Project Colour
A bundle of getting started in Photography resources, lessons and informative powerpoints
A handy step by step guide to a few lessons on ink droplet photography WITHOUT LIGHTING You will need: A camera A computer Water Drawing Ink or Food Colouring Pipette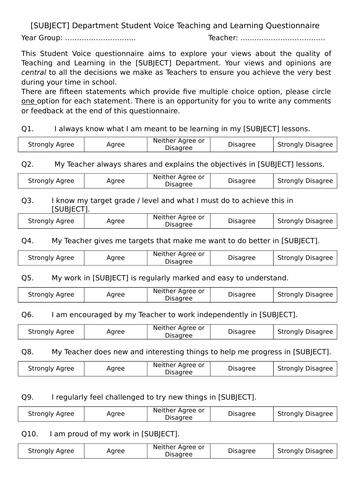 A great way to gauge the feelings of students in any lesson across any department. Easy to change to fit your subject, open in Microsoft word, use the Find tool and enter [SUBJECT] enter your subject and choose the "Replace All" option. Questions are based around T&L in a classroom and students are given 5 options to choose from. Example below: Q14. My Teacher explains difficult topics to me in a way that helps me to understand them. Strongly Agree - Agree - Neither Agree or Disagree - Disagree -Strongly Disagree
This a3 help sheet is ideal for students who may think they are finished during the 10 hour exam, it gives tips and prompts for the to continue gaining marks and improving their exam work