44Uploads
10k+Views
4k+Downloads
12 x worksheets for everything you need to pass the pupils through at Entry Level 3 for the ASDAN PSD award. Buy this resource and save yourself a massive amount of time.
Enough sheets here to get the pupils through the entire unit. Print off and use all that you need to complete the unit. In ASDAN Entry level 3 the pupils need to complete 3 units and this will do one of those. See my other resources for the rest.
A whole unit of work sheets for the pupils to complete so they can gain this unit of work. This will save you hours of time. All saved in PDF format.
Included in this bundle is - - Add an Adjective PowerPoint - Adjective Cards - Adjective word search - Adjectives worksheet - Adjectives 2 Worksheet - Adverbs worksheet - Adverbs 2 worksheet - Apostrophe snap sheet - Apostrophes worksheet - Apostrophes 2 worksheet - Apostrophes 3 worksheet - Capital letters and Full stops sheet - Common nouns sheet - Complex sentences sheets x 5 - Dictionary sheets x 3 - Homophones sheets differentiated levels x 5 - Idiom Matching sheets - Idiom meanings sheets - Idioms sheets - Verbs sheets x 3
Here is a complete set of ASDAN templates, planning, IWB's, tasks, activity logs, worksheets and much, much more ready for this module of the ASDAN PSD to be taught.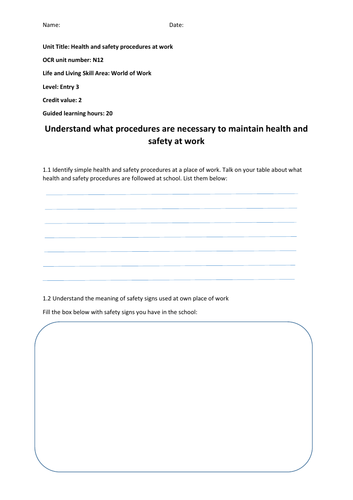 This whole complete unit includes the following Understand what procedures are necessary to maintain health and safety at work This is the broken down much further to get the unit points needed Know how to respond to an accident or emergency at work This is the broken down much further to get the unit points needed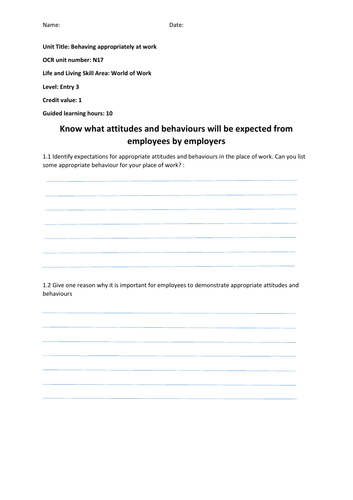 This booklet will include everything you need to complete this unit of work from the OCR E3 level qualification. It includes Know what attitudes and behaviours will be expected from employees by employers Participate in an activity in which they demonstrate appropriate attitudes and behaviours in the place of work. Give 2 reasons why the attitudes and behaviours they demonstrated are important, thinking about it from an employer's and a work colleague's point of view.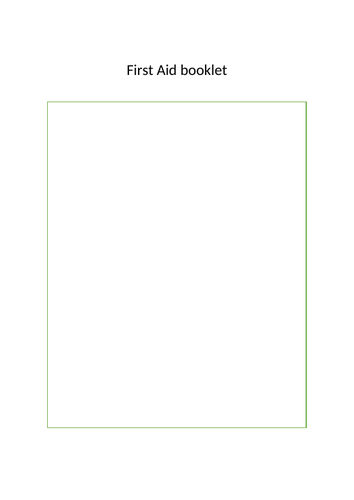 This module of work has several lessons on teaching first aid to children. It specifically covers making a first aid booklet which will include: Supporting with someone who is having an asthma attack. Supporting someone who has broken a bone. Supporting someone who is choking. Helping someone who is bleeding. Helping someone who has a burn
Here we have a selection of time worksheets differentiated from telling the time to the nearest o'clock all the way through to the nearest minute ready to print with LO's etc.
3 x worksheets for Number sequences including negative numbers and identifying if they are ascending or descending. Ext to come up with a formula for expressing the pattern (i.e. - NN = LN + 7)
Can be used as an assessment or a lesson. Designed to make pupils think about the 3D shapes and their properties. Flexible and adaptable as it is a Microsoft Word doc.
Differentiated worksheets for Data handling from reading pictograms through to creating and extracting information from line graphs.
This resource contains everything you would need in order to teach the Being a customer Unit 28 module of the working skills SEN course
6 x differentiated number sequencing worksheets aimed at year 4 but could be used with a HA year 3 and a LA year 5 class if needed due to how differentiated they are. LO attached to the sheet.
More than 30+ detailed lesson plans. A mixture of Medium term planning and Individual lesson plans. Here is the list of what is included: Lesson plans for - Clay masks - Design and Colour - Drawing St. Pauls Cathedral - Egyptian Art - Frank Stella Planning - Great fire of London Bread baking - Great Fire of London Tutor Models - Great Fire Planning - Harvest Art - Kings and Angels - Landscapes Planning - Making a tutor street - Making Masks - More Rainforests - Mosaics - MTP for Frank Stella - MTP viewpoints yR4 Planning ideas - Observation drawings - Portraits 2 - Portraits and Pop Art - Portraits - Rainforest creativity - Rainforests - Rainy Weather - Resource List - A right respecting school display lesson - Sea Scapes 2 - Sea Scapes - Ship in a bottle - Tudor Street - Useful websites - Viewpoints - William Morris - YR2 Observation - Year 4 Art Lesson 1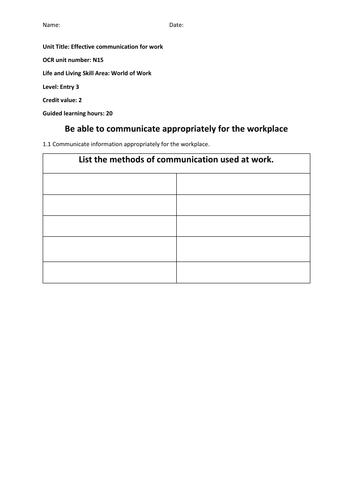 This unit includes Be able to communicate appropriately for the workplace 1.1 Communicate information appropriately for the workplace. Be able to choose a method of communication 2.1 Choose an appropriate communication method for a given purpose. Know how to use communication to support the work of others 3.1 Share information with others using an appropriate method of communication Know how to follow instructions 4.1 Follow a given set of instructions accurately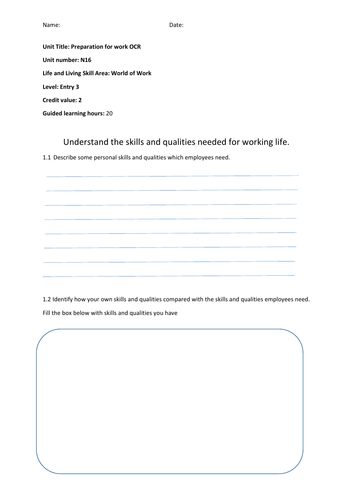 This unit of work includes everything you need to pass the unit Entry Level 3 N16 Preparation for work It includes Understand the skills and qualities needed for working life. 1.1 Describe some personal skills and qualities which employees need. 1.2 Identify how your own skills and qualities compared with the skills and qualities employees need. 1.3 Can you identify some areas for development? These could be some skills and qualities that you want to learn so you can get the job you want. Investigate personal career opportunities 2.1 Find out about 3 potential job roles which interest you. 2.2 Which of these jobs would be ideal for you and why. 2.3 Complete the example job application form
Included in this bundle is or than 40 activities, lesson plans, schemes of work, suggestions etc See below for specifics of whats included. - An Argument and discussion lesson - Argument writing plan - Asking questions sheet - Book review writing frame x 3 - Chapter summary success criteria - Charlie and the Chocolate Factory chapters 1, 2, 3 questions - Charlie and the Chocolate Factory chapters 4-6 questions -Charlie characters - Create a golden ticket - Description writing Grandpa Joe - Description writing (smart notebook) - Discussion - Examples for and against sheets - Drafting Prompt Card - Explanation writing example - Explanation writing instructions x 2 - Features of Biography - Features of Discussion and balanced arguments - Features of Explanation - Features of instruction - Features of persuasion - Features of Recounts - Features on non-chronological reports - Film review checklist - Formal letter phrases - Picture of golden tickets - Internet exploration - Roald Dahl (smart notebook file) - Intro LO and Sc for creating golden ticket (smart notebook file) - LI and SC for Roald Dahl's hut (smart notebook file) - Persuasive letter writing examples - Questions about RD interactive hut - Recount writing plan - Roald Dahl (smart notebook file) - Roald Dahl fact file - Sign post for Roald Dahl hut - Story writing frame - Story writing plan - Willy wonka coat ticket - writers room pic - writing a balanced argument writing frame
Both sheets have LO's in SEN vocab and one comes with a number line for assistance when completing. One sheet is single digit addition and the other is word problems involving single digit addition.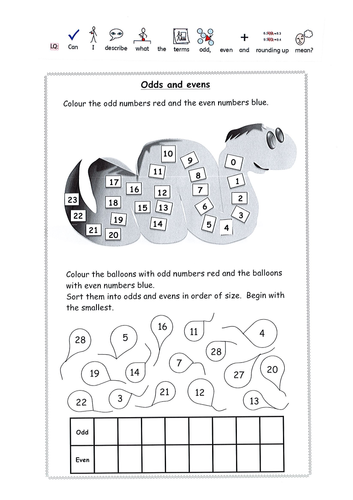 A fun interactive worksheet which will clearly show if a pupil understands the odd and even numbers.