Kate Williams
Poetry, creative writing, all-round literacy! Latest - FIREWORKS FUN! Published children's poet. Fireworks video: https://youtu.be/My4QvlCEOIw. Poetry workshops @ https://poemsforfun.wordpress.com/workshops/
421Uploads
78k+Views
4k+Downloads
Poetry, creative writing, all-round literacy! Latest - FIREWORKS FUN! Published children's poet. Fireworks video: https://youtu.be/My4QvlCEOIw. Poetry workshops @ https://poemsforfun.wordpress.com/workshops/
Haiku poetry frames and guidance for a range of topics. Trees, butterflies, oceans, birds and dragons feature in this bundle. The haiku's 3-line, 17-syllable format is more tricky to use than it looks, but it offers an engaging challenge that older children enjoy trying and sharing, with syllable-counting and a bit of adding up, as well as ideas and language to select. These frames, starter lines, prompts and warm-up recommendations will ensure constructive fun for all.
Fifty word pairs (and threes) that sound the same or similar but are spelt differently, e.g. bear / bare, here / hear and wait / weight, divided into 'Easy', 'Intermediate' and 'Hard' categories. Useful teaching resource for selected spelling focus and testing. NB: word definitions are not given. This is a straightforward bank of same-sounding words for flexible use. Older children will be able to check the word meanings themselves. See also my 'Which is Witch?' spelling games: https://www.tes.com/teaching-resource/spelling-grammar-games-yrs-4-6-11913259 and other word banks and assorted writing resources.
A generous wad of countryside phonics reading and writing activities, and simple, illustrated descriptive writing sheets - all on green themes: farm animals, wood and meadow animals and minibeasts. Each activity helps bring words and letters alive for very young readers and writers.
Sixteen animal writing & colouring sheets for young children, supporting phonic and letter recognition, handwriting, spelling, animal name learning, animal and nature appreciation, colouring control, colour differentiation, and lots of fun! Animals: dogs, cats, rabbit, frog, robin, hen, hedgehog, squirrel, fish, fox, bats, pigs, butterfly and snail. Save 54% with this big bundle!
17 illustrated phonics activity sheets to read, most with pale letters to over-write and colouring to do. Numerous phonics represented, including most vowels, short and long, vowel combination sounds, and consonants b, c, f, m, p, s, and others. Some sheets have themes - stars, seaside, insects, cats, pigs, eggs… Some offer 3-letter words; others just initials with associated picture. Save 60% with this big, bargain bundle!
Phonic 'e' is highlighted in these 3 simple, illustrated reading and writing sheets, with words - egg, eggs, red hens, and red pen given in pastel shades for writing over, plus extra 'e' letters too. Attractive, meaningful pictures, helping young children connect with the letters and remember them. An 'ee' reading card also included, to clarify the different sounds with the letter 'e'. Many other phonics activity sheets like this one at my shop. (Click 'recent'.)
5 space writing activities and support resources: funny rhymes, acrostics, slotting words into a space picture, space rhyme bank, and a simile poem to write - IN a planet! Guide notes provided where handy. Approx. Y3-6.
This rich assortment of castle-themed literacy resources includes poetry frames for all ages, rhyme and word banks, rhymes to clap and enact, an atmospheric picture to inspire, and fascinating illustrations, plus handy teacher tips. Similes, acrostics, descriptive writing and writing confidence are supported, while giving insights into castle life long ago.
Writing, rhyming, colouring, gap-filling, alliteration menu-writing, similes, haiku… and funny, exciting pictures to inspire - for whole school literacy! Plus great Dragon Topic support. Also PSHE friendly, with scope for personal expression. Build class poems of your own to perform in assembly, from the Colourful Dragon Rhymes. Also teach colours, stretch vocabulary, introduce rhyming phonics, and more!
13 fun phonics sheets! Sounds and words to say, read, sing, recognise and play with! For Early Years to lower ability Yr 2. Includes practice of long vowels + ar and er, with picture prompts, rhymes to hear and chant, themed words with picture stimulant, and a reading game.
Planets, Castles, Active Lifestyles and Healthy Eating feature in this collection of acrostic poem frames, with easy and hard versions and examples for teachers. Great for National Poetry Day, World Book Day, and your school's poetry week - and for literacy boosts and fun fillers any time! For higher/abler Juniors.
Rhyme fun! 4 topic-based rhyme banks + a rhyming couplet frame sheet - featuring aliens, dragons, castle characters and more. These rhymes-made-easy will spur your whole class into action, getting them waxing lyrical before they know it, and sharpening up their literacy skills all-round.
7 activities (1 free) combining seaside and literacy, featuring shells, sea and under the sea. The attractive, illustrated sheets offer phonics and reading practice, creative writing opportunities and environmental learning. Shells and fish sheets have accompanying suggestions for teachers.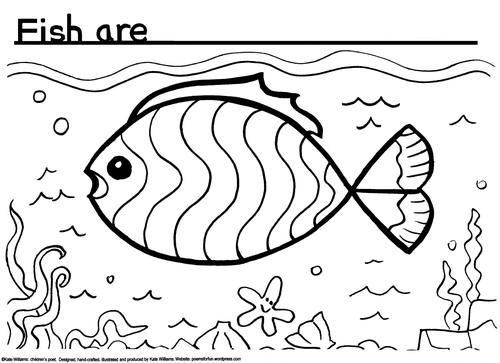 This attractive ocean picture and simple phrase-starter will inspire young children to get writing and colouring. The Ideas Sheet offers suggestions for warm-up, word-prompting, similes and further development from this simple resource. See also my Phonics in the Sea - 10 big, bright words to read on a seaside photo: https://www.tes.com/teaching-resource/phonics-in-the-sea-10-words-to-read-12112315
Rhyme banks for Space, Dragons, Castle Characters + Ocean (sailors, pirates, more), with Examples for all, PLUS Seabed Rhymes to complete. Fun for whole class, together, in groups or pairs, or individually. Literacy made fun! Themed information, topic study, & creativity scope incorporated. Huge discount!
A big bundle of themed activities to help EYFS children get to grips with phonics and letters and start reading naturally: a mix of reading cards, games, rhymes and challenges, featuring castles, creepy-crawlies, woods, under the sea, animals, and more.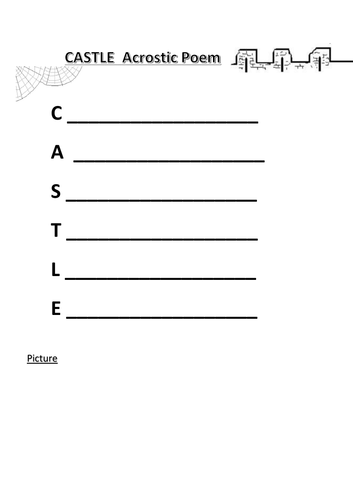 Literacy and castle studies are brought alive by these attractive sheets and their fascinating writing opportunities. There are two versions of this illustrated "CASTLE" acrostic frame, one with short lines for single words (describing words recommended), and one with longer lines for phrases, sentences or extended descriptions and similes. The Examples sheet provides suggestions to prompt for, for each version. Perhaps read some out to fire other ideas. The sheets allow room for a castle sketch below. Suitable for all juniors, with support as needed.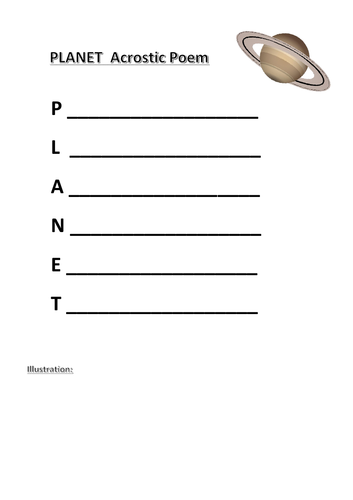 Space studies and writing practice are both brought to life with these fun, child-friendly acrostic poem frames. Give the easier, shorter-line version to younger/less able writers, and the long-line version for confident writers. With the first, ask for a single describing word to tie in with each letter down the page; for the second, ask for a phrase or sentence on each line, again tying in with the letters down the page. See Examples sheet for ideas to prompt for - supplied for each version. There's space for an extra letter below each. Perhaps suggest making PLANET into PLANETS, for a line starting with S, or suggest they give their planet a letter name, e.g. Planet G or Planet H. Then they can think of a word/phrase starting with that letter too. Space is provided on each version for student's own illustration. Supports Literacy (vocabulary, phonics, creative writing, poetry, hand-writing and presentation), and Space studies.
Phonics ay, ee, iy, oe (as in go), and oo feature in these 5 illustrated reading cards. Each contains a sentence or question with examples of the featured phonic. Supports phonic-learning, sounding out and emergent reading. The coloured, hand-drawn pictures also offer discussion points for speaking and listening skills development. Best for ages 4-6 approx.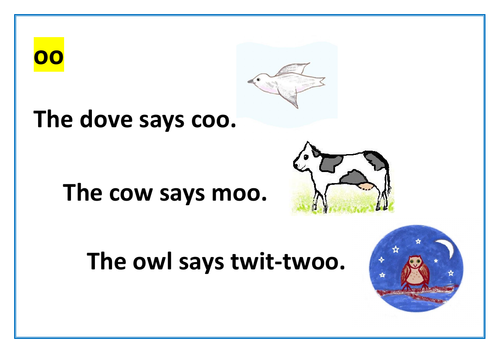 This fun reading card supports teaching of the "oo" phonic and spelling. Newly independent readers will enjoy sounding out the 3 animal-themed sentences and making the creature noises - The dove says coo. The cow says moo. The owl says twit-twoo. An adult can point out the "oo" sounds and prompt a discussion about the sounds and picture, developing phonics, reading, speaking and listening skills simultaneously. See the others in this series.