16Uploads
1k+Views
88Downloads Black history is not just a month its everyday! This is a great display to put around your school/ classroom all year round. Colourful and eye catching. Lettering / Pictures / Quotes / Fist all included. Just print and put up!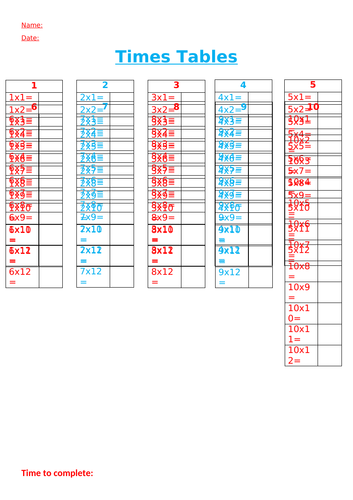 This colourful resource is to time children to see how long it takes them to complete timetables up to 10x. Good tool to use at the start of the lesson to calm the children down after a hyper activity. Challenge the children to beat there last time. The children love to see that they have improved. This activity will help your children learn life skills such as sharing, communication, listening, turn taking, solving issues, focusing, team work and making decisions. Children have so much fun while learning basic life skills. Can be used in a whole class setting, down to small groups. Skills your child/children will learn during this activity How to identify different emotions. How to deal with different emotions. Where in the body you can feel that emotion. To become more aware of your emotions. To be able to discuss openly feelings and how different situations can affect you mentally. Great tool to use with SEN children. This display will catch the eye of anyone who enters your school/ classroom. Can be used to take pictures of students / staff members. Bright and Colourful. Heading and feather is included. Just print cut out and put up on wall. This is a great display to encourage children to talk about their different emotions. Great for Pastoral Support rooms and rooms where challenging children will be. Most children are able to point out that they feel angry when they enter our room but by the time they leave after a conversation and encouragement to return to class they leave feeling happy and able to be positive for the rest of the day. Can be a great PSHE lesson to discuss each feeling and what we can do to help that inside out character become happier.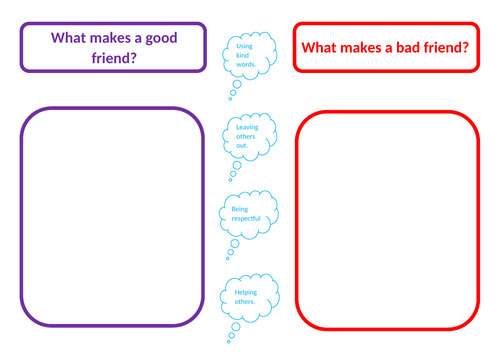 Alot of children can tell you what makes a bad friend but struggle with what makes a good friend. This chart is best completed in pairs so the children can discuss what makes a good friend and what makes a bad friend. Helps children with their communication skills if paired up with people they are not normally around or speak to often. Great for children with behaviour needs as its a visual to being a good friend once completed the children can hang it in classrooms for a reminder. Best on doors so when they go to break they can read as leaving the room. This display will help your children when a movement break or brain break is needed. Simple instructions so all children can access activity. Completed within a couple of minutes. Great to use when children are fidgety. Two displays that will catch the eye of anyone walking in your room. Children and adults need words of encourage and these displays are the best way to get adults and children to be motivated and set high goals through any tough day. Just print, cut out, Stick up on wall. Simple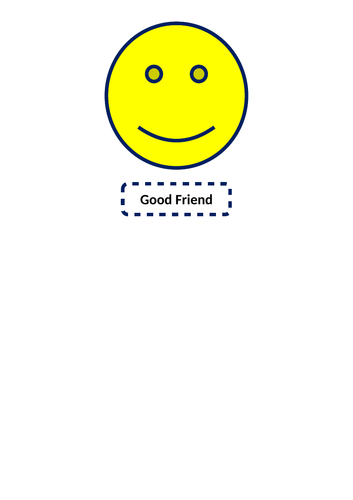 It is a cut and stick activity which gives you scenarios from a normal school day and they to decide if that person is being a good friend or a bad friend. The best thing about this resource is that once they have completed it, its evidence that they know how to be a good friend and great to pull out if they display bad friend behaviour. Great for all ages younger or older. Can be done in groups or individually. This is a great resource if some of your child show consistant bad friend behaviour. Does your group need help with learning basic skills such as Team work, Patience, Communication, Turn Taking, Following instructions, Problem solving, Listening, Contribution to a group. Put children into small groups and see what they can build in a fun, structured environment. All you have to do is print! This is a great activity to do with all years. This worksheet can be done individually or in groups. This helps the children gather a bank of coping strategies to deal with a wide range of situations that can happen during school life. At the end of the work sheet there are blank squares for the children to make up there own and swap with each other to see if they can use there new coping strategies to deal with the issues. The sky is the limit Display. Colourful and Vibrant display for classrooms and school corridors. To uplift and encourage learning and setting high goals. Lettering / Clouds / balloons included. Print Cut out and stick to wall. This is a resource for all age groups and can be edited to suit the work you need completed from the child and shows the reward that they will get. This is a visual board that will show the child exactly what you want completed in order for the chosen reward. The rewards have a time limit so encourage your children to bring a sand timer so they can visually see when it has ended. This has helped many of our challenging children slowly get back into a whole day of learning in a class room setting.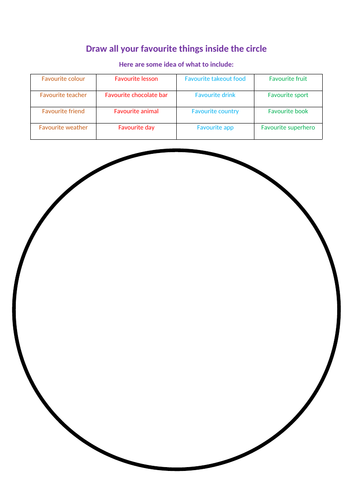 This resource is an amazing activity to get your children to think about their favourite things. I have tried this with all year groups and it works really well for all age groups. I tend to put the children in groups of 2 and try to pair up children who are not always together. Once the circles are finished they make a great display and talking point for the classroom. This can take up to an hour to draw. Next lesson can be colouring the circle. (Could spend 2 lessons completing) Rounding numbers to the nearest 10 worksheet is aimed at all age groups with a coded number line at the bottom to guide the children as they go along. Great to use for SEN groups as a starting activity, children can also mark own work if printed double sided.