This is a lesson on converting between metric and imperial units. It was originally for Year 5, but could be used/tweaked for Year 6. It focuses on: litres and pints, inches and cms, kilograms and pounds. The structure of the lesson is as follows: Groups are given images of the different measuring tools to answer the questions on the starter - e.g. Is 1cm bigger than 1 inch? Go through the ActivInspire flipchart - which contains questioning, images and models, explanations, etc. I then had my MA/LA children using the bars on the sheets to create their own bar models and my HA children drew their own bar models. The children then move onto Reasoning and Problem Solving questions. (There are a few examples of these on the Flipchart if you want to do a mini plenary before they move on.) The resources here were for an observed lesson within my school, which was graded as Good with Outstanding Features. It contains the key elements of the idea of Mastery in the Maths curriculum - Models & Images, Questioning, Reasoning, Problem Solving and Bar Models. The lesson also contains sheets for any SEN and New To English children, as well as the answers to the whole class activities.
My class have had a bit of an issue with copying this year! I created these measuring angles sheets for a bit of drill practise with using a protractor. They are hand drawn, using a protractor, with thin lines so that the children can be as accurate as possible. They are scanned in. The activity is not differentiated, but there are 6 different sheets (1 per child on each table for my class!), and they begin with multiples of 10, move onto multiples of 5, before going onto any numbers. This allows all children to make progress during the lesson. The answers are also included. A good test to see if they can use a protractor accurately, with high expectations.
This resource is 2 lessons on Addition and Subtraction Multi-Step problems. Some of the problems are 2 and 3-step, some are even more! The answers are in the files with the resources. They can be written on the backs of the cards as a form of self-assessment. Lesson 1 - focus on using the Steps to Success to figure out the calculations needed. Lesson 2 - using the Steps to Success to represent the problems as Bar Models and writing their own word problems using given calculations. Also a small focus on Perimeter (this was a gap in our assessment) and answering a multi-step problem using perimeter skills. TWO SHEETS ARE NOT INCLUDED - these are detailed below. Lesson 1 - Lower Ability (Emerging) - Year 4 Two-Step addition and subtraction problems. (Not included - used a pre-made resource from Twinkl.) Middle Ability (Developing) - Multi-Step Problems Developing Lesson 1.doc (Included) Higher Ability (Secure) - Multi-Step Problems Secure Lesson 1.doc (Included) Lesson 2 - Lower Ability (Emerging) - Some Two-Step problems, some simpler multi-step problems to work towards Year 5 Curriculum - Emerging Word Problems Lesson 2.doc (Included) Middle Ability (Developing) - Not included - use a pre-made resource from Twinkl. Higher Ability (Secure) - Multi-Step Problems Addition and Subtraction Secure Lesson 2 - Included. A flipchart containing Starters and Modelled Questions for both lessons is also included. This is on ActivInspire.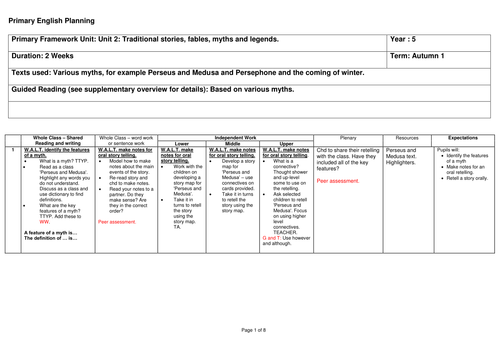 A full set of English lesson plans (originally planned for Y5, Autumn 1) based around Myths & Legends, specifically Greek myths as it links to our Ancient Greece topic.
A lesson plan that provides a wide coverage of areas linked to a 'Greece' topic (including Ancient Greece). This includes History, Geography, Art and D&T lessons.
A huge bundle of resources linked to Street Child by Berlie Doherty. This is a story based in Victorian times about a boy who loses his family and survives on the streets. It includes work on: narrative writing, report writing, commas, subordinating conjunctions, reading comprehension, diary entries, etc.
Includes a full unit of work on The Scarlet Ibis and a selection of WAGOLLs used throughout the unit.
Includes 2 weekly plans for Angles in Y5. Also includes a Reasoning problem for display and an Activ Inspire flipchart for an observed lesson during the fortnight.
This is a bundle of Guided Reading resources based on Enid Blyton books. These include: Island of Adventure The Enchanted Wood The Secret Mountain
Y5 Planning on Citizenship and PSHE, links to Democracy (British Values) and What makes a good citizen?
A full unit of English lesson plans (inc Lesson 1 flipchart on ActivInspire) based on Louis Sachar's book There's a Boy in the Girls' Bathroom. This is a fantastic book with a lot of emotional and social links.
I hope these are helpful to someone! They are a bundle of Guided Reading resources linked to Ancient Greek Myths (e.g. Story of Icarus, Apollo and Daphne, Theseus and the Minotaur). Most of the questions are quite generic to the myths, but we usually use the Orchard Myths books, where there are 3 in one. (e.g. https://www.amazon.co.uk/Greek-Myths-Theseus-Minotaur-Eurydice/dp/1860394337/ref=sr_1_29?ie=UTF8&qid=1492001526&sr=8-29&keywords=theseus+and+the+minotaur) There are differentiated activities and questions for Lower, Middle and Higher groups.
A WAGOLL created by myself based on finding an 'ancient map' on our building site at school.
Closed questions = basic 'calculation-style' questions. Open questions = mastery, fluency, reasoning, problem-solving. A mixed resource filled with resources for Place Value, Decimals, Roman Numerals and Calculations. 16 resources!
This is a set of Guided Reading plans and activities linked to Victorians. The texts are in the Guided Reading planning, but include: Vile Victorians Dunce Caps and Canes Nicholas Nickleby Great Expectations Oliver Twist
Includes various flip charts on The Lost Thing by Shaun Tan. Apologies if the font does not show correctly. It is a school-based cursive font. Also includes a Diary Entry WAGOLL.
A unit of work based on 'Bread Through History' where children prepare a basic bread dough, taste different breads and find out where breads come from around the world. Also provides a History link with Victorians, a debate between Hovis and Warburton, etc.
Includes various lessons on: Rounding decimals, comparing decimals, recognising thousandths, etc. The flip charts are on ActivInspire.
Contains a bundle of Guided Reading resources based on the following texts: Dear Olly Alice in Wonderland The Magic Finger Snakes (Life Cycles) Butterflies (Life Cycles) The Wreck of the Zanzibar Space Camp Leaflet
This is a Roman Numerals problem solving lesson. It was originally intended for a group of Y5 children who have already practised Roman Numerals. It is differentiated 4 ways: Secure = focus on Mastery of Roman Numerals. Includes identifying, calculations, word problems and an investigation. Developing = focus on developing of Mastery. D2 (Amber) = These are my targeted children. The sheet focuses on developing the Fluency of Roman Numerals, moving towards Mastery. Emerging = These children in my class are working at a Y4 level. It aims to show that the children can work with Roman Numerals up to 100 (Y4 objective) and beyond (getting ready for Y5 curriculum.) There are 4 question sheets and answer sheets are also included. Some of the problems are linked to Guiness World Records, to interest children. The facts are true and were taken from the Guiness World Records website. The flipchart is for the Emerging and D2 groups, though can be used across the whole class if needed.
Initially planned for a Y5 class. This resource contains the planning linked to the novel The Island of Adventure by Enid Blyton. It also contains various resources, which have been created by myself, linked to the lessons. The main focuses for this unit were Dialogue and Adverbials. The planning contains links to Spelling & Handwriting.