Teach Trends Shop
High Quality Educational Resources - Geography - Physical Education - Display Boards & Posters
80Uploads
25k+Views
6k+Downloads
High Quality Educational Resources - Geography - Physical Education - Display Boards & Posters

Set your pupils up to succeed in their 11+ examinations this year with this bundle. The resources include plans, practice test papers and plenty of strategies on ways to answer questions and prepare for question-styles they may face. The resource focus on questions that may appear in Bond and CEM tests as well as a variety of question styles to cover secondary school own examinations.

Set your pupils up for success at their 11+ entry examinations with this series of seven PowerPoints which sets out clear and easy-to-follow strategies on how to answer a variety of different verbal reasoning question styles. The questions styles covered are often found in the CEM and Bond-style examinations as well as many other types of individual school-based entry exams. This resource comes in eye-catching PowerPoint format, giving examples with each question type. All PowerPoints are fully adaptable and editable to suit your pupil needs. The question types covered in these PowerPoints include: Insert A Letter Synonyms Antonyms Hidden Words Alphabet Codes Complete the Sentence Create a Word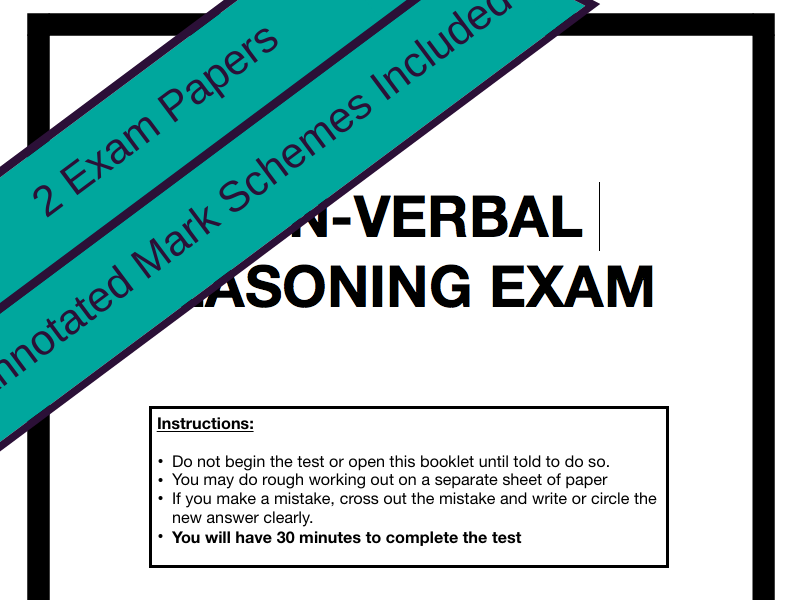 Verbal & Non-Verbal Reasoning is becoming increasingly important for entrance into many independent secondary schools at the 11+ age group. Included in this resource is: 1 x Verbal Reasoning Exam Paper (Compound Words / Coded Questions / Synonyms etc.) 1 x Non-Verbal Reasoning Exam Paper (Odd One Out / 3D Net Shapes / Pattern Identification etc.) Annotated Mark Schemes for both papers The exam papers are aimed at the Year 6 age group (11 years old) and each paper is 30 minutes in duration. Resources are provided in PDF and Microsoft Word Format

Prepare your pupils for upcoming 11+ Secondary School entry examinations with this set of verbal reasoning worksheets. 4 different question types included (Find the Hidden Words, Move a Single Letter, Join the Words and Find the Missing Letters). 80 questions in total included in this resource. All worksheets include answer sheets. All worksheets come in pdf format.

Engage your pupils in their wider reading books or a class novel by using these reading comprehension prompt cards. Ideal for pupils to work on during a carousel activity or use just as part of a discussion at the end of a session. Alternatively, these cards could be printed, laminated and bound together with a keyring to be sent home to engage parents in their children's reading. The question prompts are differentiated so pupils can quickly identify questions that may challenge their comprehension skills. This resource consists of one overview card and six prompt cards containing at least four questions on each card. The 6 prompt cards include questions based on: Vocabulary Inference Predict Explain Retrieve Sequence

Encourage the children in your class to continue their reading over the half-term with a Halloween-themed book bingo sheet. Children can work towards completing a horizontal, vertical or diagonal line or go for the full house!

Inspire a love of reading amongst your pupils this Christmas with this book reading bingo sheet. Suitable for ages 9-14, however can also be used for higher ability KS1. Available for download in pdf format

Encourage your pupils to read from a wide variety of sources with the professionally produced reading bingo sheet. Can be used for a wide variety of year groups and abilities, why not set your pupils a challenge of completing 4, 8 or all 14? Available to download in pdf format. Any feedback would be much appreciated.

Literacy Posters and Worksheets A total of 7 resources are included in this pack and are primarily focused on developing literacy skills. Many of the resources can be used as posters to be displayed around your classroom or laminated and used on desks and tables to serve as a reminder or form of scaffolding for those children who may need additional materials. The resources come in pdf format for ease when printing and are easy to read and use for teachers and pupils alike. Resources Included: 1 x Diamond 9 Template Worksheet (Least and Most Important) 1 x Reading Log 1 x Storyboard Planning Template Worksheet 1 x Story Mountain Planning Template Poster 1 x Connectives Poster 1 x Opinion Sentence Starters Poster 1 x Book Review Worksheet

3 x Year Group Geography-Themed Book Suggestions Great for use as posters to promote reading and subject knowledge around the school or for use as a digital resource on homework sites etc. Age groups divided into Year 3/4, Year 5/6 and Year 7/8

Engage your parent body with a set of guided reading questions to support their child's reading at home. When a child is engaged in what they are reading and they can share that with someone, the enjoyment is multiplied. This resource is a pdf document that can be stuck into homework books or sent home via email directly to parents. The questions have been broken into four different areas: Story Structure Author's Purpose Making Connections Inferencing

Encourage your children to keep reading throughout the holidays with 'Book Bingo!' Aimed at young readers, this resource can be used throughout many different age groups and encourages children to read from a wide variety of genres, helping to increase their vocabulary.