Teach Trends Shop
High Quality Educational Resources - Geography - Physical Education - Display Boards & Posters
80Uploads
25k+Views
6k+Downloads
High Quality Educational Resources - Geography - Physical Education - Display Boards & Posters

Enhance your pupils' geographical skills with a series of interpretation and analysis sheets and questions. This resource includes 8 PowerPoint slides with corresponding questions all focused on a different data presentation method. Ideal for preparing your pupils for exams and revising analysis skills. The high quality slides include annotation, examples and five scaled-ability questions. The data presentation skills included in this resource are: Climate Graphs Population Pyramids Chloropleth Maps Scatter Graphs Pie Charts Demographic Transition Model Proportional Symbols Map Divided / Stacked Bar Charts Resource downloaded in PDF and PowerPoint Format. Any feedback would be greatly appreciated.

A high quality scheme of work, PowerPoints and worksheets focused on the Geography of Disease. This resource includes 6 lessons: Epidemic vs. Pandemic Disease Transmission Mapping Diseases The Role of Globalisation Disease & Development Preventing the Spread of Disease Each of the six lessons come with a corresponding PowerPoint with a learning outcome and engaging activities included on the slides. Essential geographical skills of mapping, handling and displaying data are embedded throughout the lessons. This resource can be downloaded in PowerPoint format and pdf format and includes 6 PowerPoint presentations and 6 worksheets.

This work booklet guides pupils through vital mapping skills by giving them a 'how to guide' as well as a chance to practise their new skills in a variety of questions and tasks. The booklet is aimed at children in upper KS2 and lower KS3 and can be easily adapted to suit. The booklet can be given at the end of a unit of work or spread out across several lessons. The mapping skills included in this work booklet include: 4 Figure Grid References 6 Figure Grid References Compass Directions Contour Lines Calculating Scale Each topic above includes a one-page 'how to guide' and well as a corresponding 'activity sheet.' Download is in pdf format.

This resource includes 5 high-quality Geography Revision Crib Sheets for use at the end of a topic or when revising for an exam. Aimed at the GCSE and Common Entrance Geography curriculums, the sheets include the main points of information as well as some exam-style questions to practise. The five revision sheets included are: Rivers - focusing on erosion/weathering, formation of river features, upper, middle and lower course of a river. Population & Settlement - focusing on birth and death rate, push and pull factors and settlement types and hierarchy. Weather & Climate - focusing on difference between weather and climate, factors influencing microclimates, types of rainfall and the 'Water Cycle.' Coastal Landforms - focusing on the erosion and deposition processes that cause landforms such as headlands, bays, spits etc. The crib sheet also focuses on the management techniques in order to protect coastlines. Earthquakes & Volcanoes - focusing on the layers of the Earth, types of plate boundaries and ways to predict and prepare for an earthquake or volcano.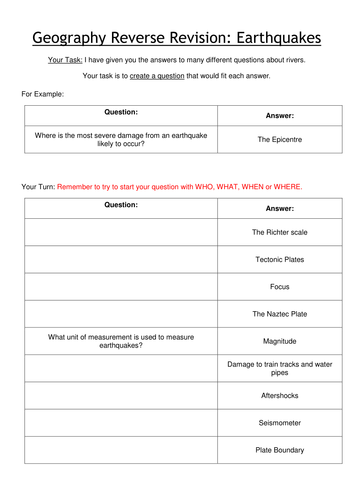 Change the way your students remember the key vocabulary words from several different geographical topics. Great activity for use at the end of units. The series of worksheets included in this resource provide the students with the answers, their task is to create the corresponding questions. By asking the students to create the questions, not only are they linking their own geographical knowledge to the key vocabulary they are also demonstrating their use of literacy skills. These worksheets are suitable for age ranges from Years 4-9 depending on ability levels. The geographical topics included in this resource are: - Rivers - Earthquakes - Volcanoes - Weather & Climate - Population & Settlement Worksheets included in this resource are available in Pages & Microsoft Word documents.

Geography Topic Theme Posters - Great for use on display boards in classrooms and around the school - Eye catching and professional designs Topics Include: + Global Locations + Mapping Skills + Weather & Climate + Industry & Transport

Save yourself time by completing a whole-class feedback sheet tailored to a Geography exam. Plenty of space to give individual feedback at the bottom of the sheet to make it personalised. Please let me know what you think by reviewing this download.

A set of 5 different pdf pages with common keywords and vocabulary used in each topic. Topics include: Rivers Coasts Volcanoes Earthquakes Weather Each page includes approximately 15-20 keywords with clear definitions and an appealing design. Great for use in exercise books at the start of a new topic or for use on a working wall or display. I'd be very grateful if you could please leave a review or feedback.

Revise key geographical concepts using a festive Geography Advent Calendar! Use this resource as a starter for GCSE Geography lessons, opening up a new question each day or lesson according to the advent calendar. There are two different Geography-themed PowerPoint Presentations to download: - Weather & Climate - Population & Settlement Each PowerPoint consists of 24 different questions from GCSE schemes of work. Available to download as Microsoft PowerPoint Presentation or Keynote.

This resource consists of six different word searches all related to current geographical topics. Each word search has 15 words to find. The topics/word searches include: Weather & Climate Tectonic Hazards Rivers Coasts Population & Settlement Transport & Industry

Begin your lessons with an engaging activity that can be used to recap the previous lesson's content or as a way to settle and focus your pupils. Each activity can be used to promote a wider classroom discussion and can be matched to the unit of work you are covering. Over 30+ different Geography-themed starter activities. Downloaded in PDF format Eye-catching / high-quality design. Can be printed or left on display screen for pupils. Topics Included: Population & Settlement Coasts Rivers Sustainability Tectonic Plates Global Location Knowledge Climate Rainforests / Deforestation Industry Types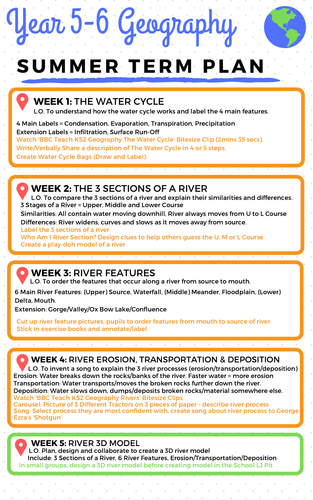 This scheme of work is suitable for KS2 Year 5-6 Geography and includes an 11-week plan and resources. Week 1-5: Unit based on 'Rivers' focusing on the water cycle, three sections of a river, river features and river processes (erosion, transportation and deposition). The unit culminates in a small assessment piece which requires the children to build a "foil river" using the Learning Power Approach, followed by a written task. All assessment rubrics are included. Week 6-11: Unit based on 'Mapping Skills' including lessons on grid references, compass points, contour lines and location knowledge. The plan also includes a detailed plan and resource for a Compass Fitness lesson outside which is ideal in the Summer Term.

A high-quality printable resource which can be used as a reference information sheet when teaching case studies or as a revision tool. All sheets come in PDF format. Case Studies Included: Volcanic Eruptions Montserrat 1995 (LEDC) Eyja, Iceland 2010 (MEDC) Earthquakes Haiti 2010 (LEDC) Kobe, Japan 1995 (MEDC) Flooding Pakistan 2010 (LEDC) Tewkesbury, UK 2007 (MEDC)

Update your Geography display boards in your classroom or around the school with the "Geographers Ask?" Posters. This resource includes two high quality posters available for print in pdf. - 1 x Physical Geographers Ask? Poster - 1 x Human Geographers Ask? Poster - 1 x Global Thinkers Are.. Poster

Included in this resource: - Volcanoes and Earthquakes Crib Sheet, ideal for revision of the topic. Traffic Light colour coding allows differentiation between questions and activities. - A tabled worksheet with an example focusing on the four main types of plate boundaries: Conservative, Constructive, Destructive, Sliding. Resources come with PDF, Word and & Keynote formats.

This combined powerpoint and activity introduces the Three Gorges Dam in China and looks at four main areas; Facts About the Dam, Location, the Positives and Negatives of Building the Dam. This can be set as a group activity and requires students to pick out the key points in their allocated section before reporting back to their group and sharing their ideas. A PowerPoint, Pages and PDF version is available for download.

A set of 30 cards great for use as a popular game at the start or end of lessons. Great for laminating to use in lessons or as part of an eye-catching display board. Each country card includes, the capital city, population, area of the country, life expectancy and highest point (altitude). This high-quality pdf resource consists of a copy of a selection of countries from each colour-coded) continent, including: Oceania (Australia, New Zealand, Fiji, Papua New Guinea Asia (China, Thailand, Japan, South Korea, India, Saudi Arabia) Europe (UK, France, Spain, Germany, Italy, Switzerland) Africa (Egypt, Tanzania, South Africa, Morocco, Zimbabwe, Ivory Coast) North America (Canada, Mexico, USA, Cuba) South America (Brazil, Argentina, Colombia, Ecuador)

Get your students used to the descriptive geographical language important when describing locations on a map, using this verbal communication activity. PowerPoint Slides to use whilst completing the activity as well as for teacher guidance on how to set up the activity Engaging and fun activity which is sure to get your students thinking Uses key geographical literacy Practical and easy to set up, can be used and adapted in many different ways

This advent calendar includes 25 days worth of questions aimed at KS3 pupils, covering a variety of topics, including: Weather & Climate Coastal Erosion Population & Settlement Tectonic Hazards Great for use as a revision tool over the Christmas Holidays. There are 25 questions all worth between 1 and 6 marks. The total marks of all 25 days of questions is 71 marks.

These Geography themed exit cards are an ideal way to end a lesson. With three different designs to choose from, the exit cards are perfect for laminating and then writing a question on the back with a whiteboard pen. That way the cards can be used again and again. Ensure your students have understood the lesson by quizzing them on their way out of your classroom door!