85Uploads
26k+Views
3k+Downloads

5 AQA exam-style questions on Frankenstein in exact layout as will appear in exam paper! Questions are on: Compassion Fear Knowledge Love & companionship Revenge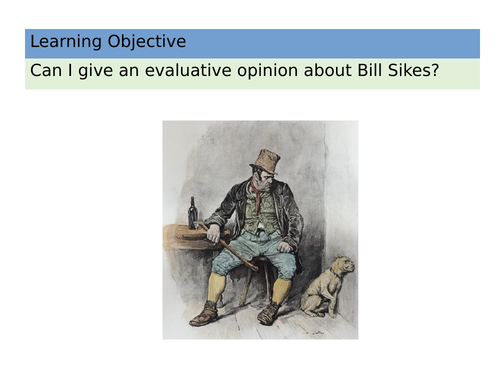 Lesson structured around AQA Lang Paper 1 Question 4 styles question. Model paragraph included.

Whole lesson on Chapter 11 of Lord of the Flies, focusing on the symbolism of Piggy's death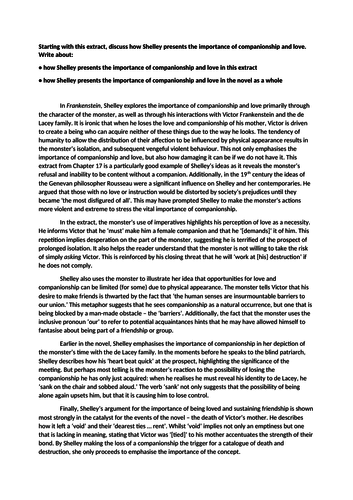 Full length model answer for Love & Companionship exam-style question (question & extract included) written by an experience qualified English teacher (me!). Great for mid-top sets.

Lesson looking at the shaming of Hero at her wedding in Act 3 sc 3 of Much Ado About Nothing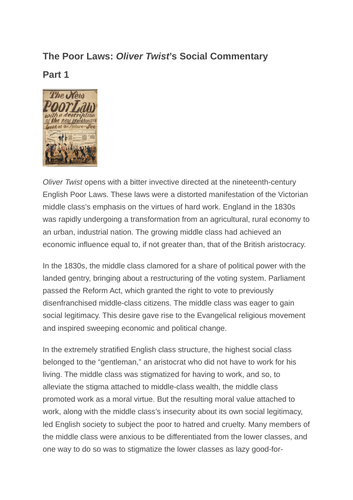 Lesson in which students work in groups to present back to class about different areas of historical context relevant to Oliver Twist. All historical context resources included. Topics are: The Poor Laws, Charles Dickens, Workhouse conditions, Victorian children.

Lesson focusing on human behaviour and how Shelley presents humanity.

Lessons on extracts from Chapters 5-7, with focus on Shelley's use of pathetic fallacy. Includes high level model paragraph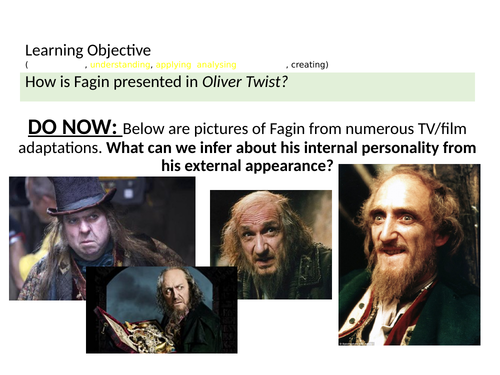 Lesson in which students work in groups with 6 different extracts featuring Fagin to present back on Dickens' presentation of him. Ideal for after students have studied whole novel.

24 Colourful, bright language techniques posters ready to print and laminate for your classroom. Terms are colour coded: Green = literary technique, Orange = Persuasive technique, Blue = word class List of terminology here: LIT TECHNIQUES: Simile, metaphor, personification, sibilance, sensory language, onomatopoeia, symbolism, alliteration, pathetic fallacy, foreshadowing, juxtaposition, atmosphere PERSUASIVE TECHNIQUES: Exaggeration, repetition, facts and statistics, emotive language, power of 3, anecdote, direct address, rhetorical question WORD CLASSES: noun, adjective, verb, adverb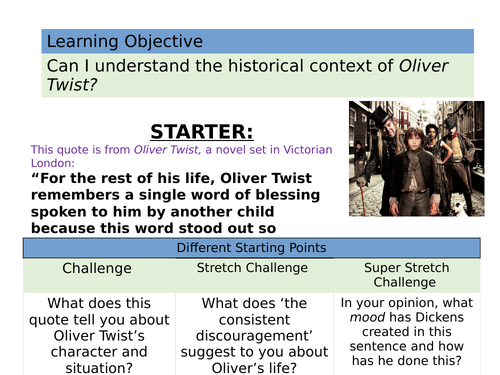 A series of lessons on the historical/social context of Oliver Twist and some pre-reading based on an extract from the novel. THESE FOUR LESSONS ARE ALSO AVAILABLE SEPARATELY! Search 'Oliver Twist context' and 'pre-reading' in my shop. Lesson 1 - Group presentations on historical context Lesson 2 - Analysis of description of Victorian London Lesson 3 - Victorian London creative writing lesson Lesson 4 - Close analysis of Dickens' exposure of poverty through his use of language, including model paragraph

Second half of a SOW on Lord of the Flies Lessons on Chapters 7-12 and the theme of violence including all resources 10 lessons in total!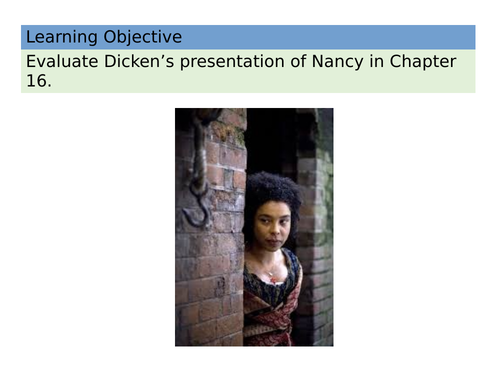 Whole lesson on Dickens' presentation of Nancy in Chapter 16, with Lang Paper 1 Question 4 style evaluative question. Extract included.

Lesson ideal for when students have studied the whole play. Students work in groups, looking at Benedick in different extracts from the play, and present back to the rest of the class with their findings. All extracts provided.

Two lessons covering the final scene of Much Ado About Nothing Lesson 1- is the ending predictable or unexpected? Lesson 2- To what extent can the ending be perceived as problematic?

Lesson covering Act 5 sc 1 of Much Ado About Nothing, with focus on the male characters, the patriarchy and their behaviour.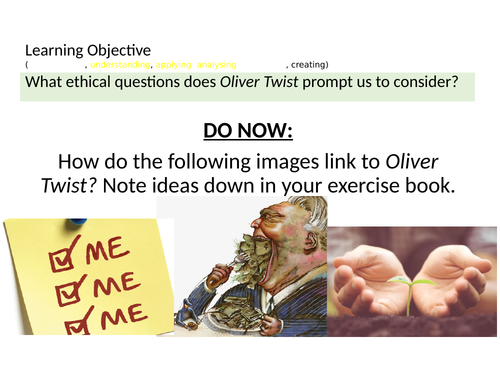 Lesson which looks at the ethical questions that are raised by the novel. Particularly good for high ability students - can be turned into a debate.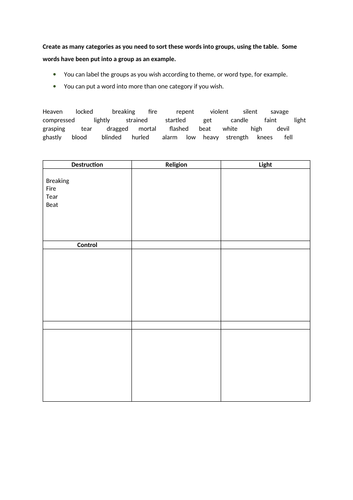 Lesson using Chapter 47 (Nancy's murder) to examine Dickens' use of semantic fields.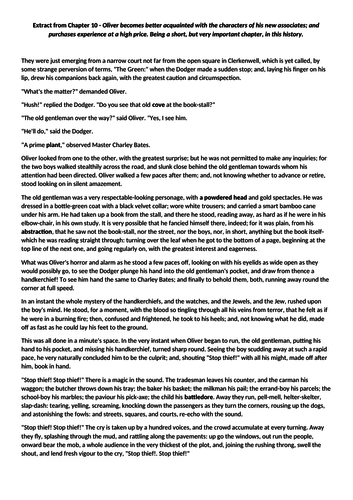 Lesson using Chapter 10 as a starting point to look at the contrast and interaction between the rich and poor characters in the novel.