Miss ModLang Resources
MFL Resources for teaching and learning, specifically Spanish.
9Uploads
609Views
689Downloads
MFL Resources for teaching and learning, specifically Spanish.
'But Miss/Sir, why do we even need to learn Spanish?' Combat this mindset by showing your pupils just how useful languages are! Download this set of 5 inspirational posters to display real stories from real people in language related careers. You can even get your pupils to talk about the different roles during a stand alone lesson -* who has the best job? why? how much do you think each one of them earns?* Suitable for any age but particularly useful for Year 9 onwards (KS3+) due to mentions of A-levels, degree options and different job roles related to Modern Languages. **Print, laminate and display! ** Please note, the preview picture is a cropped image of the A4 poster and therefore is not the full picture. If you'd like to view an example, look at my tweet on Twitter @missmodlang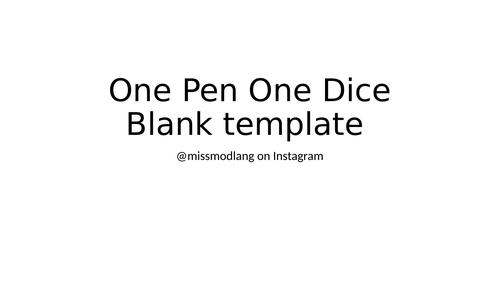 Copy and paste the slides and edit where appropriate for a low prep starter/plenary game of One Pen One Dice. Download and enjoy!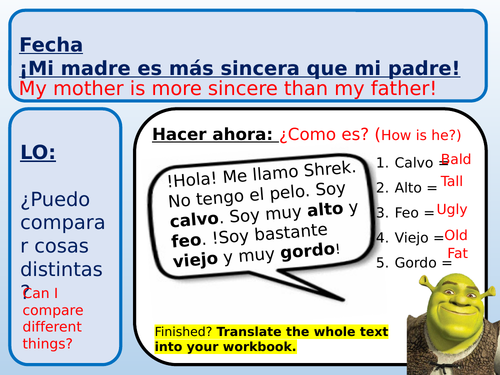 This resource comprises of a full Powerpoint lesson outlining the grammar of both comparative forms and superlatives forms. Included in the PPT is a recap/retrieval of physical descriptions which is easily adapted. The PPT also includes a game of 'WHOs WHO?' and multiple activities on writing/reading skill.
This resource comprises of a PowerPoint and Photo Card worksheets on the final slides to print. The PPT can be used as a lesson to support KS4 with exam practice, specifically the photo card section of the AQA Spanish Speaking exam. The lesson is simple and clear and therefore is particularly useful for ECTs/teachers who have not had much experience teaching exam practice/how to prepare for photo card.
Present tense conjugation lesson Suitable for Year 7 HAP and onwards Download comes with PowerPoint Presentation (which includes a link to a YouTube video in the notes section), -AR infinitive wordsearch and a conjugation table visual aid.
United Kingdom map connected to Spain map, showing connection, communication and love!
4x inclusive classroom posters with positive phrases written in Spanish 1 poster reads "better together" 1 poster reads "you are important" 1 poster reads "you are all welcome here" 1 poster asks "how are you feeling?" with emotion phrases
Based off ActiveTeach vocabulary, this download will support the teaching of: rooms in the house, opinion phrases and adjectives to describe the home and writing skills using home vocab. Included in the download is: 2x Powerpoints (Lesson 1: Las Habitaciones, Lesson 2: Como es tu piso o tu casa?) 1x Scaffolded Writing Worksheet (including key questions for writing practice of home vocab)
An introduction/overview of both the present tense and the preterite tense (SPANISH). Suitable for pupils struggling with tenses and conjugation. KS3+. Fun, eye-catching poster or visual aid.