A selection of lessons looking at key elements of Macbeth as preparation for the GCSE AQA Specification. Includes quiz for revision, take away homework, reading time with the text and lanaguage analysis, thematic approaches and contextual information in like with the AOs. This is all supported with analysis of exam style responses and extended writing tasks designed to boost exam skills
A selection of resources that can be used to support the teach of Charles Dickens' A Christmas Carol in line with the AQA GCSE specification Includes tasks to support the remainder of the AQA syllabus so that students are fully prepared for anything the exam board throws at them
A poster of the poem matched with an image of the eifiel tower. Ideal for visual learners or as a conversation starter.
A selection of resources guiding students through analysis of Scrooge's character in the opening stave of the novel. Includes graphics to support quote analysis and structure strips for extended essay style responses. Ideal for mid-high ability KS4.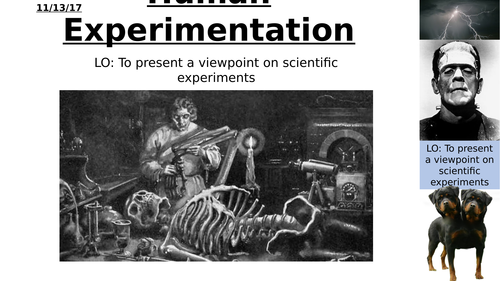 A selection of resources guiding students through information on science over the centuries, enabling them to form opinions about both human and animal testing. Includes videos, articles and images to help students increase their understanding of the topic and provoke comment and conversation. Finally culminating in written pieces fitting in with the Language Paper 2 Section B style - writing to present a viewpoint.
A lesson guiding students through the study and reading of Stave 2 up to the end of Scrooge's experience in his school. Focuses on the pathetic fallacy, life in Victorian England and language support Includes essay style question to practice analytical writing.
A lesson guiding students through preparation of an assessment for War Horse. The assessment is extract based and includes definitions of key words. Preparation lesson guides students through how to construct an answer, contextual information and a revision sheet to help them prepare. Ideal for KS3
A fully resourced lesson designed for KS4 as preparation for the AQA literature paper. Guides students through the reading of the stave, analysis of the language and events. This lesson has a specific focus on learning and recall of quotes in order to support the extract-whole nature of the exam.
A selection of resources easily spread over a few hours of work designed to engage students in the development of Beatrice and Benedick's relationship. Examines the scene in some detail with students then able to summarise what they have learnt Ideal for KS3 as an introduction to GCSE level work
A selection of resources that can be used to support the teach of Charles Dickens' A Christmas Carol in line with the AQA GCSE specification Includes tasks to support the remainder of the AQA syllabus so that students are fully prepared for anything the exam board throws at them
A series of resources designed to introduce KS4 to Charles Dickens, Victorian London and prepare them for a reading of A Christmas Carol. Makes overt references to AQA AOs and begins to include key quotes. Ideal for learners who are visually engaged through videos. Also includes activities similar to those found on the AQA language papers in order to reinforce language skills through literature study. Fully resourced and easy to print. All fonts and colours are dyslexia friendly. Ideal for mid-high ability but easily differentiated down for those who need more structure.
A selection of resources guiding students through the key themes, scenes and characters of the Shakespearean comedy. Ideal for KS3 as a solid introduction to Shakespeare and the AQA specification
A comprehensive set of resources guiding students through the preface and the firs part of Stave One. encourages students to recall key quotes as well as develop their own personal responses. This would ideally be taught over the course of 3-4 lessons to allow for reading time and full class discussion and engagement. Lesson includes discrete references to the AQA AOs. Ideal of GCSE/KS4 classes
A series of resources designed to be used over 2-3 lessons. Includes independent analysis of elements of A3S1, group work and drama tasks. Followed by an essay style question on how language is used to show conflict complete with support in structuring the answers and quote analysis It uses the AOs from the AQA GCSE specification and is ideal for both KS3 and KS4 groups learning key scenes and themes pf the play
A selection of resources ideally taught over 2-3 lessons. It covers the masquerade ball scene of Much Ado About nothing, using the Kenneth Branagh adaptation as visual stimuli. It includes a variety of tasks to hit the AOs of the GCSE AQA specification including recall of events and identification of language features. It also includes a variety of more creative activities including mask design. Ideal for KS3 as an introduction to the content of GCSE level work.
A lesson aimed at KS3 looking at the character of Don John, his role as a villain and an introduction into analytical writing - complete with essay structure support and model paragraph. Ideal for mid ability groups. Lesson is based on the AQA AOs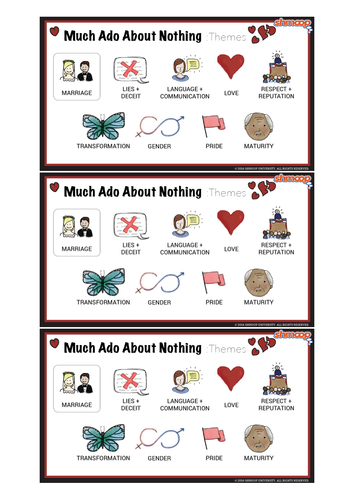 A lesson guiding students through the key themes of the play. Starts to introduce them to AQA GCSE AOs and analysis style writing. Ideal for KS3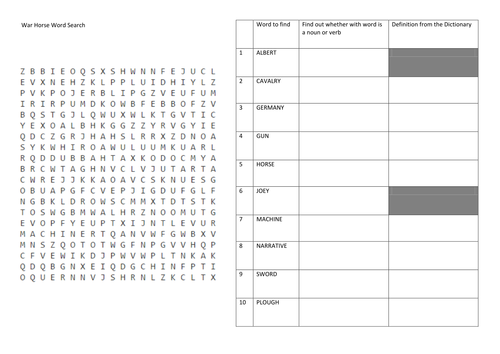 A lesson guiding students through the understanding and reading of Chapter 4. Uses the AQA GCSE specification as framework for AOs. Includes essay style analysis of language and works to evoke personal responses from students using images as well as the text itself. To make life easy I've included the extract required for the essay style question. Ideal for KS3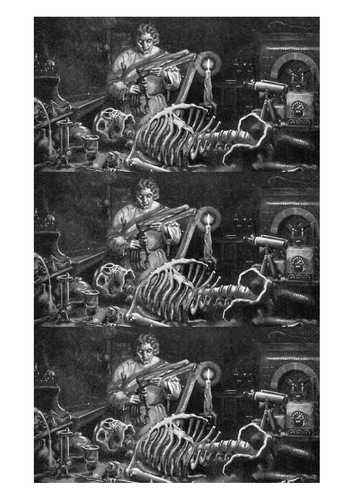 This is a series of lessons that can be delivered over several sessions encouraging creative writing and engagement with 19th century texts in accordance with the new GCSE specification. An ideal introduction to the life of Mary Shelley, her description and presentation of the monster. Focuses on personal responses in essay format and includes creative writing tasks in order to access a broad range of skills. Ideal for upper KS3, KS4 as an intro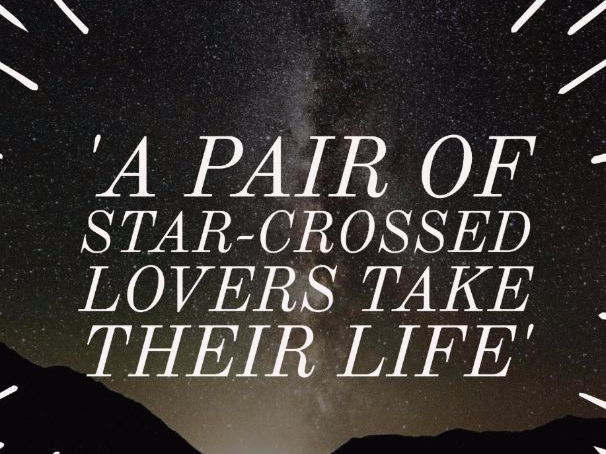 A lesson that can be conducted over 2hrs focusing on the prologue of Romeo and Juliet. Ideal of higher ability KS3 or GCSE students. Includes exam style question with analysis support, analysis work sheets and tasks which encourage direct engagement with the text and independent thought. Created with the AQA specification in mind but easily adapted to suit other SOWs
A selection of lessons based around the AQA specification analysis and exploring Shakespeare's Romeo and Juliet. Includes opportunities to write extended analytical responses,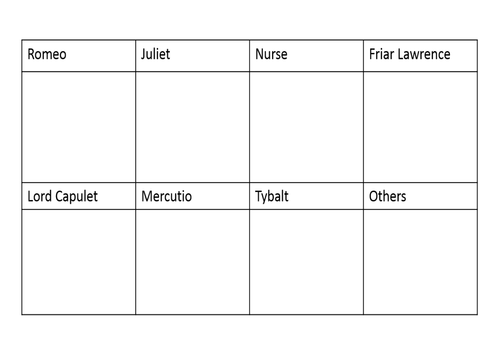 A lesson guiding KS3 students through a novelisation of the play. Aims to enrich contextual understanding through investigation of the globe theatre. Ideal for confident higher ability KS3 students or low ability KS4 as an introduction to the play.
A scheme of work designed to support the teaching of language paper one on the new AQA specification. This is aimed predominantly at lower ability groups in order to help them become familiar with the question styles. For lower ability groups there is a writing frame to help structure q4 responses and activities to support close analysis of words, phrases and language features. Also has assessment on a different HP extract to assess learning once completed Includes film clips and a section B writing to describe question.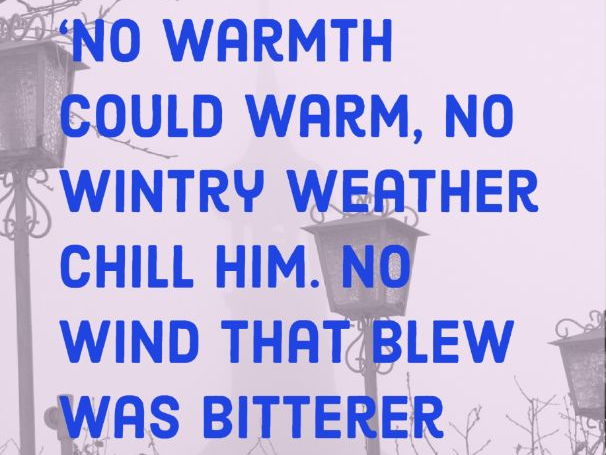 A GCSE lesson for A Christmas Carol look at analysis of the pathetic fallacy and language. Includes extension questions for higher ability and to evoke conversation. Essay style questions will assist in exam technique and lesson includes work sheet to revise language features