A selection of lessons looking at key elements of Macbeth as preparation for the GCSE AQA Specification. Includes quiz for revision, take away homework, reading time with the text and lanaguage analysis, thematic approaches and contextual information in like with the AOs. This is all supported with analysis of exam style responses and extended writing tasks designed to boost exam skills
A selection of resources that can be used to support the teach of Charles Dickens' A Christmas Carol in line with the AQA GCSE specification Includes tasks to support the remainder of the AQA syllabus so that students are fully prepared for anything the exam board throws at them
A poster of the poem matched with an image of the eifiel tower. Ideal for visual learners or as a conversation starter.
A series of resources guiding students through reading an extract of Point Blanc and engaging with the questions ans AOs of AQA Language Paper 1. Ideal for High Ability KS3 or as an introduction to the paper.
These resources are designed for KS3 and use the AQA assessment objectives. Ideally this is taught over 2-3 hours pre assessment. It was aimed at a mid-low ability set however can easily be differentiated upwards. There are plenty of opportunities to practice analytical writing and identify strengths and targets. Ideal as preparation for GCSE level work.
This lesson is designed to support students preparing for the AQA Macbeth GCSE. These resources look at Banquo's key speech and gives students the chance to read and pull apart a high grade response as well as construct their own analysis.
A collection of resources disigned to improve student's reading skills in preparation for the AQA gcse syllabus. Booklets are ideal to set as homework or to be used in conjunction with Reading for Pleasure lessons and include tasks that can be completed independently or integrated into whole class activities.
This booklet it designed to encourage students to engage with Reading for Pleasure in their own way, while fostering creativity, expansive vocabulary and inference skills. Ideal for KS3, either pick which tasks you wish to complete or allow students to dictate their own learning by selecting the tasks most suited to their books.
A booklet encouraging students to engage with some classic works of literature. Most activities are based around comprehension skills and skills required for AQA's Language Paper 1 including language analysis and creative writing. Perfect as a series of short tasks completed as homework, in form time or as revision tasks. Ideal as a KS3 to 4 transition piece.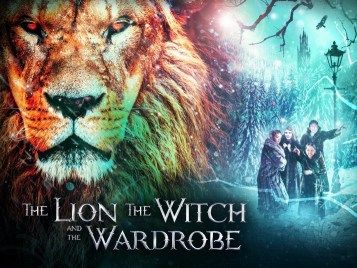 A series of lessons and resources guiding students through Q2, 3 and 5 of language paper one. Engaging activities that stretch the critical thinking of students while giving them an accessible text. this boots confidence and ultimately exam performance.
A variety of lessons, activities and tasks designed to support KS4 students in their revision of An Inspector Calls. Perfect for those who thrive on independent tasks as well as teacher lead activities. Also, check out my Kahoot Quiz here ideal for a homoginous revision of literature content for AQA https://play.kahoot.it/#/?quizId=cb082d00-9266-4eaa-bf87-88fb56cf20e5
A selection of resources designed to support KS4 students in revising for AQA's literature paper 1 A.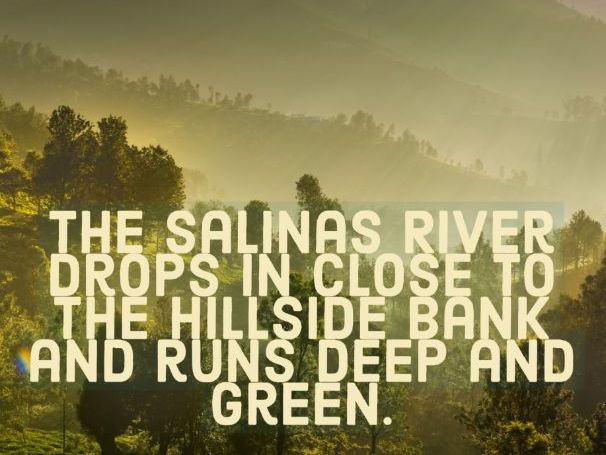 A selection of resources designed to engage students with creative writing tasks, using Of Mice and Men as a starting point. Includes a feedback task getting students to focus on the use of possessive apostrophes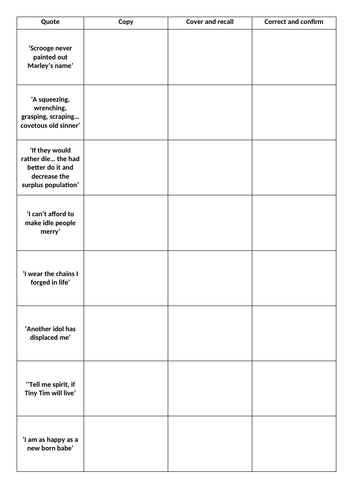 A simple worksheet designed to help students revise key quotations and allow them to independently match to themes of the novella. Ideal for KS4 students studying A Christmas Carol in preparation for the AQA GCSE exam.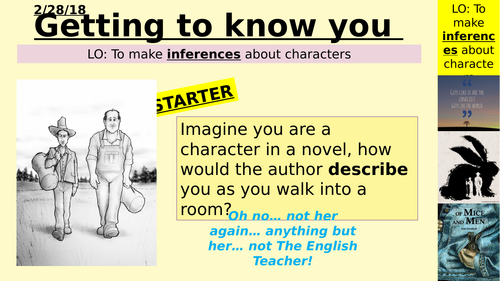 A lesson designed to get students thinking about the small details that build a character and the deliberate choices a write might make. Deisgned for a KS3 as a lead into creative writing activities.
A collection of worksheets and resources allowing students to independently analyse and revise poems for AQA GCSE English Literature. Promotes independent, original responses, analysis and identification of language features and encourages students to consider their effect. Includes visuals matched to quotations in order to aid retention of texts and promote conversation about the key themes Includes poems from the Power and Conflict anthology as well as resources that can be used for unseen.
A lesson enabling students to use their imagination and investigation skills to create their own spy character. An engaging and fun set of activities leaving the students in charge of their learning and development. Ideal for KS3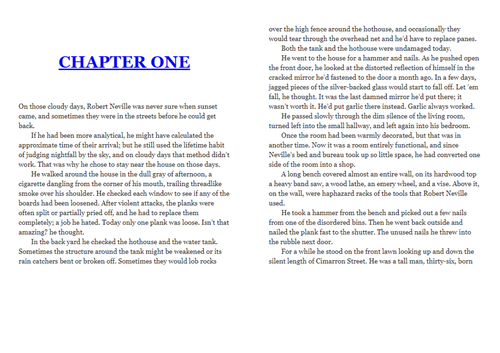 A series of lessons designed to guide students through the opening of I am Legend with the questions from P1 Section A included. Also incorporates a question three using the opening of the film. Some nice activities to challenge student and encourage discussion. There is also a MAD time (reflection) lesson following on from Q2. Ideal for KS4 or high ability KS3
A variety of fiction and non-fiction resources designed to be completed at home. Each is from a different era of literature and gives a homogeneous view to the curriculum, filling in cultural gaps in knowledge. Designed with the AQA exams in mind, getting students to practice retrieval skills and apply them to a variety of texts and genres.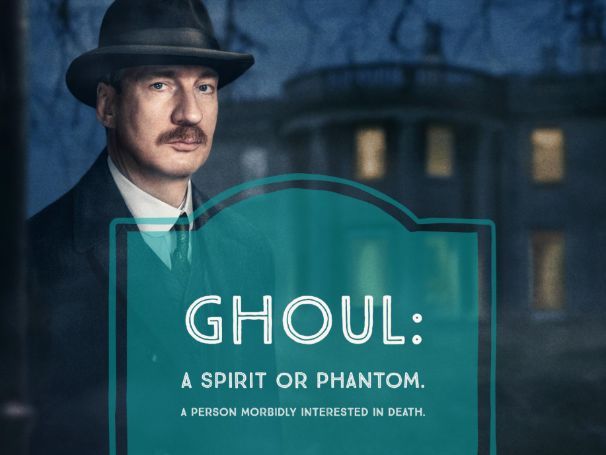 A selection of revision postcards crammed with information about the key themes and characters An Inspector Calls. Ideal as a revision aid, for essay writing or for look-cover-recall activities. Complete with a variety essay questions for students to attempt. Designed for my KS4 classes in line with the AQA assessment objectives. Why not get these printed on card and post home!
A selection of resources guiding students through close analysis of Sheila Birling, her role within the play, her contrasts with other characters and change over time. Excellent for revision activities and includes an extended writing task complete with structure strips to support lower ability students. All slides are on dyslexia friendly backgrounds Ideal for students preparing for the AQA specification.
A lesson guiding students through the reading and analysis of A3S2. Ideal for AQA students. Includes key quotations and the opportunity for independent and group work. Structure strips enable students to build confidence in writing extended answers and hits the criteria of the AQA AOs. All slides on a dyslexia friendly background.
A lesson guiding students through recap of their assessments, easy to adapt to suit your groups or exam question. Includes reflective activities and exemplar answers. Ideal for KS3
A lesson guiding students through reflective time after an assessment. Uses the AQA specification to inform feedback. Includes example answer and engaging kagan style activities