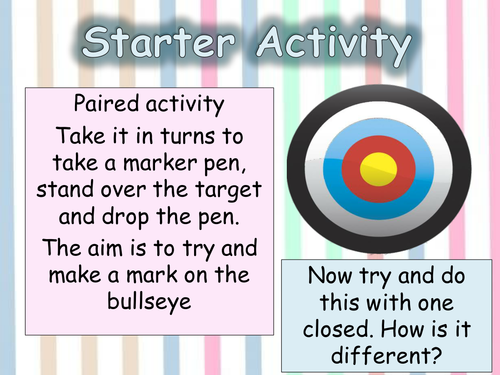 A lesson covering monocular and binocular depth cues including application to new situations. Activities include practical starter, fill in the blanks, worksheet and differentiated exam style questions.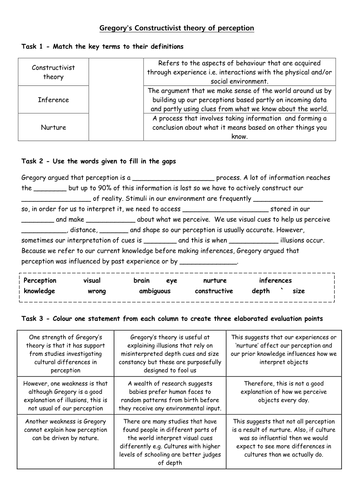 A lesson covering AO1 and AO3 of Gregory's constructivist theory. Highly student led with activities including mix and match, fill in the blanks and colour coded elaboration.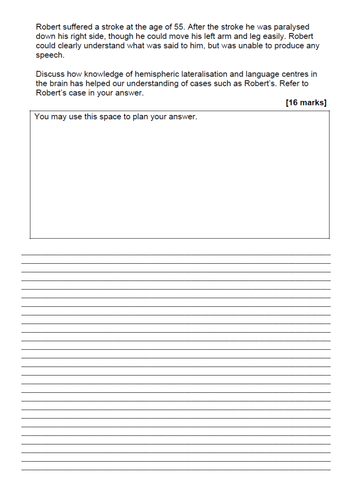 Lesson explaining split brain research including Sperry. Includes note to take, independent evaluation activities and 3 possible essays for students to plan individually in groups or as a class.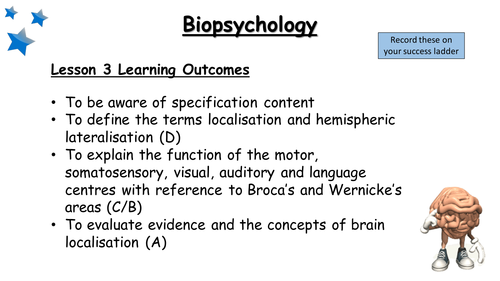 Lesson detailing localization of brain function. The lesson introduces the basics of the brain, hemispheres etc then guides students through a student led carousel before bringing the class back together to evaluate. Includes mini plenaries to assess ongoing understanding and mini practical.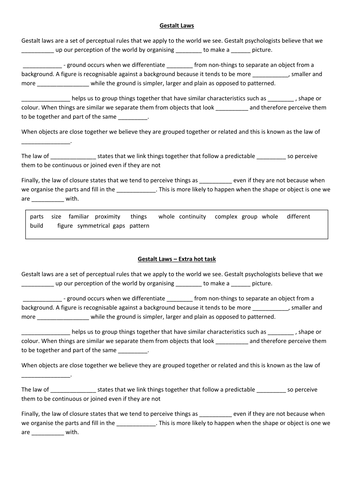 Lesson explaining stereopsis with a mini practical for the students to carry out to experience stereopsis. Activities looking at different types of illusions and examples of these illusions, how Gestalt explains illusions and evaluation of Gestalt. Includes analysis of scenario, gap fills and a mini practical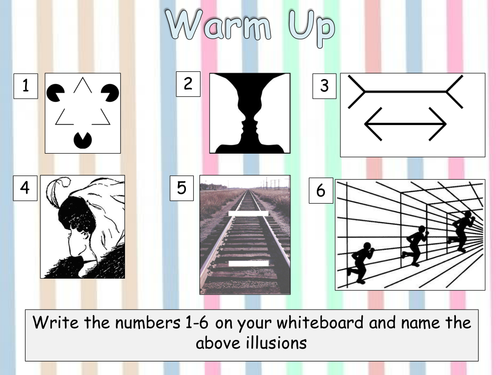 Lesson covering Gregory's theory of illusions and applying knowledge to Ponzo and Hering illusions. Lesson includes differentiated application of knowledge to relevant exam questions and helpful and handy hints on how to remember Gregory's theory. Includes whole class live writing activity with model answers.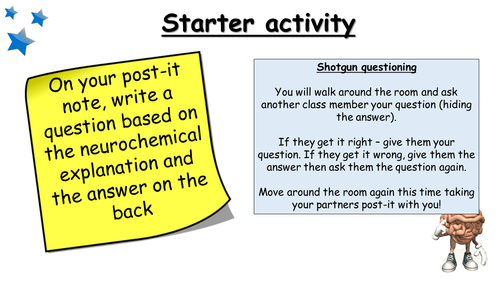 Whole lesson looking at discussion of the neurochemical explanation (AO1/2 in separate lesson). Includes pupil led recap of AO1 content and opportunities for live class modelling, group evaluation and peer teaching. Can be made easier by providing students with a copy of the textbook evaluation for them to sue to form a burger evaluation paragraph rather than being entirely student led.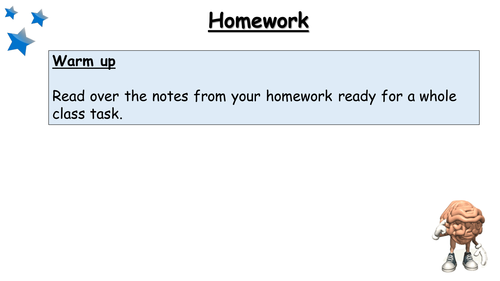 Lesson covering the outline of the neurochemical explanation of addiction (desensitisation hypothesis and nicotine regulation model). Includes flipped learning activity (to be given the lesson before), group activity, class activity, information slide for notes, application to scenarios and whiteboard knowledge reviews with answers.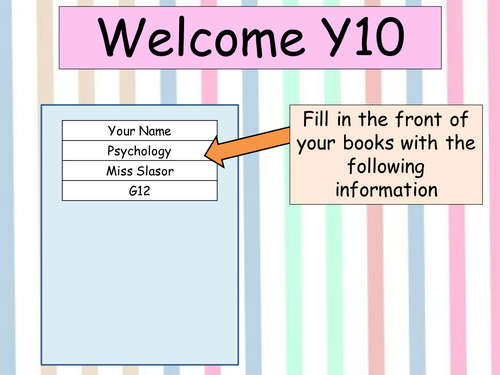 Suitable as an introductory lesson to the perception topic of the new AQA GCSE. The PowerPoint goes through the difference between sensation and perception and includes activities such as fill in the blanks, AfL whiteboard tasks and a practical activity to demonstrate how once sense influences the perception of another.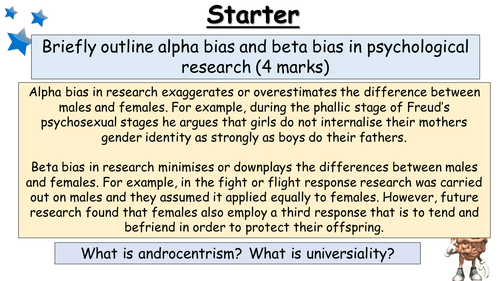 Powerpoint activity tackling the discussion of gender bias. Students were set a preparatory task the lesson before to make notes on the different types of gender bias. Therefore this lesson focuses on consolidating this knowledge and the discussion of the debate. The final activity guides students through planning a 16 mark response to this question.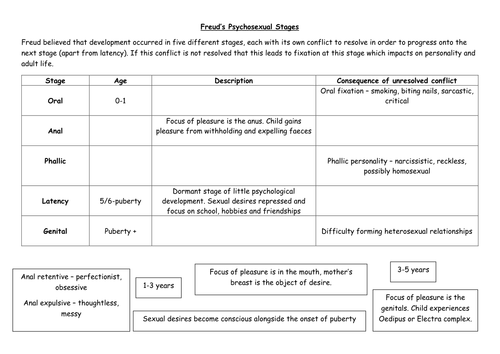 Two lessons looking at the main assumptions of the psychodynamic approach, the case of Little Hans and the evaluation with links to determinism. Lesson contains fill in the gaps, a fun practical activity to get them thinking about the unconscious, a homework flipped learning activity, an AfL whiteboards activity and small exam style questions incorporated.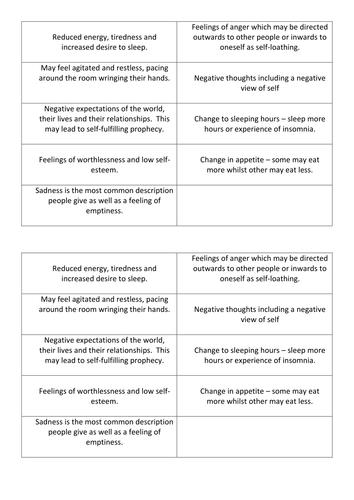 The powerpoint introduces students to depression and addresses misconceptions. It includes activities such as fill in the gap, relevant video clips (links in comments box under slide), and an application style worksheet with extension activity. There are regular progress checks throughout the lesson.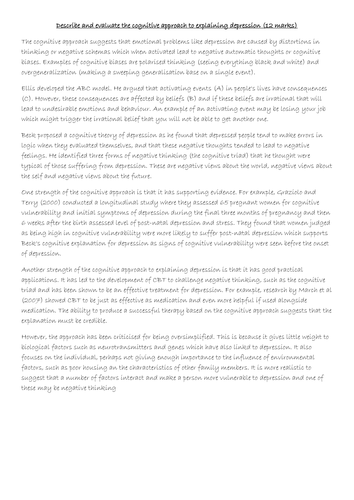 Powerpoint outlining and evaluating both Beck and Ellis' cognitive theories of depression. Activities include creating rational and irrational flow diagrams, attempting short exam style questions and assessing a model answer.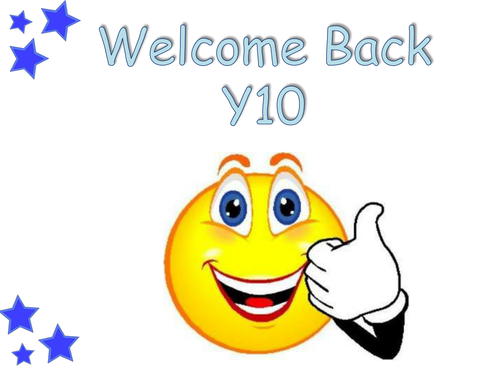 Two lessons looking at labelling a neuron and the steps of synaptic transmission. The first lesson looks at building knowledge whilst the second lesson contains differentiated activities to assess their understanding.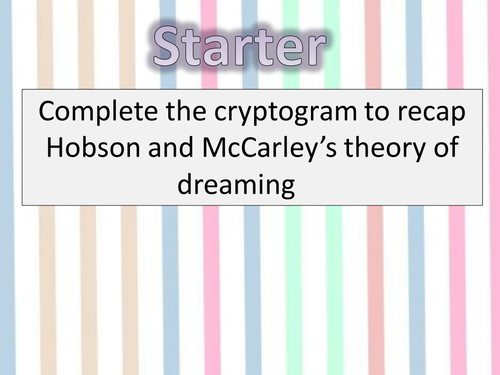 Two lessons on activation-synthesis theory. Activities include gap fills, AfL whiteboard assessment, cryptograms, and peer assessment of exam style questions.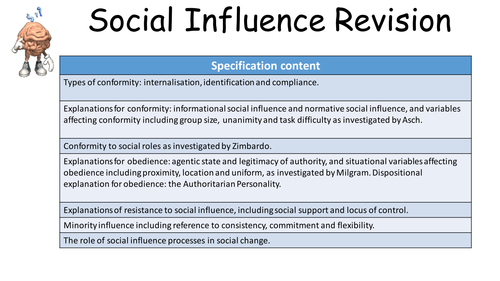 Basic, to the point, no frills revision powerpoint covering the whole of the social influence content. I used this in afterschool revision with Y13 over a period of weeks to recap the year 1 content.
23 page booklet covering the whole specification content for the New AQA A Level for the Year 2 topic of Addiction. This resource includes outline of the specification, supporting studies and evaluation of them as well as overall evaluation of the topic areas.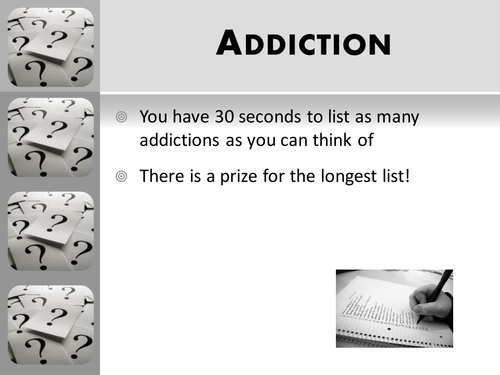 Learning objective: To be aware of how addiction can be defined including chemical and behavioural addictions. To know what you will study in addictive behaviours. To have an understanding of what addiction is and be able to evaluate the definitions. Extension: To have considered the difference between an addiction and an excessive enthusiasm Skills: Effective participators Team work Evaluation Includes an introduction to the specification content, defining and categorising addiction, examining the difference between addiction and an excessive enthusiasm, ASL true or false activity and flipped learning homework worksheet.
Lesson 1 Learning objective: To explain the neurological explanation of nicotine addiction – Grade D To give evidence to support this explanation – Grade C To evaluate this explanation including issues, debates and approaches – Grade B/A Lesson 2 Learning objective: To apply knowledge of the neurological explanation of addiction to exam style questions Recapping synaptic transmission (Year 1 content), outline of initiation, maintenance and relapse according to the neurochemical explanation with videos describing how addiction works and links to websites showing the excitation of the reward pathway. Includes supporting research and evaluation including key issues and debates. Lesson 2 looks at applying knowledge to answer a 16 mark response with mark scheme provided.