Lpfarr's Shop
English teacher who loves creating innovative resources and lessons.
14Uploads
142Views
11Downloads
English teacher who loves creating innovative resources and lessons.

This is a revision activity for animal farm which is topical and engaging for the students. It follows the latest television show 'The Masked Singer' where students are given hints which reveal the masked character such as key quotations, descriptions, allegorical links, Orwell's views etc. Students can also ask for a hint which tells them a bit more about the character or their link to the text and context. The quotations and hints are more cryptic than the obvious to broaden students' knowledge of the key characters and the text and thus allow them to make developed personal responses. Answers and teacher guidance in the notes of each slide.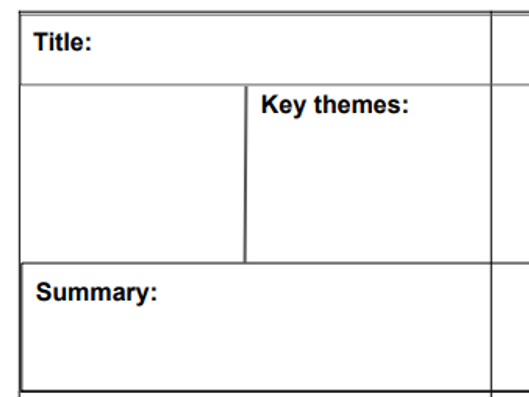 This template can be used for plays, novels, creative writing etc. 6 SECTIONS PER PAGE. Can print again for longer plays.

All of the information (and more) students need to understand the context and plot of Animal Farm and the character Napoleon. The starter highlights the importance of context in Animal Farm and addresses some misconceptions and common exam mistakes. This lesson covers: Overthrow of the Tsar (revolution) The Bolsheviks General Secretary Totalitarian state Use of the secret police Five year plan Collectivisation Purges and praises Orwell's views These slides can be made into revision cards or notes. Students should make links between the context points and the novella.

BREAKTHROUGH LESSONS! This lesson is easy to follow and understand with two different poems that are alike in exploring the viewpoint of a child. This lesson was created to ensure students feel confident answering unseen and understand that their interpretation is just as relevant as everyone else's as long as they can support their answers. This is the main barrier to overcome when teaching unseen poetry. This lesson includes a memory quiz mainly focusing on subject terminology, the mark scheme broken down, how to approach an unseen and what to comment on, explorative questions to annotate each poem, two model paragraphs. This covers 3 lessons. Poems explored: 'Climbing My Grandfather' by Andrew Waterhouse 'The Chimney Sweeper' by William Blake (songs of innocence)

This workbook contains a** range of activities** to ensure students revise the plot, characters, themes, quotations and practice exam-style questions. There is a double-sided A4 worksheet on each scene in Macbeth (28). This can be completed as homework, revision, as part of class reading, or as lockdown work! I have used this with year 9-11 (GCSE) for both AQA and Edexcel exam boards. This is an already differentiated resource that does not require teacher marking. This can be peer or self-assessed. Students can complete the work in the workbook as there is space provided for answers, mind-maps, creative writing etc.

This workbook contains a range of activities on each scene in the play 'Macbeth' (28 scenes). The activities range from plot sorts, summaries, quotations, cloze activities, mind-maps, creative writing tasks, annotating an extract, character tables and many more!! This workbook once completed will be a revision resource covering plot, characters, themes, quotations and exam practice! This resource is already differentiated to make it accessible for all sets and created for self or peer-assessment. This resource can be used as a homework booklet, lockdown/self-isolation work, revision or class work. This is a scanned copy ready to print!

This double-sided worksheet makes reference to the mark scheme for achieving higher grades and explains the skill of embedding evidence. The resource contains three activities: correcting answers, filling in the blanks, and skill practice answering questions. These tasks are clearly explained with supporting examples, challenges and extensions to meet all abilities. It is also differentiated by outcome and so can be used with all ages and abilities. This resource can be peer/self/teacher assessed. This worksheet was used as feedback from a DNA essay to intervene and develop this skill of embedding references and using subject terminology to develop answers.

Students solve the riddle to find a word in the dictionary and answer the question about it. The first section, students will find the answers in the dictionary, the second the thesaurus and the third in the classroom. You can edit questions or add. This took one lesson for my year 7s to solve. I had them working in pairs and gave the winning pair small easter eggs. Students found it challenging but competitive and fun!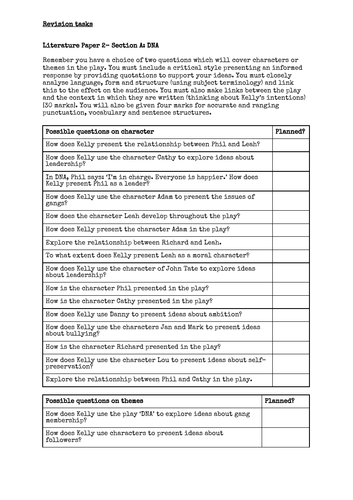 This is a great revision resource for students or teachers to work through together, planning possible questions for DNA. This includes previous exam questions and possible questions relating to characters an themes.

This essay is a poetry comparison answering the question: Compare how poets present a sense of longing in 'Love's Philosophy' and in one other poem from the 'Love and Relationships' [30 marks] AQA Mark scheme Love and Relationships cluster- full marks.

This is a lesson with additional lessons to continue the exploration of Percey Shelley's 'Love Philosophy'. The resource has annotated questions to allow the students to write their own annotations and interpretations but guided. This has the context, form, language and structure completely explored with the key information for students to recall highlighted.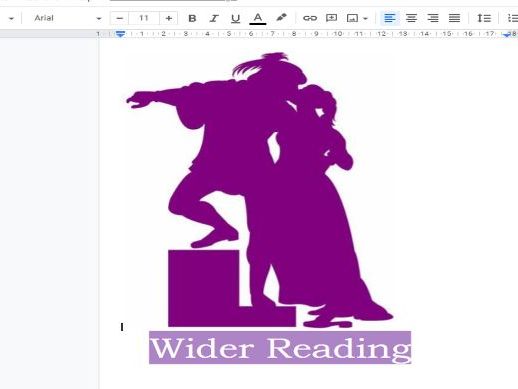 This resource makes a great homework or revision resource to get the students thinking about wider concepts explored in Shakespeare's 'Romeo and Juliet'. In addition to the reading is tasks and questions to complete to check students' understanding.

This resources is a complete exploration of the context, from, language and structure of the poem 'Sonnet 29- 'I think of thee!' by Elizabeth Barrett Browning. This contains the key terminology and multiple interpretations and readings of the poems' form, language and structure. This covers a couple of lessons and so has starter activities testing students' recall. The final slides consist of the key quotations that students should remember for the AQA Literature Paper 2 exam.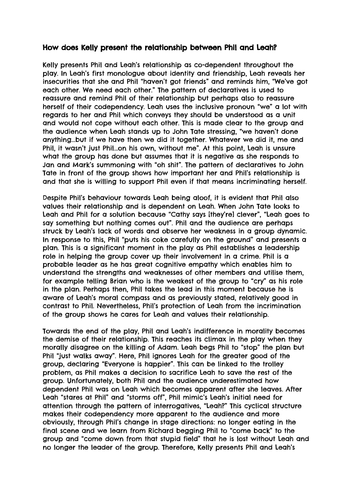 This resource contains two grade 9 essays in response to the question: How does Kelly present the relationship between Phil and Leah?