121Uploads
9k+Views
2k+Downloads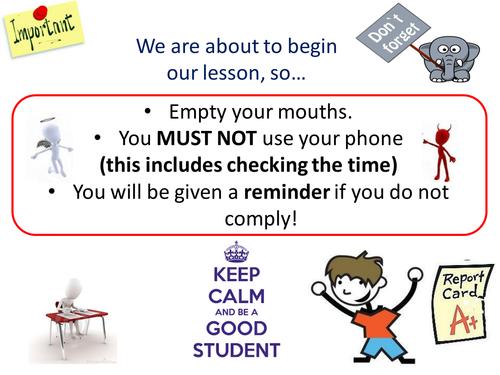 This lesson was prepared for the year 11 Citizenship students (AQA full course). This lesson is on the topic of Rights and Responsibilities in the workplace. It includes settler, starter, learning objectives/keywords introduction slide, a keywords match-up activity, a 'complete a table' activity on the topic, followed by the answers provided (and there is the possibility to introduce discussion / red pen activity!), some information on discrimination at work and the groups that are usually / might be discriminates (SMSC emphasis) and some exam practice on the questions of the Part B with success criteria, model answers and self-assessment. The presentation ends with a cartoon for a plenary discussion.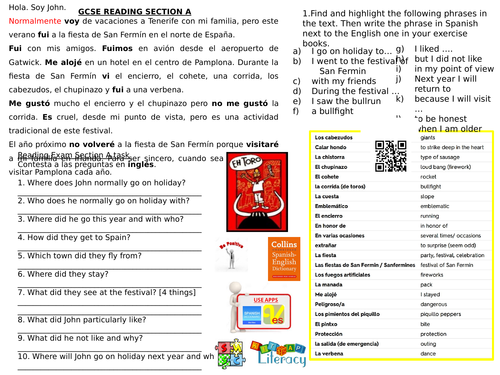 This is the lesson that I have prepared for my y9/y10 in relation to the topic of Spanish culture (Festivals & Celebrations). The lesson starts with the starter about food (it was previous topic and I always try to link things together) and following review of lesson outcomes we move onto to trying to recite a tongue twister (plus a cultural SMSC tip!). Students will then recap on regular verbs conjugation in present tense and learn new / revise already known vocabulary on the topic of San Fermin celebration using Quizlet and Quizlet live tools. I have then included a video (see link) of Rosa from SpanishPod101 (see their channel in youtube) describing the celebration of San Fermin. Even though the video is in Spanish and Rosa speaks really quickly, there are subtitles in English so that all students have a chance to listen to a native speaker and at the same time understand what the video is about (note: I personally find the Spanishpod101 videos amazing as they address quite a few cultural / grammar / pronunciation and other aspects so I would recommend letting your students know that a lot of resources are available for free. Consequently, students answer quiz questions about the video and move on to Reading activity. They read the text aloud, search for cognates and keywords and finally answer the questions that I have tried to create in the style of AQA Higher Reading Section A. Please note that there is also a handout to make the task easier and faster to access. Enjoy!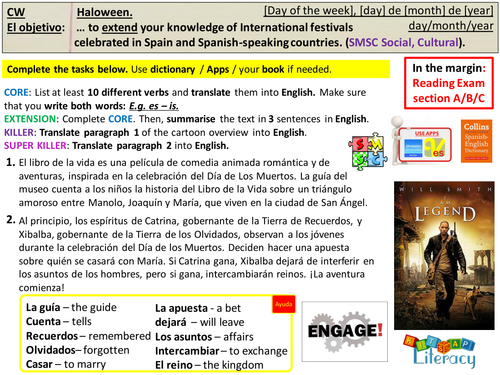 This is a lesson which I prepared for my KS4 Spanish groups for the end of the term. It includes one of my favourite starters - students have to analyse the overview of the cartoon - The Book of Life - and choose a task according to their level. You would then check the answers and would move on to explaining the lesson outcomes. Then they would have some fun with a tongue twister, working on their pronunciation of 'Br' sound (one of their favourite thing to do every lesson - easy to find and to tick SMSC, engagement, phonics and oracy points).Then I have included a mind map mini-plenary for them to revise the festivities/celebrations vocabulary. It is then followed by the new vocabulary introduction with a quizlet and quizlet live games. A short Rally coach activity is included for them to consolidate the vocabulary and to practice translating topic-related sentences. I have then arranged for a listening / reading activity using one of the youtube videos of the SpanishPod101 about Halloween. The lady speaks fast but there are Spanish and English subtitles at the bottom to assist students with understanding the video. They would answer the listening questions as they listen to /watch the video. The next task is Reading (Section B) - they need to insert the correct words in the text about the Day of the Dead followed by the AQA skill-based self-assessment. Finally, the 'words' snake' plenary that students totally love - they have to work in groups remembering topi-specific vocabulary. Enjoy!
This is the speaking framework that I wrote for the early GCSE classes. The framework was originally designed for them to write an essay that they might use for the speaking test or keep it in file to revise prior to the exam. I have also used it as a writing model answer. I have left references to the VCOP mat in case someone wants to put their numbers in, alternatively, just delete them as I left the names of the structures.
This is a brief bundle for the young GCSE Spanish class or for the revision of the older students. I included 2 versions of my observation lesson (practice of Section C reading exam task), a photo card help worksheet (can also be used for the topic writing practice) and a research project about a favourite town with the model answer that practically summarises the topic vocabulary and can also be used for the revision tasks (can be amended if needed). This is a template that I prepared for my higher year 8 Spanish students and early KS4 in relation to answering a Speaking Role Play task. Please note that this is a template and can be reused for different topics. It starts with a Quizlet slide to revise (whilst being engaged!) some vocabulary prior to looking at the task. There are various Quizlet word lists available so you can just change the QR code and link if another list of words is needed. Then Students together with the teacher discuss the strategies and look at the task, success criteria and marking scheme and revise question words and how to form different types of questions in Spanish. They check their knowledge of the latter by way of completing a quick test and check their answers / discuss mistakes. They then jot their thoughts on a similar Role Play task in pairs (using grammar help - note: we use VCOP mat so if you have one you will need to change the numbers of the grammar points, if not you nees to delete few bits, the examples of structures are provided anyway) and complete in in writing individually . Then their 'Time Pair Share' the Role Play and self/peer -assess their work. Please let me know if there are any problems / ideas!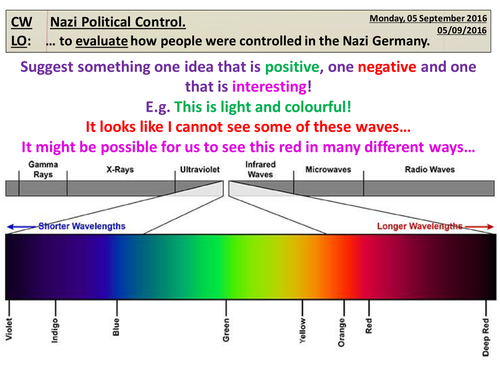 This is the lesson on the Nazi Police State. It includes a settler, a starter (Scrabble activity), Learning outcomes slide, information research slide with a structure of the Nazi State (with some tasks organised as CEK plus extension task), source analysis task (oral - describing the Nazi Propaganda poster), exam question based on the same poster (with success criteria and a model answer, peer assessment and SPAG activities) and plenary introducing discussion on Pastor Martin Niemoller's famous quote.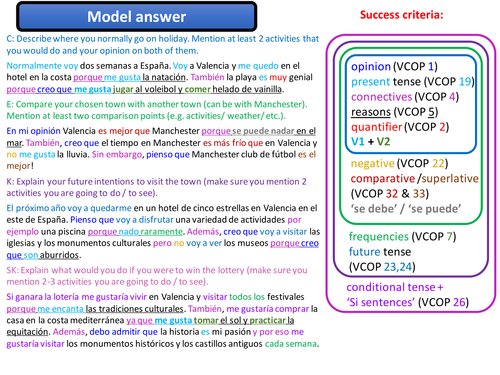 This is a research project lesson (or two lessons really) that I created for my year 7 Spanish students. The writing example can be easily adapted if more structures are to be added. The idea is to promote independent learning via research. Students have to research information about the place that they would like to visit (any place in world really but I encouraged to visit Spain). Students decide on the task and start researching relevant information about the chosen location using their iPads/ Chromebooks. At the same time they create a poster or a travel brochure with pop-up images (!!!) about the chosen location. During the second lesson they distribute the writing task bullet points in-between the members of the group and complete a piece of writing as per success criteria and model answer. In the end they stick their written notes (or attach them) to their poster /travel brochure. The whole process takes about 2 lessons and is perfect for the end of the topic as you can incorporate all of the structures / vocabulary learned during the term! Note: the writing example is oriented on the revision of tenses studied this year, holidays, weather and location vocabulary. Please let me know if you have any other ideas on how this project can be implemented. If you still have some time left you can enjoy few games I have inserted to simply have fun during the (possibly) last lesson of the year.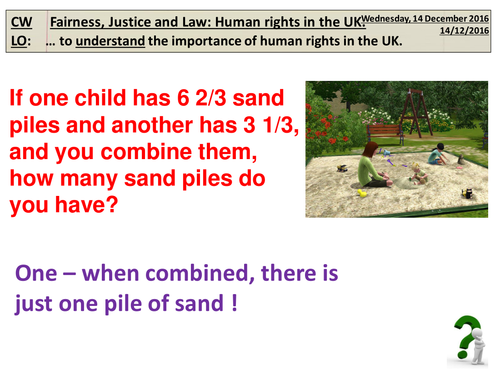 This lesson was prepared for the year 11 Citizenship students (AQA full course). This lesson is on the topic of Fairness, Justice and Law: Human rights in UK. It includes settler, starter, learning objectives/keywords introduction slide, a quick match-up activity to revise some keywords, the slide with information on the Human Rights Act 1998, some activities for discussion of the latter (I especially like the activity where they have to guess the rights!) and exam practice materials. The latter is an example of a part B question (4 c) with a model answer and success criteria, followed up by the self-assessment slide. The presentation ends with a cartoon for a plenary discussion.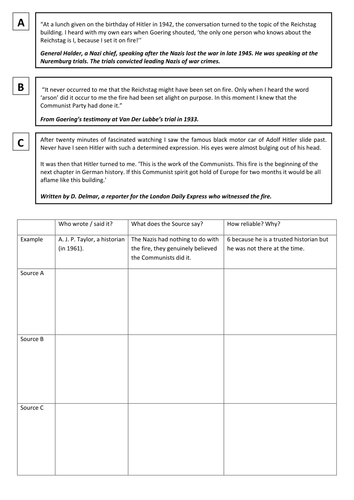 This is the worksheet that I featured in one of the lessons. It contains three sources which students have to use to complete the table (COP).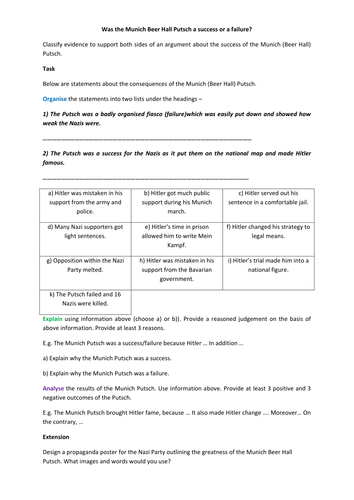 A worksheet for my lesson 'The Rise of the Nazi Party - Munich Putsch' which was taken from TES and adapted to the lesson.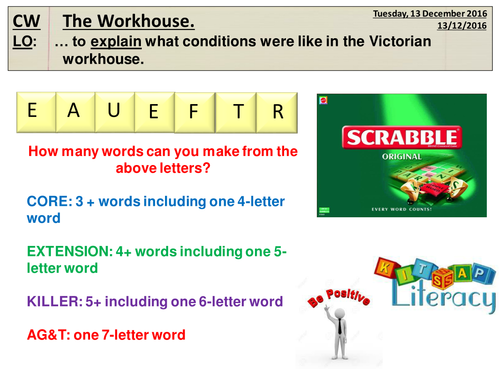 This is a collection of 5 lessons on Victorian Britain. We have discussed living conditions, Workhouses, crime and punishment, prisons and schools. All lessons are based on COPA approach (content, origin, purpose, audience) with the task to analyse the source being the main one. All lessons contain settlers and kagan activities.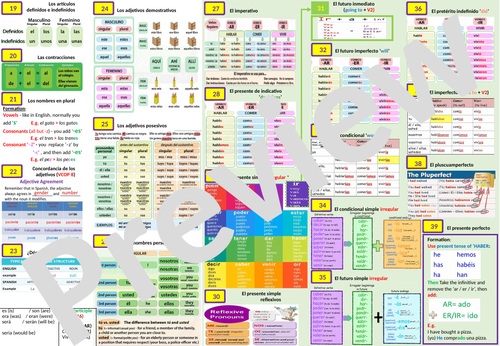 This a VCOP / Literacy Mat that I have prepared for my KS3 and KS4 classes. I prepared it to reflect AQA examination criteria however I believe Spanish language does not change in-between different examination organisations so can be used for different ability students studying for different types of exams. It covers 39 different grammar structures including main verb tenses and popular structures that I recommend my students use for their writing, speaking and reading practice (and learn to identify when listening). It is partially differentiated (see groups highlighted in 3 colours - blue for Core, green for Extension, red for Killer). Parts of the mat with green background represent the most popular verb tenses and verbal structures. I have included the most useful (in my point of view) opinions, adverbs, exclamations, connectives, linking expressions, quantifiers, time expressions, question words, V1 + V2 structures, subjunctive and conditional phrases, gerunds and few more expressions that worth few shiny points if used during the exam. I have considered it would be useful to include the endings and explanation on how to follow adjectival agreement rules, use correct articles and pronouns. In relation to verb tenses, providing there is not as much space as it seems to be, I have included the verb tables for present simple (regular and irregular + self-reflexive), imperative, immediate (near) future, 'will' future, regular and irregular conditional, past simple, imperfect and past perfect (for those who are truly passionate about grammar. If you wish to add something just amend / move few boxes and you will be done. If printing, I would recommend to do so on A3 to ensure that all of the instructions are clearly visible. Note: to remove 'Preview' just select it and delete - it is just one text box. Let me know how it goes and what you think!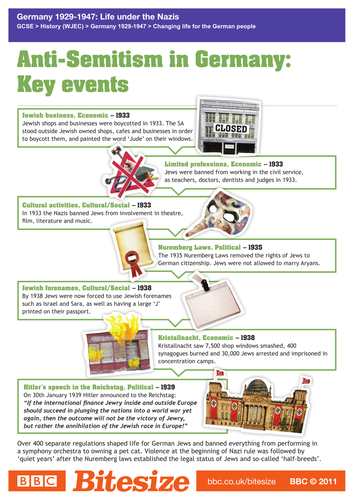 This lesson introduces the Nazi Racial policy and touches upon Antisemitism. It includes settler, starter, an example of how an exercise book is supposed to look like (a picture taken from the A* student's book), exam question with a model answer and success criteria, a slide showing how to justify the grade when self-assessing your answer (with a self-assessment slide), Learning outcomes, a slide introducing discussion of the racial policy in the propaganda posters (with some keywords), information research task (I enclosed the information sheet taken from the BBC Bitesize website), Oracy leader task based on the Hitler's quote and a recap activity on the asking students to put the events of the Hitler's rise to power in chronological order.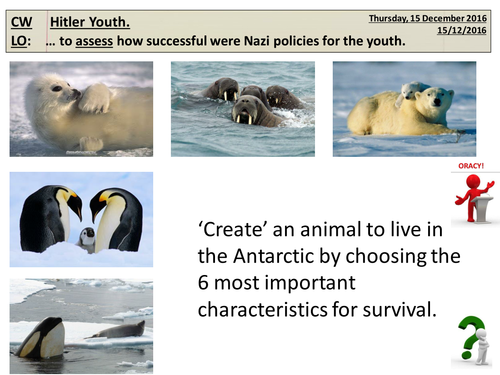 This is a lesson on the topic of Hitler Youth. It starts with a relaxing settler, then continues onto a scrabble starter (children love it!), Learning outcomes, ask a question (use the table on the slide afterwards to give examples for the questions), an information slide about main youth groups, activity slide (with a link to a video and tasks on the basis of the same) and a revision task not to forget the keywords!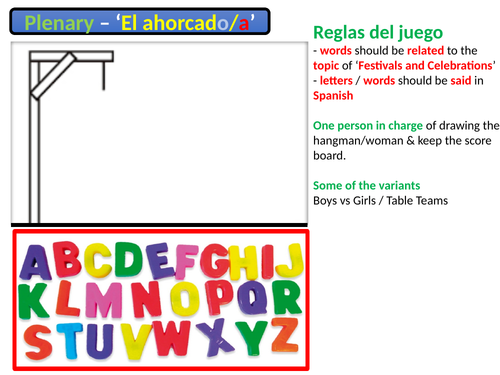 One of the most popular word games ever… And students love it as a reward for a good work during the lesson!
This is a research project lesson (or two lessons really) that I created for my year 8 Spanish students. It can also be used for year 9 as the model answer has quite a list of grammar / some more can be added. The idea is to promote independent learning via research. There are two choices: a documentary about your favourite town in England (in my case it is Manchester) or an interview with a football player about his town in Spain ( I chose Madrid). Students decide on the task, the roles and start researching relevant information using their iPads (one of the students needs to summarise the information that others found). They then have to prepare a script in Spanish and to make a video using iMovie or any other video application. If there is little time I would suggest them to present it and I would film it. The whole process takes about 2 lessons and is perfect for the end of the topic as you can incorporate all of the structures / vocabulary learned during the term!
This is a 2b lesson on school rules for a GCSE Spanish class that I happened to have an observation with (unexpectedly!). The lesson includes a literacy starter (students have to find and amend the mistake in the sentence), a mini-plenary on grammar in relation to the starter, a tongue twister slide to practise 'i' sound, a mini-test on present tense verbs conjugation ( I often give these ones), a mini-test on articles, a pronunciation slide and a quizlet on the words that would be used in the reading task, and a reading task itself. I am trying to teach them how to approach these tasks in the most effective way so they underline the words they know and find out the ones they do not. I wrote the text myself on the basis of the one from the specimen materials for it to have a similar structure to the one they will see in the exam. Finally they self-assess their work (and learn new words!). This lesson includes the explanation on how to use 'Spanish Dict Box' application to finds out the meaning of unknown words.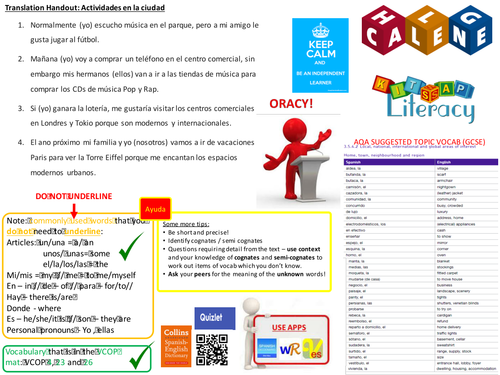 This is the lesson for my GSCE Spanish class about activities in town. It includes a range of activities to satisfy the school policies, such as Independent Learning, Kagan, differentiation and engagement. I have included a short test to check vocabulary and a quizlet to learn some new words that they would use when completing the Reading activity (AQA new specification Reading Section C). I was trying to teach them how to approach text reading and translation. I also include a handout that I have prepared as an additional help. Please note that VCOP mat refers to reasons, opinions and the tenses. I attach two versions of the same lesson as one I used with older pupils and another one was amended for the observation (I got 1c/2a feedback!)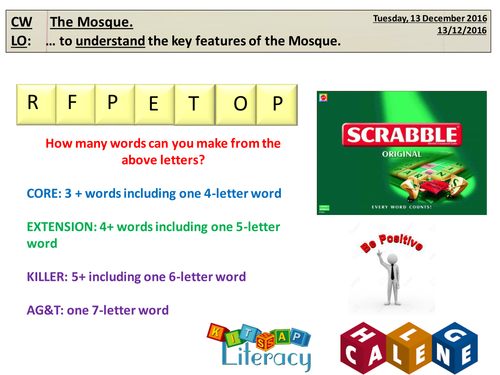 These are three lessons on Islam that I have prepared for the KS3 RE class. They all include settlers, starters, lesson objectives, keywords, Kagan-type activities featuring SMSC. Enjoy!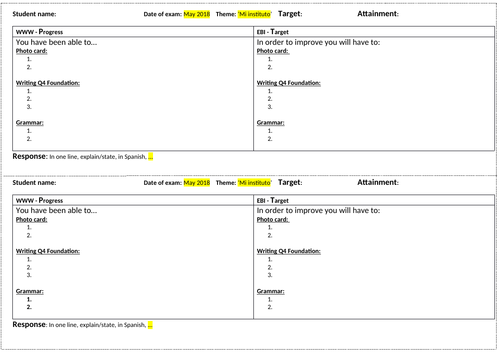 Assessment e-Feedback - blank template if anyone finds it useful. I used for Spanish GCSE classes but it can be adapted for French or KS3. Have a look and let me know what you think!