304Uploads
8k+Views
103Downloads

Spanish Welcome Banners Separated into Legal size posters plus 6 different 6" by 6"boy and girl name Tags in 3 different colors plus Bulletin Board Borders

ABC Alphabet banner This product contains 6 legal size posters so you can make a Big banner for your classroom.

Bee a Reader Banner This product contains 2 legal size poster to make a Big banner for your classroom

Welcome to this Room This product contains 1 legal size poster and 2 Legal sizes pages to make it Bigger.

This product contains 12 individual month by month posters for your Classroom Bulletin Board

This product contains 6 letter size poster great for your kids 3D Shapes 1. cylinder 2.cone 3. sphere 4. rectangular prism 5.cube 6. pyramid

Month by month Calendar This product contains 12 month calendar poster and 1 page of calendar numbers.

Welcome Banners Separated into Legal size posters plus 6 different 6" by 6"boy and girl name Tags in 3 different colors plus Bulletin Board Borders

This product contains Spanish color posters Azul Rojo Verde Amarillo Anaranjado Morado Rosado Marrón Gris Negro Blanco

This is a fun way to review the beginning sounds - cvc words - numbers and shapes Your Kids will love it!! The mask are black line version so students can color the mask themselves There are 4 different Superhero mask so you can select a different mask for each student Each mask contains - Alphabet mask 26 pages - Numbers 0 to 20 mask 32 pages - Shapes mask 11 pages - the shapes include - circle - square - triangle - rectangle - oval - rhombus - Diamond - hexagon - trapezoid - star - heart CVC Words Mask 22 pages the word families include: Short a - ad - ag - am - an - ap - at short e - ed - eg - en - et short i - ig - in - ip - it short o - ob - og - op - ot Short u - ub - ug - um - un

These Fun Number Crowns are great for your Kids Only 1 sheet of paper per child! SIMPLE instructions 1. One zig zag line cut 2. fold 3. glue And you will have a perfect Crown.

Fun WELCOME Banner and Borders for Back to school decoration This product contains Elephant welcome borders with different background colors and also contains letter by letter the WELCOME word 46 images color and black and white PNG and PDF Files

Spanish Months of the year Cards and Poster for your Bulletin Board

This product contains 1 full letter size poster and 2 separated individual posters to make it Bigger

Check your work Poster This product contains 1 letter size poster and 8 individual poster

Study Habit Posters Contains 1 letter size poster and 9 individual separated letter size posters for your classroom bulletin board

This product contains 1 full letter size poster and 4 separated letter size poster to make a Bigger poster.

Fun Bus Clipart for your Classroom Bulletin board This product contains 1 color clipart 1 BW clipart and 1 Bw Traceable clipart JPG and PNG files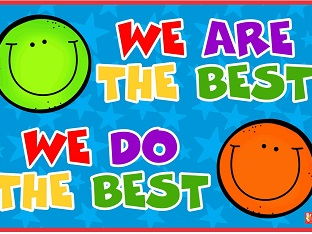 Classroom Quote poster We are the Best We do the Best Great for your Bulletin Board