362Uploads
28k+Views
195Downloads

ABC Alphabet banner This product contains 6 legal size posters so you can make a Big banner for your classroom.

This product contains 26 posters A : apple B : bear C : cat D : dog E : elephant F : fish G : grapes H : horse I : igloo J . jet K : kite L : letter M : mouse N : nurse O : owl P : pig Q : quail R : reindeer S : seal T : turkey U : umbrella V : veterinarian W : watermelon X : x-ray Y : yak Z : zebra

Spanish Welcome Banner Separated into Legal size posters plus 4 different 6" by 6" name Tags in 4 different colors plus Bulletin Board Borders

This is a fun Handwriting workbook to practice A to Z Letters Improving fine motor skills and handwriting Lowercase and uppercase letters contains 30 pages Zaner Bloser Font

Great Posters for your Classroom Bulletin Board Full Size Posters and separated into 2 letter size pages to make a bigger one

These Fun SPANISH BUNDLE Crowns are great for your Kids Only 1 sheet of paper per child! SIMPLE instructions 1. One zig zag line cut 2. fold 3. glue And you will have a perfect Crown. Spanish Preschool Alphabet Crowns Spanish Kindergarten Alphabet Crowns Spanish Numbers 1 - 20 Crowns Spanish Shapes Crowns Holiday Crowns

Let's fly a kite This colorful Alphabet A to Z kites set is great for your kids Developing fine motor skills by tracing , coloring and cutting. This set contains graphics for beginning letter sounds 60 pages 30 Color and 30 Black line version pdf files A= avión - astronauta - árbol B= ballena - búho - banana C= conejo - cangrejo - carro Ch=chupete - chino - choza D= dulce - delfín - dinosaurio E= elefante - erizo - estrella F= flor - fuego - foca G= gato - galleta - gusano H= hoja - hormiga - helado I= imán - iglú - iguana J= jarra - jaula - jamón K= kiwi - koala - karate L= luna - león - lámpara Ll= llanta - llama - llaves M=manzana - mono - mapa N= nido - nuez - naranja Ñ= ñoño - ñandú - ñame O= oveja - olla - oso P= pera - perro - pavo Q= queso - quemado - querubín R= regalo - reina - robot S= sapo - sombrero - sol T= tortuga - tambor - tomate U= unicornio - uña - uvas V= van - vaca - volcán W= walkie talkie - washington - wafles X = x-ray - xilófono - x-box Y= yema - yogurt - yoyo Z= zorro - zanahoria - zapatos

Living Things and Non Living Things Activities worksheets This pack contains 22 printables activities to cover the topic of living and non living things. This Set is included in MY SCIENCE WORKBOOK

This Alphabet Clipart Set is Just For YOU! Contains 54 letters UPPER and LOWER case PNG Format Great for your Bulletin Board Titles, Back To School and all your School Projects This Set Includes the Spanish letter Ññ

Check your work Poster This product contains 1 letter size poster and 8 individual poster

Month by month Calendar This product contains 12 month calendar poster and 1 page of calendar numbers.

Bee a Reader Banner This product contains 2 legal size poster to make a Big banner for your classroom

Study Habit Posters Contains 1 letter size poster and 9 individual separated letter size posters for your classroom bulletin board

This product contains 1 full letter size poster and 2 separated individual posters to make it Bigger

Welcome to this Room This product contains 1 legal size poster and 2 Legal sizes pages to make it Bigger.

This product contains 1 full letter size poster and 4 separated letter size poster to make a Bigger poster.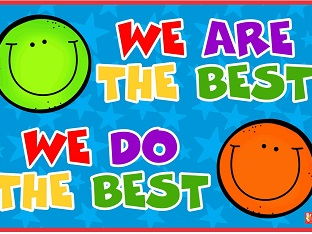 Classroom Quote poster We are the Best We do the Best Great for your Bulletin Board