Meridian
High interest learning resources for the Middle School student - fun, challenging and varied.
64Uploads
12k+Views
2k+Downloads
High interest learning resources for the Middle School student - fun, challenging and varied.
Free curriculum guide for anyone wanting to include Google's fabulous Geo Products into their curriculum. The 12 page booklet includes suggested objectives, assessment tools and activities for each subject. It also includes an exhaustive list of verbs you can use when creating your own learning objectives.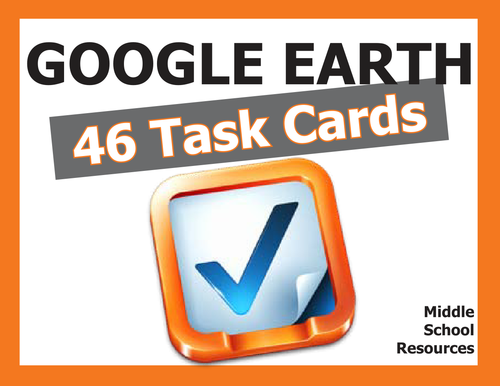 46 Task Cards with 46 activities for students to explore Google Earth. Activities include: - measuring distance with ruler function - calculating area - using longitude and latitude - mastering Google Earth tools and applications - understanding continents, countries - exploring Google Sky, Moon and Mars - zooming in to significant landmarks - investigative work on the ground - and much more. Comprehensive Answer Key included. Print out cards on to firm board - easy two-cut template to create four cards per page. (Some samples shown) ******************************************** Learn more about the author at malcombrown.com.au ********************************************
From time to time a special visitor comes to the school and your class might be called on to ask them a question. How often is that question very ordinary, may be a bit embarrassing, and sometimes it may not really excite the visitor? I have used these worksheets to prepare my students to come up with some more interesting questions to ask the visitor to the class or the school. My students sometimes also need to visit a local politician or business person as part of a class project, and I use these worksheets to again prepare them for the visit. I find these type of interpersonal communication skills so important for later life and that's why my store is full of activities around public speaking, using humor and interviewing techniques. I hope you find this pack useful to start the topic of interviewing.
100 plus pages of self-directing activities for the Middle School students. Google Earth Worksheets More than 50 pages of Blackline Masters for upper primary/lower secondary students. All worksheet activities are completed with the fabulous Google Earth application which is free to download on to your PC or Mac from http://earth.google.com/. Activities require minimum teacher direction and provide maximum learning for the student. • Constellation conundrum • Landmarks • Cruise around the world • Help!! Endangered species • The Galapagos Islands • Continents • Google Moon • The Earth's Grid System • Make the World a Better Place • Mission to Mars • Majestic Mountains • My Google Earth Autobiography • Mysterious Locations • National Parks • Ocean Explorer • Ocean Investigations • The Olympics • The ABCs of Google Earth • Bonjour, Mon Ami ______________________________________________________ Layers Reference and Activity Booklet Google Earth has over 50 layers of information and all are explained in this booklet, along with student activities designed to allow the student to explore each of the layers and track down the type of fascinating information that can be found on each layer. Layers are also given a value rating so that teachers can go directly to the most valuable layer with the most educational information. The booklet includes definitions and activities around the following Google Earth layers: • Borders and Labels • Photos • 3D Buildings • Ocean • Weather • Gallery • Global Awareness • and more Key points of interest are highlighted and quirky little tips are included. This is a true reference book for any student or teacher who works with Google Earth. _______________________________________________________How to Zoom and Fly A slide show that instructs users on how to use these basic functions of Zooming and Flying around Google Earth. Download this Powerpoint slide set to show your students how to use and practice the zooming and flying functions. Easy to follow - students could review them at their own pace. _______________________________________________________ Longitude and Latitude Worksheets Lesson Plan with worksheets for the Secondary classroom that teaches the principles of Longitude and Latitude using the popular Google Earth. The worksheets are simple and self-guiding. There is an answer sheet at the end of the booklet. The lesson takes about 3 weeks to complete and there are additional worksheets that the early finishers can work on to further extend their knowledge. Objectives included. ______________________________________________________ More Google Earth Worksheets 32 pages of printable worksheets for the Upper Primary student. Clear instructions, clear print and totally self-guiding Use Google Earth to complete these self-directed worksheets. Easy to use and very educational. A wide range of topics covered, including: - Religions of the world - Capital cities - Deserts - Trip planning and more ______________________________________________________ Google Earth Task Cards 46 Task Cards with 46 activities for students to explore Google Earth. Activities include: - measuring distance with ruler function - calculating area - using longitude and latitude - mastering Google Earth tools and applications - understanding continents, countries - exploring Google Sky, Moon and Mars - zooming in to significant landmarks - investigative work on the ground - and much more. Comprehensive Answer Key included. Print out cards on to firm board - easy two-cut template to create four cards per page. ******************************************** See more here: Middle School Resources ******************************************** Learn more about the author at Malcom Brown ******************************************** 100% Money Back guarantee - if there is anything at all about this pack that disappoints or was not as expected, please get back to me and your investment will be completely refunded - no issue at all. ********************************************