Meridian
High interest learning resources for the Middle School student - fun, challenging and varied.
63Uploads
12k+Views
2k+Downloads
High interest learning resources for the Middle School student - fun, challenging and varied.

Free curriculum guide for anyone wanting to include Google's fabulous Geo Products into their curriculum. The 12 page booklet includes suggested objectives, assessment tools and activities for each subject. It also includes an exhaustive list of verbs you can use when creating your own learning objectives.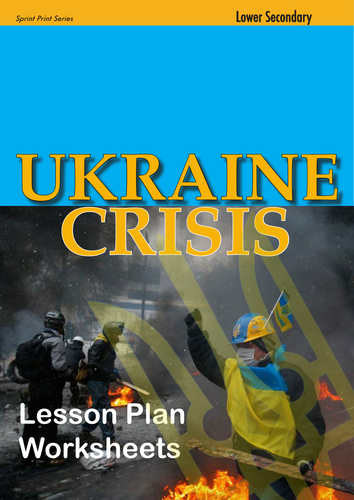 A lesson plan plus 20 pages of worksheets about the reasons behind the current Ukraine crisis. UPDATED *****July 18, 2014***** with worksheet on Malaysian Flight Disaster The crisis is explained simply and in a straightforward manner, and some follow up activities are provided to help the lower secondary students understand why the world is watching this tension unfold. Also includes blank flag and map templates of all the major players in the crisis. Activities include: - comprehension - time zone understanding - distance matrix - map reading - and more Answer sheet included at end of booklet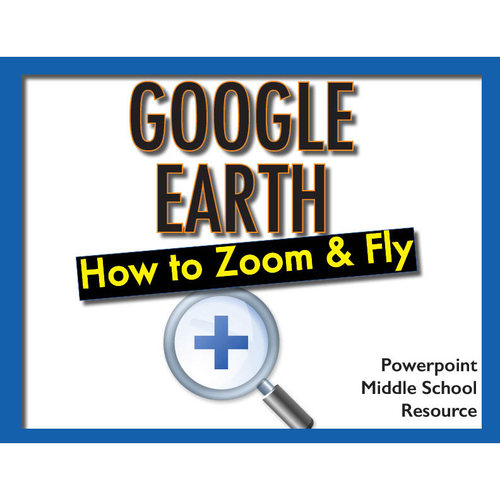 Google Earth is one of the great online educational tools and has so many features to learn. Download this Powerpoint slide set to show your students how to use and practice the zooming and flying functions. Easy to follow - students could review them at their own pace. 21 slides Note that sample slides only shown here, but full presentation of 21 interactive slides will be downloadable once purchase has been made.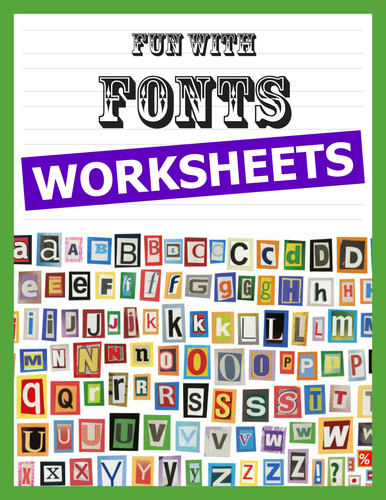 34 pages of different font styles. Children always enjoy writing stylish headings for their projects and posters. These worksheets open up a variety of letter styles that students can practice. Children can trace over the letters to get a feel of shape and movement, and then rewrite the letter underneath. Some letters could even be better reproduced with calligraphy pens if you feel like adding some extra interest to the art of writing. A great activity filler and very calming fun for those times when your class need calming!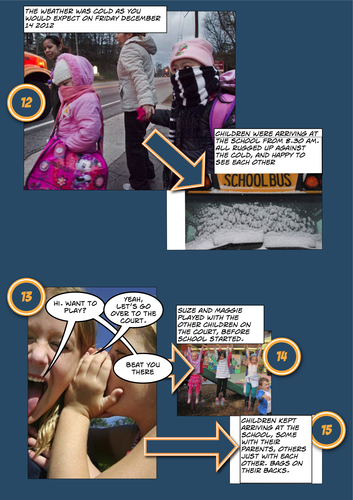 This is a resource I used with my 'Gun Control | Gun rights' pack. It was created using 'Comic Life' and steps through the sequence of events that occurred before, during and after the Sandy Hook Tragedy. The 20 page booklet is not a detailed account of the events on the day, or the desperately sad aftermath, but is a clinical description of events as they occur, and a description of the perpetrator's childhood. There is a reading response worksheet at the end of the story, encouraging students to reflect on the event and respond to its impact on life.

I had worked as teacher in a remote Aboriginal community in the north west region of Australia, and here I have collected by photos and stories to show students how life is the same and different to their own. Topics covered: Our Camp The Terrain Weather & Climate Children's Games School Two Schools Food Seasonal food Food The Babysitter Health and Medecine Medicine Trip to the Great Sandy Desert Pilbara Lizards New Cyclone Shelter Employment Whitefella Work in the Pilbara In my class the scrapbook is used as part of our Indigenous Study Unit and is used in combination with The Indigenous Way - A Case Study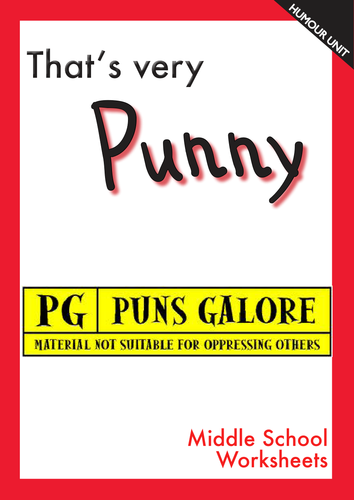 More humour to use in your English class. Puns are painful, I know, but this unit is so much fun and a great test for understanding the use of language in different settings. Table of Contents: Definitions of Puns Posters that are Puns Word List Knock Knock Jokes I'm Confused! Knock Knock! Rules Punny Business Local Punny Business Types of Puns Puns in Art Get it Right Tearable Puns There are more units that I have developed on Humour that are just as energising. Hope you have as much fun as we did in our class! 21 pages Answer Key included 1 week duration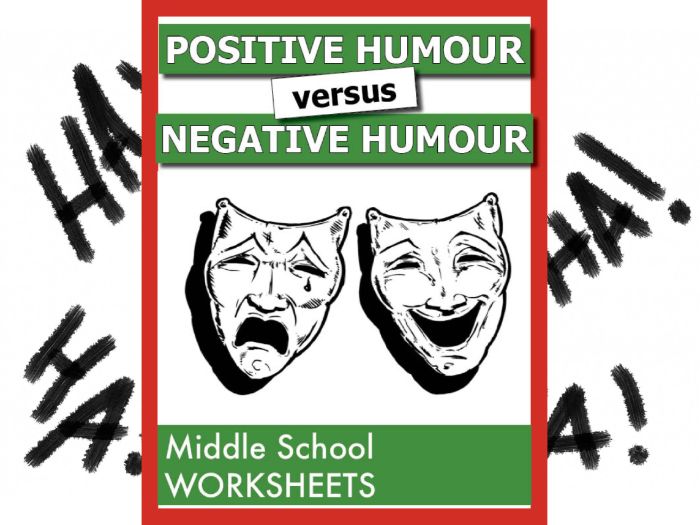 It is important for any student to understand the difference between the two types of humour - one that hurts and offends, compared to the type that makes you feel good, energised and relaxed, and there are no victims that feel bad. These ten worksheets focus on helping Middle School students identify the difference between the types of humour. The worksheets analyse the Sarcastic Wit, the Nit Wit, and the Clowning Wit. I have found that teaching humour in the classroom is such fun - of course - and it can have relevance to many parts of the curriculum. Answer key included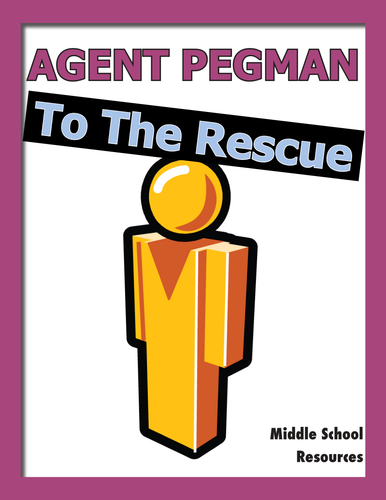 Use Google Maps to help Agent Pegman rescue a class of students from being locked in the classroom. The evil Blogging Bloke has set a series of clues that Agent Pegman needs to follow so that he can solve the code that will release the students from their room in time for the weekend. Fun and educational activities that encourage the user to use Google Maps by following instructions and looking for hints. Great for mastering Google Maps: - follow instructions on Street View - measuring distance - understanding compass directions - changing map views - comparing historical street views of the same locations - drawing a path on Google Maps. 19 pages Answer key included Duration 3 days

Telling a joke to a group of people is a real art - and no-one ever teaches us how to do it! These worksheets explore some key aspects of joke telling and they can be great fun in any middle classroom. I suggest setting the ground rules with the class right at the beginning so that any inappropriate material is not used as a joke… but that never really happened in any of the lessons that I conducted with my students, so hopefully it is a non-issue for your class as well. This pack includes 12 pages of worksheets plus an answer key showing some suggested answers to the questions about jokes. Headings in the pack include: - Defining a joke - Putting on your humor hat - What is the best joke you have ever heard? - Know your audience - Joke types - How to write your own joke - How to deliver a joke I really enjoy working with humor in my classes and I have about a dozen packs of worksheets that worked in my class in my TES store. ******************************************** I'd be really disappointed if anyone is not happy with these packs, so if that's you, please get back to me and your money will be very happily refunded. I'd really like some feedback too, so all comments most welcome.

A fun read-a-long for young children to follow. Based on the 1951 basic reader used in the Education Department of Victoria. A faithful reproduction of the original 'John & Betty' early learning reader. Follow the bouncing ball across the page as it drops on each word/syllable to help children follow the text. There are 27 slides that transition along automatically. Note: the slideshow has been created in Keynote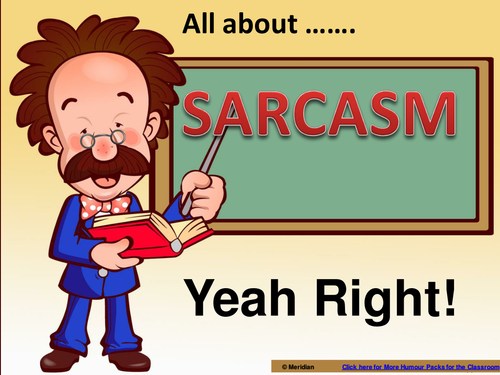 "I find television very educating. Every time somebody turns on the set, I go into the other room and read a book." - Groucho Marx "The problem with common sense is that most people are morons." - The Sarcasm Society Sarcasm can be witty, but in the school environment it can be hurting. Teach your students to recognise sarcasm and to be careful with its use. This is a great interactive Powerpoint set of slides that cover the different types of sarcasm that can occur. The slides includes - samples from Groucho Marx, - how sarcasm can hurt others, - a short video of how sarcasm was used in a 'Friends' episode, and - some interactive tests for students to test their sarcasm detector. 41 slides Answer key included 90 minute activity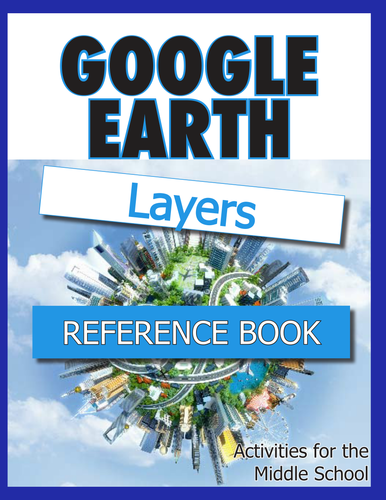 Google Earth has over 50 layers of information and all are explained in this booklet, along with student activities designed to allow the student to explore each of the layers and track down the type of fascinating information that can be found on each layer. Layers are also given a value rating so that teachers can go directly to the most valuable layer with the most educational information. The booklet includes definitions and activities around the following Google Earth layers: - Borders and Labels - Photos - 3D Buildings - Ocean - Weather - Gallery - Global Awareness - and more Key points of interest are highlighted and quirky little tips are included. This is a true reference book for any student or teacher who works with Google Earth. 28 pages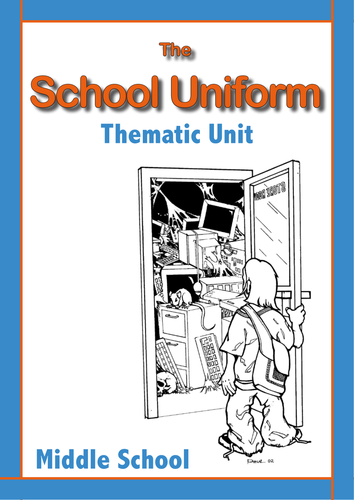 The School Uniform is always a matter of conversation and debate in schools and this thematic unit explores various aspects of the School Uniform discussion. As a thematic unit it covers a variety of topic starters including colour charts, infographics, budgetting, design, debate, SWOT analysis and more. A thematic study is always great for the creative teacher who can use these study starters to explore different directions around a them. The package is attractively presented and provides two pages of teachers notes to assist in further study explorations. My kids thoroughly enjoyed working through the topic - as expected, there was much debate! 25 pages (The pages shown here are samples only) 1 week duration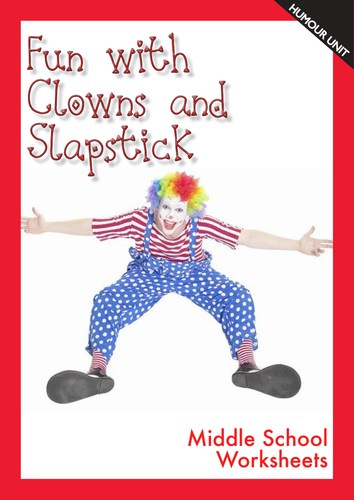 A slapstick was originally a harmless paddle composed of two pieces of wood that slapped together to produce a resounding whack when the paddle struck someone. It was soon used by jesters to playfully smack others in a play and soon came to be the descriptor of similar type of physical comedy. Great printables around the theme of Clowns and the comedy method of slapstick. Research how slapstick is created, the principles of clowning and the history of both. These printables are challenging and varied and all centred around the comedy of slapstick. Humour is a great way to engage students in the classroom and this Middle School Resource was great fun in my classes. 15 great worksheets that students can complete on their own, and teachers can use to build on with other activities and interests. 17 pages Duration 1 week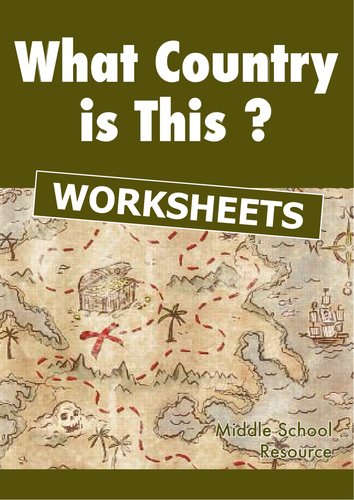 Printable maps with a simple clue that students use to determine what country is outlined on the sheet. The clue might be a longitude or latitude, a key city, or a geographical feature. The task is simple, but the activity is challenging. Students can also use the shape of the country to help in working out the name of the country. A great source I used to make these worksheets was http://www.amcharts.com/svg-maps/. Here you can download the outline of the maps and import them into Illustrator and move states around or whatever you might like to do for your own worksheets. The worksheets have an answer key at the end. There are 22 maps in all. The maps shown here are samples only.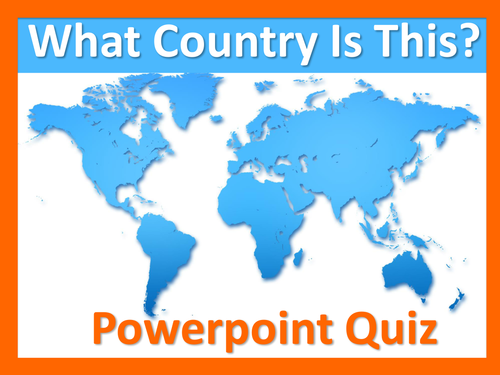 Powerpoint slides of maps with a simple clue that can be used as a class activity. The task is to determine what country is outlined on each slide. First the country outline is shown, then click on to a single clue to help identify the country. The clue might be a longitude or latitude, a key city, or a geographical feature. Use Google Earth to find the country from the clues provided. The task is simple, but the activity is challenging. Once the students identify the country from the shape and/or the clue, click on to see the answer. A great source I used to make these worksheets was http://www.amcharts.com/svg-maps/. Here you can download the outline of the maps and import them into Illustrator and move states around or whatever you might like to do for your own worksheets. There are 22 maps in all. Slideshow sequence shows the answer at final transition. (Sample pages only shown here)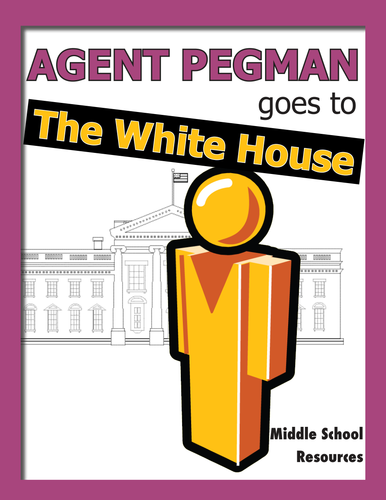 Agent Pegman is off on another Google Street View adventure - this time in The White House. Explore the rooms of The White House with Agent Pegman, completing investigative activities about direction, orientation, design, drawing conclusions, art appreciation activities and more. Solve the riddle of the unexpected back pack left behind in the front Entrance - what is it doing there? 30 pages Answer key included 1 week duration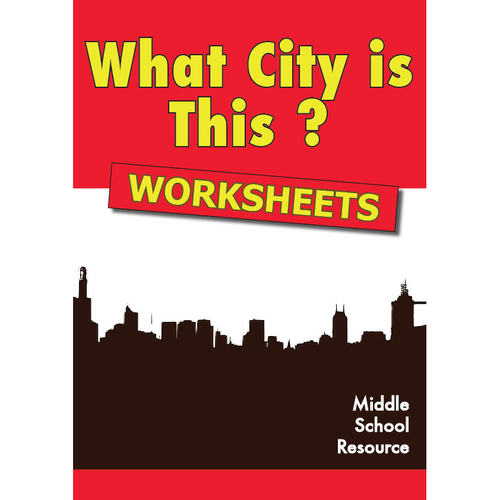 These worksheets of printable maps each have a simple clue on each map that students use to determine what city is outlined on the sheet. Best used with Google Earth. The clue might be a longitude or latitude. The task is simple, but the activity is challenging. And some maps involve a bit of problem solving by the student. Students can also use the layout of the city as well to assist in working out the name. The worksheets have an answer key at the end. There are 10 maps in all. *************************************************************************** Learn more about the author at www.malcombrown.com.au ******************************************** 100% Money Back guarantee - if there is anything at all about this pack that disappoints or was not as expected, please get back to me and your investment will be completely refunded - no issue at all. *********************************************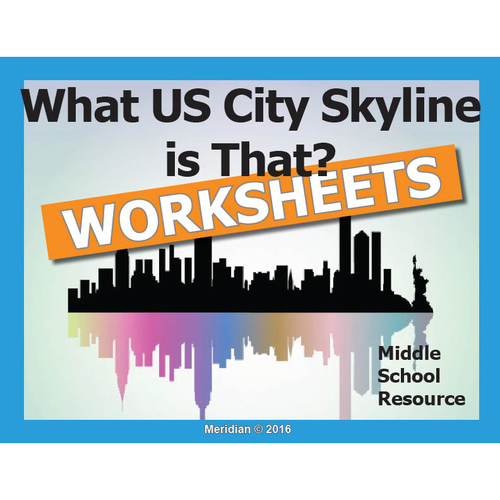 Who doesn't like the magic of city skylines? I do, and my class loves them and these worksheets on city skylines worked great. The task here is to inspect the city skyline on each worksheet PLUS review the other clue. Then identify the name of the city. The other clue may be figures about the city, the city's logo or flag, a map of the city's area, or a logo of the sporting club that is based in that city. The task is challenging and fun, and normally requires the student to be creative in how they investigate the answer. Do I use Google Maps? Do I use Wikipedia? Do I try to find the answer by identifying a building on the skyline? The worksheets are a great library filler and you can always pull one out for that spare moment. 20 maps in all, with an Answer Key at the end. Note that the cities are all US cities.