Meridian
High interest learning resources for the Middle School student - fun, challenging and varied.
63Uploads
12k+Views
3k+Downloads
High interest learning resources for the Middle School student - fun, challenging and varied.

One of the most common events that will happen to anybody who enters work life, will be to participate in meetings. It is important for Middle School students to start learning how to conduct themselves at meetings, and to learn about meeting procedures. This pack of worksheets includes activities on: creating an agenda note taking being a chairperson taking minutes proposing a motion Have fun conducting your own class meetings once these worksheets have been completed. Learn more about the author at Malcom Brown I'd be really disappointed if anyone is not happy with these packs, so if that's you, please get back to me and your money will be very happily refunded. I'd really like some feedback too, so all comments most welcome.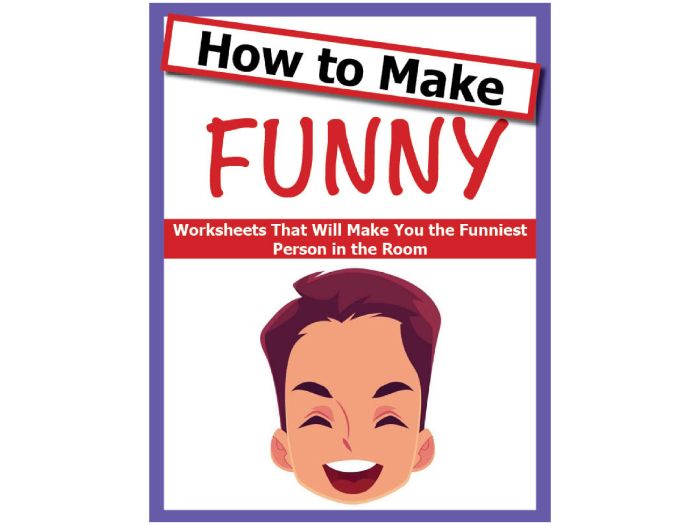 Being really funny means you need to have a humor attitude. These worksheets shows Middle School students how to develop a humor attitude. The worksheets highlight the difference between being the 'class clown' or local 'nitwit', and focusses on looking at life with a sense of humor - using the lens of laughs. My classes really enjoy the focus I have on humor - I'm sure yours will too. Great activities and strategies for anyone wanting to let more humor in to their life. 17 pages in total including an answer key where necessary. Learn more about the author at [Malcom Brown]http://malcombrown.com.au/) I'd be really disappointed if anyone is not happy with these packs, so if that's you, please get back to me and your money will be very happily refunded. I'd really like some feedback too, so all comments most welcome. <strong>For monthly updates of learning inspiration that I gather, <a href="https://mailchi.mp/08554929bee3/topcial">sign up here</a>. Snippets from life beyond teaching.</strong>

Something original! Calling all budding linguists - this pack of 25 worksheets(including answer key) will challenge the Middle School student looking for something original. The theme of the worksheets is how sounds are articulated in the mouth, and how each point of articulation changes the sound that is made. The pack covers how all sounds of the alphabet are made and requires the student to closely analyse how sounds in words are constructed. Topics include: points of articulation manner of articulation phonetic analysis The pack will enhance language learners and provide them with an understanding of how different languages are spoken.

I had worked as teacher in a remote Aboriginal community in the north west region of Australia, and here I have collected by photos and stories to show students how life is the same and different to their own. Topics covered: Our Camp The Terrain Weather & Climate Children's Games School Two Schools Food Seasonal food Food The Babysitter Health and Medecine Medicine Trip to the Great Sandy Desert Pilbara Lizards New Cyclone Shelter Employment Whitefella Work in the Pilbara In my class the scrapbook is used as part of our Indigenous Study Unit and is used in combination with The Indigenous Way - A Case Study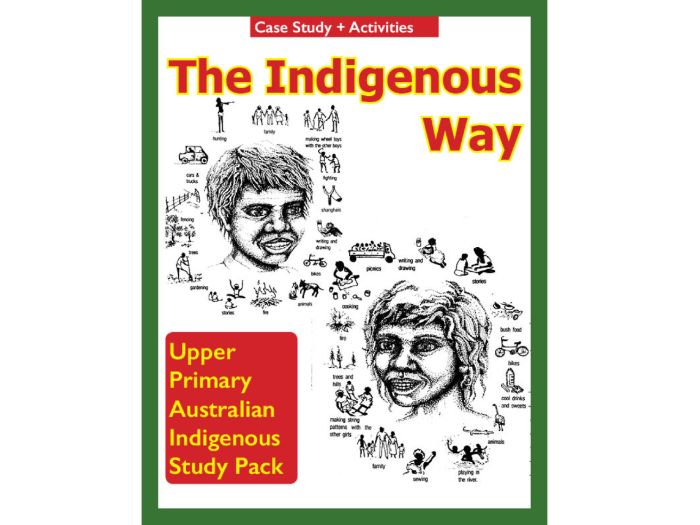 This engaging pack is an Integrated Case Study with 50 pages of student activities comparing a traditional indigenous lifestyle with the student's own lifestyle. It reviews aspects of self and society that were studied in the early years of learning. The children explore the impact of environment and experience on human behaviour. The activities contrasts the child's own lifestyle with that of the modern indigenous family in a remote area of Australia. The information comes from first hand experience by the author, and includes a variety of images and drawings done within the remote community. Topics of work, play, living, environment, medicine, language are all covered in this comprehensive introduction to the indigenous way. I also use a scrapbook of the photos I have from my time in this community. The scrapbook shows daily activities within the community and it is a great resource to use with 'The Indigenous Way - An Australian Aboriginal Case Study and Activities'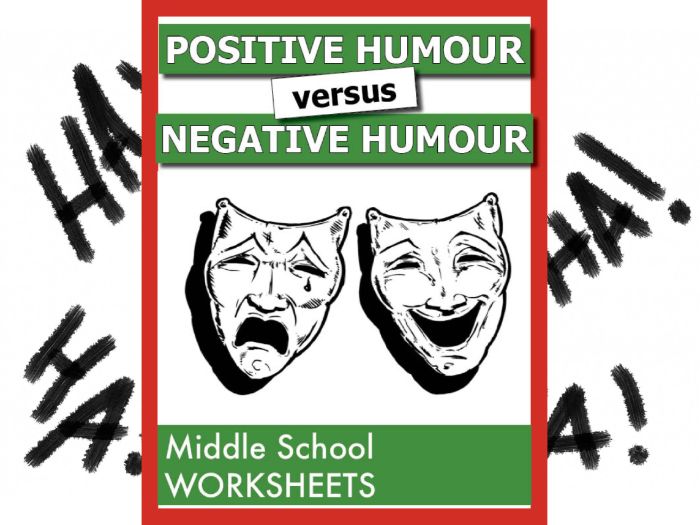 It is important for any student to understand the difference between the two types of humour - one that hurts and offends, compared to the type that makes you feel good, energised and relaxed, and there are no victims that feel bad. These ten worksheets focus on helping Middle School students identify the difference between the types of humour. The worksheets analyse the Sarcastic Wit, the Nit Wit, and the Clowning Wit. I have found that teaching humour in the classroom is such fun - of course - and it can have relevance to many parts of the curriculum. Answer key included

Telling a joke to a group of people is a real art - and no-one ever teaches us how to do it! These worksheets explore some key aspects of joke telling and they can be great fun in any middle classroom. I suggest setting the ground rules with the class right at the beginning so that any inappropriate material is not used as a joke… but that never really happened in any of the lessons that I conducted with my students, so hopefully it is a non-issue for your class as well. This pack includes 12 pages of worksheets plus an answer key showing some suggested answers to the questions about jokes. Headings in the pack include: - Defining a joke - Putting on your humor hat - What is the best joke you have ever heard? - Know your audience - Joke types - How to write your own joke - How to deliver a joke I really enjoy working with humor in my classes and I have about a dozen packs of worksheets that worked in my class in my TES store. ******************************************** I'd be really disappointed if anyone is not happy with these packs, so if that's you, please get back to me and your money will be very happily refunded. I'd really like some feedback too, so all comments most welcome.

From time to time a special visitor comes to the school and your class might be called on to ask them a question. How often is that question very ordinary, may be a bit embarrassing, and sometimes it may not really excite the visitor? I have used these worksheets to prepare my students to come up with some more interesting questions to ask the visitor to the class or the school. My students sometimes also need to visit a local politician or business person as part of a class project, and I use these worksheets to again prepare them for the visit. I find these type of interpersonal communication skills so important for later life and that's why my store is full of activities around public speaking, using humor and interviewing techniques. I hope you find this pack useful to start the topic of interviewing.

Great Value bundle combining two popular packs focussing on public speaking, the techniques used by others and the process in writing and presenting a speech. Each worksheet in each pack has engaging activities for the Middle School student to start to master one of the most important skills that any adult needs in their private and public lives - no matter what career they pursue. Ove 50 pages of tips, ideas and activities for the student to self-guide their way to speaking mastery. PLUS, a free fun pack is included to check on those speech trip-ups that will get in the way of any good speech. Nothing worse than saying the wrong thing, when you really meant something else. The effect can be catastrophic.

The ability to construct and confidently present a speech to any audience will always be one of the most sought after skills required in any form of employment. Any student needs to master the skills to speak confidently, and this pack of worksheets will provide every student with some unique insights to how to speak confidently. Topics include: Developing a hook to involve the audience Telling a story to engage the audience Develop a Call to Action to finish off the speech Tips to gain confidence with public speaking And the importance of seeking feedback about a speech that was delivered. These topics and more are covered in these 20 plus pages of activities aimed for the Middle School Student Answer key included

A fun read-a-long for young children to follow. Based on the 1951 basic reader used in the Education Department of Victoria. A faithful reproduction of the original 'John & Betty' early learning reader. Follow the bouncing ball across the page as it drops on each word/syllable to help children follow the text. There are 27 slides that transition along automatically. Note: the slideshow has been created in Keynote

"I find television very educating. Every time somebody turns on the set, I go into the other room and read a book." - Groucho Marx "The problem with common sense is that most people are morons." - The Sarcasm Society Sarcasm can be witty, but in the school environment it can be hurting. Teach your students to recognise sarcasm and to be careful with its use. This bundle includes a great introductory Full Quality narrated slidedeck that introduces the topic of sarcasm. The slidedeck includes: - samples from Groucho Marx, - how sarcasm can hurt others, - some samples for students to test their sarcasm detector, and - some examples for sarcastic body language. The bundle also includes a starter pack of humour worksheets centred around the topic of Sarcasm. Topics include: - Irony v Sarcasm - Sarcasm Detector - Sarcasm as Verbal Bullying - Groucho Marx and his form of Sarcasm - Comparing Sarcasm with being Sincere - Plotting types of Sarcasm on the Nasty v Nice scale, and the Funny v not Funny scale ... and more Great fun for the classroom, but this pack also relates to the topic of emotional bullying and how some words that seem funny to others can impact a victim's feelings.

The ability to speak in public is one of the hardest things that anybody can endure, but it is so much easier if you can adopt some powerful techniques that others use to make their speech memorable and at least survive on the stage. Young people should be given plenty of practice time to present a speech and this unit of work helped the kids in my class adopt some strategies use in their speeches. This pack consists of quality worksheets that review some famous speeches and shows the techniques that the speaker used to be persuasive and powerful. The content includes: - Analyzing Donald Trump's acceptance speech - Learning about Alliteration in speeches - Practising the use of Tricolons - Understanding the Power of Speech Metaphors - Ways to use Repetition in Speeches - Reviewing Inch by Inch, by Al Pacino - Reviewing Queen Elizabeth I's Speech to the Troops at Tilbury, 1588 - Discovering the power of The Gettysburg Address - Counting the metaphors in the 'I Have a Dream Speech', by Martin Luther King The pack also includes a bonus Rubric that can be used to analyze the effectiveness of any speech. 32 pages in all, including an Answer Key

Create fun storyboards that students then place on to geographic locations on Google Earth. The storyboards can be used to walk through a story showing each step of the plot on Google Earth - using images and descriptions - but they can also be used to create a tour of anything that you can think of. This pack shows students how to create their own simple Tour on Google Earth, by creating a storyboard(Word template included), setting up Placemarks, inserting images and description as well some activities at each location, then recording the tour for others to view. Very motivating. Also includes an assessment Rubric, answer key, 12 worksheets, and a Word document Storyboard template. Note that there are some very minor steps included that apply to Mac users only.

Free curriculum guide for anyone wanting to include Google's fabulous Geo Products into their curriculum. The 12 page booklet includes suggested objectives, assessment tools and activities for each subject. It also includes an exhaustive list of verbs you can use when creating your own learning objectives.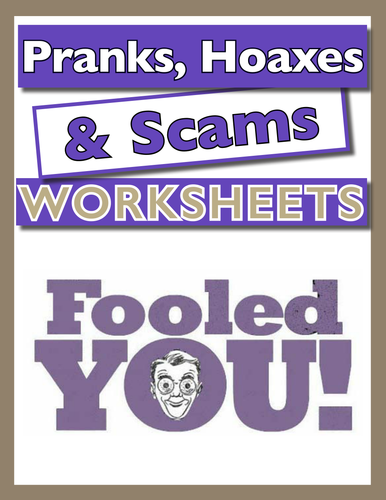 Great fun pack that investigates the types of Pranks, Hoaxes and Scams that are carried out in a variety of circumstances - on the web, in the classroom, in the news and so on. Students identify the differences and get an understanding that this is not a new thing - it all started with Jonathon Swift (Gulliver Travels). These pen and paper worksheets explore this type of humor and discusses the impact it might have on the victim. I really enjoy teaching about humor in the classroom and this is another of my packs that my classes have been working on. I also use the topic to cover off some 'bullying' issues and make sure that all students understand that a prank can often have a negative effect on someone else - and so needs to be avoided. The pack is also great for introducing the topic of email scams and how they can impact people who are not wary. 28 pages including a comprehensive Answer Key I'd be really disappointed if anyone is not happy with these packs, so if that's you, please get back to me and your money will be very happily refunded. I'd really like some feedback too, so all comments most welcome. ************************************************************ Learn more about the author at Malcom Brown

100 plus pages of self-directing activities for the Middle School students. Google Earth Worksheets More than 50 pages of Blackline Masters for upper primary/lower secondary students. All worksheet activities are completed with the fabulous Google Earth application which is free to download on to your PC or Mac from http://earth.google.com/. Activities require minimum teacher direction and provide maximum learning for the student. • Constellation conundrum • Landmarks • Cruise around the world • Help!! Endangered species • The Galapagos Islands • Continents • Google Moon • The Earth's Grid System • Make the World a Better Place • Mission to Mars • Majestic Mountains • My Google Earth Autobiography • Mysterious Locations • National Parks • Ocean Explorer • Ocean Investigations • The Olympics • The ABCs of Google Earth • Bonjour, Mon Ami ______________________________________________________ Layers Reference and Activity Booklet Google Earth has over 50 layers of information and all are explained in this booklet, along with student activities designed to allow the student to explore each of the layers and track down the type of fascinating information that can be found on each layer. Layers are also given a value rating so that teachers can go directly to the most valuable layer with the most educational information. The booklet includes definitions and activities around the following Google Earth layers: • Borders and Labels • Photos • 3D Buildings • Ocean • Weather • Gallery • Global Awareness • and more Key points of interest are highlighted and quirky little tips are included. This is a true reference book for any student or teacher who works with Google Earth. _______________________________________________________How to Zoom and Fly A slide show that instructs users on how to use these basic functions of Zooming and Flying around Google Earth. Download this Powerpoint slide set to show your students how to use and practice the zooming and flying functions. Easy to follow - students could review them at their own pace. _______________________________________________________ Longitude and Latitude Worksheets Lesson Plan with worksheets for the Secondary classroom that teaches the principles of Longitude and Latitude using the popular Google Earth. The worksheets are simple and self-guiding. There is an answer sheet at the end of the booklet. The lesson takes about 3 weeks to complete and there are additional worksheets that the early finishers can work on to further extend their knowledge. Objectives included. ______________________________________________________ More Google Earth Worksheets 32 pages of printable worksheets for the Upper Primary student. Clear instructions, clear print and totally self-guiding Use Google Earth to complete these self-directed worksheets. Easy to use and very educational. A wide range of topics covered, including: - Religions of the world - Capital cities - Deserts - Trip planning and more ______________________________________________________ Google Earth Task Cards 46 Task Cards with 46 activities for students to explore Google Earth. Activities include: - measuring distance with ruler function - calculating area - using longitude and latitude - mastering Google Earth tools and applications - understanding continents, countries - exploring Google Sky, Moon and Mars - zooming in to significant landmarks - investigative work on the ground - and much more. Comprehensive Answer Key included. Print out cards on to firm board - easy two-cut template to create four cards per page. ******************************************** See more here: Middle School Resources ******************************************** Learn more about the author at Malcom Brown ******************************************** 100% Money Back guarantee - if there is anything at all about this pack that disappoints or was not as expected, please get back to me and your investment will be completely refunded - no issue at all. ********************************************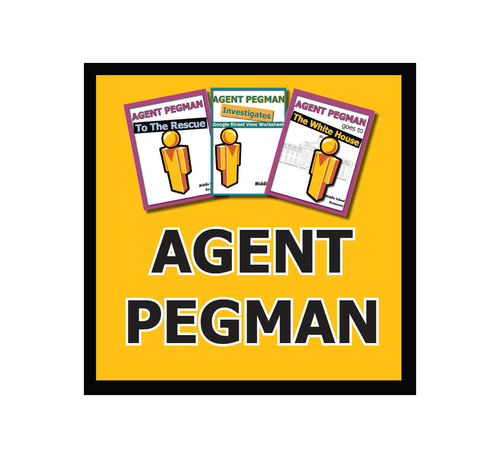 Fun with Google Street View on Google Maps with all three Agent Pegman investigations bundled into one value bundle. Each Agent Pegman pack has a series of investigative activities that are solved by using Google Maps and Google Street View to follow directions, show orientation and pick up clues. Answer keys are included in each pack. More than 60 pages of varied activities that can be used as a library lesson, end of year unit of work, computer skills teaching, or part of a social studies lesson. ******************************************** See more at Middle School Resources ******************************************** Learn more about the author at Malcom Brown ******************************************** 100% Money Back guarantee - if there is anything at all about this pack that disappoints or was not as expected, please get back to me and your investment will be completely refunded - no issue at all. ********************************************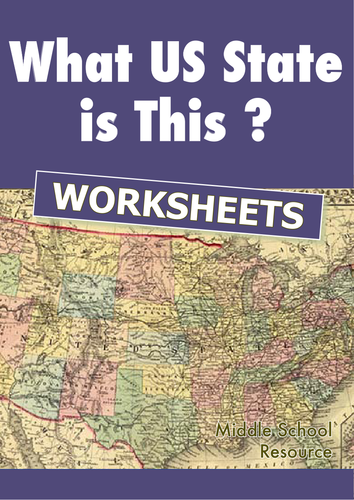 Printable maps with a simple clue that students use to determine what US State is outlined on the sheet. Best used with Google Earth. The clue might be a longitude or latitude, a key city, or a geographical feature. The task is simple, but the activity is challenging. And some maps involve a bit of problem solving by the student. Students can also use the shape of the State to help in working out the name of the country. A great source I used to make these worksheets was http://www.amcharts.com/svg-maps/. Here you can download the outline of the maps and import them into Illustrator and move states around or whatever you might like to do for your own worksheets. The worksheets have an answer key at the end. There are 14 maps in all. ******************************************** See more here: ******************************************** Learn more about the author at ********************************************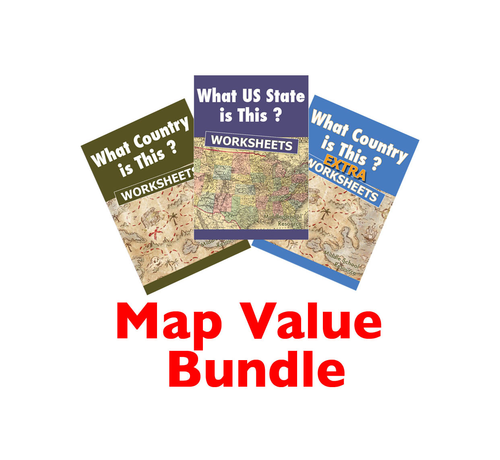 Three packs of the popular map activity for the price of two. These packs of printable maps each has a series of maps with a simple clue for each one that students use to determine what US State or Country is outlined on the sheet. Best used with Google Earth. The clue might be a longitude or latitude, a key city, or a geographical feature. The task is simple, but the activity is challenging. And some maps involve a bit of problem solving by the student. Students can also use the shape of the US State or country to help in working out the name. A great source I used to make these worksheets was http://www.amcharts.com/svg-maps/. Here you can download the outline of the maps and import them into Illustrator and move states around or whatever you might like to do for your own worksheets. The worksheets have an answer key at the end. There are more than 50 maps in all. Great for teaching about longitude and latitude. I use these packs in the library when I'm showing students around Google Earth. ********************* See more here: Middle School Resources ********************* Learn more about the author at Malcom Brown ******************************************** 100% Money Back guarantee - if there is anything at all about this pack that disappoints or was not as expected, please get back to me and your investment will be completely refunded - no issue at all. *********************************************