English, Film and Media OM Shop
38Uploads
8k+Views
1k+Downloads A short quiz on the history of the UN, and then a set up for a scenario debating nuclear disarmament with carefully selected countries for a structured debate. The activity allows for independent research time with direction, plus caucusing and resolution creation. A condensed MUN scenario that can be run in 1.5 hours but ideally two hour session. Introductory lesson on the French New Wave (Nouvelle Vague) for media and film students with case study and video links for the film movement. Activities to help students creatively tackle Sonnet 18 and 130. A practise PEA for Sonnet 18. All scaffolding culminating towards an assessment comparing the two sonnets with success criteria. Powerpoint outline for a mock trial set up a courtroom drama: Is Napoleon guilty of crimes against his fellow animals? Includes guide worksheet for lawyers and characters to aid their research and preparation.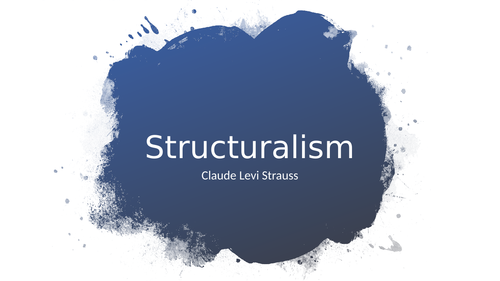 An introductory lesson for the theory of Strauss' binary opposition. Includes explanation, worked examples and activities for students. Can be adapted to fit with different media area of studies: film, tv, advertising etc. Two powerpoints, one close analysis of Lucky's speech and the other a context teaching tool focused on the author and The Absurd.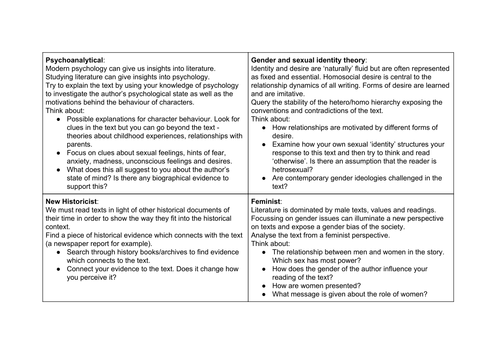 Definitions and prompt questions for six key critical literary perspectives, perfect for introducing AO5 critical perspectives for sixth form classes. Includes New historicist, psychoanalytical, feminist, gender and sexual identity, marxist and post-colonial.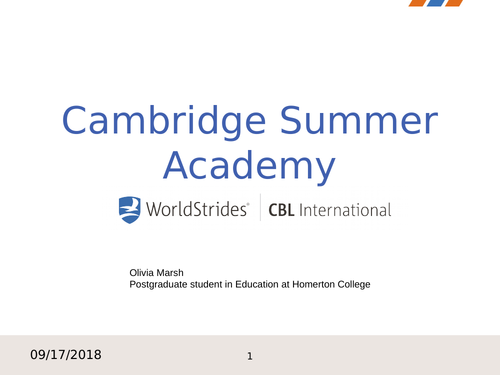 An introduction to the Mace style debate format which can be adapted to most styles of debate. Basic topics to start students expressing their opinions and then a variety of debate topics based on recent debates at Cambridge Union. Could be used in an English lesson or debating club.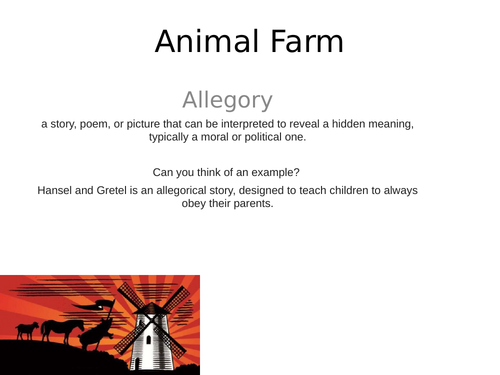 A powerpoint containing a unit of work for Animal Farm. It includes key words to aid understanding of the novella, a creative writing task using persuasive techniques and a summary of the political context of the book. Also includes debate questions to prompt students to engage with the big ideas of the story.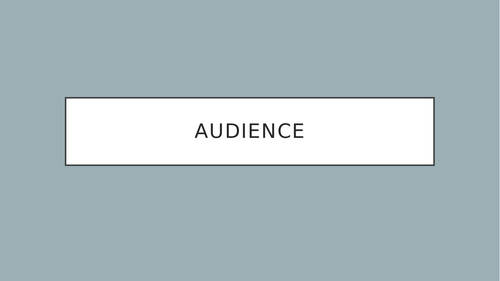 Powerpoint covering key terminology and theory from the Eduqas media A-level specification. Worksheet for students to add detail to psychographic profiles with key theory explained as a handout. Young and Rubicam's psychographic profiles.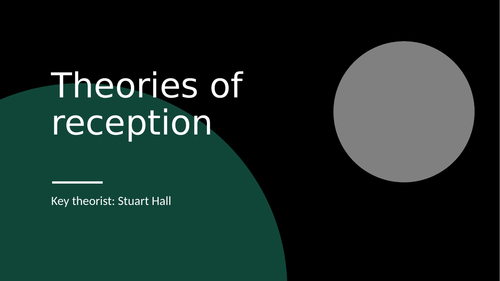 A basic outline of Stuart Hall's reception audience theory for use with Eduqas exam board. Examples taken from set text products but can be changed to suit different examples.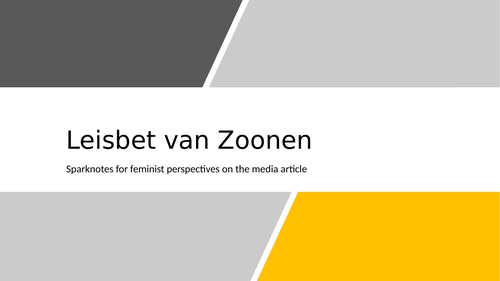 Designed to be used to cover the key points of Leisbet van Zoonen's essay feminist perspectives on the media as part of the WJEC Media A-level course. Students were set the article to read as homework and this is the summarised version that we covered in lesson and can be given to students for their revision. Discussion points on the final slides. The academic article is quite heavy going so this simplified and consolidated the key points.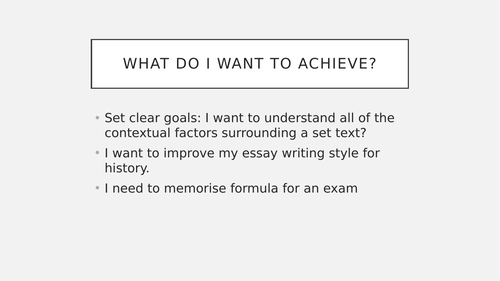 A powerpoint guiding students through proven metacognitive approaches to memorising and learning information with examples and interactive activities. Useful for students before exam time and when they are putting together revision schedules.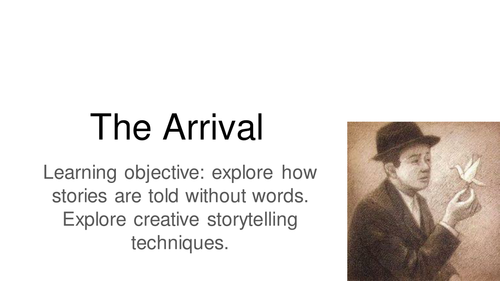 A powerpoint with suggested activities and writing tasks to take you through key scenes and points for the graphic novel The Arrival by Shaun Tan. Suitable for home learning.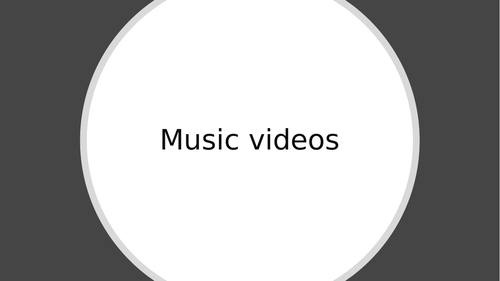 A comprehensive powerpoint for teaching the music video Formation by Beyonce as part of the WJEC/Eduqas A-level for media. The powerpoint includes the infromation from the fact sheet available to download from the Eduqas website. It includes video links to contextual information and disucssion points for students as well as the key theorists and terminology.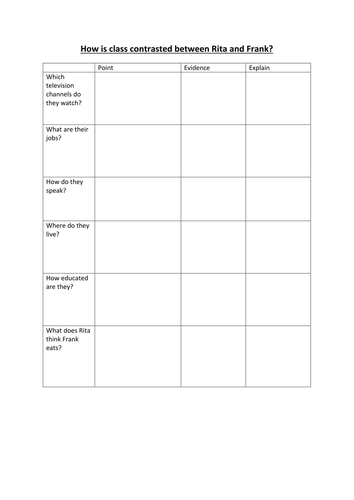 Act 1 powerpoint with activities and resources. Context images and information sheets, a worksheet on class and extracts from the opening stage directions ready to print. Further worksheets can be used for an assessment on themes and character change in the play with further activity suggestion in larger powerpoint.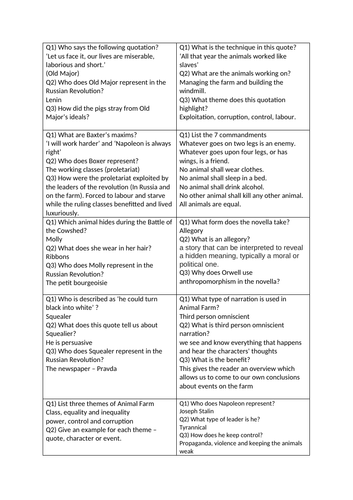 Animal Farm revision cards to play as a whole class with stepped questioning or could be used as a team quiz set up. Designed for GCSE revision of characters, quotes and ideas.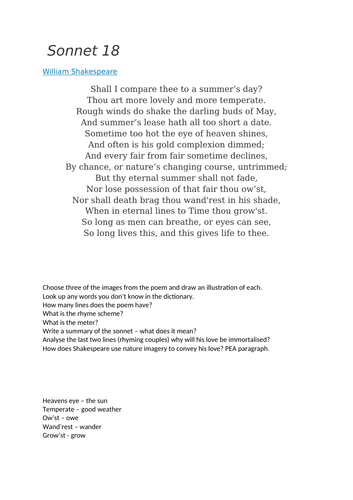 Shakespeare's Sonnet 18 one page worksheet with the poem, translation of unusual words and a selection of questions for students to complete. Independent working after poetry study recommended.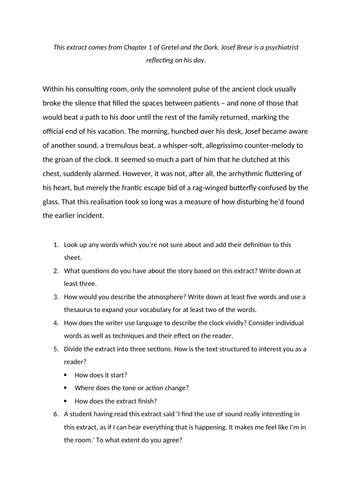 Resource with an extract from Granville's Gretel and the Dark which builds students up to answering Q2-4 of Language Paper 1 AQA.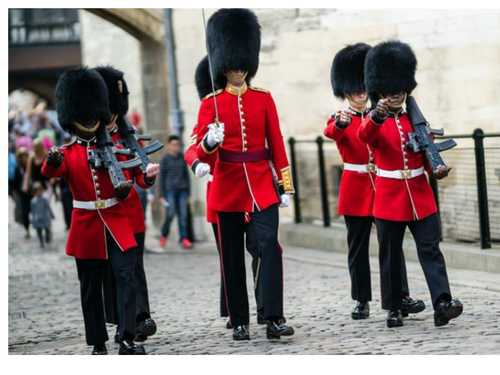 A powerpoint introducing semiotics, key quotes and figures from semiotics referenced with suggested activities. Includes an explanation and examples of metonymy and motifs.