17Uploads
1k+Views
652Downloads

A PDF information sheet explaining what ocean gyres are and how marine litter is carried on these rotating currents around the world. The resource includes a map showing the five main ocean gyres (Indian Ocean gyre, North Pacific, South Pacific, North Atlantic, South Atlantic), and uses this to illustrate the global nature of the marine litter problem.

A visual PDF information sheet illustrating the lifecycle of marine turtles, including brief descriptions of the stages of mating, nesting, hatchlings, growing up, and the lost years. Each life stage is numbered and accompanied by a description, and are all placed around a central image of a turtle.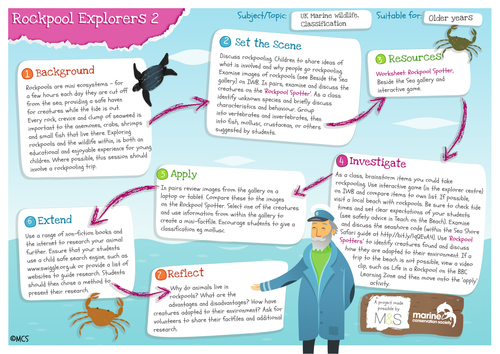 Suitable for: Key Stage 2 Timing: This Learning Outline is designed to be split into several lessons depending on the age and ability of students as well as the length of lessons. Curriculum Links: English Computing Science Learning outside of the classroom About the activity An introduction to rockpooling. If possible an excursion to a local beach with rockpools should be arranged, if not a virtual rockpooling activity can be completed using Life in a Rockpool on BBC Learning Zone, or similar. Students used the downloadable Rockpool Life Spotter to identify key species as they go real-life or virtual rockpooling. Students then use images in the Beside the Sea gallery (available by selecting the rockpool exhibit in our Cool Seas Explorer Centre classroom at www.mcsuk.org/coolseas/explorerCentre) to create a fact-file on a chosen rockpool creature. Students should choose how they would like to present their work and should be encouraged to use digital technology where appropriate. For other free teaching resources visit www.mcsuk.org/coolseas.

A visual PDF resource introducing some of the principles of ocean literacy, including that there is one ocean, it is largely unexplored, and it supports a great diversity of life and ecosystems. The resource also includes ocean facts and a world map of the ocean, seas, and climatic regions.

A PDF colouring sheet asking children to use the Official Litter Guide key to find the different litter items in the image, tally them up, record the total, and colour them in. A follow up question is included at the bottom of the sheet asking where all this litter might come from.

A PDF resource matching up a detailed image of different underwater creatures found in the UK with their names on the second page, including different species of jellyfish, starfish, and anemones.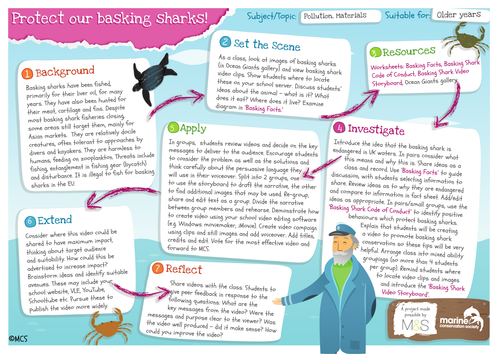 Suitable for: Key Stage 2 Timing: This Learning Outline is designed to be split into several lessons depending on the age and ability of students as well as the length of lessons. Curriculum Links: English - Talking and Listening, Reading Computing Science About the activity An introduction to the biggest fish in our sea and the second biggest in the world, the Basking Shark. Students will use resources from our Cool Seas Explorer Centre Online classroom (Ocean Giants section) available at www.mcsuk.org/coolseas, to investigate why Basking Sharks are endangered. In groups they will then produce a short film using digital software (e.g. Windows Moviemaker, iMovie) to promote Basking Shark conservation. The best video should be shared with MCS at education@mcsuk.org with details of the class and school. If possible student films should also be shared on school social media pages to share the learning with a real audience. For other free teaching resources visit www.mcsuk.org/coolseas.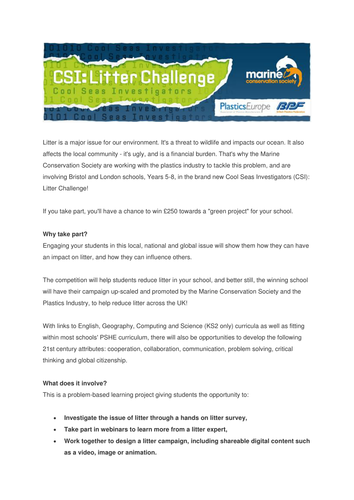 Open to students in Years 5-8 from schools in Bristol and London, Cool Seas Investigators: Litter Challenge is an exciting new problem-based learning project with the chance to enter a competition to win £250 towards a 'green project' at your school. Engaging your students in the local, national and global issue of litter will show them how they can have an impact on litter, and how they can influence others. The competition will help students reduce litter in your school, and better still, the winning school will have their campaign up-scaled and promoted by the Marine Conservation Society and the Plastics Industry, to help reduce litter across the UK! With links to English, Geography, Computing and Science (KS2 only) curricula as well as fitting within most schools' PSHE curriculum, there will also be opportunities to develop 21st century learning attributes. For more details about the project, download the attached information sheet.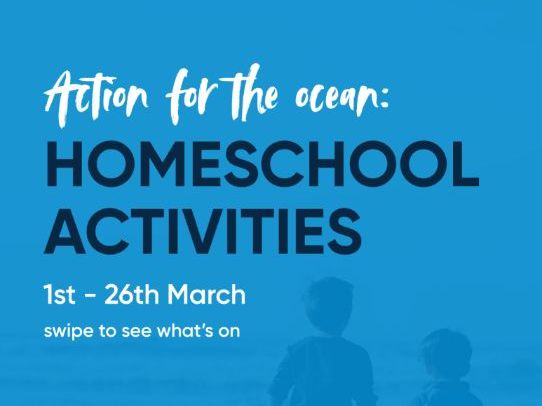 Whether your children are learning at home, or you're looking for some after school fun, we're joining forces with Common Seas throughout March to inspire a new wave of Young Sea Champions. Each week we'll share an inspiring video from our YouTube channel with a link to a fun follow-up activity to help young people learn, explore and take action for the ocean. Week 1: The ocean and us Week 2: Caring for the coast (wherever you are!) Week 3: Plastic Investigators Week 4: Film finale! Learn about our amazing ocean in the Cool Seas Explorer Centre and visit Home School with Common Seas to find out what you can do to keep it clean and healthy. Join in and share your work on social media by tagging @mcs_uk @CommonSeas #YoungSeaChampions

The fight against plastic is at the forefront of conversation this year and most of us are reducing what we use. Now is your chance to really get involved and support your local community. Great British Beach Clean offers young people the chance to be a part of one of the largest citizen science projects in the UK, to take action, clean up our beaches and collect data vital to reducing litter at source. It's our Great British Beach Clean 20th-23rd September! So check out your nearest event and sign up now. If you are unable to attend any of the listed events, we have all the resources to help you organise your own beach clean for your class, school or group. Joining a beach clean is easy and a great way for young people to discover the impacts of littering, explore our natural environment, help to conserve it and share experiences. More than just a beach clean, we survey litter too, offering young people a chance to acquire survey technique, practice maths skills and work in teams. This event is an exciting way to learn and make new friends at the beginning of the academic year. Beach litter is not just an issue of litter left on the beach though, many litter items reach the ocean through the rivers, streams and even drains which connect us all. So if you really can't get to the beach this year, do a litter pick in your local park or near your school instead. You could even do the school grounds. Wherever we live, we can all do something to reduce the impact of litter. You might like to think about leading a campaign such as Bincentives if you want your area to be a litter free zone. Find out more and sign up for a clean here: www.mcsuk.org/beachwatch/greatbritishbeachclean For more marine themed resources, visit www.mcsuk.org/coolseas

The Marine Conservation Society (MCS) are offering a whole range of options for young people to be a part of our Great British Beach Clean this year. This Education Pack provides all the information you need for our brand new Source to Sea Litter Quest (18th-25th September) including key dates for the project, health and safety guidance, the downloadable Litter Quest card, and follow-up activities with curriculum links. The Source to Sea Litter Quest: What's on There will be FREE online lessons for young people and their supporting teams to introduce the project, self-led activities with resources that are open to everyone, support from trained staff and volunteers, and a celebration webinar event to come together and share what everyone has been up to. We're also offering follow-up online lessons to participating groups to support them on their conservation journey. For schools and groups that can't get out to the shore, the Litter Quest presents a fun, useful, hands-on activity that can be done anywhere. Did you know that 80% of the litter on UK beaches has travelled there from our towns, parks and rivers? In #LitterQuest, commonly littered items like plastic bottles, cans and face masks are recorded (and removed) to create a picture of the litter plaguing our environment. Getting involved will allow children to see the connection between their own actions away from the sea and the health of our oceans. Dive into Data (optional) For older groups, there will be a chance to explore a 10-year dataset of MCS's Beachwatch data, complete a self-led task and get young people thinking about the issues of a throwaway society, and how these data are analysed, compared and communicated. The optional activities extend and embed the practical learning back in class.

A lesson plan about how clean our seas are in the UK, with a focus on the different kinds of pollution and their sources. The resource looks at how pollution gets into our seas through sources like drains from farms and cities, sewer overflows, misconnected plumbing, septic tanks, and dog poo. The lesson includes a image illustrating some of these sources and short descriptions of each one, as well as an infographic showing the proportion of waste by source (e.g. Public 39.4%).

A PDF information sheet about some of the different fish species consumed in the UK, including how some species are caught, types of fish farming, and different kinds of fishing gear. Lots of images are included in this visual resource, and there's a match-up activity where the type of fish and its most popular commercial use are paired.

A visual PDF resource explaining some of the ways we use the ocean in different marine industries, including ports and shipping, wave and tidal energy, and oil and gas. Each industry is accompanied by an illustration and a description of how it works.

A lesson plan about marine food chains which includes four different activity sheets. Students are asked to cut out the different marine creatures and line them up in the correct order for each food chain.

A lesson plan on the different species of fish we eat, including a fisheries fact file for teachers on overfishing, damaging marine habitats, bycatch and consuming fish responsibly. The lesson also includes activities in which students find different fish in the supermarket and record where its come from, as well as a 'fishy figures' survey where students find out which species their classmates and teachers eat. The activity also asks students to think about sustainability of the choices of fish species.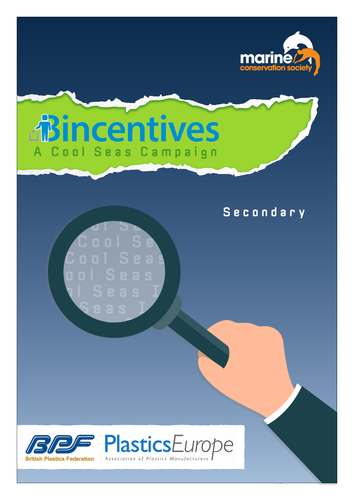 Bincentives is a student-led campaign aiming to reduce littering behaviour in teens. The resource comprises teachers notes, a fully adaptable assembly presentation, posters and reward tokens. The campaign is designed to be led by a student group and is ideal for an eco-group, student council or class. The campaign begins with an assembly presentation to explore the impact of litter and introduce the campaign to students. The campaign focuses on a series of posters displaying anti-littering messages using emojis and rewards students who do the right thing and bin or recycle their rubbish. Schools decide on a series of rewards for students or classes who collect the most tokens, thus positive behaviour is reinforced. As well as raising awareness of the environmental plague that is litter, this campaign encourages students to take social action on a global issue and facilitates the development of leadership skills. For more education resources from the Marine Conservation Society visit www.mcsuk.org/coolseas and don't forget to follow us on facebook and twitter @mcsuk to keep up to date with our education projects.