34Uploads
4k+Views
430Downloads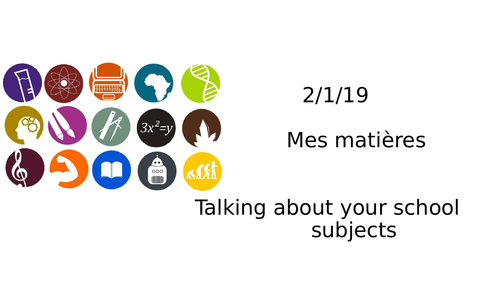 Studio 1 Module 2 Unité 1 - Talking about school subjects and asking questions using Studio 1 book pages 28-29 with Y7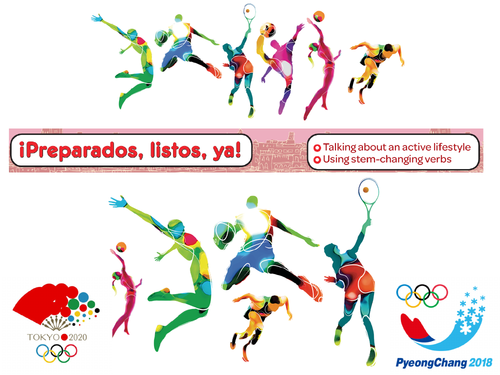 Viva 3 Modulo 3 Unidad 2 - Talking about an active lifestyle and using stem-changing verbs using Viva 3 Red book pages 56-57 with Y9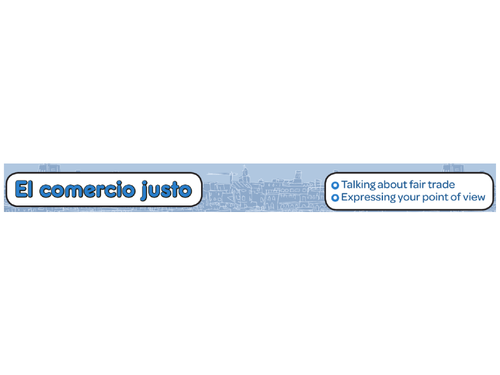 Viva 3 Modulo 4 Unidad 1 - Talking about fair trade and expressing your point of view using Viva 3 Red book pages 80-81 with Y9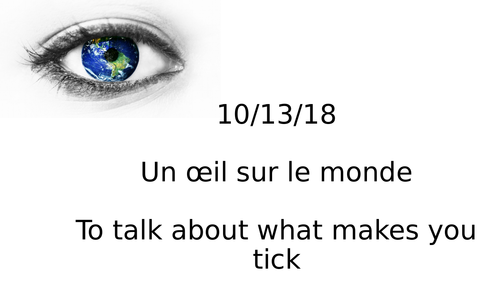 U oeil sur le monde - Talking about what makes you tick using Studio AQA GCSE French Higher Module 8 Point de départ page 160-161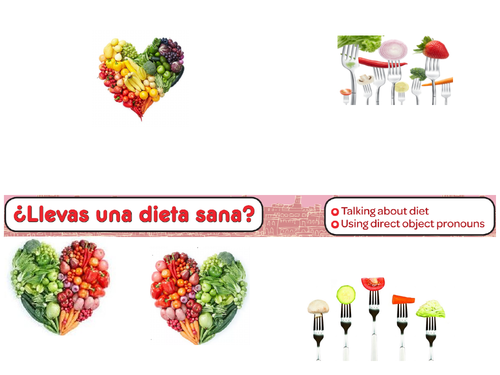 Viva 3 Modulo 3 Unidad 1 - Talking about diet and using direct object pronouns using Viva 3 Red book pages 54-55 with Y9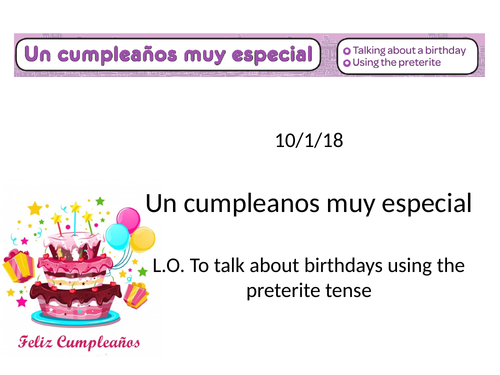 Viva 3 Modulo 1 Unidad 4 - Talking about a birthday with the preterite using Viva 3 Red book pages 14-15 with Y9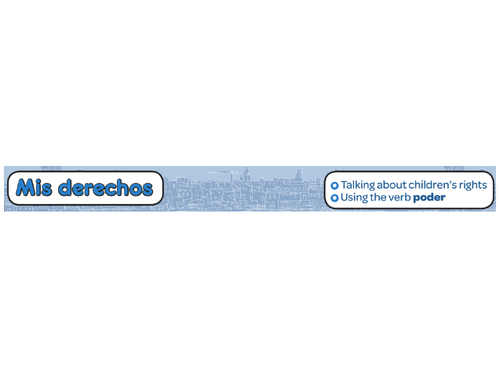 Viva 3 Modulo 4 Unidad 1 - Talking about children's rights and using the verb poder using Viva 3 Red book pages 78-79 with Y9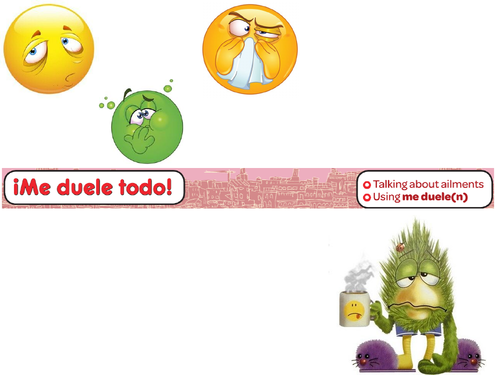 Viva 3 Modulo 3 Unidad 5 - Talking about ailments and using me duele/me duelen using Viva 3 Red book pages 62-63 with Y9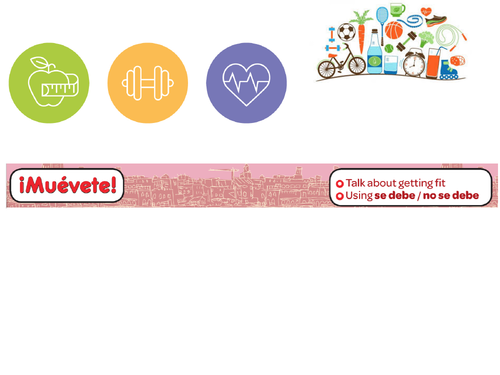 Viva 3 Modulo 3 Unidad 4 - Talking about getting fit using se debe/no se debe using Viva 3 Red book pages 60-61 with Y9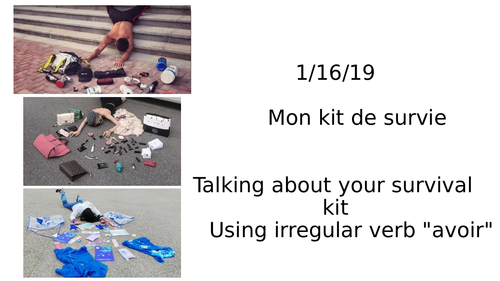 Studio 1 Module 1 Unité 2 - Talking about your survival kit with avoir (je/tu/il/elle) using Studio 1 book pages 10-11 with Y7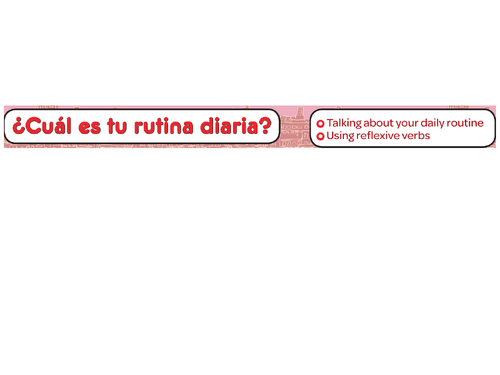 Viva 3 Modulo 3 Unidad 2 - Talking about your daily routine and using reflexive verbs using Viva 3 Red book pages 58-59 with Y9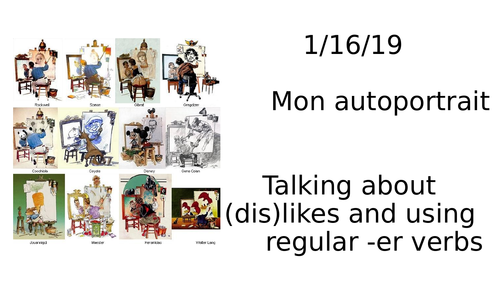 Studio 1 Module 1 Unité 1 - Talking about likes and dislikes with regular ER verbs (je, tu, il/elle) using Studio1 book pages 8-9 with Y7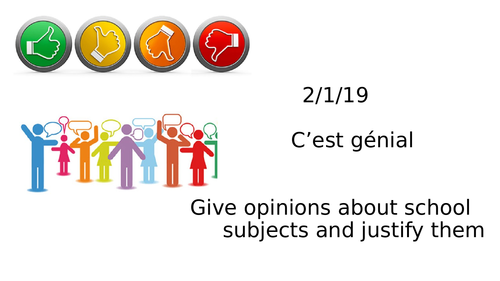 Studio 1 Module 2 Unité 2 - Giving opinions and reasons + agreeing and disagreeing using Studio 1 book pages 30-31 with Y7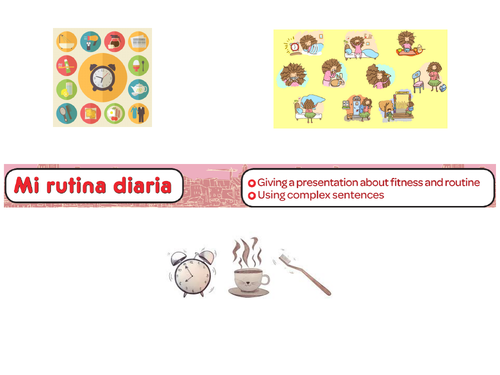 Viva 3 Modulo 3 Unidad 6 - Giving a presentation about fitness and routines and using complex sentences using Viva 3 Red book pages 64-65 with Y9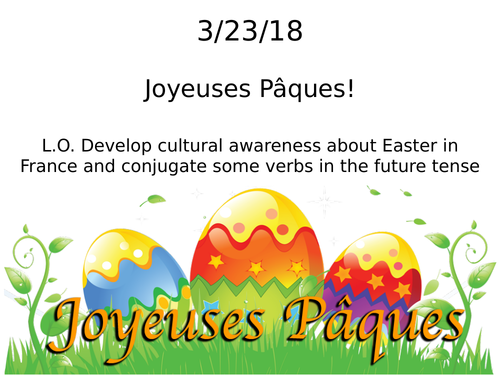 Easter themed lesson to introduce quickly (or revise) the near future tense with Y7, Y8 or Y9 French. It includes: a true/false do now, flash cards to introduce/revise 7 verbs in the near future, a listening activity and a reading comprehension activity which can all be used to scaffold a writing activity and a plenary.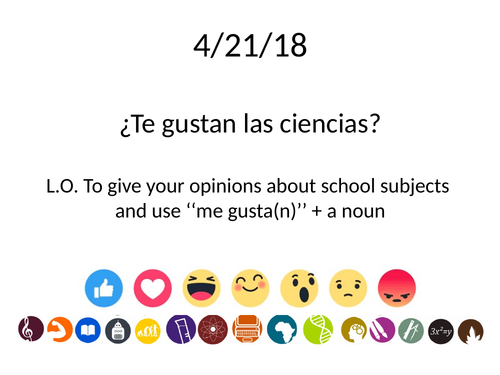 Lesson (but enough material for two lessons) to introduce and reinforce the vocabulary to give opinions about school subjects with Y7 using "ME GUSTA + nouns". Good companion to Viva 1 pages 56 and 57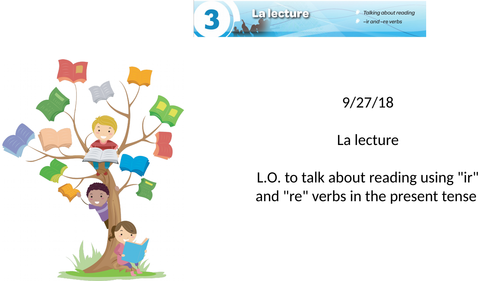 Studio 2 Module 1 Unité 3 - Talking about books with -ir and -re verbs in the present tense using Studio 2 Red book pages 12-13 with Y8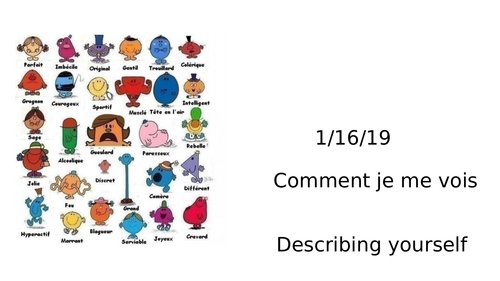 Studio 1 Module 1 Unité 3 - Describing yourself and understanding adjective agreement (singular) using Studio 1 book pages 12-13 with Y7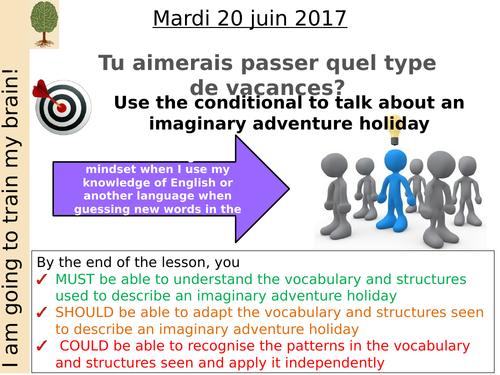 Lesson to introduce the conditional using "J'AIMERAIS + INFINITIVE" to talk about an imaginary adventure holiday. Good companion to Studio 3 page 78 End of Y7 revision lesson to revise the key vocabulary, questions and answers seen during the first year of Spanish. Best suited to lower-mid ability classes.