Miss Allen's Resources
Hi there! I am a Year 3 teacher at a lovely school in Cardiff.
5Uploads
4k+Views
5k+Downloads
Hi there! I am a Year 3 teacher at a lovely school in Cardiff.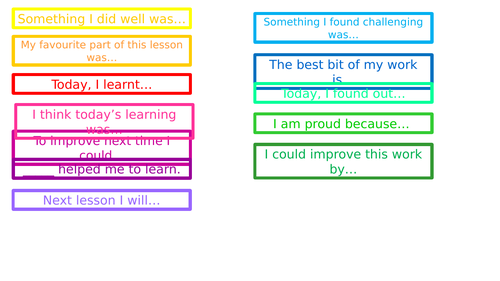 Self assessment statements to fit each section of the IKEA 'wheel of fortune' (link to this provided below). There are 12 statements all together, so each one appears twice on the wheel as there 24 spaces. I have also provided enlarged versions of the statements that I will put up on the screen for the children to see/copy once we have randomly selected one from the wheel. The fonts I have used are downloaded from dafont.com, so a custom font will come up on your download unless you download it too. It's called ComicNeueSansID and it's free. IKEA Wheel of Fortune: https://www.ikea.com/gb/en/p/lustigt-wheel-of-fortune-game-30387038/

This is an Among Us themed code breaker activity that I gave to my Year 3s just to spruce up their Maths sums a little bit. There's a brief Powerpoint with example questions. I have put printable versions of the key on the last slide, in case you want them to have them in their books. Enjoy!

This is an Among Us themed maths lesson I created for my Year 3 class. The Powerpoint introduces the class to the game. When I did it, I put the children into mixed ability groups of 3 and told them who their teams were at the beginning of the lesson. Although they're mixed ability, the tasks were differentiated as follows: Blue tasks = Higher Ability Green tasks = Middle Ability Red tasks = Lower Ability I set up my classroom so there were stations and their tasks dotted around the room. Each child was given a work booklet (Publisher Document) and recorded their answers on there. The tasks can be found on the other Powerpoint document and you could change them to whatever you wanted really! The ones in mine were based on topics we've covered since September. At the end of the lesson, we revisted the Powerpoint and I asked them to vote on who they thought the impostor was. There's no real strategy to this, I just added this for fun! I put myself as the impostor and they found it hilarious so maybe you could do the same. In terms of font, I used 'VCR OSD Mono' for the Among Us writing which is available to download for free on Dafont.com. I have also used the Twinkl font which you can download from Twinkl. You don't have to use these fonts but it helps it 'look the part'! https://www.dafont.com/vcr-osd-mono.font Enjoy!

This is a resource I have created for my Year 3 class for World Book Day. I will supply the children with a range of differentiated reading books for them to choose from. When printing, make sure you select 'print on both sides' as the menu is meant to be folded like a leaflet. Enjoy! (Images from twinkl)

This is a simple, introductory Powerpoint to introduce the Worry Dolls craft to your class. Use the pictures alongside your explanation and instructions, as well as a bit of circle time / wellbeing talk!