Mizzzfoster's Shop
Visual resources for science classrooms who enjoy using interactive notebooks, word walls, and creativity.
160Uploads
161k+Views
6k+Downloads
Visual resources for science classrooms who enjoy using interactive notebooks, word walls, and creativity.

Coloring pages have recently become a huge hit all over the world. In my new series of word wall coloring pages you can bring the excitement of coloring into your middle school and high school science classrooms. This set includes the words: CHNOPS, Biomolecules, Monomer, polymer, dehydration synthesis, hydrolysis, nonpolar, polar, carbohydrates, glucose, lipids, fatty acids, proteins, amino acids, nucleotides, nucleic acids and a blank sheet. Word Walls are an instructional tool used primarily in elementary classroom. While teaching in Texas my administrators decided they wanted secondary teachers to use the tool as well. It was a great success on many levels. Students took time learning about their word and creating a design for it. I always displayed all the words and the students took great pride in seeing their work displayed. The students also enjoyed looking at each other's work. I noticed over time that my students would frequently look at the wall while we working. Especially during pop quizzes or bell work. The word wall truly helped my students to remember their vocabulary words and seeing them displayed all the time in class made it easier for them to refresh their memory when necessary. Each word wall poster has a word wall art graphic that students can color. There is a designated box to write the scientific definitions, synonyms or examples, antonyms or nonexamples and space to write a sentence using the word. I developed word wall coloring pages for my students who struggled with what to draw and write when working on word walls. I always offer a blank template for my self-motivated artists, but the coloring pages allowed my students who struggle with a means for creating a beautiful piece of word wall art as well. My favorite way to use word walls include after a test, to introduce new vocabulary in a relaxing format, sub work or as extra credit. They are also a fun way to revisit words students' struggle with. Please feel free to tag me on Instagram (@MizzzFostersClass) to show off your students' work.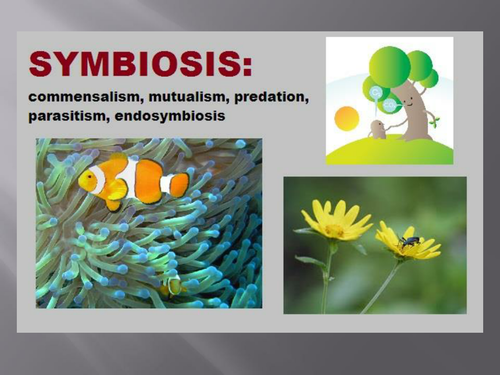 This power point has 16 symbiotic scenarios. The students are to read each slide and analyze the pictures in order to choose which symbiotic level is depicted. The fours symbiotic relationships presented are endosymbiosis, commensalism, predation, parasitism and mutualism. I usually have my students work with a partner. It is a lot of fun to hear them talk about each situation using educational dialogue. This is an excellent follow up activity after the Symbiosis Power point to make sure the students understand the difference relationships.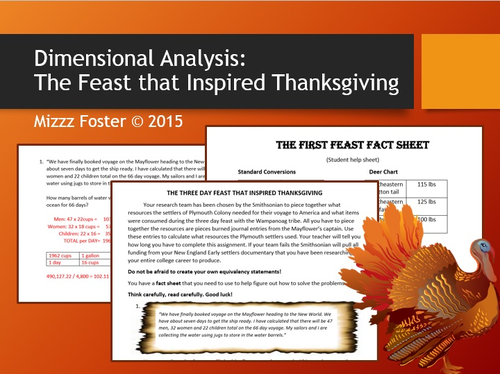 Thanksgiving is a difficult time of year with students excited for vacation. Here is a great no-prep activity for secondary science students which will allow them to compete against each other and the clock while reviewing their skills solving problems using dimensional analysis. I love this activity because it keeps my students critically thinking and working together. In this problem set are seven multi-step problems with questions, a student guide sheet with some conversions and a detailed teacher's Key with how to set up the problems and the answers. Although geared towards Thanksgiving, this a great activity to brush up student math skills in Science any time of year!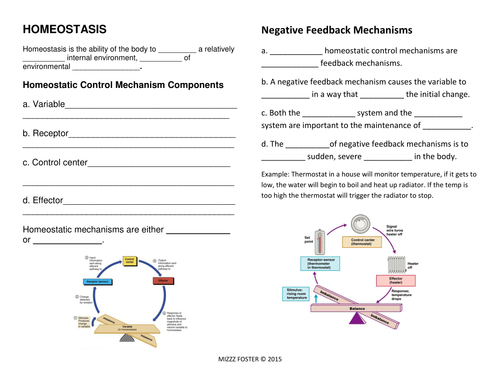 Homeostasis worksheets with answer key go over negative and positive feedback. Examples such as blood sugar, body temperature, stress, labor & delivery and blood clotting are covered.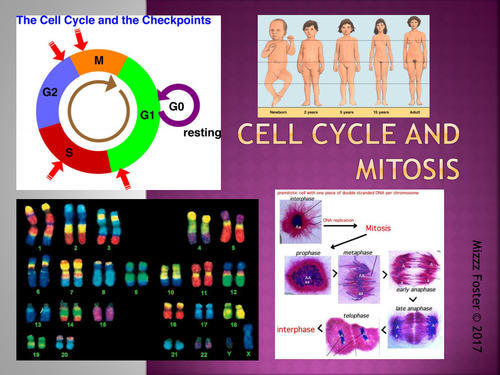 The power point covers cell cycle, G0, G1, S, G2, and mitosis. There are slides for chromosomes, how mitosis is the driving force behind growth, development, regeneration and asexual reproduction. The power point also presents cancer and other disease causes by disrupted cell cycles.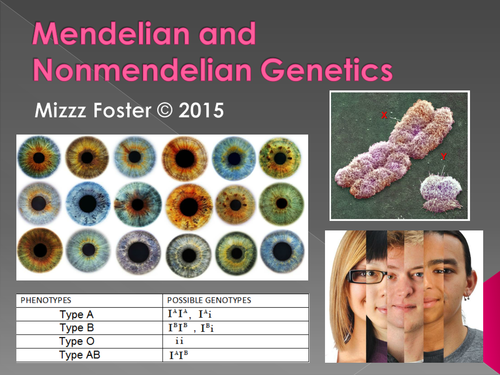 This Genetic Punnett Squares Bundle has a thorough Power point covering; complete dominance, incomplete dominance, codominance, sex-linked traits (both X and Y), Blood typing, monohybrid, dihybrid, pedigrees and epistasis. The examples are real examples and includes slides over human genetics to help clear up misconceptions on how physical traits are inherited.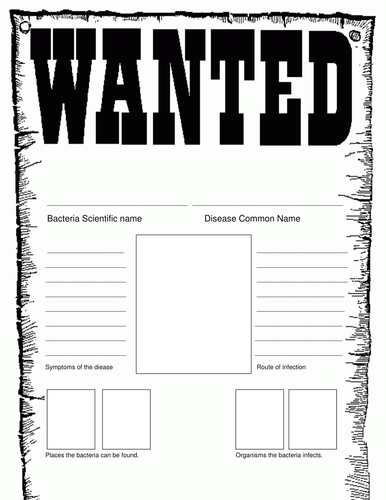 This is a basic Wanted Poster Template for pathogenic bacteria. It is two pages long and done in an Old West Style. Students need to be assigned a pathogenic bacteria to research, The poster has the information they need to look for and the area on the poster it needs to be written. The boxed are areas the students can either draw the information or print pictures out to glue in place. I have included a list of bacteria diseases as well. Some are the common names, others are scientific names. Allow the students to find the scientific and common names.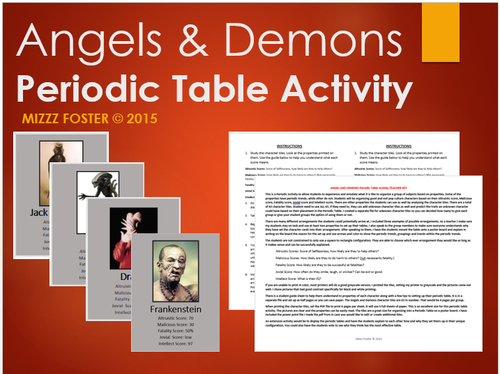 The students will be organizing good and evil characters from pop culture. This is a Periodic Activity to allow students to experience and simulate what it is like to organize a group of subjects based on properties. This is an excellent Halloween activity for secondary science! Some of the properties have periodic trends, while other do not. Students will be organizing good and evil pop culture characters based on their Altruistic score, Malicious score, Fatality score, Jovial score and Intellect score. There are other properties the students can use as well by analyzing the character tiles. There are a total of 63 character tiles. Student need to use ALL 63. If they need to, they can add unknown character tiles as well and predict the traits an unknown character could have based on their placement in the Periodic Table. There are many different arrangements the students could potentially arrive at. I included three examples of possible arrangements. I require the student groups to use at least two properties to set up their tables. The students will mount the table unto a poster board and explain in writing on the board the reason for the set up and use arrows and color to show the periodic trends, groupings and trends within the periodic trends. The students are not constrained to only use a square to rectangle configuration. They are able to choose which ever arrangement they would like as long as it makes sense and can be successfully explained.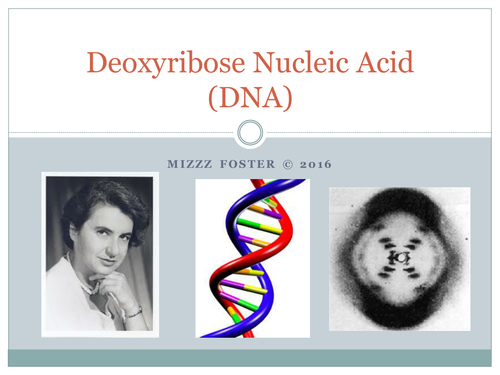 This is an introductory power point into DNA It goes over DNA's history, scientists involved and it's basic structure nucleotides and importance of hydrogen bonding. Students will know the components of a nucleotide how they bond together to create DNA and write a complimentary DNA strand. Students will also learn the history of DNA's discovery.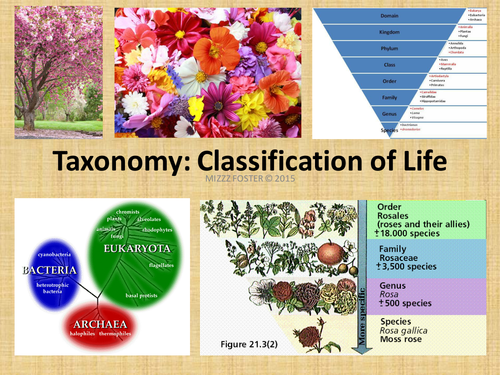 Taxonomy is a system of classification used by scientists to organize organisms. The power point goes over the taxonomic levels and the main groups. Students will know the levels of taxonomy and the characteristics of the main groups. A brief review of viruses is included for comparison so students can see how viruses are not living.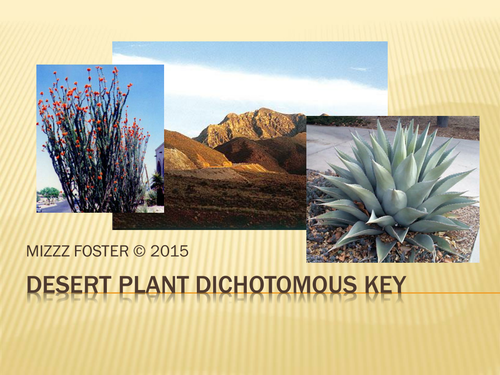 This is the power point, dichotomous key, answer sheet and answer key which covers desert plants. A variety of desert trees, cactus, wildflowers and landscaping specimens are included. I usually use this in class with my students paired up so they can work the dichotomous key together. Its an excellent activity for students who are not familiar with the desert ecosystem.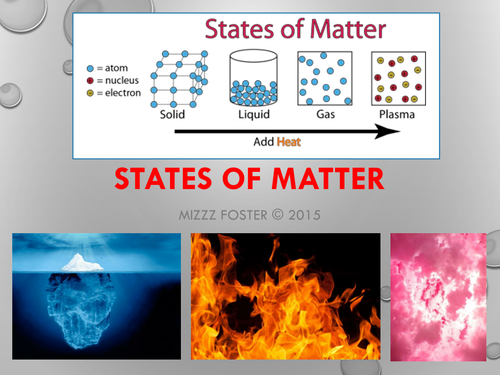 The States of Matter Power point covers all FOUR states of matter, solid, liquid, gas, and plasma. It details the kinetic molecular theory and has instructions on the last slide for your students to create a foldable.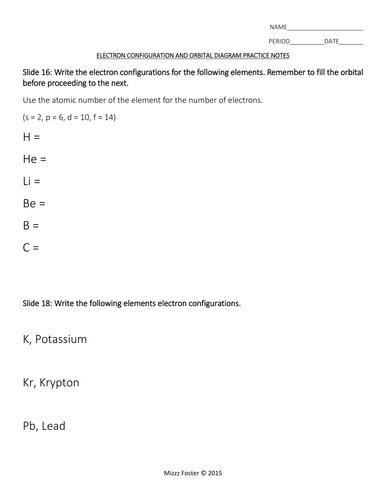 Electron Configuration is covered in detail explaining Quantum numbers and how they relate to each other. This Power Point is designed for secondary science courses and includes practice problems within the power point with answers. Standard electron configuration, noble gas configurations and the electron configurations of ions are all covered and include practice problems. Orbital diagrams are explained with practice problems. There is a student handout included that has the slide number and problems on it so students can work the problems out along with the power point presentation. The handout is one page front and back.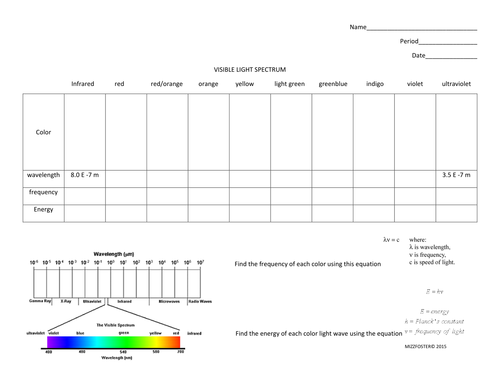 In this worksheet students will use a visible light spectrum chart to calculate the wavelength of different colors of light. Then using the light equation and speed of light the students will figure out the frequency for each color. In the next step, students will use the frequency and Planck's constant in order to calculate the energy each color of light carries. Students will also need to color the spectrum. I have mine work out their calculations on a separate sheet of notebook paper and turn it in attached to their charts. I have included an answer sheet so you can see what the final should look like. For my younger students I give them the color wavelengths. For my physics students I have them use the chart and figure the wavelengths out on their own. I use this in both Chemistry and Physics.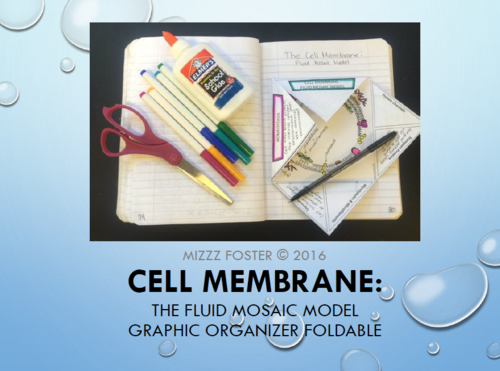 Cell membrane graphic organizer foldable goes over the main function of the cell membrane and its components such as phospholipids, peripheral proteins, gylcocalyx, integral proteins, bi-lipid layer, and cholesterol. Only one sheet of paper is required. Students will also assemble a cell membrane in the center of the foldable. They will color, cut out and glue the cell membrane components unto a phospholipid bi-layer after they finish drawing the missing phospholipids. Teacher key included. This activity can be taught alone or with the Cell Membrane power point. You can also purchase it with the power point in a bundle.

The Taxonomy Kingdom Classification Chart is great to use for virtual distance learning, hybrid, or in-person traditional classrooms. The chart / graphic organizer is for students to fill in the characteristics of viruses, Eubacteria, Archaebacteria, protists, animals, plants, and fungus. The chart is supplied in two formats, a one-page chart which is easy for digital application and a 2-page version which is easy to print on paper. Both can be used in a digital and traditional setting. The chart requires students to answer if the organism kingdoms are living, their genetic material, the organelles, how they reproduce, food chain levels, and there are sample pictures as well. Formatted for easy insertion into Composition Notebooks or Interactive Notebooks. You can also print out to use as worksheet, or use online as a digital worksheet. The digital chart is a fillable pdf form. Applications such as Adobe Acrobat, Lumen or Kami can be used to fill out the pdf. This chart goes well with the Taxonomy Classification PowerPoint. Students can fill it out while viewing the PowerPoint. The chart can also be used as a webquest or a textbook activity. It is very versatile. The virus column is for comparative purposes so students can see how different viruses are from living organisms.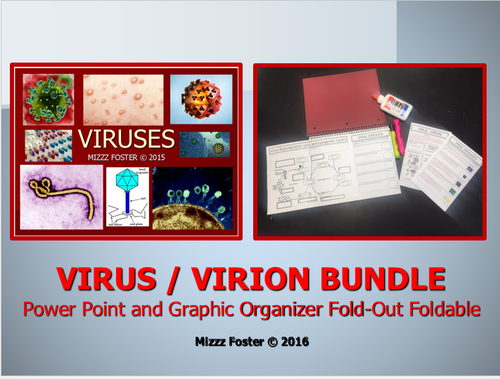 Viruses often boggle young students' minds. They are not living so can not be called dead. This power point and graphic organizer go over the reasons viruses are not categorized as living, explains their methods for reproduction, the lytic and lysogenic cycles. HIV reproduction in the human body is covered in detail along with the five drugs used in its treatment. Students are prompted to write about it in the foldable as well. There are a few slides dedicated to Ebola / Marburg, why they are hard to find and how the primate population of the world is being affected. The latest Zika virus is also presented and why it is detrimental to developing babies in the womb. Multiple common viruses are also displayed and described. Students will be able to distinguish viruses from living things and understand their methods of reproduction. Students will also be able to identify viruses based on their structure. Students will also understand that viruses infect all forms of life. Students can write about common viruses in the foldable. The power point and foldable can be presented separately or together. Teacher key included.

This is a problem set which follows a lesson covering genetic disorders and mutations. The students will model deletion, insertion, inversion and duplication mutations on single strands of DNA and explain how the mutations affect the polypeptide chain. There are two free styles of codon charts and the teacher key are included. This problem set is a great follow up to Genetic Disorders: Mistakes in the DNA code, DNA mutations Worksheets w/t Key or Genetic Disorders: Mistakes in the DNA code, DNA mutations Bundle: PPt and WS The display file is for advertising purposes only.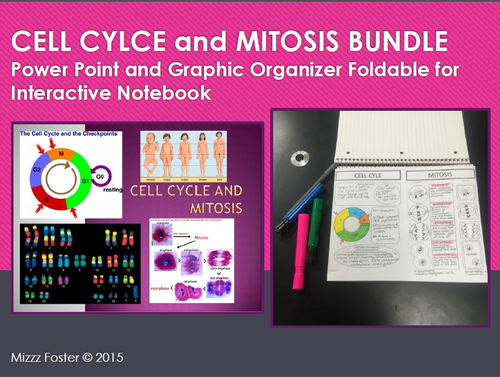 The power point covers cell cycle, G0, G1, S, G2, and mitosis. There are slides for chromosomes, how mitosis is the driving force behind growth, development, regeneration and asexual reproduction. The power point also presents cancer and other diseases causes by disrupted cell cycles. The foldable covers cell cycle, G0, G1, S, G2, and mitosis in both animal and plant cells. There are note taking areas for how mitosis is the driving force behind growth, development, regeneration and asexual reproduction. The foldable also covers tumors both benign and malignant (cancer).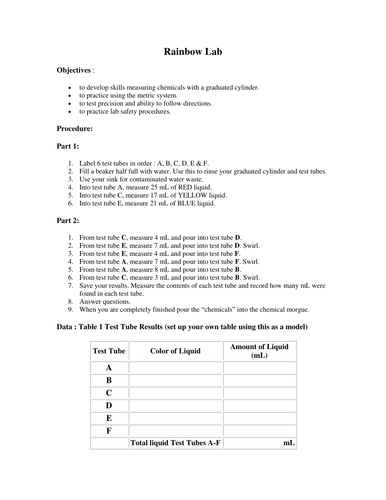 The Rainbow lab is an excellent first day activity for secondary students who have lab experience. The students have to follow instructions, measure liquids, use glassware and follow safety procedures.