Mizzzfoster's Shop
Visual resources for science classrooms who enjoy using interactive notebooks, word walls, and creativity.
159Uploads
140k+Views
5k+Downloads
Visual resources for science classrooms who enjoy using interactive notebooks, word walls, and creativity.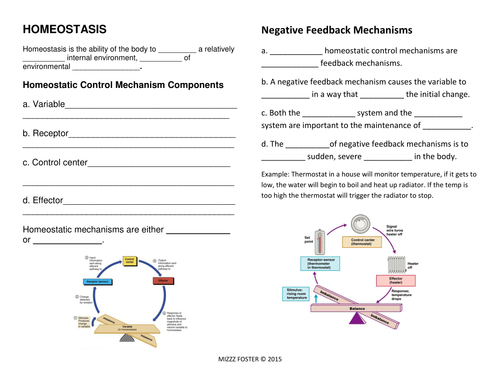 Homeostasis worksheets with answer key go over negative and positive feedback. Examples such as blood sugar, body temperature, stress, labor & delivery and blood clotting are covered.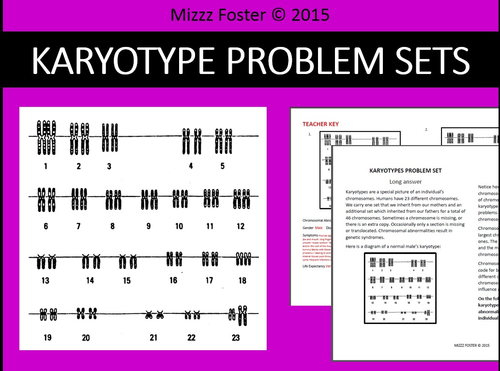 I have bundled two versions of this genetic disorders worksheets. They both cover the same chromosomal diseases but one is short answer and the other asks the students to describe the disease symptoms. In both sets the students are given 8 karyotypes that they need to identify by gender and figure out what chromosomal abnormalities are in each. The students can then take that information and research it online or at a library to find the syndrome's name and symptoms (long answer set). The teacher key is included for both. The students worksheets are five pages long since they include an introduction in each set. The teacher keys are four pages long for each set. The picture file is just for advertising.*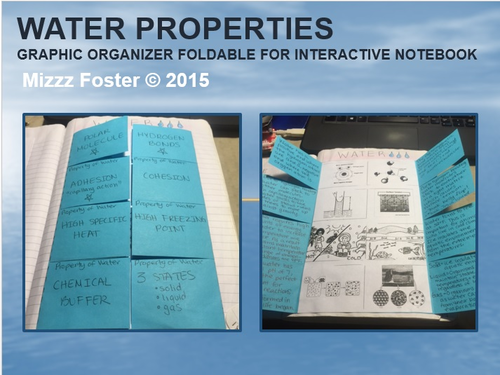 This is a one sheet of paper foldable which covers the important properties of water: polarity, hydrogen bonds, adhesion, cohesion, chemical buffer and density anomaly. Excellent for AP and PAP Biology and Chemistry courses. Key and instructions included.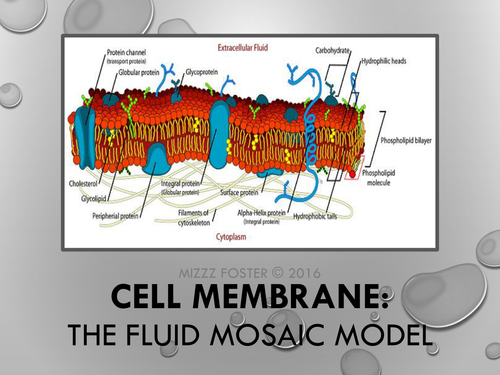 Cell membrane power point. Goes over the main function of the cell membrane and its components such as peripheral proteins, glycocalyx, integral proteins, bilipid layer, cholesterol, etc. Students will understand the components of the cell membrane, how it is built from a mosaic of biomolecules and how it allowed life to begin.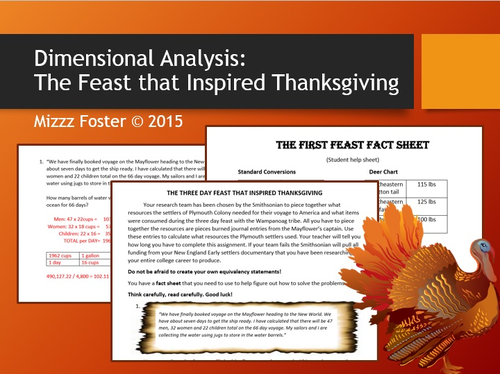 Thanksgiving is a difficult time of year with students excited for vacation. Here is a great no-prep activity for secondary science students which will allow them to compete against each other and the clock while reviewing their skills solving problems using dimensional analysis. I love this activity because it keeps my students critically thinking and working together. In this problem set are seven multi-step problems with questions, a student guide sheet with some conversions and a detailed teacher's Key with how to set up the problems and the answers. Although geared towards Thanksgiving, this a great activity to brush up student math skills in Science any time of year!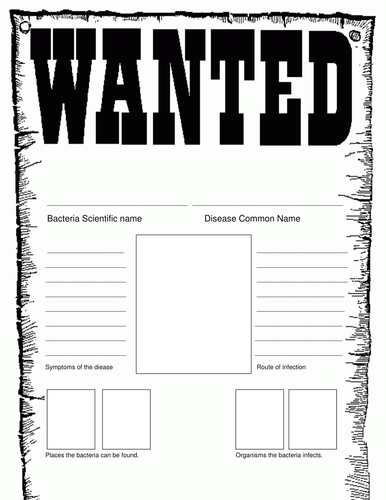 This is a basic Wanted Poster Template for pathogenic bacteria. It is two pages long and done in an Old West Style. Students need to be assigned a pathogenic bacteria to research, The poster has the information they need to look for and the area on the poster it needs to be written. The boxed are areas the students can either draw the information or print pictures out to glue in place. I have included a list of bacteria diseases as well. Some are the common names, others are scientific names. Allow the students to find the scientific and common names.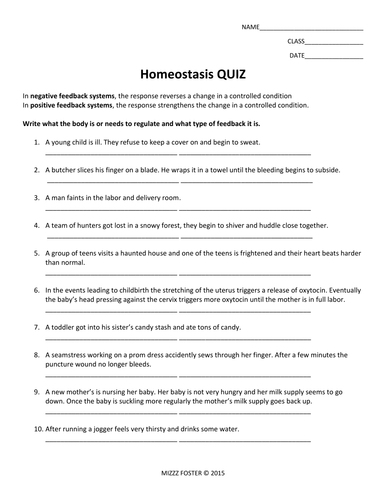 Test your students understand of homeostasis with this ten question quiz. Students need to write what the body needs to regulate or is trying to regulate and what type of feedback mechanism it is.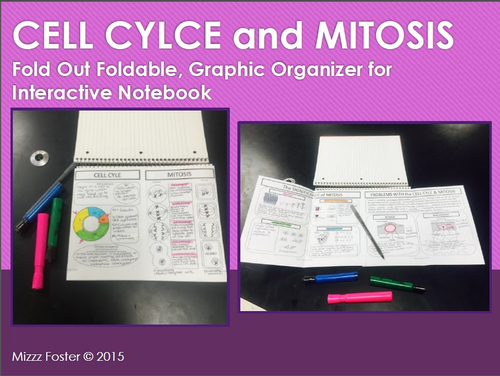 The foldable covers cell cycle, G0, G1, S, G2, and mitosis in both animal and plant cells. There are note taking areas for how mitosis is the driving force behind growth, development, regeneration and asexual reproduction. The foldable also covers tumors both benign and malignant (cancer). This foldable goes along well with Cell Cycle and Mitosis Power Point. The instructions for assemble and answer key are included. You can easily glue this foldable into a composition notebook, spiral notebook or binder.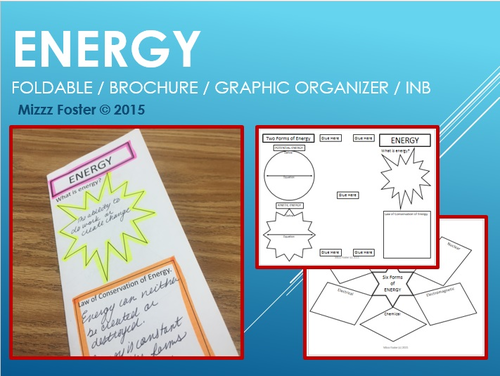 The Energy Brochure is a quick overview of energy for secondary science classes. The definition of energy, potential, kinetic and the six types of energy are covered. Students also need to fill in the Law for conservation of energy. this foldable is only one sheet of paper front and back photocopied. There is a place where it can be glued into an interactive notebook or composition notebook.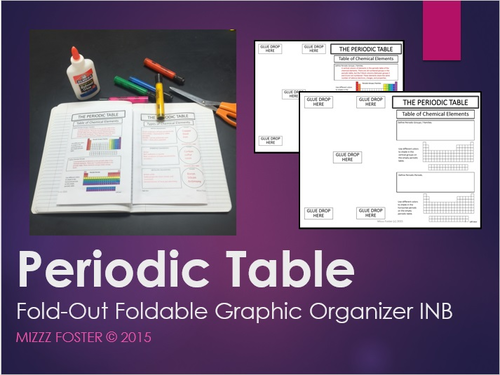 This Periodic Table Graphic Organizer is designed for Interactive notebooks in a secondary science class. Students will look at the different parts of the periodic table and list the characteristics of metals, nonmetals and metalloids (semi-metals). Students will color a 119-element periodic table according to groups such as Alkaline metals, Halogens and nonmetals. Students will also cover periodic trends such as electronegativity, atomic radii, ionic radii and ionization. EXCELLENT FOR ANY STATE!!! Texas Chemistry TEKS (5) Science concepts. The student understands the historical development of the Periodic Table and can apply its predictive power. The student is expected to: (A) explain the use of chemical and physical properties in the historical development of the Periodic Table; (B) use the Periodic Table to identify and explain the properties of chemical families, including alkali metals, alkaline earth metals, halogens, noble gases, and transition metals; and (C) use the Periodic Table to identify and explain periodic trends, including atomic and ionic radii, electronegativity, and ionization energy. Next Generation Science Standards HS-PS1-1. Use the periodic table as a model to predict the relative properties of elements based on the patterns of electrons in the outermost energy level of atoms.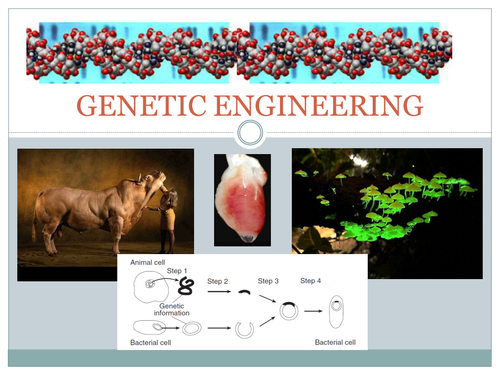 This Genetic Engineering Worksheet covers PCR, chromosome painting, karyotypes, DNA fingerprinting, stem cells, recombinant DNA, and others. There are real examples of glowing animals, the regeneration of organs, BT corn and diabetes treatment. This worksheet set has the answer key included and can be used alone or with the Genetic Engineering Power point I have available in my store. You can purchase it as a bundle with the Genetic Engineering Power point too. Remember to leave feedback. Thanks :)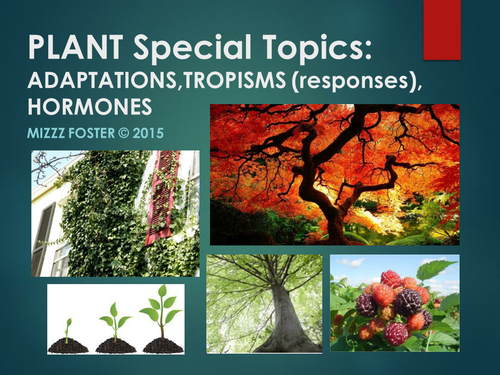 Plants Special topics describe plant adaptations, tropisms and hormones. The adaptations section goes over the specialized leaves, stems and protective adaptations. The tropisms cover how plants respond to water, light, tough and gravity. The various hormones are described in terms of how they affect the plants, fruit and leaves during various times of year.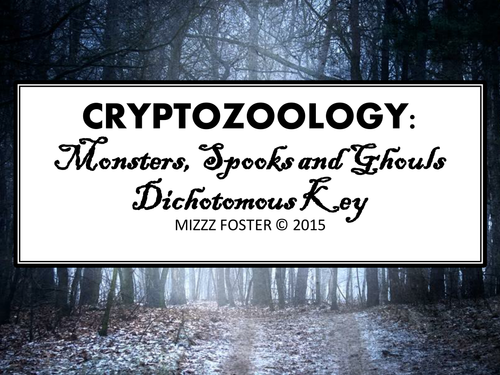 This Cryptozoology Dichotomous Key is a great secondary science Halloween activity or end of year wrap up when the AP Biology or state exams finish. We all know how antsy high school students get when Halloween comes around. You can keep them entertained with taxonomy over monsters, beasts, mythological creatures and strange diseases. This dichotomous key is a mixture of reality and myth. Students are given 25 organisms they need to identify. I also included two suggestions for extension activities. I usually use this as a cooperative lesson with my students paired up so they can work the dichotomous key together. I upload the power point to the class website and have my students work with a partner on a laptop.It is a lot of fun to hear them talk about each situation using educational dialogue. This is also a good activity for flipped classrooms. If you do not have a set of classroom laptops or ipads you can also print the power point slides and place small groupings around the room and turn it into a centers activity. You could also print the slides out as class sets.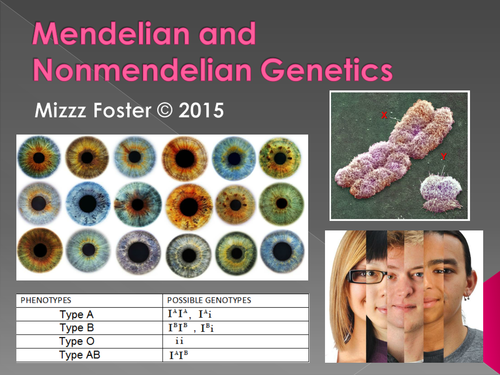 This Genetic Punnett Squares Bundle has a thorough Power point covering; complete dominance, incomplete dominance, codominance, sex-linked traits (both X and Y), Blood typing, monohybrid, dihybrid, pedigrees and epistasis. The examples are real examples and includes slides over human genetics to help clear up misconceptions on how physical traits are inherited.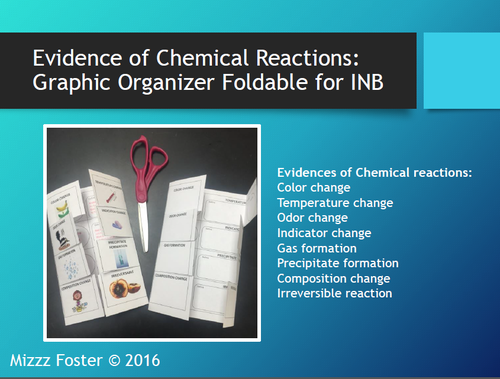 This one page graphic organizer covers eight evidences of chemical reactions; color change, odor change, temperature change, indicator change, gas formation, precipitate formation, composition change and the irreversibility of chemical reactions. The foldable is simple to photocopy front to back. The students have areas to draw examples they can relate too and the teacher key includes common instances of chemical reactions students will be able to identify with. The inside portion of the foldable has places for students to write descriptions and list examples of each type of chemical reaction evidence.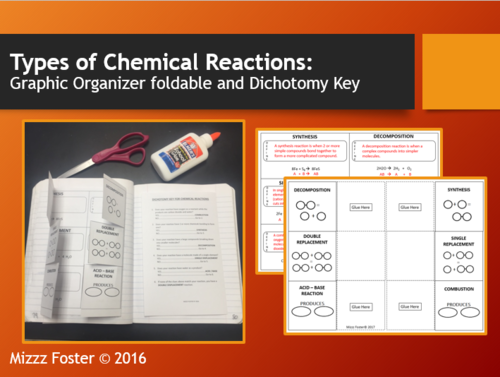 This foldable covers six types of chemical reactions; synthesis. decomposition, single displacement, double displacement, combustion and acid / base reactions. Student sheet allows for definitions and student notes. The teacher key has the answers and is set up just like the student printable for ease of grading and checking notes. There is also a half page dichotomy key that students can use while they are classifying chemical reactions. It is is a series of yes / no questions that will guide the students to correctly labeling their chemical reactions.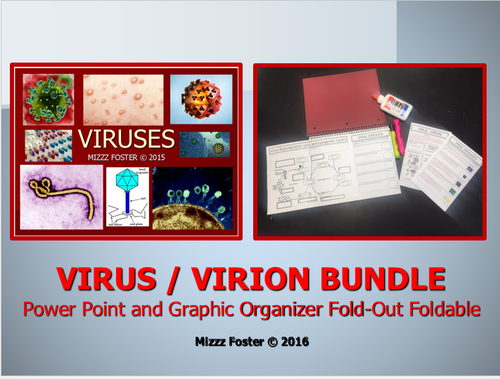 Viruses often boggle young students' minds. They are not living so can not be called dead. This power point and graphic organizer go over the reasons viruses are not categorized as living, explains their methods for reproduction, the lytic and lysogenic cycles. HIV reproduction in the human body is covered in detail along with the five drugs used in its treatment. Students are prompted to write about it in the foldable as well. There are a few slides dedicated to Ebola / Marburg, why they are hard to find and how the primate population of the world is being affected. The latest Zika virus is also presented and why it is detrimental to developing babies in the womb. Multiple common viruses are also displayed and described. Students will be able to distinguish viruses from living things and understand their methods of reproduction. Students will also be able to identify viruses based on their structure. Students will also understand that viruses infect all forms of life. Students can write about common viruses in the foldable. The power point and foldable can be presented separately or together. Teacher key included.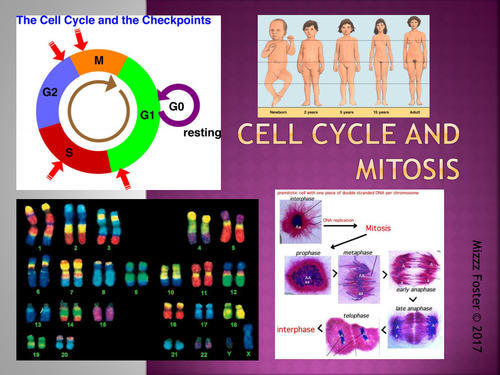 The power point covers cell cycle, G0, G1, S, G2, and mitosis. There are slides for chromosomes, how mitosis is the driving force behind growth, development, regeneration and asexual reproduction. The power point also presents cancer and other disease causes by disrupted cell cycles.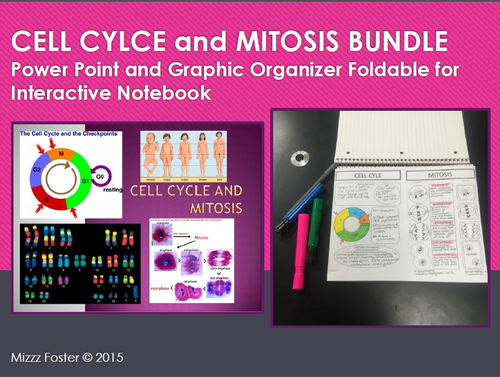 The power point covers cell cycle, G0, G1, S, G2, and mitosis. There are slides for chromosomes, how mitosis is the driving force behind growth, development, regeneration and asexual reproduction. The power point also presents cancer and other diseases causes by disrupted cell cycles. The foldable covers cell cycle, G0, G1, S, G2, and mitosis in both animal and plant cells. There are note taking areas for how mitosis is the driving force behind growth, development, regeneration and asexual reproduction. The foldable also covers tumors both benign and malignant (cancer).

Coloring pages have recently become a huge hit all over the world. In my new series of word wall coloring pages, you can bring the excitement of coloring into your middle school and high school science classrooms. This set includes the words: hypothesis, experiment, constant, variable, data, research, and a blank document for student-designed words. Word Walls are an instructional tool used primarily in the elementary classroom. While teaching in Texas my administrators decided they wanted secondary teachers to use the tool as well. It was a great success on many levels. Students took time learning about their word and creating a design for it. I always displayed all the words and the students took great pride in seeing their work displayed. The students also enjoyed looking at each other's work. I noticed over time that my students would frequently look at the wall while we working. Especially during pop quizzes or bell work. The word wall truly helped my students to remember their vocabulary words and seeing them displayed all the time in class made it easier for them to refresh their memory when necessary. Each word wall poster has a word wall art graphic that students can color. There is a designated box to write the scientific definitions, synonyms or examples, antonyms or nonexamples and space to write a sentence using the word. I developed word wall coloring pages for my students who struggled with what to draw and write when working on word walls. I always offer a blank template for my self-motivated artists, but the coloring pages allowed my students who struggle with a means for creating a beautiful piece of word wall art as well. My favorite way to use word walls includes after a test, to introduce new vocabulary in a relaxing format, sub work or as extra credit. They are also a fun way to revisit words student's struggle with. In your file, you will receive the word wall word/words you purchased plus the blank template. Please feel free to tag me on Instagram (@MizzzFostersClass) to show off your students' work.