Mizzzfoster's Shop
Visual resources for science classrooms who enjoy using interactive notebooks, word walls, and creativity.
159Uploads
91k+Views
4k+Downloads
Visual resources for science classrooms who enjoy using interactive notebooks, word walls, and creativity.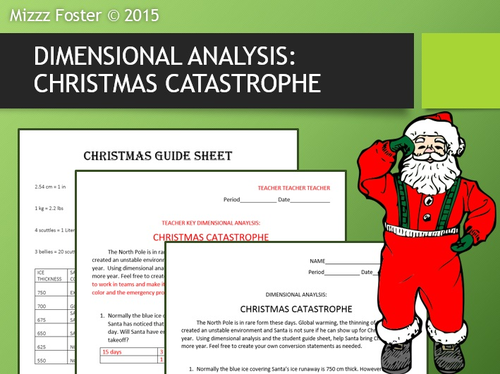 It is often difficult to hold secondary science students' attention as we get closer to Christmas vacation. Use this Christmas themed dimensional analysis activity to review your students' calculation skills while keeping them engaged and in competition. Your students will need to help Santa and the elves move through a myriad of crazy problems brought to them through oversight, Krumpus and the Grinch. A student guide sheet and detailed teacher's key is included. There is also an additional "emergency problem" for the students to work through. There is a second student guide for students who have a hard time creating their own conversion statements.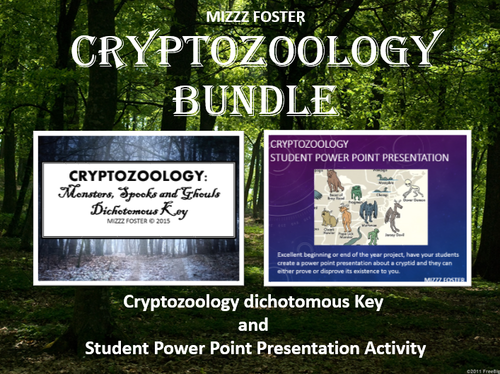 Excellent bundle for working on dichotomous keys, reviewing dichotomous keys, researching or especially for end of the year activities which keep the students entertained following the AP Biology exam or standardized state testing. This is also a great summer school activity which will take a couple of days for completion. Cryptozoology Dichotomous Key: Monsters, Spooks, and Ghouls The students will be entertained with taxonomy over monsters, beasts, mythological creatures and strange diseases. This dichotomous key is a mixture of reality and myth. Students are given 25 organisms they need to identify. I also included two suggestions for extension activities. I usually use this as a cooperative lesson with my students paired up so they can work the dichotomous key together. This activity can be used in its power point format to upload to a classroom website and have the students use laptops or iPads to go through the pictures with their dichotomous key and answer sheet in hand. Displaying the pictures of organisms in a power point allows for students to see more details without the loss of clarity that happens so often with photocopied dichotomous keys. As an instructor you may choose to use the power point for whole class instruction and work through the dichotomous key with all your students participating. This works well with smaller classes, tutoring sessions or as an enrichment activity for the gifted population. If you do not have a class website or technology for you students you can still use this dichotomous key successfully. The slides can be printed out as task cards. I have placed little centers around the room and had the students move from center to center classifying the organisms. I like this activity because it keeps my hyper students in constant motion. Laminating the cards will give you years of use. An additional option is to simply print a few slides per page. If you are using color copies you would only need 10-1 sets and have the students work cooperatively. The students do not really need to write on anything except for the answer sheet. Cryptozoology Student Research Power Point Presentations Students will each be given a cryptid to research. Cryptids such as Big Foot, the Chupacabra and mermaids can all be easily researched online or through a smart device. Have the students decide whether they believe in it's existence or why they do not. your students must use scientific data to prove or disprove their existence. They must present their finding in an organized well designed power point and be enthusiastic in the presentation. This bundle includes a list of cryptids, a student question worksheet to help springboard their research and an editable rubric for your grading ease.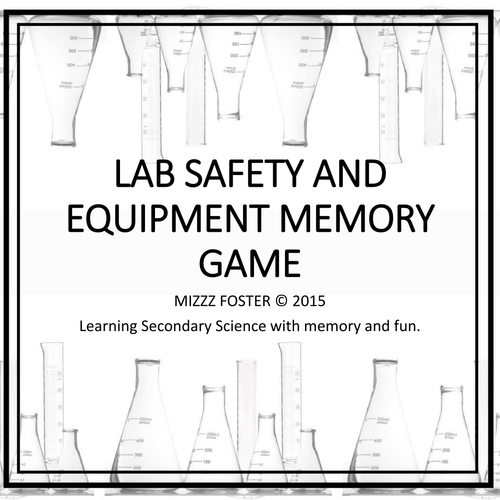 A new twist on lab safety and equipment review. Many times we repeat the same lab safety and equipment reviews every year. Make it fun with this Lab Safety and Equipment Memory game. The students will need to match 25 pairs of cards. One card has a description and the students need to match it with a picture or explanation. The game allows the students to continuously review lab safety and equipment while having fun and being competitive. The cards are square and saved as a pdf. By adjusting your page count per printed page you can adjust the size of your cards. I suggest laminating them and keeping them year after year. I use one set per lab table. You can have the students compete within a single table or between groups.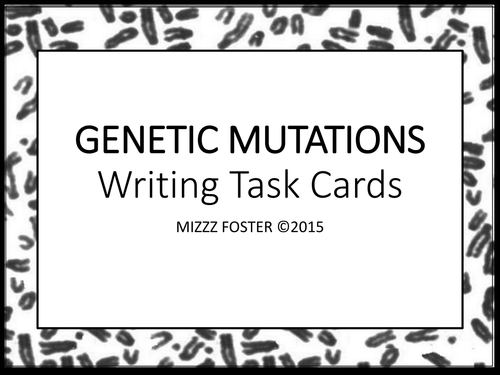 PRODUCT DESCRIPTION It is important to promote writing across the disciplines. Sometimes it is difficult to come up with writing prompts. These task cards are specific to secondary science and they cover Genetic disorders and mutations. The questions cover DNA mutations, diseases, causes of mutations, and evolutionary impact of mutations. This activity can be used as a bell ringer, pop quiz or closing. It is a good exercise to make the brief students write longer and the novel writers write shorter answers. There are 32 writing prompts with instructions as to how many sentences they should write. You can adjust the pages per sheet setting to print multiple cards per sheets of paper. This activity is a great follow up to Genetic Disorders: Mistakes in the DNA code, DNA mutations Power Point and Worksheets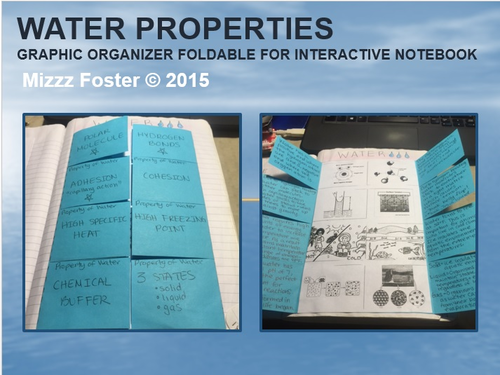 This is a one sheet of paper foldable which covers the important properties of water: polarity, hydrogen bonds, adhesion, cohesion, chemical buffer and density anomaly. Excellent for AP and PAP Biology and Chemistry courses. Key and instructions included.

Coloring pages have recently become a huge hit all over the world. In my new series of word wall coloring pages, you can bring the excitement of coloring into your middle school and high school science classrooms. This set includes the words: hypothesis, experiment, constant, variable, data, research, and a blank document for student-designed words. Word Walls are an instructional tool used primarily in the elementary classroom. While teaching in Texas my administrators decided they wanted secondary teachers to use the tool as well. It was a great success on many levels. Students took time learning about their word and creating a design for it. I always displayed all the words and the students took great pride in seeing their work displayed. The students also enjoyed looking at each other's work. I noticed over time that my students would frequently look at the wall while we working. Especially during pop quizzes or bell work. The word wall truly helped my students to remember their vocabulary words and seeing them displayed all the time in class made it easier for them to refresh their memory when necessary. Each word wall poster has a word wall art graphic that students can color. There is a designated box to write the scientific definitions, synonyms or examples, antonyms or nonexamples and space to write a sentence using the word. I developed word wall coloring pages for my students who struggled with what to draw and write when working on word walls. I always offer a blank template for my self-motivated artists, but the coloring pages allowed my students who struggle with a means for creating a beautiful piece of word wall art as well. My favorite way to use word walls includes after a test, to introduce new vocabulary in a relaxing format, sub work or as extra credit. They are also a fun way to revisit words student's struggle with. In your file, you will receive the word wall word/words you purchased plus the blank template. Please feel free to tag me on Instagram (@MizzzFostersClass) to show off your students' work.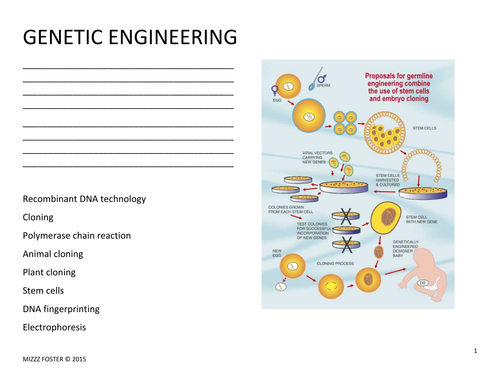 This Genetic Engineering Worksheet covers PCR, chromosome painting, karyotypes, DNA fingerprinting, stem cells, recombinant DNA, and others. There are real examples of glowing animals, the regeneration of organs, BT corn and diabetes treatment. This worksheet set has the answer key included and can be used alone or with the Genetic Engineering Power point I have available in my store. You can purchase it as a bundle with the Genetic Engineering Power point too.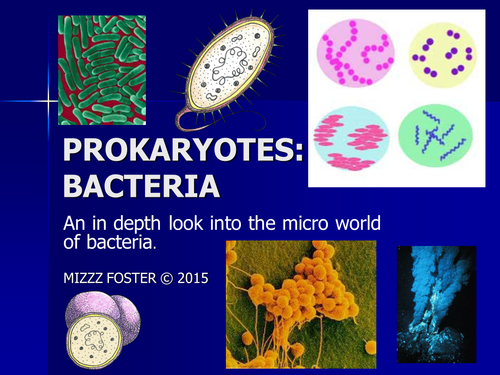 This prokaryotic bacteria bundle with power point and worksheets set covers Archaebacteria, Eubacteria, bacteria shapes, structures, cluster type gram staining, reproduction, pasteurization, sterilization, and antibiotic resistance. There are also examples of specific bacteria. Pathogenic and beneficial bacteria are covered. You can also purchase the power point and worksheets separately. The power point is 37 pages and the worksheets are 6 pages and the answer key is 6 pages.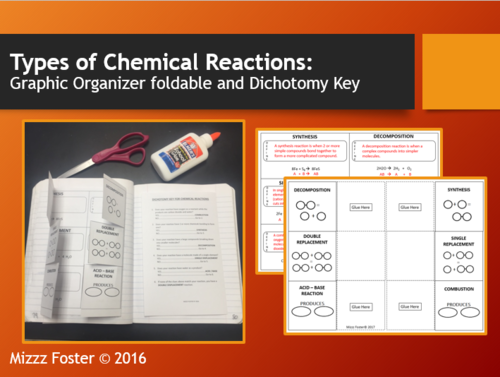 This foldable covers six types of chemical reactions; synthesis. decomposition, single displacement, double displacement, combustion and acid / base reactions. Student sheet allows for definitions and student notes. The teacher key has the answers and is set up just like the student printable for ease of grading and checking notes. There is also a half page dichotomy key that students can use while they are classifying chemical reactions. It is is a series of yes / no questions that will guide the students to correctly labeling their chemical reactions.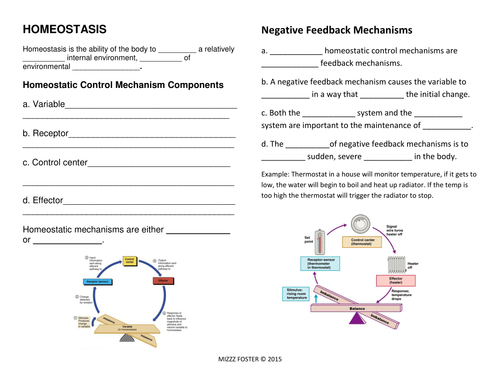 Homeostasis worksheets with answer key go over negative and positive feedback. Examples such as blood sugar, body temperature, stress, labor & delivery and blood clotting are covered.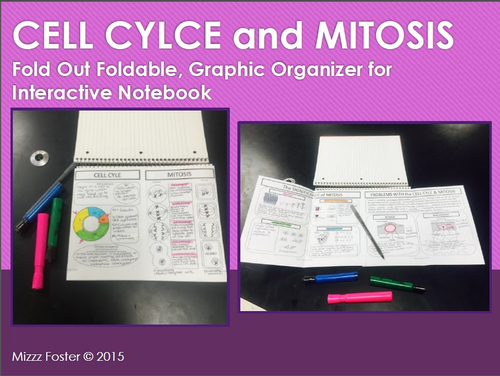 The foldable covers cell cycle, G0, G1, S, G2, and mitosis in both animal and plant cells. There are note taking areas for how mitosis is the driving force behind growth, development, regeneration and asexual reproduction. The foldable also covers tumors both benign and malignant (cancer). This foldable goes along well with Cell Cycle and Mitosis Power Point. The instructions for assemble and answer key are included. You can easily glue this foldable into a composition notebook, spiral notebook or binder.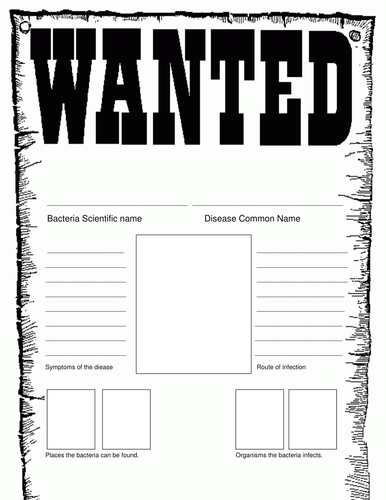 This is a basic Wanted Poster Template for pathogenic bacteria. It is two pages long and done in an Old West Style. Students need to be assigned a pathogenic bacteria to research, The poster has the information they need to look for and the area on the poster it needs to be written. The boxed are areas the students can either draw the information or print pictures out to glue in place. I have included a list of bacteria diseases as well. Some are the common names, others are scientific names. Allow the students to find the scientific and common names.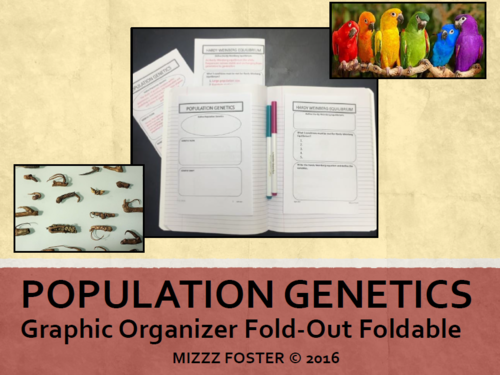 The population genetics graphic organizer prompts students to write about the mechanisms of how species evolve over time. It has compartments for Hardy-Weinberg and then delves into genetic flow, genetic drift, bottleneck effect, founder's effect, the types of selection, the types of isolation and the types of speciation. There are visual prompts to help students remember the differences between the topics. Easily fits into a composition notebook or spiral ring notebook. Works great with interactive notebooks. A detailed teacher's key is included. The concepts are heavy within population genetics so I would advise to chunk the information up into segments instead of teaching them all the way through in one day.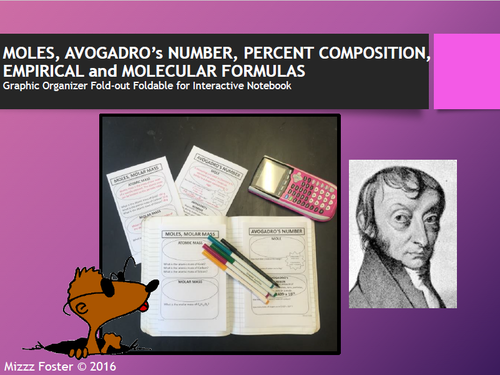 This graphic organizer covers the precursors to teaching stoichiometry. The students begin reviewing atomic mass, molar mass, moles and Avogadro's number. Each definition is coupled with practice problems for the students to solve. The next concept is percent composition. there are instructions on how to solve percent composition from the compounds formula and from masses given. The last two concepts covered are empirical formulas and molecular formulas. Again there are practice problems you can solve with your class. I have included detailed teachers key and the foldable easily fits into a composition notebook or spiral ring notebook to complete an interactive notebook.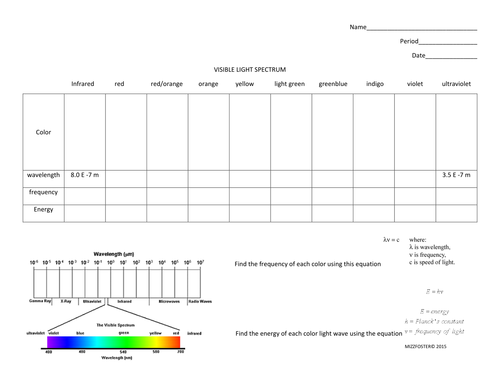 In this worksheet students will use a visible light spectrum chart to calculate the wavelength of different colors of light. Then using the light equation and speed of light the students will figure out the frequency for each color. In the next step, students will use the frequency and Planck's constant in order to calculate the energy each color of light carries. Students will also need to color the spectrum. I have mine work out their calculations on a separate sheet of notebook paper and turn it in attached to their charts. I have included an answer sheet so you can see what the final should look like. For my younger students I give them the color wavelengths. For my physics students I have them use the chart and figure the wavelengths out on their own. I use this in both Chemistry and Physics.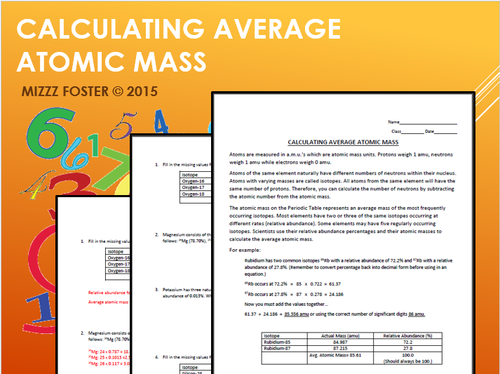 This is a ten problem multiple step set of calculating average atomic mass. In addition to solving for average atomic, students will calculate relative abundance percentages, and the actual mass of various isotopes. I have included a detailed teachers key which shows how each problem is solved.

This is a problem set which follows a lesson covering genetic disorders and mutations. The students will model deletion, insertion, inversion and duplication mutations on single strands of DNA and explain how the mutations affect the polypeptide chain. There are two free styles of codon charts and the teacher key are included. This problem set is a great follow up to Genetic Disorders: Mistakes in the DNA code, DNA mutations Worksheets w/t Key or Genetic Disorders: Mistakes in the DNA code, DNA mutations Bundle: PPt and WS The display file is for advertising purposes only.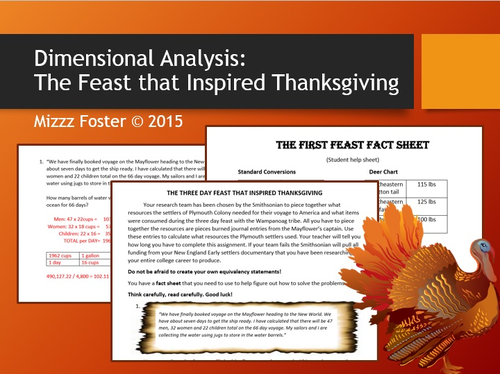 Thanksgiving is a difficult time of year with students excited for vacation. Here is a great no-prep activity for secondary science students which will allow them to compete against each other and the clock while reviewing their skills solving problems using dimensional analysis. I love this activity because it keeps my students critically thinking and working together. In this problem set are seven multi-step problems with questions, a student guide sheet with some conversions and a detailed teacher's Key with how to set up the problems and the answers. Although geared towards Thanksgiving, this a great activity to brush up student math skills in Science any time of year!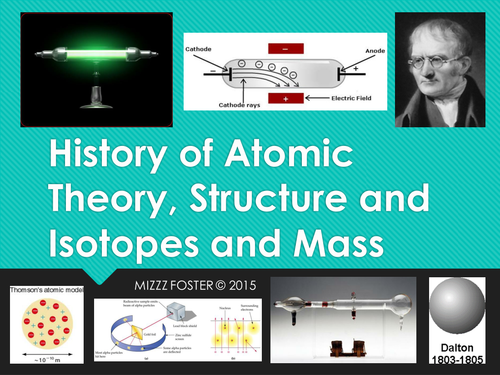 The History of Atomic Theory, Atomic Structure, Isotopes and Atomic Mass are presented in three different sections of this power point. You can see the different sections by the change in colors. You will go through the scientists and experiments which contributed to the synthesis of the Atomic theory. The next section will go over the parts of the atom. The last section will review isotopes and atomic mass. Students will also learn how the masses on the Periodic Table where calculated.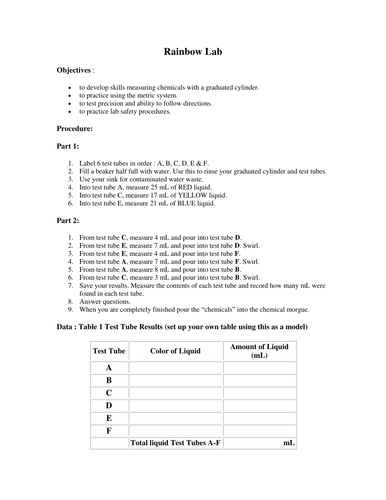 The Rainbow lab is an excellent first day activity for secondary students who have lab experience. The students have to follow instructions, measure liquids, use glassware and follow safety procedures.