Mmclean895's Shop
I am a secondary Geography and Travel and Tourism teacher. My resources are appropriate for ks3 and ks4/5 pupils.
24Uploads
5k+Views
863Downloads
I am a secondary Geography and Travel and Tourism teacher. My resources are appropriate for ks3 and ks4/5 pupils.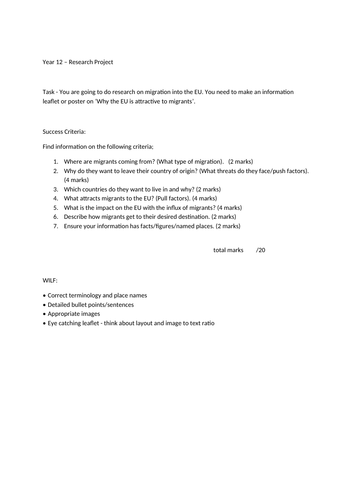 This word document is an assessed research project on Migration. It has a task, success criteria and allocated marks per section. All which can be edited. This task is to encourage independent research and to help students gain topical and real life examples of migration. Alongside ICT skills and presentation skills.
Two worksheets to help pupils become familiar with working with numbers. Numeracy in geography is an activity including ranking countries and plotting a graph from reading data. comparing development indicators includes reading from a table, answering questions and comparing MEDC and LEDC countries.
Powerpoint notes and handout with terminology for managing waste. Appropriate for KS3 and KS4 Geography.
Powerpoint on tourism terminology and places for illustration. Handout on the impacts of tourism on the environment, economy and people.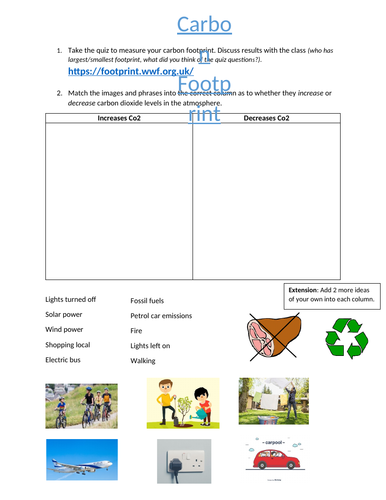 A worksheet activity on carbon footprint. Students follow the link to measure their carbon footprint then they sort the images and phrases into increases/decreases carbon dioxide.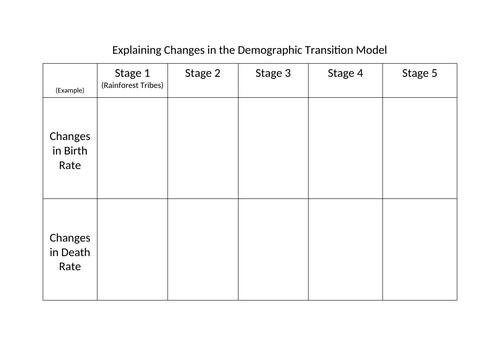 The Demographic Transition Model looks complicated to most students. Use this simple table to help they identify the changes that take place one step at a time. Display the DTM and encourage the students to take notes on the changes in each stage in the boxes in the work sheet. Keep to bullet points to make it simple and easy to revise from. Word document which makes it easy to print, share and edit.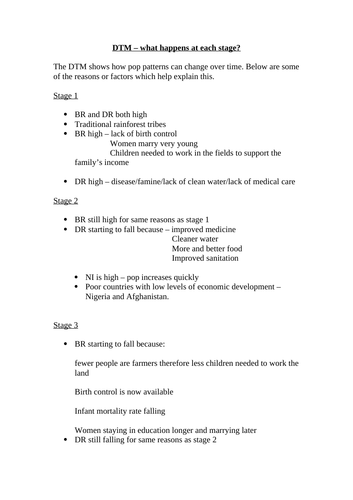 This word document is a summary sheet of the changes that take place across the DTM. Use as a class discussion and add to it if good ideas come up in class.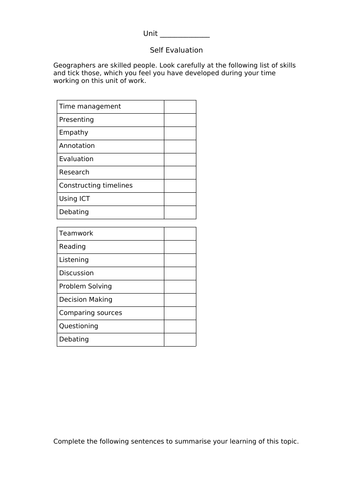 This document is used at the end of each topic in KS3. Students reflect on their learning and decide what skills they have learned, what important information they have learned and what they enjoyed most.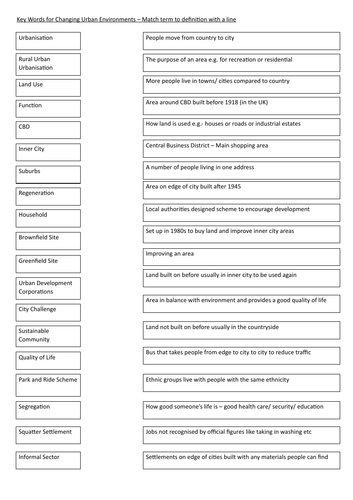 This is a worksheet activity which requires the students to match the key word to the correct definition either by numbering, colour coding or drawing a line. A good introductory lesson, homework or extension activity. PDF format for easy printing and sharing.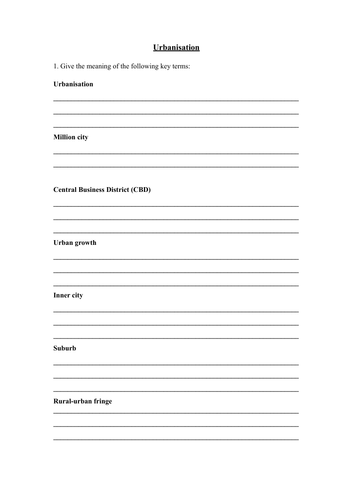 This worksheet is used to help students learn their key terms for the topic and to be able to identify urban areas. A good topic introduction homework or class activity. PDF which is easily shared and it has space for students to write or type.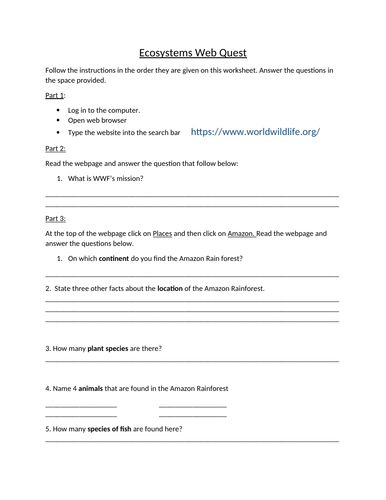 This activity requires students to access the internet to WWF.org . They follow the instructions, read the webpages and answer questions based on the reading. Topic is on the Amazon Rainforest. Extension activities at the end of the worksheet can also be used as homework.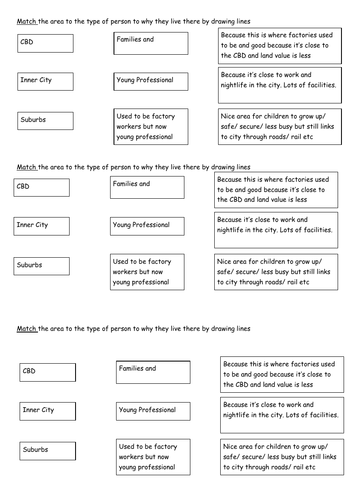 Students are required to match the land zone to the demographics and the description of the area correctly. This can be used as a cut and stick exercise or colour coded in their books. A nice homework or extension activity. 3 copies of the activity on one PDF.
CCEA GCSE Geography Unit 1 Drainage basin key terms, diagrams and introduction powerpoint presentation. Paper plate activity to embed learning. Homework to assess understanding. Interim assessment on drainage basins.
A powerpoint presentation on globalisation including case study facts on India with pupil led activity and past paper question. Also World trade terminology and past paper questions.
A powerpoint presentation on 4 factors that hinder development in an LEDC. Place for illustration on each and past paper questions.
Fairtrade and aid powerpoint presentation with key word terminology and places for illustration. Some links to websites and PC tasks. Impacted lives document is the case study referred to in the powerpoint for fair trade. Used in Geography KS3 and GCSE.
Powerpoints with key terminology and places for illustration on how manage our resources through sustainable transport and renewable energy production.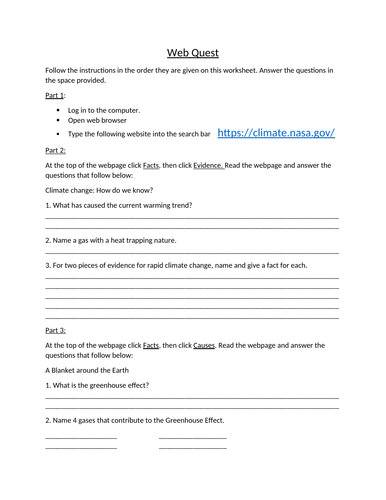 Using NASA website students independently navigate the website following the instructions to find out information on climate change, causes and effects. Good for pupils who have internet access (PC or tablet).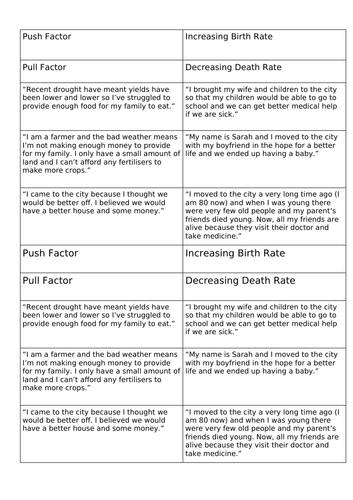 A card sort for understanding push and pull factors of Urbanisation. Students read the quotes and decide of it is a push or pull factor. A good summary or homework exercise. Word document with 2 activities on the page. Print, cut and stick into students books or colour code on the page.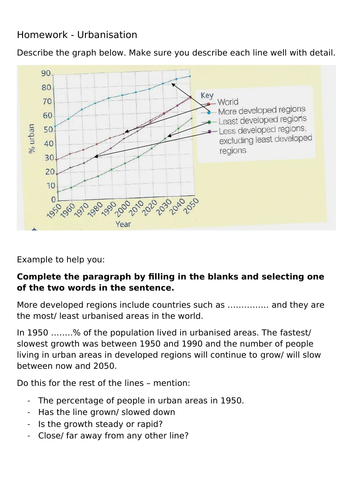 In this graph reading activity students are to complete the paragraph by reading the graph provided. They fill in the blanks and circle the correct word to complete the sentences. A good homework or extension activity for Urbanisation topic. It focuses on graph reading skills and knowledge of urbanisation around the world. A word document that can be easily printed and shared.