Mrs Giordano's Shop
New Shop! Enjoy my introductory rates: Resources for Elementary Students.
71Uploads
4k+Views
196Downloads
New Shop! Enjoy my introductory rates: Resources for Elementary Students.

An breakdown explaining how to write an Autobiography plus a graphic organizer. See the sample, you'll love it!! 5 pages

Comes with a full color double sided "mini-book" on Polar Bears along with a Fact and Opinion organizer. Print the mini-books for the whole class (laminate and keep forever) or just make a set for Guided Reading. You can keep the Fact and Opinions on the same sheet or have the children cut them out and make a bulletin board with them! I made an adorable board by cutting out a giant polar bear and putting the Facts cards on one side and the Opinion cards on the other side. Very cute and very easy. MY STUDENTS LOVED THIS BOOK AND ACTIVITY!!

Teach your students to write detailed sentences by including a who, what, where and why. Includes two sets. Varying levels of difficulty. Blank page included for independence when they have mastered adding the details. Over 50 pages!!

Simply print out the adorable kid-friendly cards, cut them out, toss them in a baggy and you're good to go! These adorable cards present pairs of opposites. The pictures provide clues to the word meanings in case your early readers need help. You will only need to print a few sets if you plan on using these in centers. OR you can print a class set and have students cut them out and glue onto construction paper- I might try that next year instead of the center (which my kids loved!).

Use as a supplementary or assessment tool to determine if your students have mastered reading numbers and completing 10 Frames. Grades k-2

Your students clip a clothes pin over the vowel that they hear in each word pictured. Then they flip it over and see if the pin covers the dot (You use a sharpie to place the dot prior to giving to the students). Includes 88 vowel cards that can be used from year to year.

100 Primer and 1st Grade Dolch Word Sentence Activity Can your students read Dolch Words in isolation but have trouble identifying them in context? This activity reinforces Dolch words: both reading them and using them in context to develop meaning.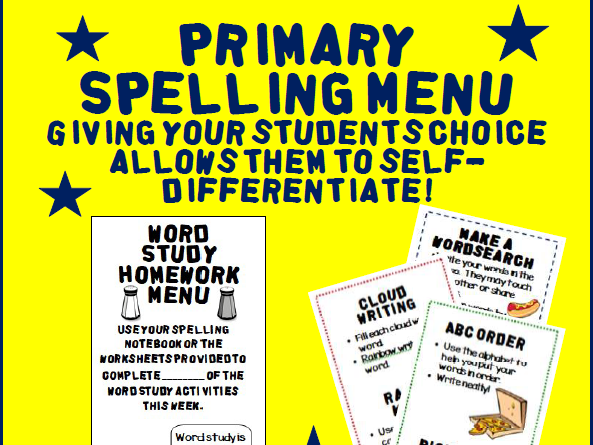 A great way to provide your students with choices that will allow them to self-differentiate. Print the menu on 8 1/2 x 11 paper then fold in half. I send home the worksheets inserted inside the menu each Monday. This has been a hit with both parents and students. Can also be used at Literacy Centers.

Your students will have fun "dabbing" or coloring in the letters to spell CVC words. I'm editing this to include: I tried this in my own classroom and it was a wonderful tool to see who could spell CVC words. It worked so well because EVERYONE FINISHED IT!!! The kids really enjoy "dabbing" so it was no problem to get reluctant workers engaged!

My first grade students struggled with the concept of syllables. So, I made this center which served as a great solution. There is a picture, a word and dots representing the syllabic breakdown of each word. A great re-usable center or independent activity. I printed and laminated my cards and plan on using over and over! Enjoy!!

This cute little book is so easy to assemble and makes for a great beginning of the year Center or Independent Activity. Get kids started with Conventions of Print, Letter Recognition and Centers Routine. Print, copy, slice right down the middle and staple! Voila!

258 words that come straight out of First Grade Fundations First Edition. The corresponding Week and Unit are on the top of each page. Includes ALL TRICK WORDS AND WORDS OF THE DAY. In complete alignment with Fundations. Kids Read It, Trace It, Write It, Dab It (with a Bingo stamper or they can color in with a crayon) the USE in a sentence. You can use this as homework, at a center or as morning work. I pull out all the words of the week and use at a center. The kids LOVE it!!

Students tap out the words to identify the missing letter. 2 pages for each: beginning, middle and ending sounds. CVC words. 6 pages total. A great assessment tool to determine if your children are hearing the sounds in words.

This is an adorable motivational tool that will get your students writing. Print out the cubes (I like to use card-stock) and assemble (glue spots labeled to make it easy!). Then have your kids pick three cubes to roll. They use the images on those cubes in their writing. Writing stationary included that has them circle the images they rolled for teacher reference. Two different types of lines included to suit K/1 and 2/3 writing. Enjoy!

Students cut out the pieces then put them together to build compound words. A fun tactile way to enhance your teaching of compound words 4 pages total. For 1-3 grades.

A great introduction to writing a biography. Explains what a biography is and walks students through the biography writing process. Teacher must decide if students conduct research on the internet, use a library book or use both!

Students cut-out then sort foods according to who they think would eat them…an herbivore, an omnivore or a carnivore. Then they glue them down onto the "plates".

A fun way to practice digraphs! Students use bingo dabbers (or crayons) to identify the digraph that completes each word. 3 pages. A great center activity or assessment.

A great little organizer that your students can use when reading Non Fiction texts. I love to use it with Scholastic or other news magazines.

Do some of your students work too fast! Then they might deserve a Speeding Tickets. Hand out these "tickets" if your students are rushing through their work. I laminate them and hand them out as needed. When the "perp" has shown that they did a more careful job on their work, they turn it in along with their ticket.