Mrs Oskins's Shop
English resources for KS3, 4 & 5
130Uploads
27k+Views
12k+Downloads
English resources for KS3, 4 & 5 A full scheme of work, including resources, to cover the sensitive topic of a school girl who goes missing from her family home. I use The Beatles' 'She's Leaving Home' within the scheme but do not have it available to offer as part of the scheme. I am sure it could easily be found online. There are eight lessons in total. The first, for eg, involves bringing in a bag of items that could belong to the missing girl and students working out what kind of girl the missing girl is, from these items. This is followed by a village meeting, where her disappearance is announced. Y7 & 8 particularly enjoy this scheme. White Fang - AQA English Language Paper 1 Reading style tasks and questions. Extract provided with a list of techniques for students to identify. Followed by group discussion and feedback of the effects of these techniques. Exam style question given, with help sheet provided if needed. Final task is a further extract which can be used as an extension of class work or homework task. Three articles, article-based questions and tasks on the topic of gun crime. Suitable for KS3 or 4. Might engage boys. Aimed at KS5, this scheme works through Barker's Regeneration chapters 1 to 13. USING THE BFG BY ROALD DAHL AS INSPIRATION, STUDENTS WILL CONSIDER WHAT MAKES AN INTERESTING CHARACTER FOR A READER. THEY WILL ANALYSE DAHL'S DESCRIPTION OF FLESHLUMPEATER, WITH STEP BY STEP ANALYSIS, HELP AND SUPPORT & STRETCH AND CHALLENGE. NARRATIVE WRITING THEN FOLLOWS WITH THE OPPORTUNITY TO CREATE THEIR OWN GIANT AND PEER ASSESS USING GIVEN CRITERIA. A CREATIVE AND SKILLS BASED LESSON SUITABLE FOR BOTH KS3 & 4.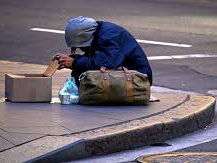 1-2 lessons (depending on pace) using homelessness in the UK as a topic for writing a broadsheet article. Preparation / information gathering tasks, timed response and peer assessment using given markscheme. 3 articles on homeless provided as part of lesson. Around 15 lessons on a range of women's poetry of the First World War. A wide selection of poems taken from the anthology 'Scars Upon My Heart' - lessons and poems included. Aimed at A Level English Literature students but could stretch able pupils at GCSE.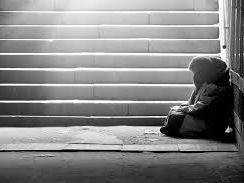 AIMED AT MIDDLE ABILITY KS3, THIS COMPLETE LESSON LOOKS AT THE IDEA OF A POEM HAVING A SPEAKER. ALSO COVERED IS LANGUAGE USED TO CREATE TONE. INCLUDES LINK TO HOMELESS DOCUMENTARY AND INCLUDES SOME CREATIVE ACTIVITIES. A 21 lesson scheme (which includes 2 x introductory lessons on Dystopian Fiction) plus a mini assessment which asks students to answer two questions. 1 x Writer's Language question and 1 x Writer's Use of Structure question. Included is a ppt for feeding back to students, which contains example responses. The scheme itself covers a range of skills now required at GCSE.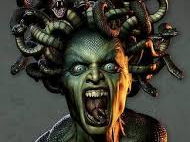 Using Anthony Horowitz's retelling of this myth, there are several activities looking at the different sections of this myth. This is the tale of Perseus and how he slays Medusa. Please see my 'shop' for further resources. As an optional starter task, you could create a 'Pandora's Box' of objects related to the Gorgon's Head myth, for students to use to predict what will happen. I have used toy snakes, pebbles, Halloween eyeballs etc. Students then use inference skills to create an impression of King Polydectes, draw the gorgons using the given extract, list four things they have learned about them (in the style of Language Paper 1 Q1) with answers supplied for easy self assessment. After this, students can research Athena on computers or phones. Students then analyse the writer's use of language to describe Medusa's cave using an evidence table which supplies suggested answers for easy assessment. Finally, draw Athena's shield to include Medusa's head and play the interactive whiteboard game 'Gorgon's Head' to sum up learning. AIMED AT LOW TO MIDDLE ABILITY Y9, 10 AND 11, THIS RESOURCE CONTAINS A SHORT SUMMARY OF ALL POWER AND CONFLICT ANTHOLOGY POEMS, WITH KEY IDEAS. EACH SLIDE FOLLOWS THE SAME FORMAT AND IS DESIGNED TO BE AN UNCOMPLICATED REVISION TOOL FOR THE LESS ABLE GCSE ENGLISH LITERATURE STUDENT. USEFUL REVISION GUIDE FOR THE ENGLISH LITERATURE EXAM. Aimed at mid to low ability, this resource contains 4 separate worksheets which challenge students to find the answers in the given extract or extracts. Activities based on Harry Potter and the Goblet of Fire, Treasure Island, Buddy and the planet Mercury. Could be used as homework or to support low ability KS4 students prepare for the English Language papers. Three lessons aimed at informing students about life in Victorian England, working children, the workhouse and the differences between rich and poor. Includes a range of engaging activities. This two lesson resource gives students an example of a story, for which they can discuss what the candidate has done well and what could be improved. Following this they can use the mark scheme included (from the new spec AQA) to award a level / mark. Using this knowledge of what makes a good narrative, the remaining slides give some prompts and advice about how to go about planning and writing a narrative. Planning sheet and suggested titles is included for students to plan according to what they have learned. The actual story could be written by way of extension. This resource comprises of an introductory personification task, followed by analysis of Daphne du Maurier's use of personification and pathetic fallacy in her novel Rebecca. Concludes with a creative task to continue the author's description using the same techniques. Aimed at middle to low ability KS3, this lesson looks at the context of Victorian England, giving a range of information about life in the workhouse and looking at the difference between the lives of the rich and poor. There is also an extract from Berlie Doherty's 'The Street Child' to analyse. Perfect for introducing any Victorian novel, but with A Christmas Carol in mind. Based on Anthony Horowitz's re-telling of the myth, this resource contains several activities to work through the story. Contains a range of teaching and learning activities to stimulate children's interest, with a focus on Q1 & 2 English Language Paper 1 skills. The final task is a dramatic performance of the humorous scene where Thrym tries to kiss Thor! A LESSON LOOKING AT POSSIBLE EXAM QUESTIONS. ACTIVITIES INCLUDE A FOCUS ON MRS JOHNSTONE AND MRS LYONS (CUT AND STICK, TEAM COMPETITION) AS CHARACTERS WHO HIGHLIGHT THE DIFFERENT SOCIAL CLASSES SHOWN IN THE PLAY. GOOD PREPARATION FOR THE LITERATURE EXAM. Starter or plenary activity, aimed at revising the power and conflict anthology. All slides contain three quotes and a picture that represents one of the 15 poems in the collection. The slides should be cut up and spread around the room, so that students can match up the quotations to the correct poem. A copy of the poem with some questions for students to answer. Teacher copy with answers provided.