Observed and Interview Lessons
Lessons appropriate for observations and interviews. Thoroughly planned and tested.
11Uploads
4k+Views
1k+Downloads
Lessons appropriate for observations and interviews. Thoroughly planned and tested.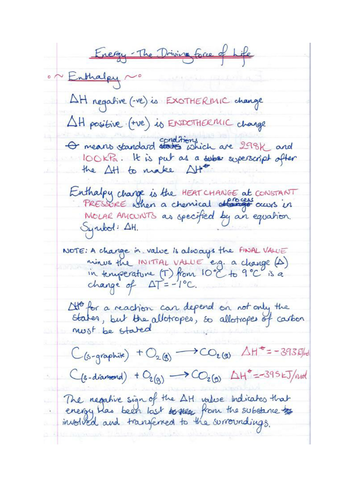 Detailed notes for the A-Level Chemistry student on Enthalpy (32 A4 Pages). Can also be used by a teacher for refreshing their knowledge or to gain some examples to use with their students. These notes have been on the most part HAND WRITTEN and SCANNED IN, HOWEVER there are a few typed pages at the end. Includes: -Definitions -Enthalpy diagrams and interpretation -Enthalpies of Combustion and Formation -Enthalpy of Neutralisation -Experimental Measurement of Enthalpy Changes (includes calculations, explanations of variations in results and a hand-drawn diagram -Measuring enthalpy changes for reactions in solution (with method and worked calculation) -Hess's Law and Calculation of Enthalpy (lots of examples and calculations and different methods of calculation using cycles) -Average bond enthalpies -Entropy -Thermodynamic vs Kinetic Stability -Suggested resources (links to videos and websites etc.)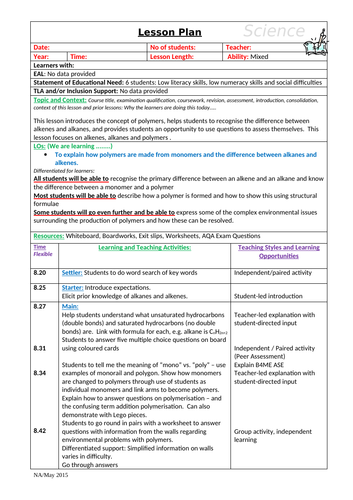 Contents Complete with interview lesson plan, this lesson was originally developed for Section C1 of the now discontinued 'Science A' AQA Specification for Year 10 Core Exams, however this is still in the specification for the new 9-1 Chemistry (triple) exam, particularly higher tier. Learning Objective • To explain how polymers are made from monomers and the difference between alkanes and alkenes. Differentiated for learners: All students will be able to recognise the primary difference between an alkene and an alkane and know the difference between a monomer and a polymer Most students will be able to describe how a polymer is formed and how to show this using structural formulae Some students will go even further and be able to express some of the complex environmental issues surrounding the production of polymers and how these can be resolved. Notes The lesson can be pulled off in as little as 50 minutes with good pace but has enough material for more. You will require the 'coloured card' method of using various coloured cards with letters on them (A, B, C or D) to match appropriately with the quiz questions. The sea of colours helps to quickly identify any students who don't understand, and demonstrate to the observer that progress is being made.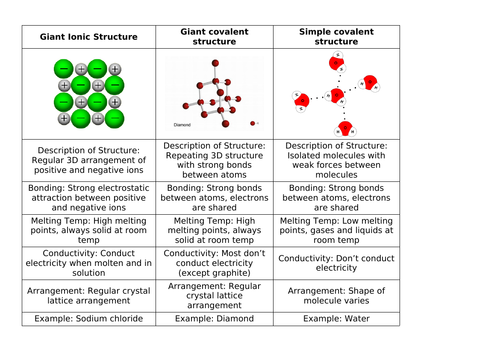 This is a chemistry lesson focused on properties of simple, giant ionic and giant covalent bonds. It will require a bit of teacher led input (there isn't a powerpoint) but the lesson should be pretty straightforward, make sure you have access to water, salt and a power pack for a practical demo on conductivity. Bonne chance!!
A3 Poster Summary of Atomic Structure for A Level students - also probably useful for GCSE (Higher papers). Great to laminate and put around your classroom or science department. Enjoy! -The Titration Technique (and associated calculations and definitions) -Periodic Table, States of Matter and Bonding (with definitions) -States of Matter -Allotropes -Electronegativity -Why water expands when cooled -Notes expanded from the mind map -Useful links to websites and videos