Observed and Interview Lessons
Lessons appropriate for observations and interviews. Thoroughly planned and tested.
11Uploads
4k+Views
1k+Downloads
Lessons appropriate for observations and interviews. Thoroughly planned and tested.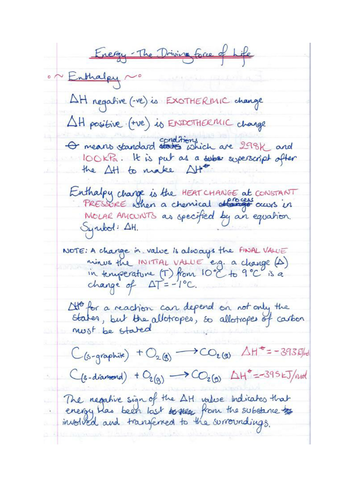 Detailed notes for the A-Level Chemistry student on Enthalpy (32 A4 Pages). Can also be used by a teacher for refreshing their knowledge or to gain some examples to use with their students. These notes have been on the most part HAND WRITTEN and SCANNED IN, HOWEVER there are a few typed pages at the end. Includes: -Definitions -Enthalpy diagrams and interpretation -Enthalpies of Combustion and Formation -Enthalpy of Neutralisation -Experimental Measurement of Enthalpy Changes (includes calculations, explanations of variations in results and a hand-drawn diagram -Measuring enthalpy changes for reactions in solution (with method and worked calculation) -Hess's Law and Calculation of Enthalpy (lots of examples and calculations and different methods of calculation using cycles) -Average bond enthalpies -Entropy -Thermodynamic vs Kinetic Stability -Suggested resources (links to videos and websites etc.)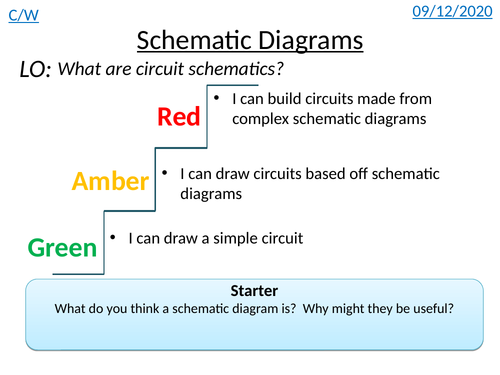 Students will learn how to read schematic diagrams as opposed to just traditional circuit diagrams. They will learn how to infer voltage from given questions. They will learn how to interchange between traditional circuit diagrams and schematic diagrams. They will finish with an exam question originating from the exam board. Opportunities for self/peer assessment are within the lesson. A link to a relevant video is within the lesson.
A list of electrical safety hazard symbols and their meanings for students to refer to during GCSE electronics or any Physics topic in GCSE Alternatively you could purchase the other lesson in the store 'Introduction to WJEC GCSE Electronics' which includes this resource
This introductory lesson to the WJEC Eduqas Electronics course goes over how the course is structured, rules and expectations. Electrical safety hazard symbols from my store has now been packaged into this lesson.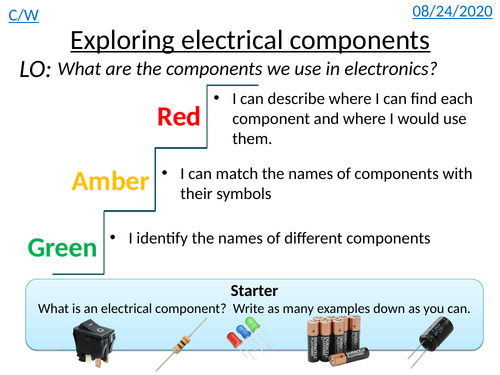 This lesson allows students to explore the different functions of components they may come across during the electronics course, and as such is more detailed than Physics GCSE. It took me a long time to make this resource since no one has made this kind of resource before. Hence the price. It features everything from the potentiometer to the LDR and simple lamp. It is a very student led lesson with teacher guidance. It makes things very easy for a teacher to deliver. It requires access to the internet. Worksheets can be sent to students so they fill these in directly due to covid etc. As is standard practice with lessons, always check you are happy with the video resource before showing it to students. So no complaints on this please Video used is: https://www.youtube.com/watch?v=OEL5laB3hfU It has: Starter Short - CAPTURE INTEREST - video clip Activity (bulk of lesson) Answers to this activity Match up mini plenary Answers to this Exam question (taken from actual WJEC paper) Answers to this. A worksheet and its filled out form is detailed inside with occasional tips on each slide. This is a 50-60 minute lesson. Enjoy your lesson, please rate and review :)