462Uploads
92k+Views
61k+Downloads
GCSE History for Edexcel This lesson looks at the key problems Elizabeth faced when she became Queen in 1558. There are some recap activities from the previous lesson which look at the structure of society and government and a 4 mark describe question. The main activity requires students to work through a card sort activity whereby the prioritise the evidence, organise it based on significance and follow it up with a 4 mark exam question and an activity whereby offer Elizabeth advice before attempting a 12 mark question. Exam support included. An easy to follow lesson on Titanic. Students review pieces of evidence and categorise and organise this these into a diamond 9 (or score each piece of evidence) to determine who they think was to blame for the Titanic disaster. They follow this up with a report writing activity to explain their theory and also to offer suggestions on how future disasters might be avoided. Literacy support and differentiated materials/ resources are included. As always there are clear instructions and high quality differentiated resources. These lessons take many hours to plan and create so please leave a review if you have time :)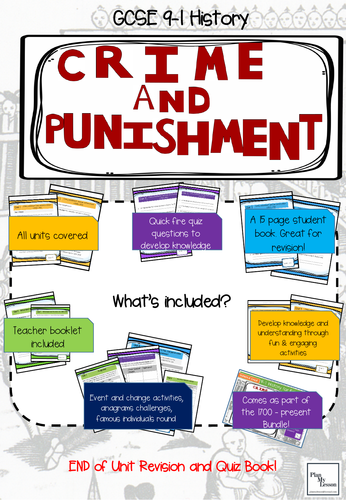 A 15 page Crime Punishment revision and quiz booklet. Perfect for that end of term lesson(s), for revision sessions, homework tasks, plenary or starters or can simply be used as a fun Christmas lesson for a topic quiz. The booklet includes 5 quick fire questions for each of the five units c1000-c1500,c1500-c1700, c1700-c1900, c1900-present & Whitechapel. In addition there is a famous individual round, matching crimes and laws to the correct era, an event and change quiz, anagrams and significant events in the story of crime and punishment. This product can be purchased in the 1700-present Bundlehttps://www.tes.com/teaching-resource/edexcel-history-gcse-91-crime-and-punishment-c1700-present-11501920. Or if you are new to TES set up an account and get this resource for free with the code NOVEMBERNEWBIE. A teacher answer booklet is included too A lesson on the changes to the death penalty in the 20th century. Students analyse the laws/ changes and assess the reasons for these changes in law, which they attempt to attribute to a factor e.g. individuals. They must also decide which factors are most important and respond to an exam style question. They use the factor cards to complete a living timeline on the changes to capital punishment during the period of study. There is also an activity which looks at 3 controversial executions in this time period and the significance of these. The Narrative question exam preparation. This product includes all of the material required to teach the two narrative exam style questions. Students read about two key events (the creation of satellite states and the Berlin crisis, 1948-49), complete a card sort activity, sequence key events before writing up their responses to the questions. A student-friendly mark scheme is included as well as structure tips for this question type. There is also literacy support and exam tips for how to approach this type of question. In the examination students should aim to spend 10 minutes writing up this question, so this could be a timed activity. It's important that the students start to get into the habit of arranging and sequencing the events and using the linking language. Terms of Use: Purchase of this item entitles the purchaser the right to reproduce the pages for personal and classroom use only. Duplication for other classes, an entire school or for commercial use is strictly prohibited without written permission from the author. Minor editing is allowed but only for personal use. The document remains under copyright even when edited. Pasting this item in whole or part on the Internet in any form is strictly prohibited and a violation of the Digital Millennium Copyright Act (DMCA). Copyright 2017 This lesson looks at the key features of society and government in 1558. Students create diagrams to show social and town hierarchy in the period before cutting, matching and organising cards to show the key features and role of the government. They use this completed chart to respond to a series of scenarios that could happen in England in 1558 and they have to determine which members of the government would intervene. An exam question to finish. As always there are clear step by step instructions and differentiated resources. A lesson on victorian women and the first lesson in the Votes for Women unit of work. Students spot differences between victorian women and 21st century women before extracting information from sources and finally creating an lonely hearts advert for a man seeking the perfect victorian woman. As always there are clear step by step instructions. A 35 page revision guide and workbook. This booklet contains detailed grade 9 knowledge and information on all aspects of Unit 3. There are a wide range of exam questions with a how to guide for each question type, example responses and hints and tips. There are a range of worksheets and revision activities for each key area in unit 3. Mutiple choice quizzes, self assessment tasks, key term quizzes and the opportunity to practice exam style questions throughout. This booklet can be used to teach the entire unit during lessons or set as homework tasks or for flipped learning. If you are short of time this booklet can be used to ensure that your students cover the required knowledge, skills and are exam ready. This booklet amounts to around 10 lessons or is ideal for cover too. These resources take a very long time to plan and prepare, so please leave a review if you have the time. I hope that you find these resources helpful. In addition to these Cold War study guides, I have also uploaded a complete Edexcel 9-1 Nazi Germany Study Book, which can be found here https://www.tes.com/teaching-resource/edexcel-9-1-gcse-weimar-and-nazi-germany-student-revision-guide-11784034 Lesson 20 of our Edexcel Crime and Punishment Unit. A lesson on the work of Fry and Howard and the subsequent changes to prisons. Students are introduced to some sources about the use and condition of prisons in the 17th century, which they analyse and use as evidence to comment on the state of prisons. They then work through a range of activities such as creating a fact file, a research task on Fry and Howard. Once they have secured their knowledge of the work of the reformers they begin to link their work to prisons changes and write up how their work affected prisons in the period. All resources are differentiated with literacy support and prompts.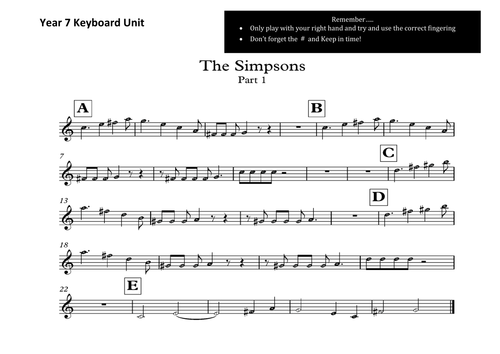 3 different levels of score to choose from when playing the simpsons and a powerpoint to recap/introduce noation and keyboard work 6 fully resourced lessons for the historic environment unit of Crime and Punishment module. Each lesson is easy to follow (with a step by step guide to the tasks), fully resourced (worksheets, card sorts, exam style questions, literacy support, etc). The lessons cover all of the knowledge set out in the spec. This lesson teaches the skills required for the Narrative Question, paper 2. Students begin by looking at the mark scheme. In pairs they create a list of 3 top exam tips. They are then introduced to two Question 2 style exam questions. They work their way through a series of differentiated steps before writing up a response to one of the questions (the other can be set as a homework or as a starter for the next lesson). There are some sample responses that the students can mark and comment on (editable so that you can change depending on your groups ability range). Once they have done this there is opportunity for them to develop their answer before a bit of peer assessment. The lesson concludes with the students refining their exam tips set out in the starter activity. A structure strip and worksheet included. for the structure strip, I make the double-sided (cut out the literacy support and stick it to the back of the strip). I hope people find this lesson useful. Everything needed to successfully teach the early Elizabethan England course, This bundle includes 19 enquiry based lessons. Each lesson includes a powerpoint presentation with a step by step guide and activities, high quality worksheets, engaging activities, exam questions and support material. This lesson introduces students to the importance of factors in history in prep for the new GCSE spec. They identify the key factors from knowledge cards and use these to sort cards and to rank the importance of events before responding to a 'how far' style question. Literacy support and differentiated resources included. As always there are clear step by step instructions with differentiated resources and activities. This lesson looks at the different ethnic/ political groups who moved to Whitechapel during the 19th century. Students extract information and add it to a matrix before determining which group they believe posed the greatest threat to the police in Whitechapel. A source based question supports the knowledge from this lesson and draws on content from the previous lesson re source skills and types of evidence. All resources and activities are included in a printable work booklet Handy structure strips that cover all the different types of questions (GCSE Modern Depth Study). I use these for the Weimar and Nazi Germany Unit. They are very useful when preparing students for exam preparation, assessments and writing up questions in lessons. The students also use these to make their own structure strips for revision. These can also be purchased as part of our Weimar Revision Pack (link below). https://www.tes.com/teaching-resource/edexcel-9-1-weimar-and-nazi-germany-1918-1939-revision-resource-pack-11637138 This lesson examines how the growth of towns led to growing crime rates in the early modern period and the role of town constables and night watchmen (and thief takers) in response to this. Students work through various activities to make a judgment about the effectiveness of urban law enforcement. Differentiated worksheets and resources included. Terms of Use: Purchase of this item entitles the purchaser the right to reproduce the pages for personal and classroom use only. Duplication for other classes, an entire school or for commercial use is strictly prohibited without written permission from the author. Minor editing is allowed but only for personal use. The document remains under copyright even when edited. Pasting this item in whole or part on the Internet in any form is strictly prohibited and a violation of the Digital Millennium Copyright Act (DMCA). Copyright 2017 Easy to follow lessons which examines the changes brought in by the Normans following the conquest of Britain. Several tasks and worksheets are included in this lesson, these include plotting the changes/ continuity on a graph, spotting differences between Saxon and Norman justice, self assessment tasks and a 12 mark question (with mark scheme). A concise 5 page A4 revision and teaching sheet for the crime, punishment and law enforcement in medieval England, Area of Study 1. This comes with key vocabulary, an overview of the period, info on law enforcement, changes and continuity during the period, case study knowledge, a student assessment grid and exam question example and advice. I'll be doing one of these for each of the units, so keep your eyes on my page. This product comes as part of Unit 1 Crime and punishment through time c.1000-c.1500 https://www.tes.com/teaching-resource/edexcel-gcse-9-1-history-crime-and-punishment-c1000-c1500-11463922 Students label a WW1 trench system. extract evidence from a Horrible Histories sketch about life in the trenches, before analysing sources to determine how accurate HH are in their interpretation of trench life. The main task is writing a letter to the producers to explain how the sketch could be improved. As always there are clear step by step instructions.