Polarity24's Shop
Providing resources for GCSE Science and A-Level Chemistry.
174Uploads
44k+Views
11k+Downloads
Providing resources for GCSE Science and A-Level Chemistry. Knowledge organisers for the new AQA GCSE 2016 Physics syllabus. Included are knowledge organisers which cover the whole content of the GCSE Physics paper 1 exam for** both trilogy (combined) and triple (separate science) syllabuses**. Each knowledge organiser has been split into sections following closely the AQA specification. Topics covered are: P1 Conservation and dissipation of energy, P2 Energy transfer by heating, P3 Energy resources, P4 Electric circuits, P5 electricity in the home, P6 Molecules and matter and P7 Radioactivity. The triple content within these chapters (like Gas pressure, temperature, infra red radiation, nuclear radiation, medicine, fission and fusion are also covered and colour coded so students know which content is relevant. Key tier 3 vocabulary has also been clearly defined as a separate section in each knowledge organiser. Any graphs and equations that they need to know included. An A-Level Chemistry resource on calculating Amount of substance (Moles). The worksheet is differentiated with each section increasing in difficulty. Answers are included with each section so that students can check their progress. This is the first half of this resource, the 2nd half is also available on this website with 2 more pages on atom economy, empirical formulae, percentage yield etc. The complete set has 16 sections in total. If you like this resource there are others of a similar format on calculating entropy, pH, Kc, Kp, Grignard reagents, inorganic formulae, Ecell, pV = nRT etc. These sheets conrain examples of every type of exam questions atudents may face. A set of 128 printable flash cards suitable for the AQA A-Level Chemistry topic of Organic chemistry. Questions cover theory on the naming, sketching of displayed, structural and skeletal formulae, fractional distillation, cracking, reforming, oxidation, combustion, hydrogenation, electrophilic addition, inductive effect, polymerisation etc. Covers all the informtion they need to know about introductory chemistry on the alkanes and alkenes including the mechanisms of free radical substitution and electrophilic additon (markovnikov). In PowerPoint format, the cue cards print out in the correct format. Once printed, all it takes 1 minute to slice the cards and prepare a set, is formatted so the answers will show on the reverse of the question card. 9 knowledge organisers for the new GCSE (2016) AQA Syllabus. Covering topics chemical changes, structure and bonding, chemical calculations, chromatography, chemical analysis, organic chemistry (crude oil, hydrocarbons, alcohols, carboxylic acids, polymers) and reactivity series/extraction of metals. A knowledge organiser on the A-level chemistry practical "preparation of aspirin" from 2-hydroxybenzoic acid and ethanoic anhydride using a phosphoric acid catalyst. The knowledge organiser includes the method and apparatus diagrams and goes into more depth about filtration under reduced pressure, recrystallisation and reflux. I use it in my lessons to go through the procedure in greater depth and then students refer to this when practising questions. An Alevel Chemistry knowledge organiser on entropy. Includes information on entropy, feasability, entropy of the system, surroundings, total entropy, Gibbs free energy, temperature at which a reaction becomes feasible etc. Comprehensively covers the whole of the entropy syllabus on one page. An editable A-Level Chemistry knowledge organiser on Transition metals Ligand exchange reactions. Includes information on why we see a change in shape, colour and coordination number. Example equations are also given for ligand exhange reactions including partial ligand exchange. A complete revision package of over 100 A-Level Chemistry resources with coverage of the A-Level Chemistry topics suitable for AQA, Edexcel or OCR syllabuses (periodic table, amount of substance, redox equations, organic chemistry, acid base equilibria, shapes of molecules, pVnRT, percentage uncertainty, qualitative tests, NMR, IR, mass spec, titrations, Gibbs free energy, Grignard, electrolysis, equilibrium, enthalpy, entropy, born haber, isotopes, kinetics, transition metals, Ecell etc and much more). The resources include knowledge organisers, cue cards, revision quizzes, mind maps, worksheets, cut and stick, group work activities, co-operative learning activities, quizzes, differentiated worksheets, interactive PowerPoints etc. These resources can be used to accompany a lesson on the topic or as part of a revision lesson. Due to the large quantity of files they have been attached as a Zip file. An A-Level Chemistry differentiated revision resource on calculating the ideal gas equation pV = nRT. Contains 8 different sections of questions, section 1 starts with the basics, practicing conversions of pressure, volume and temperature into the correct units, the last few sections contain exam style questions. Takes about an hour to complete. The resource is editable with an answer sheet included. Suitable for A-Level Chemistry across all syllabuses. A revision resource with questions on calculating entropy of the system, surroundings, total entropy and entropy of solution for dissolving ionic salts. Answers are included within the editable worksheet which allows students to mark their work and monitor their progress. The questions get more difficult as each section progresses. A set of revision structure strips covering all of the new 2016 AQA GCSE Chemistry trilogy (combined) syllabus for papers 1 & 2. Structure strips are a simple but effective way that students can revise the large amount of knowledge in the new syllabus. There is complete coverage of the knowledge for each topic. The structure strips stick into the margins of an exercise book and students write the answer to each question. 310 questions on the topics: Atomic structure, periodic table, structure and bonding, chemical changes, electrolysis and energy changes, Rates and equilibrium, Crude oil and fuels, chemical analysis, The Earth's atmosphere and The Earth's resources. Answers to every question provided. This is a differentiated A-level chemistry revision resource covering the different types of Ecell questions. There are 8 sections, each one increasing in difficulty. The resource is editable and the markscheme is provided. Could be used in a revision lesson at the end of the topic. There is also useful tips on how to calculate Ecell and writing of cell diagrams. There is one of every type of Ecell question that students could be tested on in an exam. Takes about 2 hours to complete. I also have several other resources like this one in my shop on moles, pV=nRT, redox titrations, entropy, Equilibrium Kc & Kp, pH calculations and also buffer calculations. Each one covers all the different types of calculations they need to revise for the exams. An AQA Chemistry GCSE resource showing students how to calculate reacting masses from chemical equations. Teaches students to calculate how much of a product will be formed from a known mass of reactant. KS4 Resource on electrolysis Instructions: There are 16 boxes of questions. Print off in various colours and then cut out so they are in stacks stapled Q1 – 16. Each team is allocated a different colour. They rip a question off at the front of the class and take it back to their team to answer it. They then bring it back to teacher at front who marks it.If correct they can move onto the next Q. If incorrect they return to their group and re-attempt. First team to complete all Qs wins. A comprehensive mind map on organic synthesis which students can use to revise the theory Students can use the resource to produce routes for organic synthesis required in A-Level Chemistry exams. Flash cards on shapes of molecules suitable for the new A-Level chemistry syllabus (2015), students can test their knowledge of shapes of molecules, including linear, trigonal planar, tetrahedral, octahedral etc. Flash cards print out and ready to use immediately with answers on the reverse of each card, takes a few mins to slice & prepare a class set of cards. 5 resources on A-Level Chemistry topic "Amount of substance". Covers moles, empirical formulas, percentage error and ideal gas calculations A knowledge organiser on inorganic qualitiative tests including cation flame tests, tests for the magnesium and ammonium cations, the sulfate and carbonate anions, halides tests (silver nitrate, displacement and reaction with concentrated sulfuric acid.) The knowledge organiser also includes relevant ionic equations where applicable. An A-Level Chemistry Transition metal revision resource including a game board and questions. Land on a square with a star and you have to answer a question. Questions are included with answers and are relevant for all A-Level exam boards.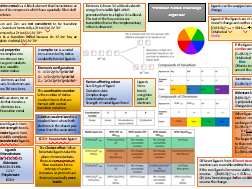 A Knowledge organiser on the A-Level Chemistry topic Transition metals. Includes theory on electronic configuration, definitions, shapes, colours of chromium, vanadium and hydroxide precipitates, complexes and reactions with hydroxide ions.