Polarity24's Shop
Providing resources for GCSE Science and A-Level Chemistry.
174Uploads
58k+Views
15k+Downloads
Providing resources for GCSE Science and A-Level Chemistry. A knowledge organiser on the A-level chemistry practical "preparation of aspirin" from 2-hydroxybenzoic acid and ethanoic anhydride using a phosphoric acid catalyst. The knowledge organiser includes the method and apparatus diagrams and goes into more depth about filtration under reduced pressure, recrystallisation and reflux. I use it in my lessons to go through the procedure in greater depth and then students refer to this when practising questions. Knowledge organisers for the new AQA GCSE 2016 Physics syllabus. Included are knowledge organisers which cover the whole content of the GCSE Physics paper 1 exam for** both trilogy (combined) and triple (separate science) syllabuses**. Each knowledge organiser has been split into sections following closely the AQA specification. Topics covered are: P1 Conservation and dissipation of energy, P2 Energy transfer by heating, P3 Energy resources, P4 Electric circuits, P5 electricity in the home, P6 Molecules and matter and P7 Radioactivity. The triple content within these chapters (like Gas pressure, temperature, infra red radiation, nuclear radiation, medicine, fission and fusion are also covered and colour coded so students know which content is relevant. Key tier 3 vocabulary has also been clearly defined as a separate section in each knowledge organiser. Any graphs and equations that they need to know included. Some A-Level Chemistry resources on the thermodynamics topic of Gibbs free energy. The first resource contains 6 sections of calculations with each section increasing in difficulty. This resource is differentiated and takes about an hour to complete. Is excellent revision on Gibbs free energy calculations and nicely prepares students for the exam with relevant exam standard calculations including a graph. Answers are included. Also included are Entropy worksheets (with answers) on calculating Gibbs and how it is related to the equilibrium constant. A bundle of 3 knowledge organisers on the AQA GCSE topic organic chemistry and a large A3 poster of the whole content of the GCSE organic chemistry. The 1st is on crude oil and the reactions of the hydrocarbons (alkanes and alkenes), the 2nd on alcohols and carboxylic acids and the 3rd on Polymers (addition, condensation polymerisation, polysaccharides, amino acids and DNA). The Poster is a combination of all the information they need to know from the three organic chemistry topics, all on one A3 poster. Contains all the key information from the AQA new 2016 GCSE syllabus for the triple science organic chemistry topic. A complete revision package of over 100 A-Level Chemistry resources with coverage of the A-Level Chemistry topics suitable for AQA, Edexcel or OCR syllabuses (periodic table, amount of substance, redox equations, organic chemistry, acid base equilibria, shapes of molecules, pVnRT, percentage uncertainty, qualitative tests, NMR, IR, mass spec, titrations, Gibbs free energy, Grignard, electrolysis, equilibrium, enthalpy, entropy, born haber, isotopes, kinetics, transition metals, Ecell etc and much more). The resources include knowledge organisers, cue cards, revision quizzes, mind maps, worksheets, cut and stick, group work activities, co-operative learning activities, quizzes, differentiated worksheets, interactive PowerPoints etc. These resources can be used to accompany a lesson on the topic or as part of a revision lesson. Due to the large quantity of files they have been attached as a Zip file. A bundle of 20 knowledge organisers I have made for the new 2015 A-Level Chemistry syllabuses. The knowledge organisers are on the following topics: atomic structure and the periodic table, acid base equilibria (pH), Ecell, thermodynamics (Entropy), Equilibrium, organic chemistry (hydrocarbons, crude oil, fuels, organic synthesis, polymers, proteins, DNA, amino acids), transition metals, periodic table, bonding and infra red spectra. The knowledge organisers have complete coverage of all the knowledge students need to know before they go on to tackle exam questions. An A-Level Chemistry resource on purification of organic liquids. The handout includes labelled diagrams and information on the organic techniques of reflux, distillation, washing and drying. Includes diagrams of heating by reflux, distillation, separating (tap) funnel and drying agent. With each diagram is information about what each technique is used for. E.g. purpose of washing with HCl, NaHCO3 or water. Purpose of a drying agent with relevant examples. Why antibumping granules are required in a pear shaped flask. Why the water goes in the bottom of a condenser and out at the top and much more. The information helps students prepare for questions on A-Level required practicals on organic chemistry. An A-Level Chemistry resource on titration calculations suitable for all specifications. The worksheet is differentiated with each section increasing in difficulty. Students complete titration calculations on determining volume, concentration, Mr of a compound, percentage purity, formula of a compound (working out the value of n in Na2CO3.nH20) etc. The resource contains one of every type of titration question they need to answer in an exam. Answers are included. There are 6 different sections and the worksheet takes a standard double lesson for students to complete.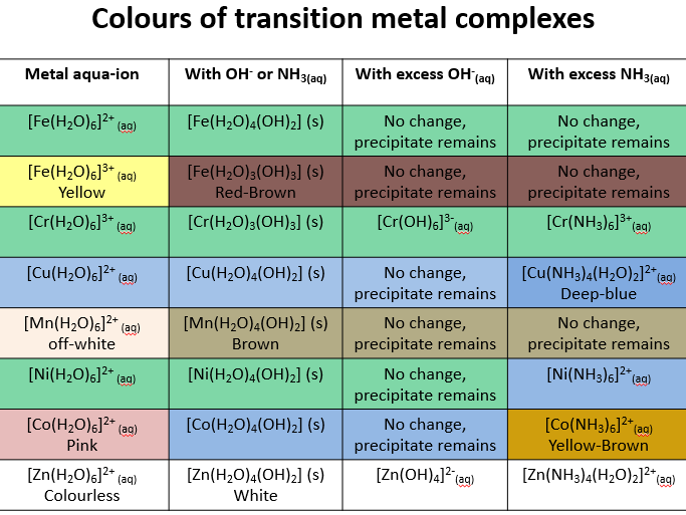 PowerPoints going over the reactions of Transition metals, deprotonation, ligand exchange. relevant for A-level Chemistry. Also includes another Power Point on the colours of the Transition metal precipitates. A bundle of 20 A-Level Chemistry resources including topics Amount if substance, Energetics, equilibrium, ecell etc. A lesson on Grignard reactions consisting of a PowerPoint and a worksheet. Suitable for all A-level exam boards. covers the 3 steps in the Grignard reaction and includes information on how to get the reaction started, solvent, conditions and relevant equations. The editable worksheet comes with answers. A revision package of over 60 GCSE Chemistry resources suitable for AQA, OCR or edexcel. Resources on atomic structure, periodic table, amount of substance, chemical changes, energy, electrolysis, chemical analysis, rates and equilibrium, organic chemistry, earths atmosphere and resources etc). The resources include numerous revision questions, structure strips, knowledge organisers, revision quizzes, worksheets, cut and stick revision activities, group work activities, co-operative learning activities, traffic light quizzes, differentiated activities, hexagon challenges etc. These resources can be used to revise at the end of a topic or for revision towards the end of the course. Due to the large quantity of files they have been attached as a Zip file. As a bonus, some GCSE Physics revision resources have also been included in the downloads as well.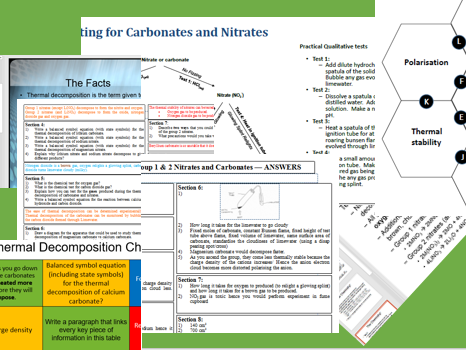 Eight resources on the thermal decomposition of the group 1 and 2 nitrates and carbonates. The first resource is a differentiated worksheet with the questions designed around the style of AQA, Edexcel and OCR exam papers and test students on every aspect of the topic including the reactions, observations, trends, theory of charge density/polarisation and finishes with a few questions on how we measure it experimentally. I looked at exam papers from all three exam boards when designing this resource so that it provides comprehensive coverage for my students. Answers are included. There is also a resource which goes through the qualitative observations associated with thermal decomposition of the carbonates and nitrates (what's observed e.g limewater goes cloudy, brown gas of Nitrogen dioxide etc). I have also included a spider diagram of the reactions/observations and Power Points which explain the science behind it. There is then a hexagon activity and a challenge grid, both designed at stretching & challenging the students. A variety of resources for the new AQA GCSE Physics syllabus on electric circuit symbols. There's a cut & stick "design your own circuit activity", a Tarsia activity, a table for students to write in the name of the component and its function. There's also a diagram which requires the components of an electric circuit to be labelled. Answers to all resources are included.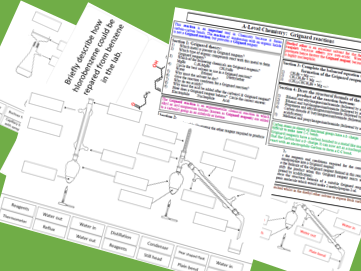 A bundle of 20 resources covering A-Level organic Chemistry including mind maps, flash-cards, knowledge organisers, worksheets, PowerPoints, quizzes, revision tables, apparatus diagrams etc. Covers Chemistry of alkanes, alkenes, alcohols, halogenoalkanes, carbonyls, esters, acyl chlorides, Benzene, Amines, Amino acids, Amides , Grignard reactions and organic synthesis (including the apparatus used in organic synthesis), naming and skeletal formulae. A knowledge organiser on NMR spectroscopy suitable for A-Level Chemistry syllabuses. Includes information about the theory of 1H (proton) NMR. Includes explanation of how NMR works (property of spin, magnetism and radio waves). Also contains information about TMS, solvents, labile protons, Low and high resolution, spin-spin coupling, n+1 rule, splitting patterns, integration etc.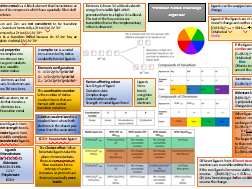 A Knowledge organiser on the A-Level Chemistry topic Transition metals. Includes theory on electronic configuration, definitions, shapes, colours of chromium, vanadium and hydroxide precipitates, complexes and reactions with hydroxide ions. A GCSE Chemistry knowledge organiser on the organic chemistry topic crude oil and fuels suitable for the new AQA Syllabus. Includes chemistry of the alkanes and alkenes (Crude oil, fractional distillation, cracking, fuels, reactions of alkanes and alkenes, naming, general formula and polymers. A bundle of more than 30 resources (some are on a zip file) on the A-Level Chemistry topic "Transition metals". There is a complete unit of work with lesson Power Points and worksheets (with answers.) There are then revision resources on the reactions of transition metals, complexes, ligand exchange, colour etc. Includes knowledge organisers, worksheets (with answers), spider diagrams of reactions, a game, card match activities, plenaries & starters etc. Answers to resources included. Relevant for the new 2015 A-Level Chemistry Exams across all syllabuses. All you will need to teach Transition metals is here. An A-Level Chemistry resource on calculating Amount of substance (Moles). The worksheet is differentiated with each section increasing in difficulty. Answers are included with each section so that students can check their progress. This is the first half of this resource, the 2nd half is also available on this website with 2 more pages on atom economy, empirical formulae, percentage yield etc. The complete set has 16 sections in total. If you like this resource there are others of a similar format on calculating entropy, pH, Kc, Kp, Grignard reagents, inorganic formulae, Ecell, pV = nRT etc. These sheets conrain examples of every type of exam questions atudents may face.