Polarity24's Shop
Providing resources for GCSE Science and A-Level Chemistry.
123Uploads
7k+Views
2k+Downloads
Providing resources for GCSE Science and A-Level Chemistry. A GCSE Chemistry worksheet on Paper Chromatography. The worksheet is differentiated with exam questions targeting grades 1-3, 4-6 and 7-9. There's questions on mobile and stationary phases, food additives, calculation of Rf values etc. The more challenging questions require students to think in more depth about the physical processes involved in the separation, explaining how separation occurs, how we use chromatography to identify additives etc. Answers are included. A GCSE or ALevel Chemistry resource on calculating percentage error. Answers to the worksheet are included. A bundle of resources on the GCSE topic chemical calculations. Includes a knowledge organiser which gives all the definitions and formulas. There is then a calculations sheet which has one of every type of question that the students need to know. Finally a sheet which helps students calculate reacting masses. Suitable for the new 2018 AQA triple chemistry exams. A GCSE Chemistry revision resource on Quantitative chemistry (moles) which contains questions on the new AQA Quantitative chemistry chapter (Separate Science). The resource includes revision on one of every type of calculation they have to know to prepare for the new GCSE 2018 exams. The resource includes 16 sections (3 pages) of calculations on determining relative formula mass, moles, reacting masses, limiting reactants, percentage yield, atom economy, concentration, titrations and volume of gases. The resource contains answers for every question. Takes about 2 hours for the students to complete. A revision resource with questions on calculating entropy of the system, surroundings, total entropy and entropy of solution for dissolving ionic salts. Answers are included within the editable worksheet which allows students to mark their work and monitor their progress. The questions get more difficult as each section progresses. A variety of resources for the new AQA GCSE Physics syllabus on electric circuit symbols. There's a cut & stick "design your own circuit activity", a Tarsia activity, a table for students to write in the name of the component and its function. There's also a diagram which requires the components of an electric circuit to be labelled. Answers to all resources are included. An A-Level Chemistry resource on transition metal reactions with hydroxide ions suitable for the Edexcel Syllabus. Includes a colour chart of the hydroxide precipitates. The resource is editable. An A-Level Chemistry Knowledge organiser on ionic, covalent and metallic bonding suitable for the Edexcel A-Level 2015 syllabus. Contains information on simple covalent, giant covalent, ionic and metallic bonding, their structure and explanation of physical properties like conductivity, melting point etc. An A-Level Chemistry resource on calculating Kp (gaseous equilibria.) Requires students to calculate Kp using mole fractions and partial pressure. Answers are included. Starts with questions on the basics, calculating mole fraction and partial pressure. Then the questions increase in difficulty to exam standard Kp questions. The editable resource takes about a double lesson for students to complete and gives an example of every type of exam question that can come up on Kp. A complete set of 9 lesson resources on the A-Level Chemistry topic of Born Haber cycles. In our college, this content is taught over three double lessons. Includes resources on sketching the cycle, (including interactive animations), how to perform the calculations using data from the cycles, definitions of lattice energy, enthalpy of formation, enthalpy of atomisation and electron affinity. Also includes the teaching of charge density (ionic radii & charge), how we use the value of lattice energies to determine complete ionic character/degree of covalent bonding and polarisation. Accompanying the Power Points, are worksheets (with answers included) and homeworks. 7 resources bundle on the Energetics topics Born Haber cycles, enthalpy of neutralisation, Gibbs free energy calculations, entropy of system and total entropy calculations, Hess Law and a knowledge organiser on entropy. A GCSE Chemistry knowledge organiser on the reactivity series and extraction of metals. Relevant for the new AQA GCSE 2018 syllabus. Includes content on the reactivity series, dsplacement reactions, ionic equations, extraction of metals (using carbon and hydrogen) and separating salts using evaporation or recrystalisation. A complete revision package of 100 A-Level Chemistry resources with coverage of the entire A-Level Chemistry topics suitable for AQA, Edexcel or OCR syllabuses (atomic structure, periodic table, amount of substance, redox equations, organic chemistry, acid base equilibria, shapes of molecules, pVnRT, percentage uncertainty, qualitative tests, NMR, IR, mass spec,chromatography, titrations, Gibbs free energy, Grignard, electrolysis, equilibrium, enthalpy, entropy, born haber, hess law, rates of reaction, isotopes, kinetics, transition metals, Ecell etc). The 100 Resources include knowledge organisers, cue cards, revision quizzes, mind maps, worksheets, cut and stick, group work activities, co-operative learning activities, traffic light quizzes, differentiated worksheets, interactive PowerPoints etc. These resources can be used to accompany a lesson on the topic or as part of a revision lesson. Due to the large quantity of files they have been attached as a Zip file. A set of 128 printable flash cards suitable for the A-Level Chemistry topic of hydrocarbons. Questions cover theory on naming, sketching of displayed, structural and skeletal formulae, fractional distillation, cracking, reforming, oxidation, combustion, hydrogenation, electrophilic addition, inductive effect, polymerisation etc. Covers all the informtion they need to know about alkanes and alkenes including the mechanisms of free radical substitution and electrophilic additon (markovnikov). In PowerPoint format, the cue cards print out in the correct format. Takes 1 minute to slice the cards and prepare a set, is formatted so the answers will show on the reverse of the question. A AQA GCSE knowledge organiser on the topic Chemical analysis. Includes information on pure substances, formulations, chromatography, testing for gases, positive and negative ions and flame emission spectroscopy. Suitable for the new 2016 syllabus.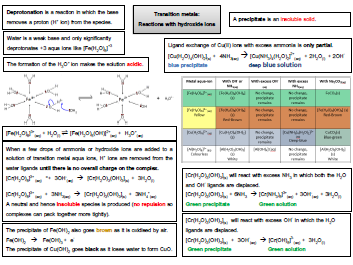 An A-Level Chemistry resource on transition metal reactions with hydroxide ions suitable for the AQA Syllabus. Includes a colour chart of the hydroxide precipitates. The resource is editable. Some A-Level Chemistry resources on the thermodynamics topic of Gibbs free energy. The first resource contains 6 sections of calculations with each section increasing in difficulty. This resource is differentiated and takes about an hour to complete. Is excellent revision on Gibbs free energy calculations and nicely prepares students for the exam with relevant exam standard calculations including a graph. Answers are included. Also included are Entropy worksheets (with answers) on calculating Gibbs and how it is related to the equilibrium constant. A knowledge organiser on the AQA GCSE topic Chemical calculations. Includes information on the scientific terms: RAM, RFM, conservation of mass, mole, avagadro constant, excess & limiting reagents, titrations , formulae trianagles for all the calculations etc. Also contains more depth on the steps required in a titration, diagrams of flasks used and indicators etc. Also includes information about volume of gases, atom economy and percentage yield. Is everything the students need to know on one page before attempting the calculations. Can be expanded onto an A3 page. Relevant for the new 2018 exams. An A-Level Chemistry resource on calculating Amount of substance (Moles). The worksheet is differentiated with each section increasing in difficulty. Answers are included with each section so that students can check their progress. This is the first half of this resource, the 2nd half is also available on this website with 2 more pages on atom economy, empirical formulae, percentage yield etc. The complete set has 16 sections in total. If you like this resource there are others of a similar format on calculating entropy, pH, Kc, Kp, Grignard reagents, inorganic formulae, Ecell, pV = nRT etc. These sheets conrain examples of every type of exam questions atudents may face. A bundle of 3 resources used to teach students how to draw Hess Law cycles. One of the resources is aimed at lower ability students showing them how to perform the calculation without having to draw the cycle.