A bundle of resources on calculating the pH of strong acids, weak acids and buffer solutions. Answers are included.
A resource on the A-Level Chemistry topic "Acid and base equilibria" focussing on buffer calculations. The resources contains several sections of increasing difficulty. There are examples of many different types of exam questions that students could get in an exam. Takes about a double lesson to complete. Answers are included.
A revision resource on Quantitative chemistry (moles) which contains questions on the new AQA Quantitative chemistry chapter. The resource includes revision on one of every type of calculation they have to know to prepare for the new GCSE 2018 exams. The resource includes 16 sections (3 pages) of calculations on determining relative formula mass, moles, reacting masses, limiting reactants, percentage yield, atom economy, concentration, titrations and volume of gases. The resource contains answers for every question. Takes about 2 hours for the students to complete.
A 20 minute group work activity on calculating pH. Split class into 4 groups, each group containing all levels of ability (so that the brighter students can help the lower ability.) Each group given one of 4 questions to solve. Teacher circulates giving hints where needed. Once each group has solved their question (allow 5-10 mins). students then return to their original seat and have to teach the solution to their question to their colleague. A great way to encourage group work and has always been graded as an outstanding lesson when observed by leadership. Answers are included and a 5th question included at the end of the activity to illustrate progress.
A bundle of 20 A-Level Chemistry resources including topics Amount if substance, Energetics, equilibrium, ecell etc.
5 resources on A-Level Chemistry topic "Amount of substance". Covers moles, empirical formulas, percentage error and ideal gas calculations
A bundle of 6 resources covering A-Level organic Chemistry including cue-cards, worksheets and PowerPoints. Covers Chemistry of Benzene, Amines, Amides , Grignard reactions and organic synthesis.
5 resources bundle on the Energetics topics Born Haber cycles, entropy calculations, enthrall you of neutralisation and Hess Law.
A-Level Chemistry equilibria calculations on Kc. Targeted at the AQA syllabus but suitable for any syllabus. The worksheet is differentiated with each section increasing in difficulty. Starts with questions on the basics of Kc, then builds up to the harder exam standard Kc questions. Caters for all levels of ability. Answers are included. Takes about a double lesson to complete.
An A-Level Chemistry resource on calculating Kp (gaseous equilibria.) Requires students to calculate Kp using mole fractions and partial pressure. Answers are included. Starts with questions on the basics, calculating mole fraction and partial pressure. Then the questions increase in difficulty to exam standard Kp questions. Takes about a double lesson for students to complete and gives an example of every type of exam question that can come up on Kp.
A KS4/5 Chemistry worksheet with a formulae grid, gives students practice on writing inorganic formula on molecules such as sodium hydroxide, sodium chloride, sodium carbonate etc. Answers included.
A lesson PowerPoint on Born Haber cycles covering an explanation of each of the energy changes involved (atomisation, ionisation, lattice enthalpy etc) and shows how to draw the cycle followed by the calculation.
3 resources on Rusting and corrosion suitable for KS5 lessons on the electrochemical series. PowerPoint explains how rusting occurs and shows students how to calculate Ecell for the overall rusting process. Then there's a worksheet (with answers) and a keyword match exercise.
A GCSE or ALevel Chemistry resource on calculating percentage error. Answers to the worksheet are included.
A differentiated revision resource on the ideal gas equation pV = nRT. Contains 8 different sections of questions, section 1 starts with the basics, practicing conversions into the correct units, the last few sections contain examples of exam questions. Takes about an hour to complete. Answer sheet included. Suitable for A-Level Chemistry across all syllabuses.
A bundle of resources on KS5 Chemistry transition metals. The bundles includes activities designed to help students revise naming, colours and reactions of the first row transition metals. There is a also a revision game with questions.
Cue cards covering the new A-Level Edexcel 2015 specification. These are on topic 17 Carbonyl chemistry. Questions about alcohols, aldehydes, ketones, carboxylic acids, acyl chlorides and Esters. Cards will print out back to back and only need cutting, takes 5 mins to prepare.
A bundle of two sets of cue cards for the Edexcel A-Level Chemistry syllabus. Covering topics 17 and 18a (Carbonyl and Benzene Chemistry.) Cards will print back to back and take 5 mins to cut out using a slicer.
A comprehensive revision resource on Amount of substance (Moles). The worksheet is differentiated with each section increasing in difficulty. Answers are included with each section so that students can check their progress. This is the complete set of questions including the second half of this resource, with questions on moles, ionic equations, atom economy, empirical formulae, percentage yield etc. The 1st half is available free to look at & download on this website with questions on Mole calculations, RFM, ionic equations etc.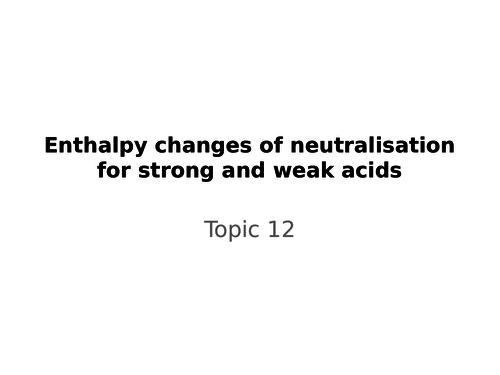 Power Point on the acid base equilibria concept of Enthalpy of neutralisation. Compares the enthalpy of neutralisation of acids as per the new 2015 A-Level Chemistry Edexcel syllabus.
A bundle of 3 resources used to teach students how to draw Hess Law cycles. One of the resources is aimed at lower ability students showing them how to perform the calculation without having to draw the cycle.