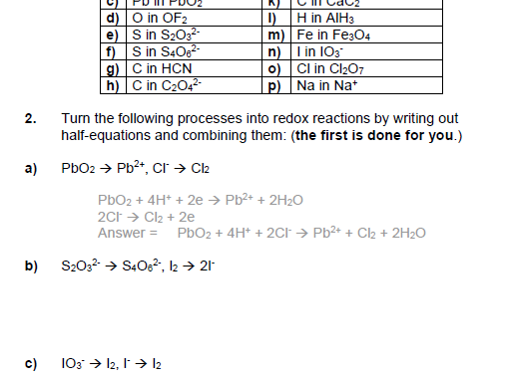 An A-Level Chemistry resource on redox calculations. Students have to work out oxidation numbers, then write redox half equations and combine them to get an overall ionic equation. Then they have to identify the oxidising/reducing agents. Answers are included.
A worksheet for A-Level Chemistry on the reactions of the group 7 elements, students have to complete the equations and write in any observations. Also included is a starter on physical properties of the hydrogen halides.
A GCSE Chemistry worksheet on Paper Chromatography. The worksheet is differentiated with exam questions targeting grades 1-3, 4-6 and 7-9. There's questions on mobile and stationary phases, food additives, calculation of Rf values etc. The more challenging questions require students to think in more depth about the physical processes involved in the separation, explaining how separation occurs, how we use chromatography to identify additives etc. Answers are included.
A traffic light quiz on paper chromatography, students hold up the relevant coloured card to answer the questions in the quiz. Suitable for the new 2018 Chemistry GCSE. I use it as a plenary at the end of the lesson.
A bundle of 4 resources suitable for the new AQA GCSE Chemistry syllabus. Resources on paper chromatography include a knowledge organiser containing all the facts on chromatography that students need to know, a differentiated 1-9 worksheet featuring exam style questions and a plenary chromatography traffic light quiz (useful for assessment for learning at the end of the lesson) and finally a cut and stick activity.
A cut and stick activity on the GCSE Chemistry topic Paper Chromatography. Students label the chromatogram using the relevant keywords.
A knowledge organiser on the A-Level Chemistry Topic 4: Groups 2 and 7 Chemistry. Including the chemistry and equations they need to know (reactions of group 2 with oxygen, water, acid etc, thermal decomposition of the group 1 & 2 carbonates/nitrates, halogen chemistry including trends, disproportion reactions in hot & cold alkali, reducing agents with reactions of sulfuric acid, oxidising agents (displacement reactions) etc. Also includes information on the qualitative tests of halides, sulfates, carbonates and also flame testing of cations and identification of the ammonium ion. A comprehensive revision organiser that the students can use to make their revision notes from. Relevant for the new 2015 A-Level Edexcel syllabus.
An A-Level Chemistry knowledge organiser on groups 2 and 7 of the periodic table. Includes information on electronegativity, melting and boiling points, trends in oxidising ability, displacement reactions, reactions of halide ions, uses of chlorine etc. Also contains information from group 2 on physical and chemical properties, reactions, solubilities of sulfates and hydroxides, ionisiation energies etc. Relevant for the new 2015 A-Level Chemistry syllabus.
A knowledge organiser on inorganic qualitiative tests including cation flame tests, tests for the magnesium and ammonium cations, the sulfate and carbonate anions, halides tests (silver nitrate, displacement and reaction with concentrated sulfuric acid.) The knowledge organiser also includes relevant ionic equations where applicable.
A Knowledge organiser on the AQA GCSE topic Paper chromatography. Contains all the information they need to know on the method, apparatus, mobile/stationary phases, calculating Rf values etc. includes examples of chromatograms. The resource is editable and can be printed out on A3 paper for the students to revise from. Suitable for the new 2018 GCSE.
An Alevel Chemistry resource on calculating very low concentrations of solutions. The worksheet includes questions (and also worked examples which help the students complete the worksheet). Questions on calculating concentration in ppm (parts per million), mass of ions, avagodro's constant, number of ions etc.) Answers are included.
A Starter activity on the A-Level Chemistry topic Transition metals. Students are given several definitions of a transition metal and need to rank them in order, giving explanations why why they have done it in that order. An excellent activity that challenges their understanding on the structure of transition metals and works well as a discussion starter for the lesson.
An A-Level Chemistry resource illustrating the reactions of the transition metals as spider diagrams (with ligands like hydroxide ions, ammonia, chloride ions etc). The first resource is spider diagrams which students have to fill in (in word format and prints out automatically in A3 from your computer). To accompany the feedback of answers, an animated Power Point is also included allowing the teacher to go through the answers in more depth, with each answer fading into view on a mouse click. Includes reactions of Copper(II), Chromium(III), Iron(II) and (III) and cobalt(II). The resource is editable and answers are included to every spider diagram in Power Point format.
A revision activity for the new AQA 901 Science GCSE. This one is on the topic C1 Atomic strucutre. Contains quick fire questions on the all of the topic. Takes about 20 mins to complete with and nicely covers the key terminolgy of the topic. I use it as part of a revision lesson on the topic. Answers are included.
A bundle of resources on the GCSE topic chemical calculations. Includes a knowledge organiser which gives all the definitions and formulas. There is then a calculations sheet which has one of every type of question that the students need to know. Finally a sheet which helps students calculate reacting masses. Suitable for the new 2018 AQA triple chemistry exams.
A bundle of all the knowledge organisers I've made for both A-Level and GCSE Chemistry.
A knowledge organiser on the AQA GCSE topic Chemical calculations. Includes information on the scientific terms: RAM, RFM, conservation of mass, mole, avagadro constant, excess & limiting reagents, titrations , formulae trianagles for all the calculations etc. Also contains more depth on the steps required in a titration, diagrams of flasks used and indicators etc. Also includes information about volume of gases, atom economy and percentage yield. Is everything the students need to know on one page before attempting the calculations. Can be expanded onto an A3 page. Relevant for the new 2018 exams.
An AQA Chemistry GCSE resource showing students how to calculate reacting masses from chemical equations. Teaches students to calculate how much of a product will be formed from a known mass of reactant.
An Alevel Chemistry knowledge organiser on entropy. Includes information on entropy, feasability, entropy of the system, surroundings, total entropy, Gibbs free energy, temperature at which a reaction becomes feasible etc. Comprehensively covers the whole of the entropy syllabus on one page.
A bundle of all the knowledge organisers I have made for A-Level Chemistry. There's a dozen here and the topics included cover all the knowledge students need to know before they go on to tackle the exam style questions. All the resources are fully editable.
An A-Level Chemistry knowledge organiser on equilibrium. Covers knowledge on Le Chatelier's principle, examples of how equilibrium is affected, equations for Kc and Kp, partial pressure, mole fraction etc. Also information on the Haber process and the Haber compromise, dynamic equilibrium etc. A comprehensive organiser that covers everything that students need to know on equilibrium in year 12 and 13.