Polarity24's Shop
Providing resources for GCSE Science and A-Level Chemistry.
174Uploads
44k+Views
11k+Downloads
Providing resources for GCSE Science and A-Level Chemistry. Knowledge organisers for the new AQA GCSE 2016 Physics syllabus. Included are knowledge organisers which cover the whole content of the GCSE Physics paper 1 exam for** both trilogy (combined) and triple (separate science) syllabuses**. Each knowledge organiser has been split into sections following closely the AQA specification. Topics covered are: P1 Conservation and dissipation of energy, P2 Energy transfer by heating, P3 Energy resources, P4 Electric circuits, P5 electricity in the home, P6 Molecules and matter and P7 Radioactivity. The triple content within these chapters (like Gas pressure, temperature, infra red radiation, nuclear radiation, medicine, fission and fusion are also covered and colour coded so students know which content is relevant. Key tier 3 vocabulary has also been clearly defined as a separate section in each knowledge organiser. Any graphs and equations that they need to know included. A worksheet on the AQA GCSE combined physics (trilogy) topic forces in action. Covers an example of the different types of forces calculations that students need to learn. Is a useful revision resource at the end of the topic enabling students to revise the practice the several equations that they need to learn. Answers are included. A variety of resources for the new AQA GCSE Physics syllabus on electric circuit symbols. There's a cut & stick "design your own circuit activity", a Tarsia activity, a table for students to write in the name of the component and its function. There's also a diagram which requires the components of an electric circuit to be labelled. Answers to all resources are included. An AQA Physics GCSE knowledge organiser on the P2 topic "Particles at work: Electric circuits". contains information on current and charge, potential difference and resistance, component characteristics, IV characteristics graphs, series and parallel circuits. Relevant for the new 2016 specification.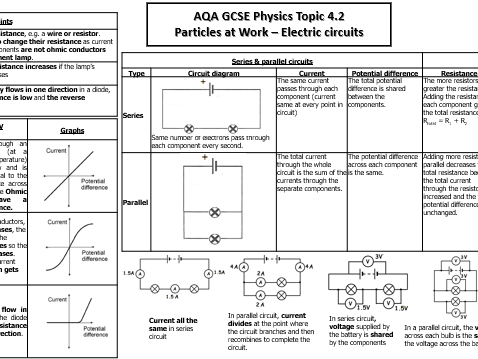 A bundle of resources on GCSE physics. Topics include forces in action calculations, electric circuit symbols and a knowledge organiser on electric circuits. Relevant for the new AQA GCSE 2016 syllabus.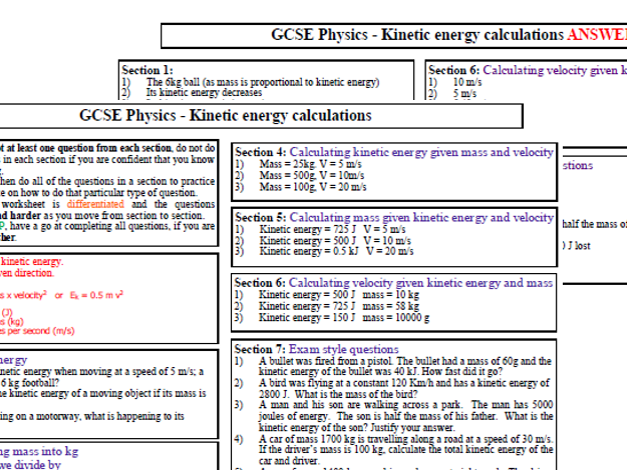 A GCSE physics resource on calculating kinetic energy. The worksheet is differentiated and gets more difficult as you move through each section, starts with practice on rearranging the equestion, and changing the units. The contains some basic calculations, finishing with harder exam style questions. Takes about 30 mins for students to complete. Answers are provided.