Polarity24's Shop
Providing resources for GCSE Science and A-Level Chemistry.
174Uploads
44k+Views
11k+Downloads
Providing resources for GCSE Science and A-Level Chemistry. A GCSE Chemistry worksheet on Paper Chromatography. The worksheet is differentiated with exam questions targeting grades 1-3, 4-6 and 7-9. There's questions on mobile and stationary phases, food additives, calculation of Rf values etc. The more challenging questions require students to think in more depth about the physical processes involved in the separation, explaining how separation occurs, how we use chromatography to identify additives etc. Answers are included. Two knowledge organisers on the A-level chemistry practical "oxidation of alcohols" including the oxidation of ethanol to ethanoic acid and the oxidation of butan-2-ol to butanone. The oxidation of alcohols is one of the** required practicals for A-Level Chemistry**. The knowledge organisers include the method, apparatus diagram and theory that goes with the practical. It then includes information on each stage of the process, reflux, distillation, washing, drying and redistillation. I use it in my lessons to go through the procedure in greater depth and then students refer to this when practising questions. An A-Level Chemistry knowledge organiser on groups 2 and 7 of the periodic table. Includes information on electronegativity, melting and boiling points, trends in oxidising ability, displacement reactions, reactions of halide ions, uses of chlorine etc. Also contains information from group 2 on physical and chemical properties, reactions, solubilities of sulfates and hydroxides, ionisiation energies etc. Relevant for the new 2015 A-Level Chemistry syllabus. A GCSE knowledge organiser on the AQA Organic chemistry topic "polymers". contains information on addition polymerisation of alkenes, condensation polymerisation reactions, polysaccharides and DNA. Relevant for the new 2016 AQA syllabus. An Organic Chemistry activity on the apparatus used in Organic experiments. Includes diagrams of apparatus including reflux, distillation, steam distillation, separating funnel, buchner filtration (under reduced pressure), drying and a thiele melting point tube. Students have to add the correct labels to the apparatus. Answers are included to all diagrams. Knowledge organisers for the Edexcel A-Level Chemistry topic 6. Including chemistry of the hydrocarbons, alcohols and halogenoalkanes. Includes information on all of the chemistry from the edexcel syllabus on alkanes, alkenes, alcohols and halogenoalkanes. Structure, bonding, naming, mechanisms, apparatus, equations etc are included. A comprehensive coverage of the whole of the topic 6 organic chemistry topic 6a-e This is a differentiated A-level chemistry revision resource covering the different types of Ecell questions. There are 8 sections, each one increasing in difficulty. The resource is editable and the markscheme is provided. Could be used in a revision lesson at the end of the topic. There is also useful tips on how to calculate Ecell and writing of cell diagrams. There is one of every type of Ecell question that students could be tested on in an exam. Takes about 2 hours to complete. I also have several other resources like this one in my shop on moles, pV=nRT, redox titrations, entropy, Equilibrium Kc & Kp, pH calculations and also buffer calculations. Each one covers all the different types of calculations they need to revise for the exams. An A-Level Chemistry differentiated revision resource on calculating the ideal gas equation pV = nRT. Contains 8 different sections of questions, section 1 starts with the basics, practicing conversions of pressure, volume and temperature into the correct units, the last few sections contain exam style questions. Takes about an hour to complete. The resource is editable with an answer sheet included. Suitable for A-Level Chemistry across all syllabuses. A bundle of 20 A-Level Chemistry resources including topics Amount if substance, Energetics, equilibrium, ecell etc. An A-Level Chemistry resource on titration calculations suitable for all specifications. The worksheet is differentiated with each section increasing in difficulty. Students complete titration calculations on determining volume, concentration, Mr of a compound, percentage purity, formula of a compound (working out the value of n in Na2CO3.nH20) etc. The resource contains one of every type of titration question they need to answer in an exam. Answers are included. There are 6 different sections and the worksheet takes a standard double lesson for students to complete. A complete set of topic worksheets on the A-Level concept transition metals. I use these worksheets for my students as we go through the topic. Worksheets include questions on electronic configuration, definitions, colour, shapes, naming, ligand exchange, deprotonation and complex formation. Answers to every question is included. 5 resources on A-Level Chemistry topic "Amount of substance". Covers moles, empirical formulas, percentage error and ideal gas calculations An A-Level Chemistry Knowledge organiser on ionic, covalent and metallic bonding suitable for the Edexcel A-Level 2015 syllabus. Contains information on simple covalent, giant covalent, ionic and metallic bonding, their structure and explanation of physical properties like conductivity, melting point etc. A bundle of more than 30 resources (some are on a zip file) on the A-Level Chemistry topic "Transition metals". There is a complete unit of work with lesson Power Points and worksheets (with answers.) There are then revision resources on the reactions of transition metals, complexes, ligand exchange, colour etc. Includes knowledge organisers, worksheets (with answers), spider diagrams of reactions, a game, card match activities, plenaries & starters etc. Answers to resources included. Relevant for the new 2015 A-Level Chemistry Exams across all syllabuses. All you will need to teach Transition metals is here. An A-Level Chemistry resource on calculating Kp (gaseous equilibria.) Requires students to calculate Kp using mole fractions and partial pressure. Answers are included. Starts with questions on the basics, calculating mole fraction and partial pressure. Then the questions increase in difficulty to exam standard Kp questions. The editable resource takes about a double lesson for students to complete and gives an example of every type of exam question that can come up on Kp. Structure strips for the AQA GCSE Chemistry topic "The periodic table". Structure strips go into the margin of an exercise book and students write in their answers beside the question. This is one of a series of structure strips that I have made for the new 2017 GCSE specification. There are 30 questions on the strips provided and answers are included. An A-Level Chemistry resource on the mechanisms of organic compounds. The worksheet requires students to write the mechanisms for the free radical substitution reaction of alkanes with chlorine, electrophillic addition of alkenes with bromine, hydrogen bromide (include markovnikovs rule and the inductive effect). The worksheet also requires students to draw mechanisms for the reactions of halogenoalkanes with hydroxide ions (nucleophilic substution/elimination) and with cyanide ions and ammonia. Answers to every question is provided with every mechanism drawn on the answer sheet. Suitable for the new 2015 A-Level chemistry syllabus. Is an excellent revision resource for organic chemistry.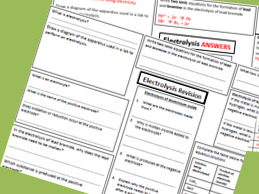 A worksheet on the GCSE Chemistry topic of electrolysis. Contains questions on the apparatus used, oxidation & reduction, ionic equations, electrolysis of lead bromide, aluminium oxide and aqueous solutions. Answers are included. A bundle of resources on KS5 Chemistry transition metals. The bundles includes activities & games designed to help students revise naming, colours and reactions of the first row transition metals. Theres flash cards, match cards, a revision board game with questions, Ecell information sheet etc. A comprehensive mind map on organic synthesis which students can use to revise the theory Students can use the resource to produce routes for organic synthesis required in A-Level Chemistry exams.