Polarity24's Shop
Providing resources for GCSE Science and A-Level Chemistry.
174Uploads
44k+Views
11k+Downloads
Providing resources for GCSE Science and A-Level Chemistry. An A-Level Chemistry resource on the reactions of alkanes, alkenes, alcohols and halogenoalkanes. Students have to complete the tables using their knowledge of reactions, conditions and reaction type. Suitable for the new 2015 A-Level Chemistry syllabuses. Answers are included. An A-Level Chemistry knowledge organiser on the chemistry of the halogenoalkanes and alcohols. The knowledge organisers include information on the preparation of halogenoalkanes (synthesis of bromobutane) and alcohols, functional groups tests, apparatus (reflux, distillation, separating funnel etc.) Theory about nucleophilic substitution, elimination, oxidation of alcohols etc. Mechanisms for nucleophilic substitution and elimination included. A revision package of over 60 GCSE Chemistry resources suitable for AQA, OCR or edexcel. Resources on atomic structure, periodic table, amount of substance, chemical changes, energy, electrolysis, chemical analysis, rates and equilibrium, organic chemistry, earths atmosphere and resources etc). The resources include numerous revision questions, structure strips, knowledge organisers, revision quizzes, worksheets, cut and stick revision activities, group work activities, co-operative learning activities, traffic light quizzes, differentiated activities, hexagon challenges etc. These resources can be used to revise at the end of a topic or for revision towards the end of the course. Due to the large quantity of files they have been attached as a Zip file. As a bonus, some GCSE Physics revision resources have also been included in the downloads as well. An AQA Chemistry GCSE resource showing students how to calculate reacting masses from chemical equations. Teaches students to calculate how much of a product will be formed from a known mass of reactant. 7 resources bundle on the Energetics topics Born Haber cycles, enthalpy of neutralisation, Gibbs free energy calculations, entropy of system and total entropy calculations, Hess Law and a knowledge organiser on entropy. An editable A-Level Chemistry knowledge organiser on Transition metals Ligand exchange reactions. Includes information on why we see a change in shape, colour and coordination number. Example equations are also given for ligand exhange reactions including partial ligand exchange. A set of revision structure strips covering all of the new 2016 AQA GCSE Chemistry trilogy (combined) syllabus for papers 1 & 2. Structure strips are a simple but effective way that students can revise the large amount of knowledge in the new syllabus. There is complete coverage of the knowledge for each topic. The structure strips stick into the margins of an exercise book and students write the answer to each question. 310 questions on the topics: Atomic structure, periodic table, structure and bonding, chemical changes, electrolysis and energy changes, Rates and equilibrium, Crude oil and fuels, chemical analysis, The Earth's atmosphere and The Earth's resources. Answers to every question provided. An Knowledge organiser on A-Level organic chemistry, the hydrocarbons (Alkanes and alkenes) including: naming, intermolecular forces, general formulae, structual & Geometric isomers, reactions of alkanes: oxidation and free radical substitution (with chlorine). Reactions of alkenes with hydrogen, bromine water, steam, hydrogen halides, potassium managanate. Covalent bonding (sigma/pi bonds), addition polymerisation, use as fuels, fractional distillation, cracking reforming etc. Mechanisms: Free radical substitution and electrophilic addition (markovnikov & the inductive effect). The resource will print onto A4 and then can be expanded clearly onto A3. A PDF file and an editable PowerPoint file is included allowing editing if desired. A knowledge organiser on inorganic qualitiative tests including cation flame tests, tests for the magnesium and ammonium cations, the sulfate and carbonate anions, halides tests (silver nitrate, displacement and reaction with concentrated sulfuric acid.) The knowledge organiser also includes relevant ionic equations where applicable. An A-Level Chemistry Transition metal revision resource including a game board and questions. Land on a square with a star and you have to answer a question. Questions are included with answers and are relevant for all A-Level exam boards. Looking for a challenging GCSE Biology resource, then try this hexagon activity on infection. Students have to work their way from A to B travelling through at lease two questions of each colour. The resource is challenging with questions of differing difficulty. A resource suitable for GCSE Chemistry on naming of alkanes and alkenes. Students cut and stick the molecules into the relevant boxes. An additional circus activity is also included with the sheets placed around the classroom and students working in groups to complete the activities. A bundle of 8 resources on the AQA GCSE (2018) Chemistry topic Chemical changes. Includes a knowledge organiser on the reactivity series, reactions of metals and acids, knowledge organiser on electrolysis (including information on electrolysis of lead bromide, aluminium oxide and aqueous sodium chloride). A worksheet and cut and stick electrolysis activity and finally there are some acid/alkali and electrolysis traffic light quizzes and a card match activities. An A-level chemistry resource on drawing of Born Haber cycles. Each slide is animated showing step by step how to draw Born-Haber cycles for NaCl, LiF, MgCl2, Na2O, CaO and AlCl3.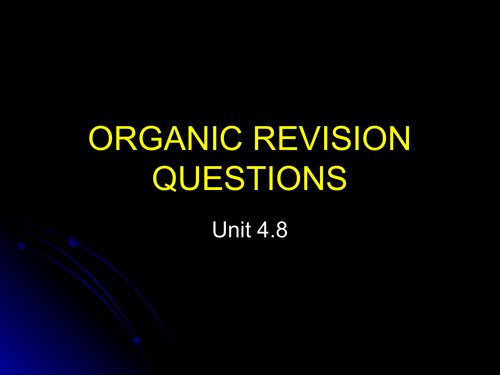 Revision quiz on organic chemistry testing students on the chemistry of the carbonyls, alcohols, carboxylic acids and acyl chlorides. An Alevel Chemistry resource on calculating very low concentrations of solutions. The worksheet includes questions (and also worked examples which help the students complete the worksheet). Questions on calculating concentration in ppm (parts per million), mass of ions, avagodro's constant, number of ions etc.) Answers are included. An A-Level Chemistry knowledge organiser on Electrochemical cells. The file is editable and contains the theory behind Electrochemical cells and their calculations. Includes diagrams, equations and information on the hydrogen half cell, reduction potentials, strength of reducing agents, oxidising agents, how to draw electrochemical cells and represent them in cell diagrams. A Knowledge organiser on the AQA GCSE topic Paper chromatography. Contains all the information they need to know on the method, apparatus, mobile/stationary phases, calculating Rf values etc. includes examples of chromatograms. The resource is editable and can be printed out on A3 paper for the students to revise from. Suitable for the new 2018 GCSE. A GCSE Chemistry extended writing grid which helps students plan an extended answer about bonding. Students use the keywords on the grid to plan and then write an answer to the question about the differences between the different types of structures and bonding. The words have been carefully selected so that students know which words they need to include to gain mastery in the question. Focuses on tier 3 Science vocabulary. A GCSE Chemistry knowledge organiser on the organic chemistry topic crude oil and fuels suitable for the new AQA Syllabus. Includes chemistry of the alkanes and alkenes (Crude oil, fractional distillation, cracking, fuels, reactions of alkanes and alkenes, naming, general formula and polymers.