123Uploads
12k+Views
2k+Downloads
Languages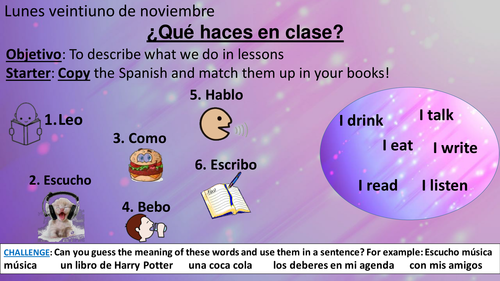 ¿Qué haces en clase? Based on Mira 1, Year 7 Spanish, ideal for observations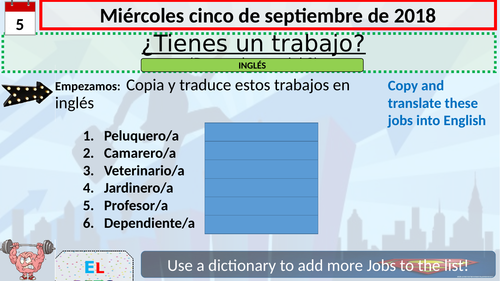 2 lessons based on Viva Higher PUNTO DE PARTIDA -JOBS (not strictly following the book but listening is from Viva Higher).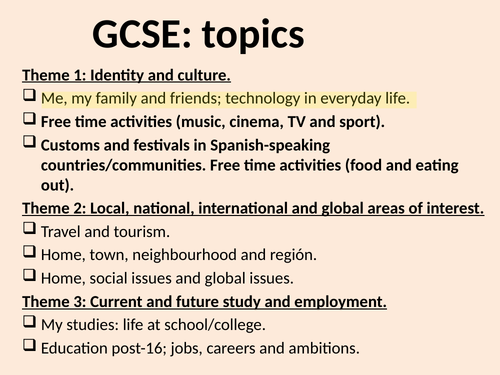 4 lessons based on Viva (foundation and higher) to revise the topic 'Me, my family and friends; technology in everyday life' from Theme 1: Identity and culture. It includes conversation questions. Ideal for mixed ability groups.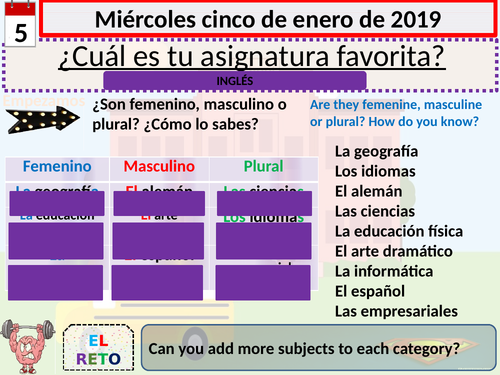 2 lessons based on Viva foundation, punto de partida 1, module 2 (School and subjects) Lesson 1: Gender/subjects recap Opinions (grammar) Listening Sentence builder Vocab test Lesson 2: Adjectives to describe teachers Listening Debate about teachers Jenga game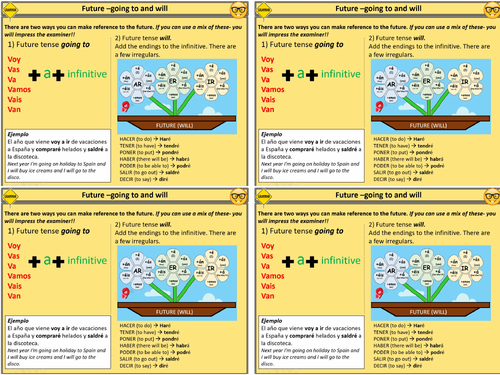 Two lessons aimed at GCSE students on future and conditional tenses around the topic of holidays. Well differenciated for mixed ability classes.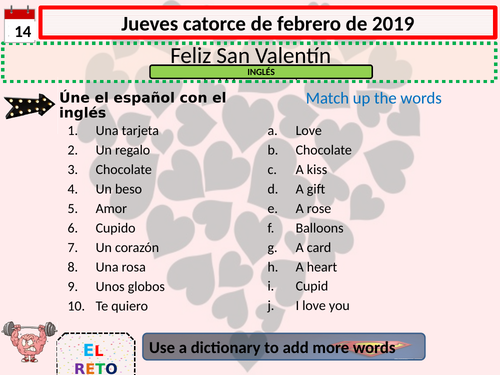 Valentine's lesson to have some fun with your Year 7 group :) Lesson contains: Starter with basic vocabulary Questions/answers for speed dating Speed dating Guess your secret admirer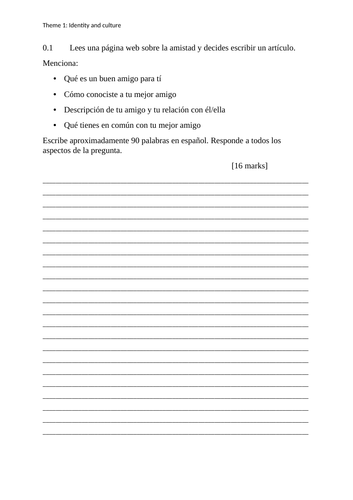 3 booklets for your students to practise for the writing assessment, aimed at higher students. Each booklet contains 3 tasks on one theme (16 marks, 32 marks and a translation) plus an extra task for your most keen students. Ideal for homework, classwork, extra practise or cover lessons.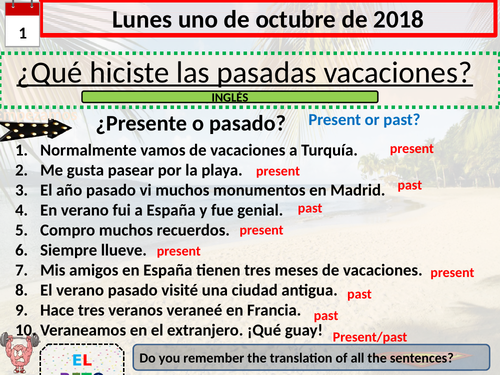 2 revision lessons to recap on past tense and these two chapters from Viva module 1 (holidays). Lesson 1: -Revision present/past -Reading comprehension (preterite tense revision) -Present/preterite activity (including weather) -Noughts and crosses game (plenary) Lesson 2: -Recap starter with points -Reading comprehension (interview) -Translation game -Role play (GCSE task)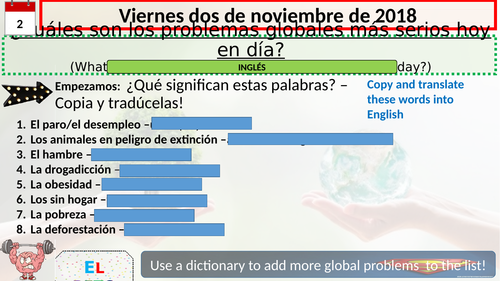 This unit of work contains 10 lessons to prepare your students for the general conversation (theme 2, social issues and global issues).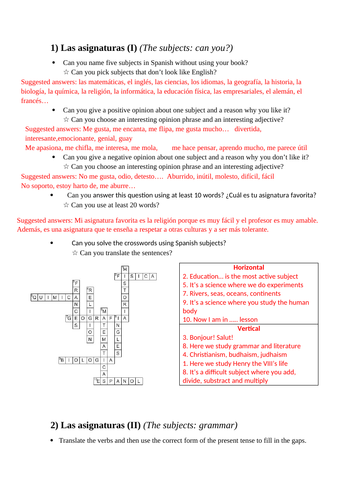 An escape the room type of lesson on the topic of school (viva foundation/higher). Ideal to review/recap/end of topic lesson /end of term lesson or independent work for Year 11 revision. Lesson contains activities related to school subjects, teachers, facilities, uniform and timetable. Power point + worksheet. Can also be used for cover lessons or homework.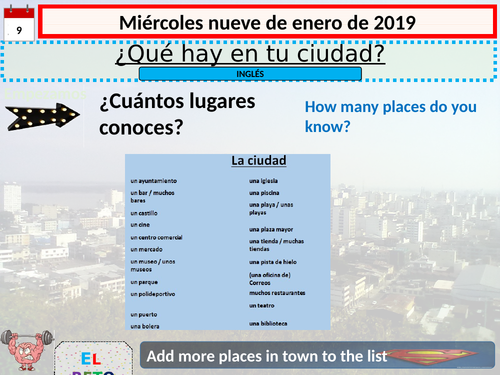 Ciudades, module 5 (Viva). Punto de partida 1, punto de partida 2 and Los pros y los contra de la ciudad. Five lessons aimed at mix ability groups. Lesson 1: Vocabulary (places in town) Reading Grammar (muchos,algunos, unos) Listening (viva higher) speaking Lesson 2: Shops Reading /vocabulary practise Listening (higher) Reading (shop adverts) Design your own shop Lesson 3: Buying souvenirs Speaking Role play listening (higher) Role play task (AQA) Lesson 4: Good and bad things about the city Listening (foundation) Reading (GCSE type) Speaking Lesson 5: Conditional tense Reading Reading comprehension Elections for mayor Writing your own speech to be mayor

Three lessons based on VIVA module 4 'punto de partida/intereses e influencias' and ¿qué sueles hacer? (mixture foundation and higher). Grammar focus (present tense and stem-changing verbs).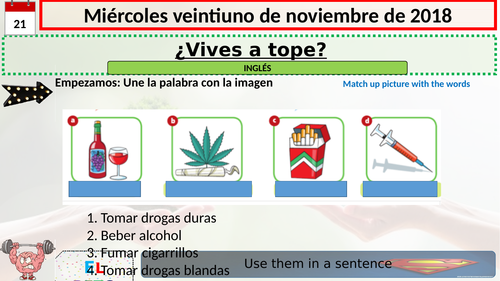 2 lessons based on Viva (higher and foundation) module 8, unit 3 -vivir a tope. All skills. Lesson 1 listening reading speaking dictation game lesson 2 tense practise reading comprehension gcse writing task (differenciated)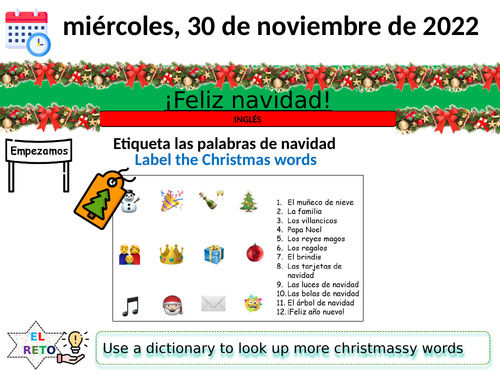 A Christmas lesson aimed at year 6/ year 7 students of Spanish. Full of games on Christmas vocabulary. Great lesson for the end of term.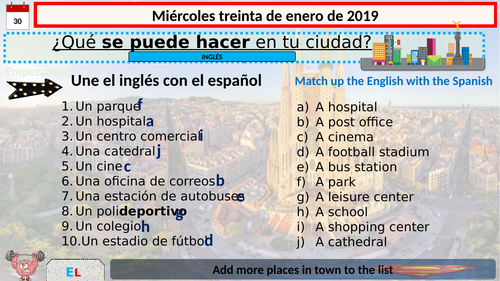 one lesson on things you can do in your city. Lesson contains: basic vocabulary (places in town) game grammar point challenging reading (trip advisor reviews on 3 cities) writing task -write your own review The lesson includes a publisher document with a brochure acting as worksheet for your lesson. Ideal for observations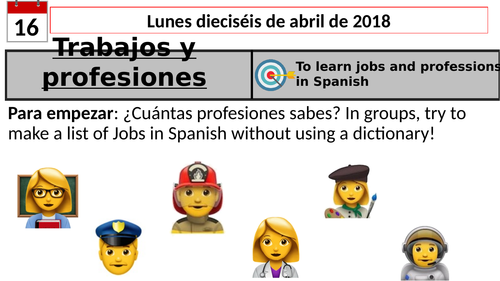 10 lessons on the topic of jobs aimed at KS3 students of Spanish. Listening tasks are based on MIRA 3.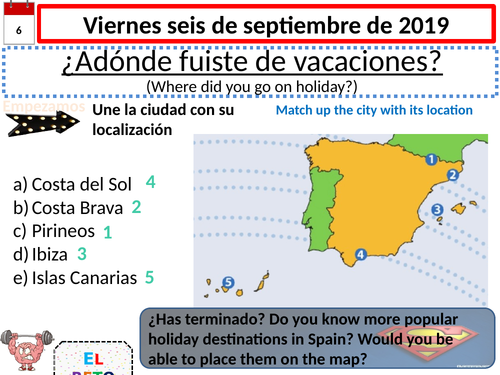 4 lessons based on Viva 2 module 1, mis vacaciones (de vacaciones, que hiciste, el último día and cómo te fue)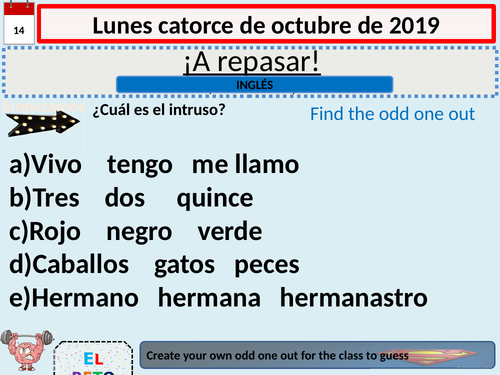 A lesson full of games to revise the content of the first unit of the book.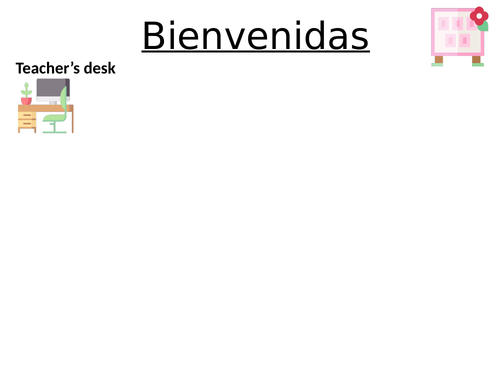 Start the year right by using only target language in your first lesson! Easily adaptable -rules and expectations, introduction, book sorting + icebreaker, all in Spanish.

5 lessons based on Module 1 from VIVA (foundation/higher). Contents (32 slides) : GCSE writing task Irregular verbs weather how to improve sentences questions and answers about ideal holidays consolidation games