47Uploads
2k+Views
192Downloads
Languages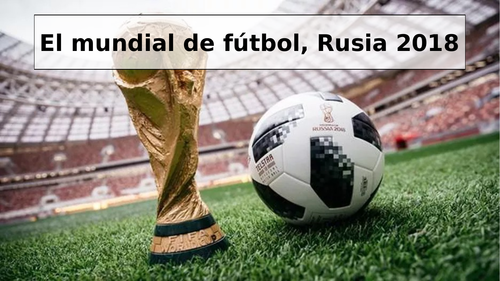 This is a series of lessons (2/3) I designed on the theme of the world cup. It´s completetly in Spanish aimed for Secondary Students. The level can be adapted according to ability and Year group. It can easily be used with KS3 (after simplification) and KS4, as some of the texts present a great level of challenge. Authentic resources and fun activities to **motivate **students. A great set of lessons to do before students have to pick their options as well! Contents: Intro Flags and countries Speaking task Reading Speaking task Intro Mascots Translation task Reading Reading/Drawing Writing Production Presentation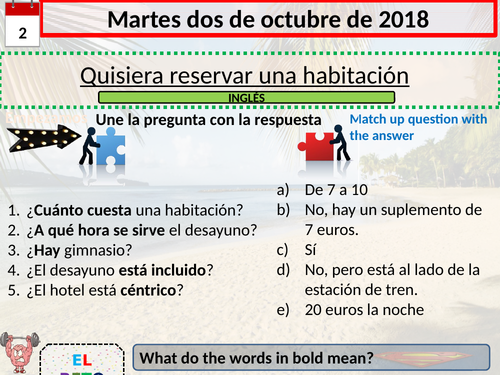 3 lessons based on chapter 5 from Viva (higher and foundation), module 4 (holidays). Lesson 1: -Question/answer starter -Treasure hunt/tripadvisor (3 hotel adds -student centered) -Reading comprehension -Memory game (plenary) Lesson 2: -Starter (order the dialogue) -Listening activity (foundation page 15) -Gap filling listening activity -Role play (GCSE task) -Memory game (plenary) Lesson 3: -Pronunciation match up -Song 'este hotel me vuelve loca' -Complains match up -Sentence builder/speaking activity (¿Cuál es el problema?) -Higher listening from Viva (page 17) -Translation activity -solutions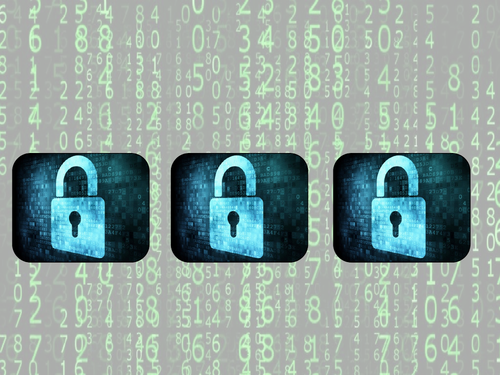 Perfect resource for the end of Year 6 and beginning/end of year 7. Escape the room type of lesson -students need to solve different tasks to be able to escape the room. At the end of every activity students get a clue to the following in order to escape the room. All the materials are designed in Spanish and French and they are easily adaptable. The power point contains: slide with instructions, a map with how to plan the lesson and all the materials you will need + all the materials you will need in the following slides. Tasks include: Colours Countries Numbers and mathematical operations (Numeracy skills) Sports Animals Translation activities Basic opinions Introductions/greetings Great resource to motivate students! This lesson requires some preparation regarding materials but your students will never forget it!

Three lessons based on VIVA module 4 'punto de partida/intereses e influencias' and ¿qué sueles hacer? (mixture foundation and higher). Grammar focus (present tense and stem-changing verbs).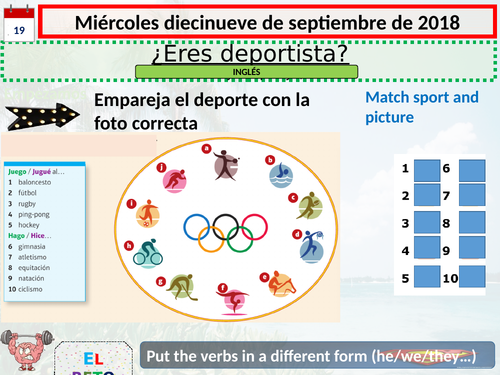 3/4 lessons based on Viva -Higher and Foundation, Fanático del deporte, module 4. Contents: sport vocabulary Grammar focus: preterite / imperfect Listening/reading activities Games and translations GCSE writing task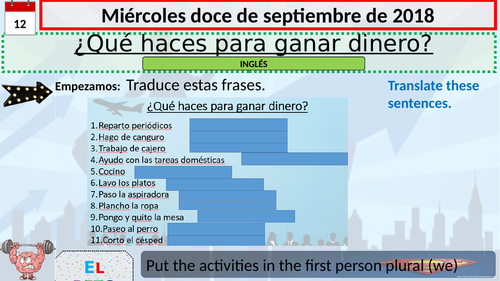 3 lessons based on Viva module 7 (jobs) foundation and higher. Contents: Chores Listening Speaking Vocab test Grammar focus: structures with infinitive Photo card task Role play task Grammar focus: lo /la to avoid repetition GCSE reading task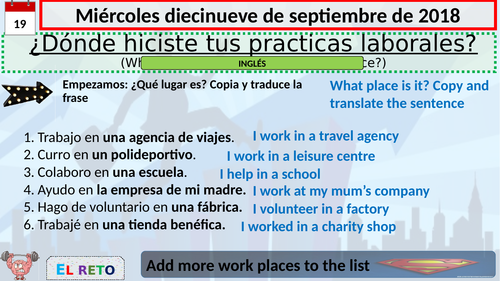 3 lessons based on pages 142/143 from Viva Higher and 136/137 Viva Foundation. Lessons contain: work places vocabulary Preterite tense, use and formation with activities writing task Listening task from Viva higher imperfect tense (use and formation) Use of preterite versus imperfect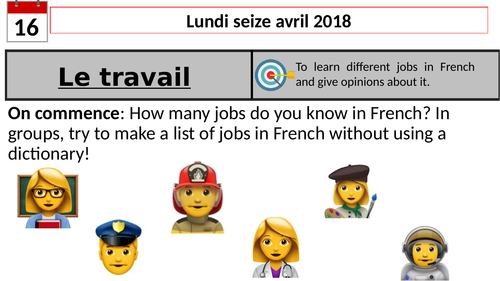 10 lessons on the topic of jobs aimed for KS3 students. Language: French.

2 lessons based on that chapter from Viva (module 1-holidays) Lesson 1: expressions in the past tense, vocabulary (activities in the past), one listening activity and speaking practise with ´lo mejor fue cuando/lo peor fue cuando and reading activity. Lesson 2: quiz on last lesson, recap game, role play GCSE task, translation game.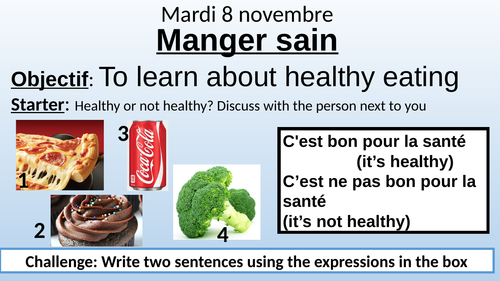 Healthy living, year 8 French. Starter /speaking discussion Vocab introduction pronunciation game grammar (du, de la, de l´, des) Speaking/writing (do you eat healthy?)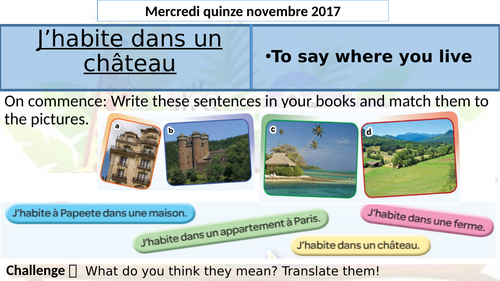 2 lessons based on Studio Acess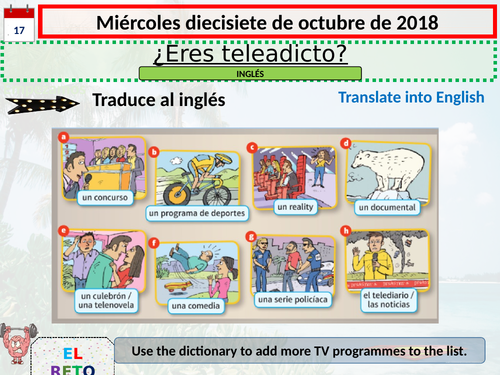 1 lesson based on Viva module 4, punto de partida 2. Vocabulary introduction Listening (foundation) Writing game Speaking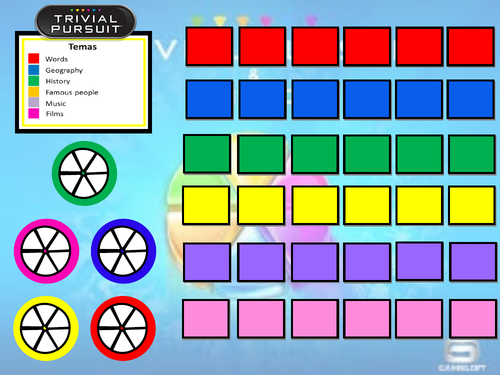 Trivial pursuit -Spanish culture quiz but easily adaptable to other topics by using the template. The power point contains: Trivial pursuit Interactive board with questions for 5 players. Perfect resource for the end of year.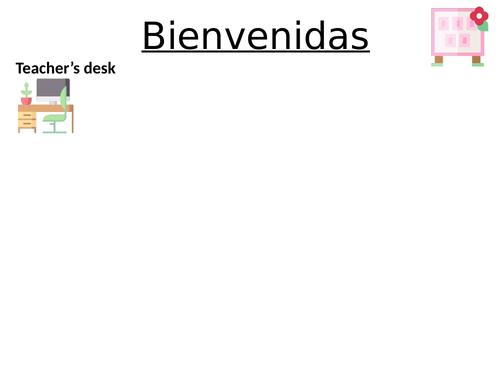 Start the year right by using only target language in your first lesson! Easily adaptable -rules and expectations, introduction, book sorting + icebreaker, all in Spanish.

5 lessons based on Module 1 from VIVA (foundation/higher). Contents (32 slides) : GCSE writing task Irregular verbs weather how to improve sentences questions and answers about ideal holidays consolidation games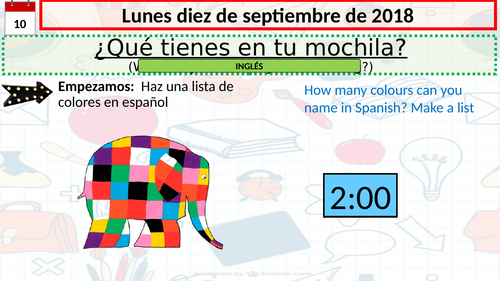 Two lessons based on MIRA 1 to introduced gender in Spanish. Contents: Vocabulary (in my pencilcase) Un/una Hay/no hay different games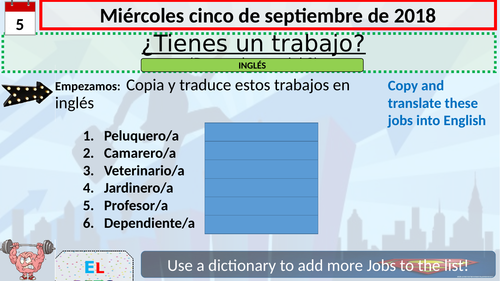 2 lessons based on Viva Higher PUNTO DE PARTIDA -JOBS (not strictly following the book but listening is from Viva Higher).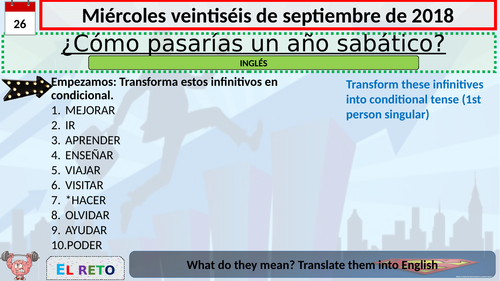 4 lessons based on Module 7 from Viva. Lesson 1: Conditional, formation and uses, conditional practise, reading/translation and listening activities. Lesson 2: Conditional practise, reading and key vocabulary related to transports + 'how to recycle language from the question in your answer' starter activity. Lesson 3: Structures to use future tense, reading and listening tasks + open plenary (writing/speaking). Lesson 4: GSCE writing question (90 words)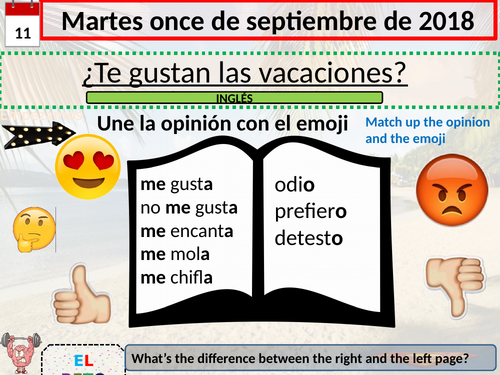 These two lessons are based on VIVA (not strictly following the book). Listening activity is from VIVA higher (page 6). Both lessons' main focus is the correct use of opinions (variety of opinions) and the use of the third person singular when giving opinions.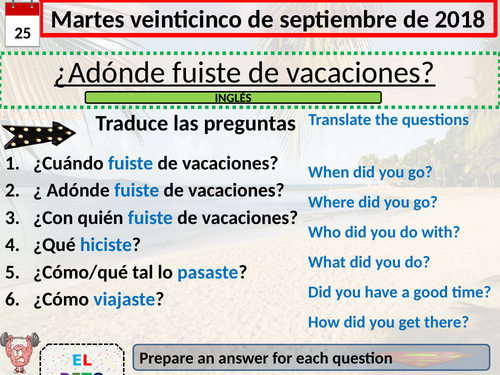 3 lessons based on Viva Foundation- Module 1 (¿adónde fuiste? pages 10,11). Powerpoint contains: questions and answers in the past vocabulary on holidays preterite tense -formation and irregular verbs cards game weather expressions in the past reading/listening/writing Extra lesson with different activties and games to consolidate