162Uploads
15k+Views
2k+Downloads
Languages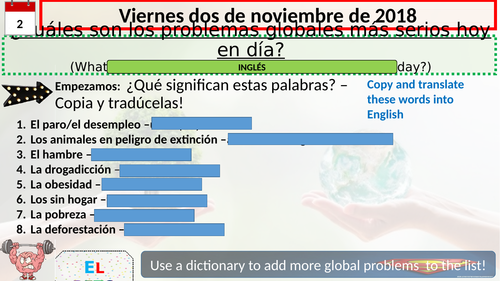 4 lessons based on Mira (module 8) 'environmental issues'. Year 11 middle/high ability Lesson 1 Global issues -vocabulary Reading comprehension Subjunctive -uses and formation Speaking grid Lesson 2 Global problems and solutions Giving advice Se debería (use and formation) Lesson 3 Problem and solutions consolidation Listening (mira, foundation) Political speech: reading/writing Lesson 4 Idioms to express concer/lack of concern Reading Pair dictation Writing task -what do world leaders think?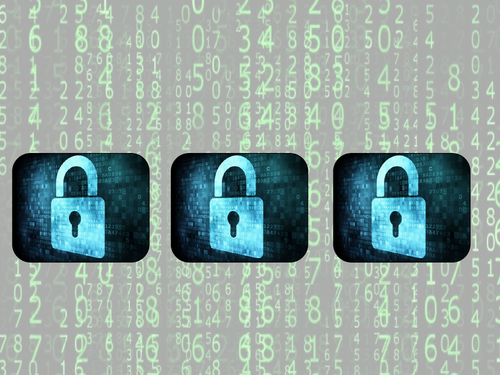 Perfect resource for the end of Year 6/beginning/end of year 7 or transition days. Escape the room type of lesson -students need to solve different tasks to be able to escape the room. At the end of every activity students get a clue to the following in order to escape the room. All the materials are designed in Spanish and French and they are easily adaptable. The power point contains: slide with instructions, a map with how to plan the lesson and all the materials you will need + all the materials you will need in the following slides. Tasks include: Colours Countries Numbers and mathematical operations (Numeracy skills) Sports Animals Translation activities Basic opinions Introductions/greetings Great resource to motivate students! This lesson requires some preparation regarding materials but your students will never forget it!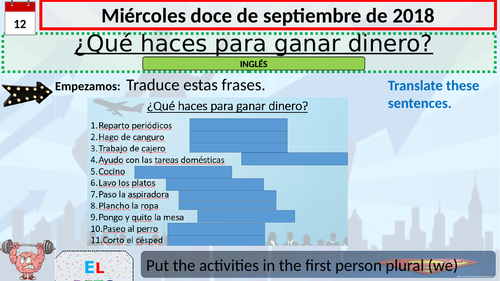 3 lessons based on Viva module 7 (jobs) foundation and higher. Contents: Chores Listening Speaking Vocab test Grammar focus: structures with infinitive Photo card task Role play task Grammar focus: lo /la to avoid repetition GCSE reading task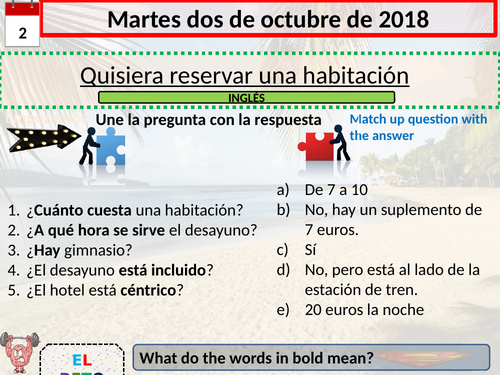 3 lessons based on chapter 5 from Viva (higher and foundation), module 4 (holidays). Lesson 1: -Question/answer starter -Treasure hunt/tripadvisor (3 hotel adds -student centered) -Reading comprehension -Memory game (plenary) Lesson 2: -Starter (order the dialogue) -Listening activity (foundation page 15) -Gap filling listening activity -Role play (GCSE task) -Memory game (plenary) Lesson 3: -Pronunciation match up -Song 'este hotel me vuelve loca' -Complains match up -Sentence builder/speaking activity (¿Cuál es el problema?) -Higher listening from Viva (page 17) -Translation activity -solutions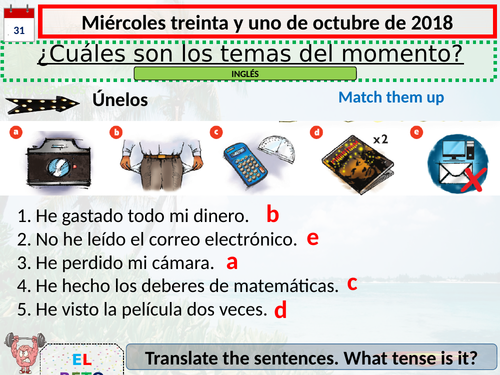 2 lessons based on module 4, temas del momento. Lesson 1 perfect tense -first contact reading grammar point -perfect tense, handout with use and formation never have I ever game + create your own Lesson 2 perfect tense consolidation/formation perfect tense practise game 1 -find the intruder game 2 -verb race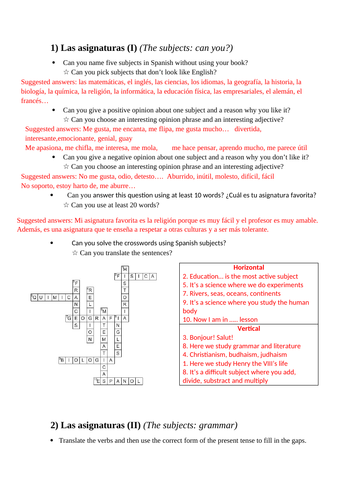 An escape the room type of lesson on the topic of school (viva foundation/higher). Ideal to review/recap/end of topic lesson /end of term lesson or independent work for Year 11 revision. Lesson contains activities related to school subjects, teachers, facilities, uniform and timetable. Power point + worksheet. Can also be used for cover lessons or homework.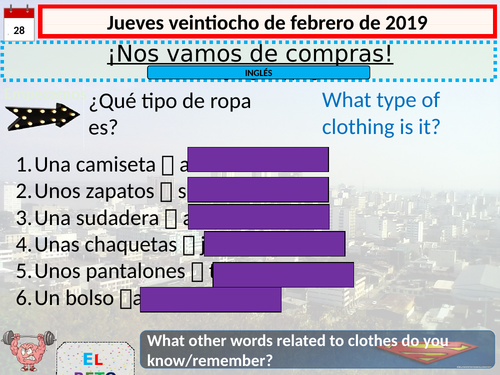 Two lessons based on topic 3, module 5 from Viva (foundation and higher). Ideal for a mixed ability GCSE class. Lesson 1 Vocabulary (clothes) Grammar -demonstratives Sentence builder -speaking/writing Listening from viva foundation Role plays with different situations Lesson 2 Vocabulary recap Sentence builder 'extreme listening' GCSE role play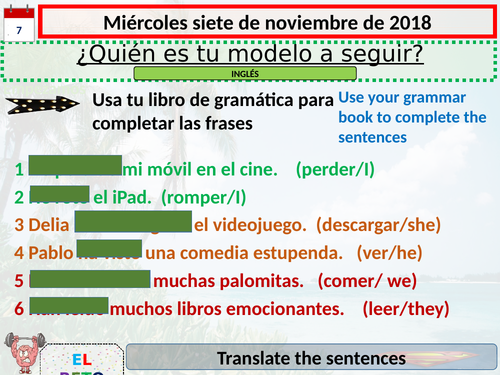 6 lessons based on Viva (higher/foundation) module 4, chapter 5: role models Lesson 1 present perfect revision reading/listening (viva foundation) writing Lesson 2 good/bad role model discussion reading/listening (viva higher) tense work/ writing (present perfect) Lesson 3 present perfect recap yet/already/ever/never dictation competition Lesson 4 sentence formation reading comprehension /game GSCE speaking task -role play Lesson 5 tense practise reading comprehension writing preparation Lesson 6 tense practice (3rd person) GCSE writing task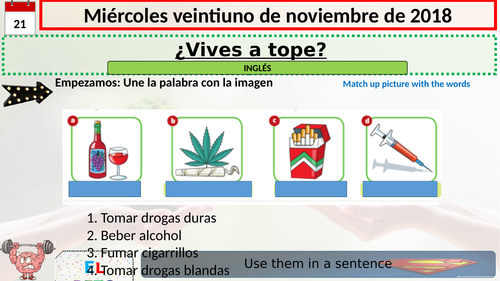 2 lessons based on Viva (higher and foundation) module 8, unit 3 -vivir a tope. All skills. Lesson 1 listening reading speaking dictation game lesson 2 tense practise reading comprehension gcse writing task (differenciated)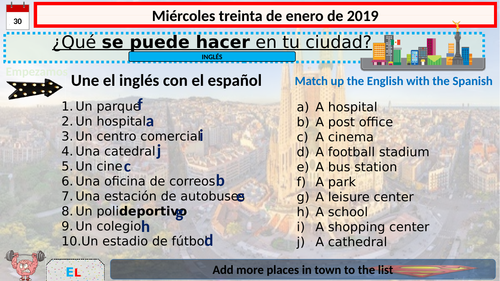 one lesson on things you can do in your city. Lesson contains: basic vocabulary (places in town) game grammar point challenging reading (trip advisor reviews on 3 cities) writing task -write your own review The lesson includes a publisher document with a brochure acting as worksheet for your lesson. Ideal for observations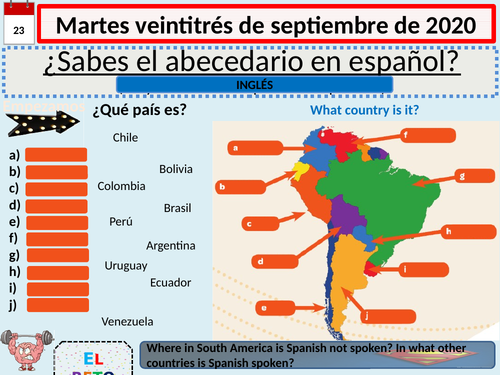 Teach Spanish phonics through a story. A creative way to teach phonics, with lots of practise and games.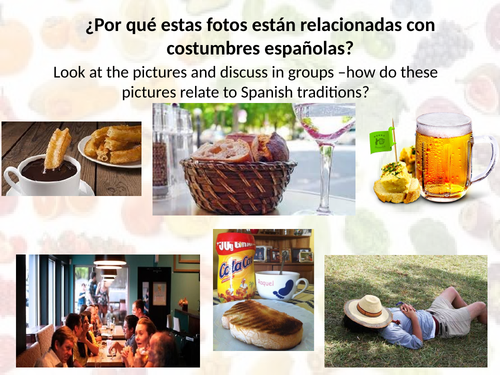 6 lessons based on Viva (foundation and higher) but not necessarily following the book. The lessons contain a lot of cultural knowledge on the topic of food in Spain and GCSE speaking tasks to practise it, as well as authentic resources and two games to practise speaking and tenses. Your students will love it! Lesson 1 - eating habits in Spain Very scaffolded reading comprehension (authentic resource) Lesson 2 - main meals listening task using a youtube video speaking -English or Spanish tradition? photo task Lesson 4 Foods Tense revision Tense wheel -game Writing using 6 tenses (present, preterite, imperfect, near future, simple future, present perfect) Lesson 5 Food, vocabulary consolidation from Viva Listening REading Role play GCSE Lesson 6 Typical Spanish foods and ingredients Reading comprehension (authentic resource) Pinball speaking game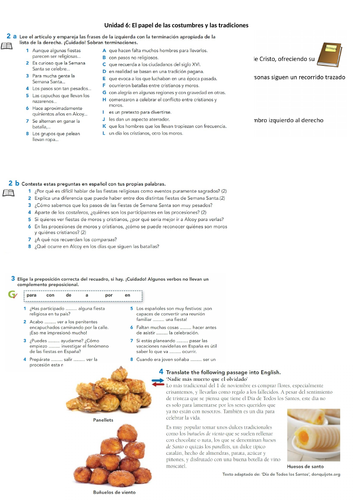 Introductory lesson on religious festivals in Spain (Semana Santa + Moros y cristianos)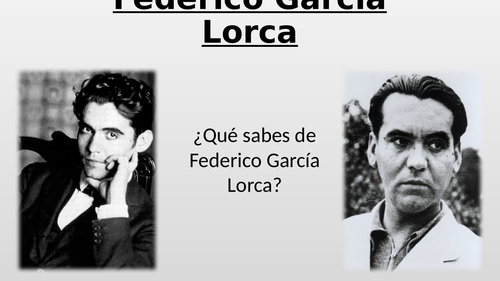 A lesson on the life and biography of Lorca in preparation to study La casa de Bernarda Alba. All the activities are based on a text and students will work on reading, listening, grammar, comprehension skills and a summary question while they learn about the Spanish writer. It can be set as homework or as a project by using the booklet.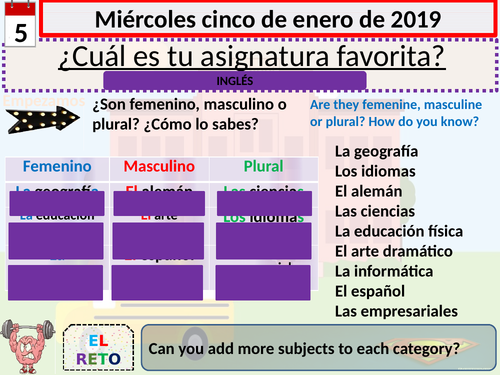 2 lessons based on Viva foundation, punto de partida 1, module 2 (School and subjects) Lesson 1: Gender/subjects recap Opinions (grammar) Listening Sentence builder Vocab test Lesson 2: Adjectives to describe teachers Listening Debate about teachers Jenga game

7 lessons based on Module 1 from VIVA (foundation/higher). Contents : GCSE writing tasks Present tense irregular verbs Opinions with a focus on third person weather in the present tense how to improve sentences questions and answers about ideal holidays consolidation games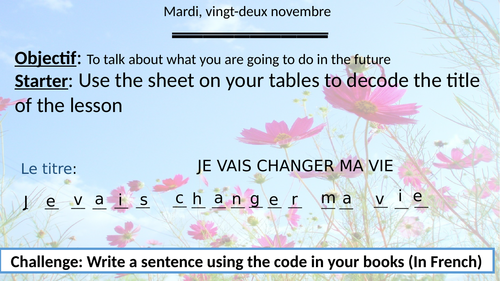 Future tense, healthy living, Year 8, French Starter (decode the title of the lesson) Grammar (infinitives and how to spot them) future tense (with aller) Reading Writing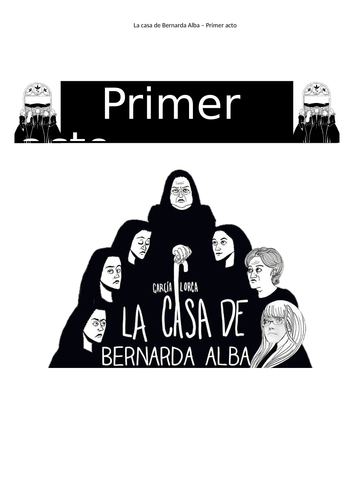 An introductory lesson based only on act 1 designed to be used before and while students are reading the act, with main quotes, main vocabulary, reading comprehension activities, summaries and mini essay writing questions. Aimed for students to work independently with the booklet but it can also be used to teach a lesson. All answers are provided on the power point.