117Uploads
11k+Views
1k+Downloads
Languages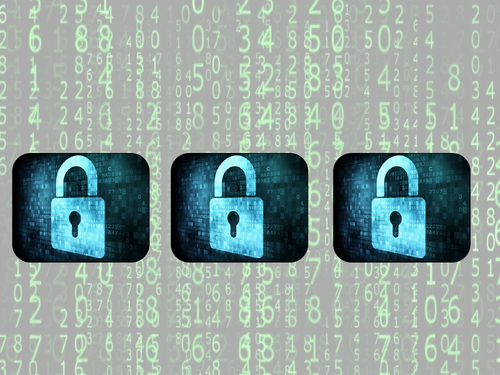 Perfect resource for the end of Year 6/beginning/end of year 7 or transition days. Escape the room type of lesson -students need to solve different tasks to be able to escape the room. At the end of every activity students get a clue to the following in order to escape the room. All the materials are designed in Spanish and French and they are easily adaptable. The power point contains: slide with instructions, a map with how to plan the lesson and all the materials you will need + all the materials you will need in the following slides. Tasks include: Colours Countries Numbers and mathematical operations (Numeracy skills) Sports Animals Translation activities Basic opinions Introductions/greetings Great resource to motivate students! This lesson requires some preparation regarding materials but your students will never forget it!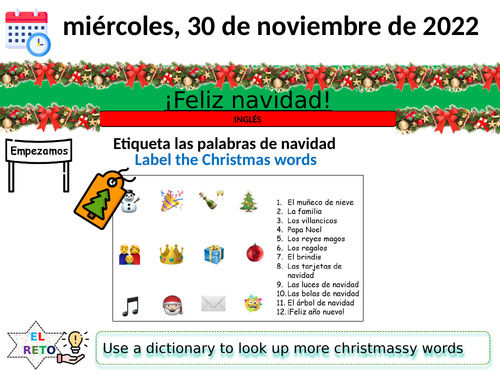 A Christmas lesson aimed at year 6/ year 7 students of Spanish. Full of games on Christmas vocabulary. Great lesson for the end of term.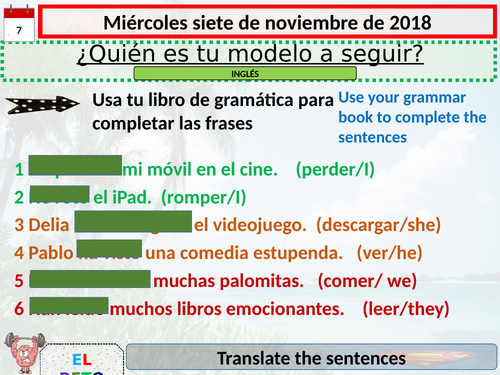 6 lessons based on Viva (higher/foundation) module 4, chapter 5: role models Lesson 1 present perfect revision reading/listening (viva foundation) writing Lesson 2 good/bad role model discussion reading/listening (viva higher) tense work/ writing (present perfect) Lesson 3 present perfect recap yet/already/ever/never dictation competition Lesson 4 sentence formation reading comprehension /game GSCE speaking task -role play Lesson 5 tense practise reading comprehension writing preparation Lesson 6 tense practice (3rd person) GCSE writing task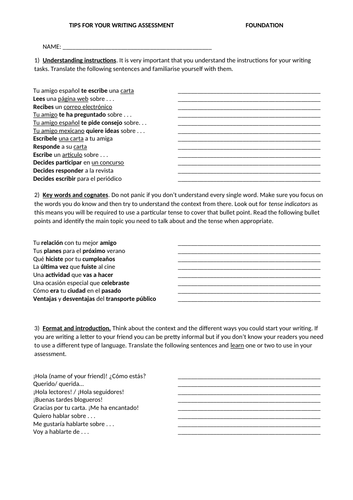 Two booklets for Year 11s to practise/prepare for their writing assessment on their own with plenty of advice, different sentences to introduce and finish off their writing, advice on how to tackle translation and a practise paper to apply all the strategies discussed.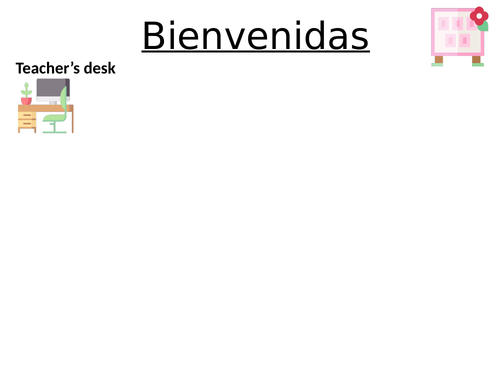 Start the year right by using only target language in your first lesson! Easily adaptable -rules and expectations, introduction, book sorting + icebreaker, all in Spanish.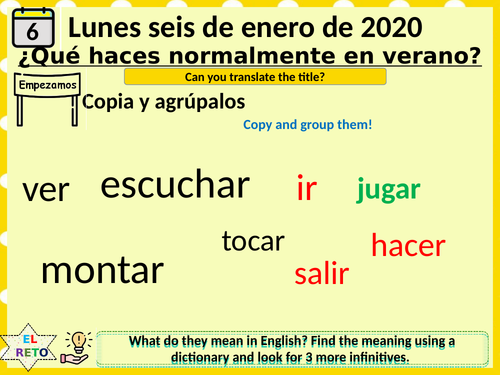 Two lessons based on VIVA higher and foundation -all abilities, well differenciated lessons.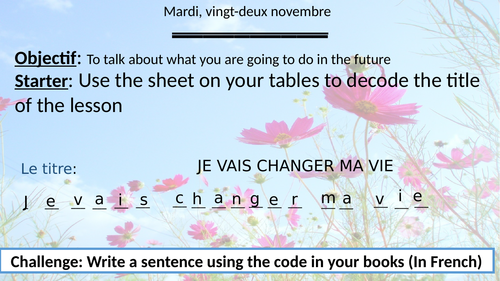 Future tense, healthy living, Year 8, French Starter (decode the title of the lesson) Grammar (infinitives and how to spot them) future tense (with aller) Reading Writing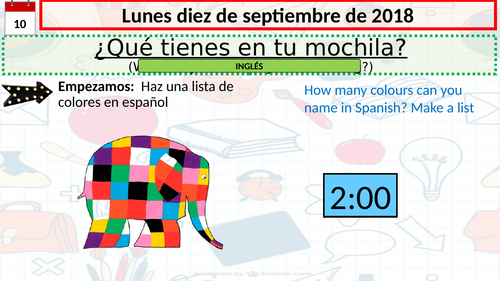 Two lessons based on MIRA 1 to introduced gender in Spanish. Contents: Vocabulary (in my pencilcase) Un/una Hay/no hay different games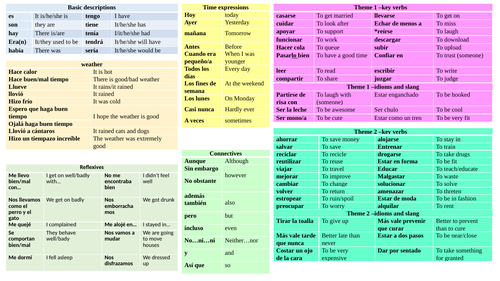 This is a great resource to help your students prepare for the writing assessment. It includes a selection of key verbs for each theme, basic verbs in different tenses, time expressions, connectives, idiom, slang and more complex structures they can use and even learn by heart to use and adapt to their writing.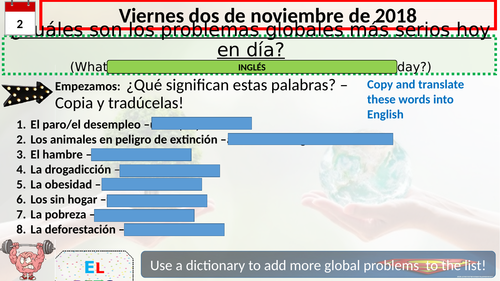 4 lessons based on Mira (module 8) 'environmental issues'. Year 11 middle/high ability Lesson 1 Global issues -vocabulary Reading comprehension Subjunctive -uses and formation Speaking grid Lesson 2 Global problems and solutions Giving advice Se debería (use and formation) Lesson 3 Problem and solutions consolidation Listening (mira, foundation) Political speech: reading/writing Lesson 4 Idioms to express concer/lack of concern Reading Pair dictation Writing task -what do world leaders think?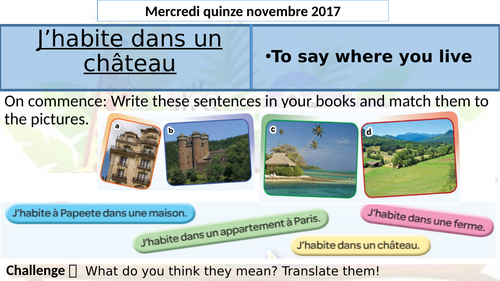 2 lessons based on Studio Acess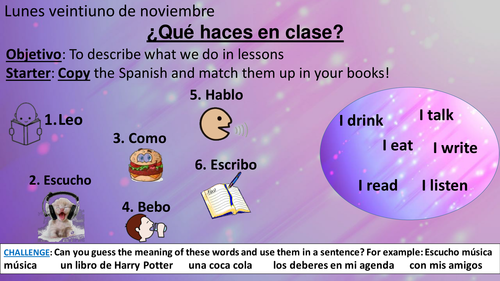 ¿Qué haces en clase? Based on Mira 1, Year 7 Spanish, ideal for observations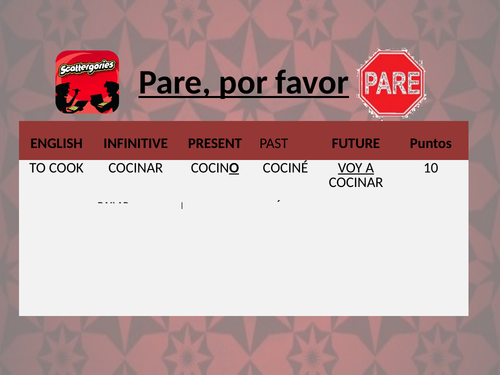 Plenty of activities and adaptable games to engage MFL students in the classroom.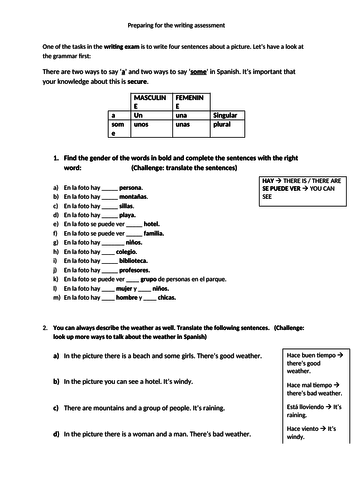 GCSE worksheet aimed for foundation students to be able to complete the photo task in the writing assessment /speaking assessment. It contains brief explanations about very basic grammar points (un/una/hay) and different activities to complete. Ideal for flipped learning lessons, cover lessons, revision, self study or homework.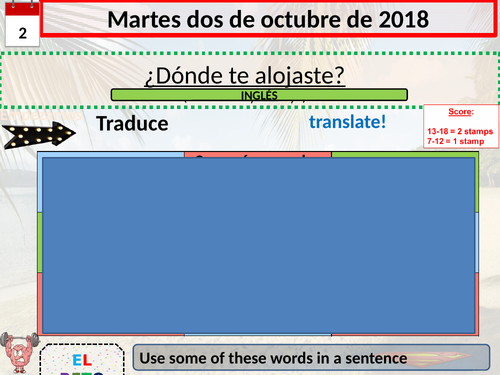 3 lessons based on chapter 4 from Viva Higher module 1 (Holidays). Lesson 1: -Recap starter (holiday vocabulary, preterite, present tense an weather) -Reading comprehension (imperfect introduction) -Sentence builder, speaking activity (¿dónde te alojaste?) -Trapdoor activity -Writing plenary Lesson 2: -Vocabulary: types of accommodation -Expressing opinions (exclamations) -listening activity (viva foundation, page 13) -Speaking grid (¿qué tal tus vacaciones? -Writing plenary Lesson 3: -Question/answer starter -Imperfect consolidation with reading comprehension -Listening (dictation/read out loud) with support -Plenary (era, estaba, había)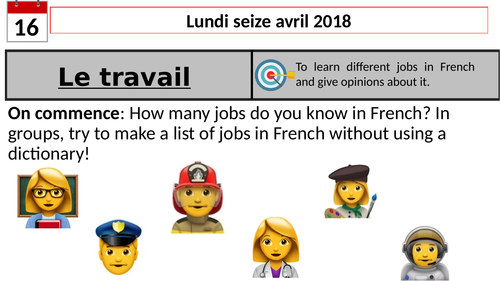 10 lessons on the topic of jobs aimed for KS3 students. Language: French.

Three lessons based on VIVA module 4 'punto de partida/intereses e influencias' and ¿qué sueles hacer? (mixture foundation and higher). Grammar focus (present tense and stem-changing verbs).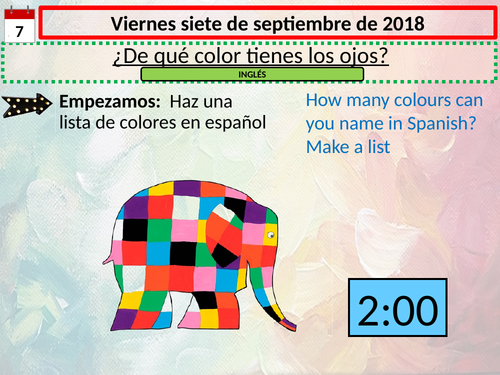 3 lessons, Year 8 Spanish. Personal information, hair and eye colour, personality, agreement and comparative sentences.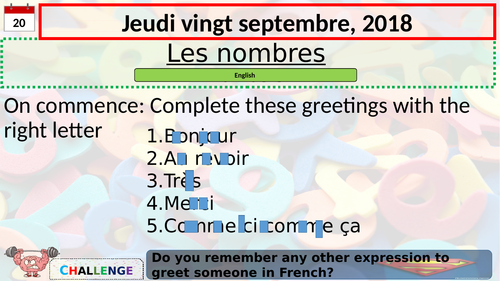 numbers (1-21) and how old are you. Two lessons based on ACCESS -French. YEAR 7/ YEAR 6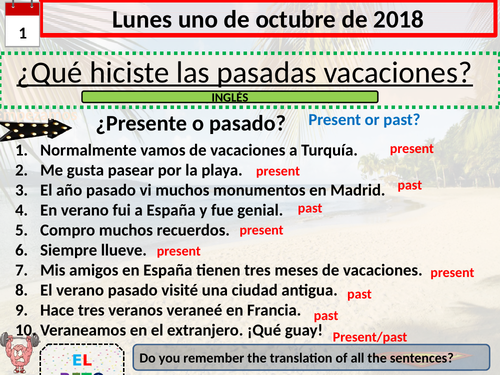 2 revision lessons to recap on past tense and these two chapters from Viva module 1 (holidays). Lesson 1: -Revision present/past -Reading comprehension (preterite tense revision) -Present/preterite activity (including weather) -Noughts and crosses game (plenary) Lesson 2: -Recap starter with points -Reading comprehension (interview) -Translation game -Role play (GCSE task)