123Uploads
12k+Views
2k+Downloads
Languages

2 lessons based on that chapter from Viva (module 1-holidays) Lesson 1: expressions in the past tense, vocabulary (activities in the past), one listening activity and speaking practise with ´lo mejor fue cuando/lo peor fue cuando and reading activity. Lesson 2: quiz on last lesson, recap game, role play GCSE task, translation game.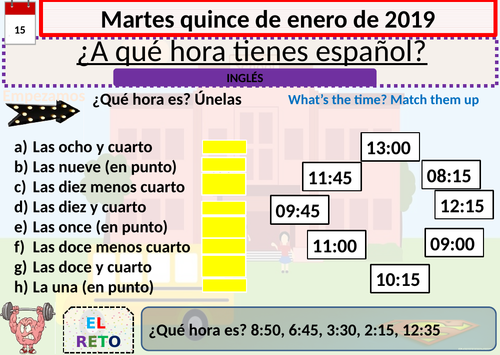 2 lessons to introduce timetable and time revision in Spanish. Lesson 1: Starter - time revision Speaking/questioning about time table Fill the gaps speaking task with two different timetables listening viva (higher) Lesson 2: revision: timetable, subjects and time reading, reading comprehension writing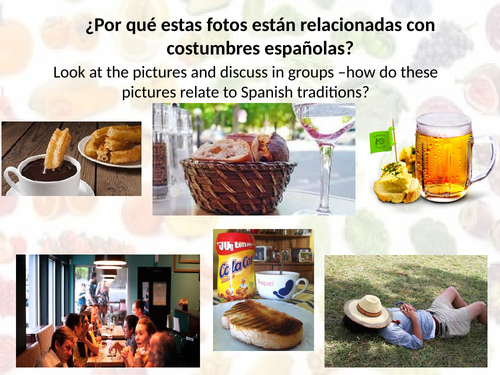 6 lessons based on Viva (foundation and higher) but not necessarily following the book. The lessons contain a lot of cultural knowledge on the topic of food in Spain and GCSE speaking tasks to practise it, as well as authentic resources and two games to practise speaking and tenses. Your students will love it! Lesson 1 - eating habits in Spain Very scaffolded reading comprehension (authentic resource) Lesson 2 - main meals listening task using a youtube video speaking -English or Spanish tradition? photo task Lesson 4 Foods Tense revision Tense wheel -game Writing using 6 tenses (present, preterite, imperfect, near future, simple future, present perfect) Lesson 5 Food, vocabulary consolidation from Viva Listening REading Role play GCSE Lesson 6 Typical Spanish foods and ingredients Reading comprehension (authentic resource) Pinball speaking game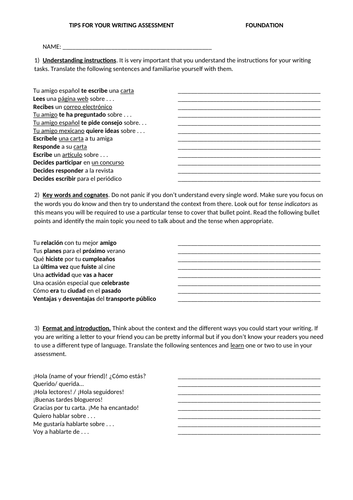 Two booklets for Year 11s to practise/prepare for their writing assessment on their own with plenty of advice, different sentences to introduce and finish off their writing, advice on how to tackle translation and a practise paper to apply all the strategies discussed.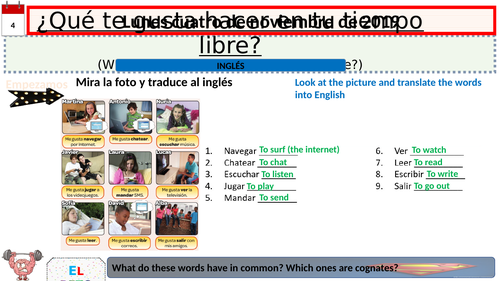 2 lessons based on Viva 1 - module 2. ¿Qué te gusta hacer? Present tense and opinions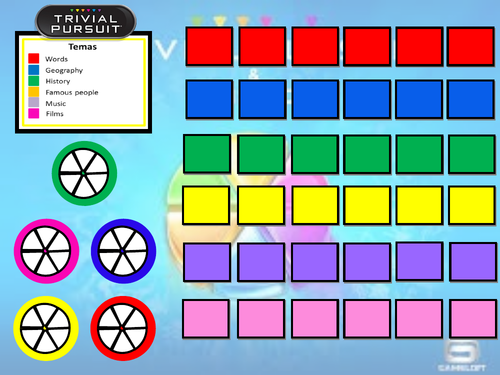 Trivial pursuit -Spanish culture quiz but easily adaptable to other topics by using the template. The power point contains: Trivial pursuit Interactive board with questions for 5 players. Perfect resource for the end of year.

Lesson to introduce preterite tense based on page 67 from viva higher. Grammar focus. Sports and preterite tense (regular and irregular verbs) formation (with practise). Simple lesson to revise preterite before you introduce imperfect tense.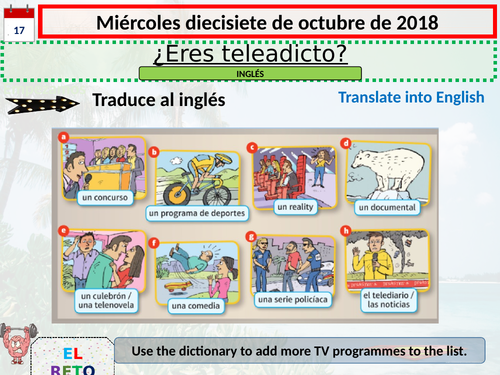 1 lesson based on Viva module 4, punto de partida 2. Vocabulary introduction Listening (foundation) Writing game Speaking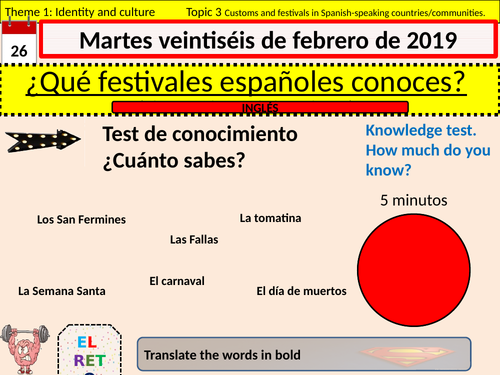 Two lessons aimed at teaching festivals in a very simplified way (excellent resource if you have had no time to cover this topic). Lessons are based on Viva. Lesson 1: Knowledge test -match up festival with description + key vocabulary guess the festival -video activity reading and introduction of passive voice grammar- how to avoid passive in Spanish (structures with SE) avoid the passive practise Lesson 2 Revision on present tense conjugation Fill in the gap, GCSE reading type task on Dia de Muertos Translation There is an additional reading comprehension question in the style of GCSE section B (questions and answers in Spanish)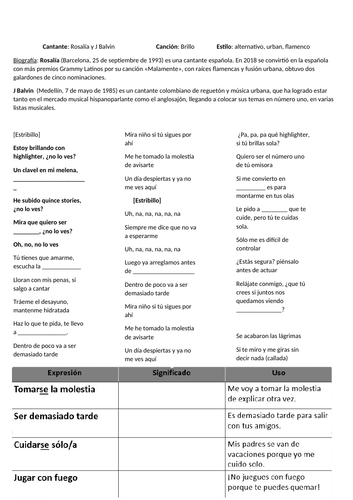 Authentic resource / Song Powerpoint + worksheet Perfect to strech high ability students/motivate difficult groups/Friday afternoons Lesson contains: Introduction with a brief biography about artists lyrics -gap filling activity idioms and expressions from the song translation match up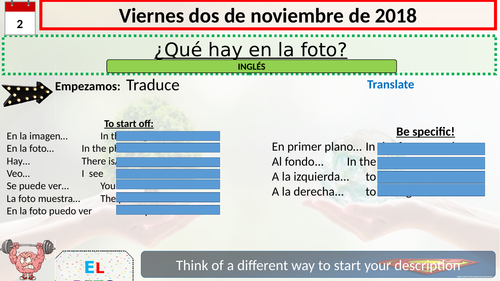 One lesson to practise photo card on the topic of holidays. Lesson contains Starter sentences Photo description activity and preparation Photo task Foundation and Higher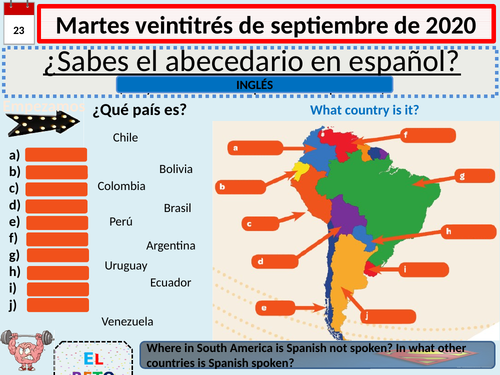 Teach Spanish phonics through a story. A creative way to teach phonics, with lots of practise and games.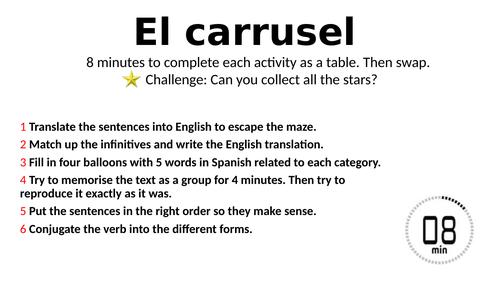 A carrousel type of activity to revise all the contents of Viva 1 module 2 -year 7 Spanish.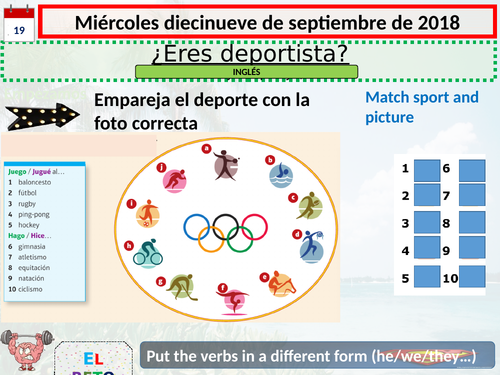 3/4 lessons based on Viva -Higher and Foundation, Fanático del deporte, module 4. Contents: sport vocabulary Grammar focus: preterite / imperfect Listening/reading activities Games and translations GCSE writing task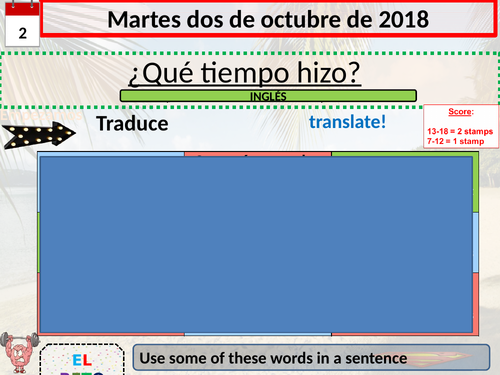 Three lessons on weather in the past tense. Based on Viva, module 1 -Holidays. Power point contains: Lesson 1: weather introduction, vocab recap from past lessons, one reading, one listening activity and a card game. Lesson 2: Vocab recap and repetition, one more challenging listening, a paralel translation and a translation game. Lesson 3: recap, more challenging reading GCSE style, battleships (weather and activities in the past tense)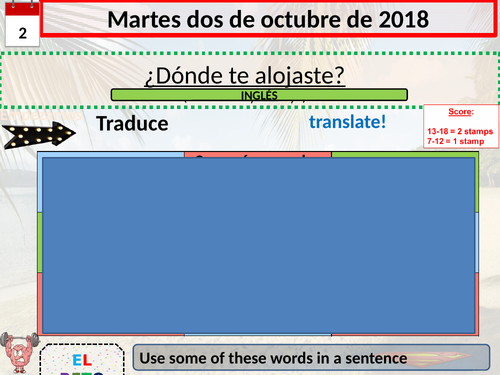 3 lessons based on chapter 4 from Viva Higher module 1 (Holidays). Lesson 1: -Recap starter (holiday vocabulary, preterite, present tense an weather) -Reading comprehension (imperfect introduction) -Sentence builder, speaking activity (¿dónde te alojaste?) -Trapdoor activity -Writing plenary Lesson 2: -Vocabulary: types of accommodation -Expressing opinions (exclamations) -listening activity (viva foundation, page 13) -Speaking grid (¿qué tal tus vacaciones? -Writing plenary Lesson 3: -Question/answer starter -Imperfect consolidation with reading comprehension -Listening (dictation/read out loud) with support -Plenary (era, estaba, había)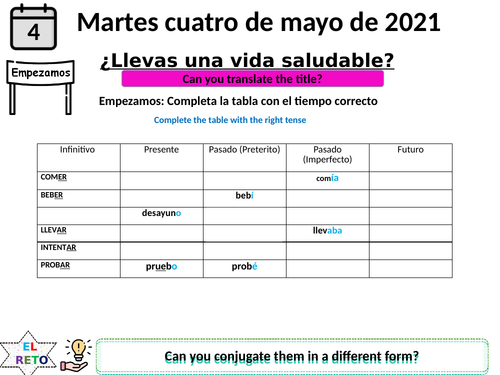 2 lessons based on Viva (higher/foundation) punto de partida 2, healthy living (module 8). LEsson 1 Verb conjugation (4 tenses) Reading/listening activity (sano/malsano) reading comprehension Writing game Lesson 2 Diet description Pronunciation/reading game Listening ( foundation page 158) Sentence builder/speaking activity Writing GCSE task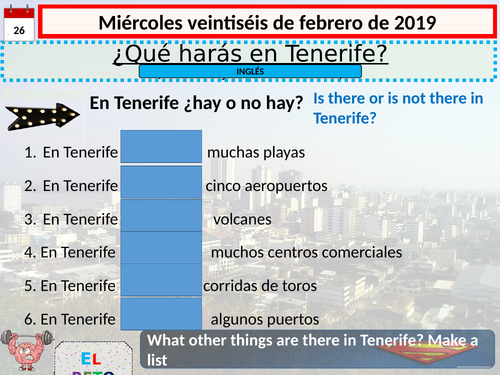 Four lessons based on topic 2 from Viva (foundation and higher combination) for mixed ability groups. Lesson 1 hay/no hay recap tenerife (videos and cultural information) reading and introduction of the future tense writing: plan a weekend in Tenerife, what will you do? Lesson 2 future recap reading comprehension listening speaking game Lesson 3 weather in the future tense (more complex expressions) reading comprehension listening task design your own weather forecast Lesson 4 verb tense revision (time line) writing task (GCSE style + grading criteria)