15Uploads
18k+Views
2k+Downloads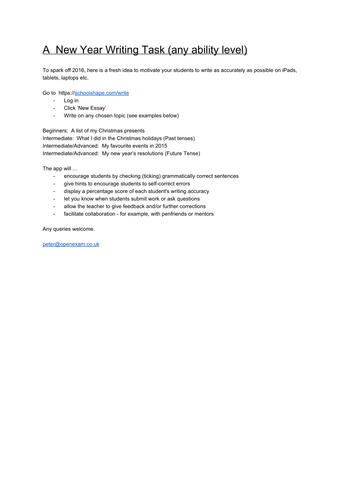 A new idea to motivate students to write as accurately as possible on iPads, tablets, laptops etc.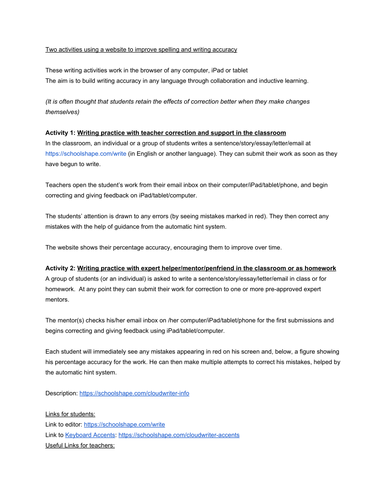 These writing activities work in the browser of any computer, iPad or tablet The aim is to build writing accuracy in any language through collaboration and inductive learning.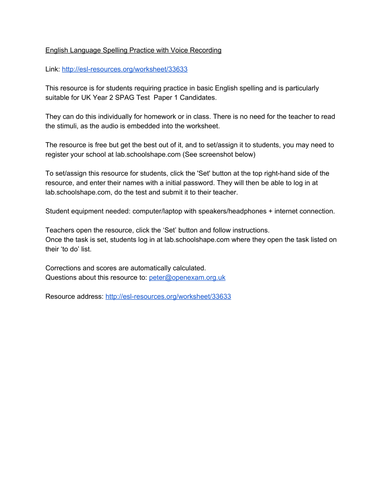 Link: http://esl-resources.org/worksheet/33633 This resource is for students requiring practice in basic English spelling and is particularly suitable for UK Year 2 SPAG Test Paper 1 Candidates. They can do this individually for homework or in class. There is no need for the teacher to read the stimuli, as the audio is embedded into the worksheet. The resource is free but get the best out of it, and to set/assign it to students, you may need to register your school at lab.schoolshape.com (See screenshot below) To set/assign this resource for students, click the 'Set' button at the top right-hand side of the resource, and enter their names with a initial password. They will then be able to log in at lab.schoolshape.com, do the test and submit it to their teacher. Student equipment needed: computer/laptop with speakers/headphones + internet connection. Teachers open the resource, click the 'Set' button and follow instructions. Once the task is set, students log in at lab.schoolshape.com where they open the task listed on their 'to do' list. Corrections and scores are automatically calculated. Questions about this resource to: peter@openexam.org.uk Resource address: http://esl-resources.org/worksheet/33633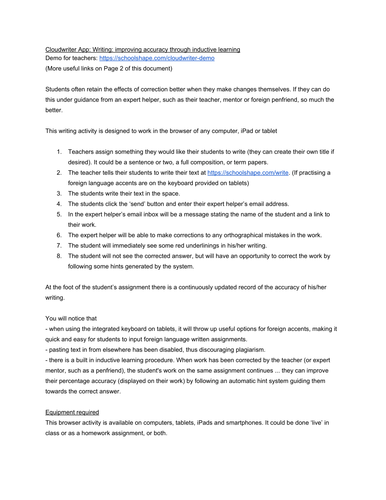 Students often retain the effects of correction better when they make changes themselves. If they can do this under guidance from an expert helper, such as their teacher, mentor or foreign penfriend, so much the better. This writing activity is designed to work in the browser of any computer, iPad or tablet Teachers assign something they would like their students to write (they can create their own title if desired). It could be a sentence or two, a full composition, or term papers. The teacher tells their students to write their text at https://schoolshape.com/write. (If practising a foreign language accents are on the keyboard provided on tablets) The students write their text in the space. The students click the 'send' button and enter their expert helper's email address. In the expert helper's email inbox will be a message stating the name of the student and a link to their work. The expert helper will be able to make corrections to any orthographical mistakes in the work. The student will immediately see some red underlinings in his/her writing. The student will not see the corrected answer, but will have an opportunity to correct the work by following some hints generated by the system. At the foot of the student's assignment there is a continuously updated record of the accuracy of his/her writing.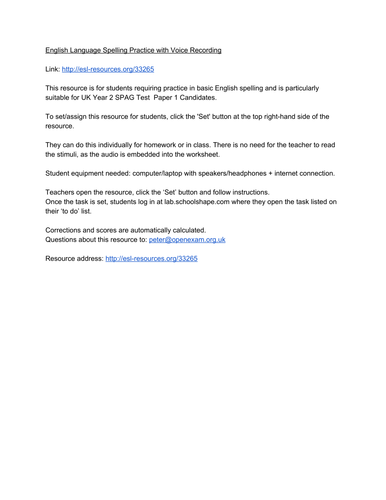 This resource is for students requiring practice in basic English spelling and is particularly suitable for UK Year 2 SPAG Test Paper 1 Candidates. To set/assign this resource for students, click the 'Set' button at the top right-hand side of the resource. They can do this individually for homework or in class. There is no need for the teacher to read the stimuli, as the audio is embedded into the worksheet. Student equipment needed: computer/laptop with speakers/headphones + internet connection. Teachers open the resource, click the 'Set' button and follow instructions. Once the task is set, students log in at lab.schoolshape.com where they open the task listed on their 'to do' list. Corrections and scores are automatically calculated. Questions about this resource to: peter@openexam.org.uk Resource address: http://esl-resources.org/33265