EDUCATION 4U
RESOURCES LINKED TO PROFESSIONAL DEVELOPMENT, WHOLE SCHOOL LEADERSHIP , SEND, AND TEACHING AND LEARNING
33Uploads
9k+Views
2k+Downloads
RESOURCES LINKED TO PROFESSIONAL DEVELOPMENT, WHOLE SCHOOL LEADERSHIP , SEND, AND TEACHING AND LEARNING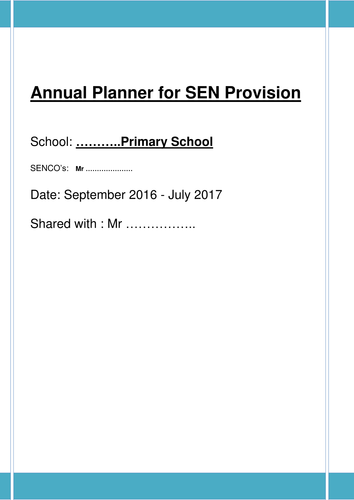 This comprehensive SEND action plan and yearly planner will provide SENCOs and senior leaders with the relevant tools to set outcomes in relation to the schools SEND provision. This is a completed document and can be edited to address outcomes in your own school. This document is a good tool to show Ofsted inspectors how you are addressing the needs of your school and what action you intend to take throughout the year a whole school level.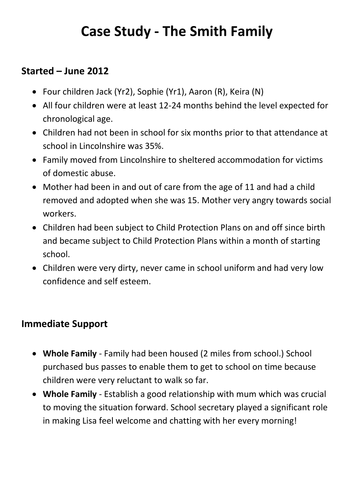 These case studies examples show how your setting is providing impact towards the learning and development of pupils within the setting. It indicates contextual information and justifies how and why interventions are narrowing the gap in relation to pupil progress and development. These will give good examples of how to plan and write case studies so the you can show an cohort of pupils in your setting.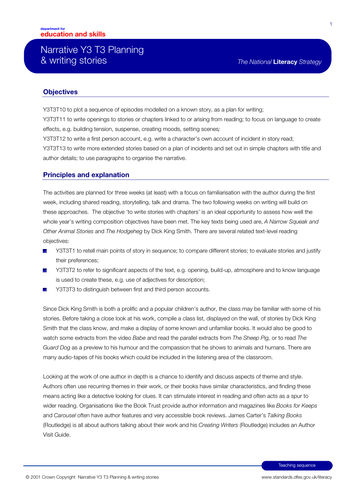 This excellent Literacy resource provides comprehensive short and medium term lesson plan, all teaching resources, power-point presentations, additional workbooks resource and a wealth of time saving teaching and learning resources that will motivate learners while they are engaging in class based learning. The whole unit of planned lessons and resources are based around the story The Hodgeheg by Dick King Smith. This valuable differentiated learning Literacy Based resource will is comprehensive to use in Observed lessons and will save you time thinking about how to motivate and engage your learners to show excellent progress. Excellent Value and Cost Effective resource. Enjoy your TEACHING :)
This resource package is an excellent opportunity to reduce your workload when having to show evidence towards supporting children whom exhibit any of the 4 areas of SEND. The resource is ideal for NQTs, Student Teachers and Current Classroom teachers / practitioners who need to provide evidence of tracking progress and developing outcomes in relation to learning, behaviour and risk. All of these documents have been used and assessed in Ofsted inspections and have been noted from external and internal professionals as high quality resources that enhance the provision of addressing the needs of individual children who need additional support. All of the documents are in word format that can be edited and completed examples are provided. These resources will save you time and can be used to develop classroom or whole school practice by enhancing SEND provision in your setting.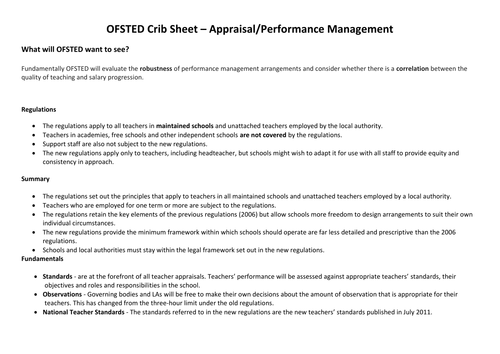 These documents provide Senior leaders and Governors a reflective review of the type of questions and evidence Ofsted inspectors may ask or look out for. It is an excellent opportunity to have leaders in the school prepared for the inspection and these documents will guarantee successful, comprehensive preparation for Outstanding Ofsted inspection outcomes.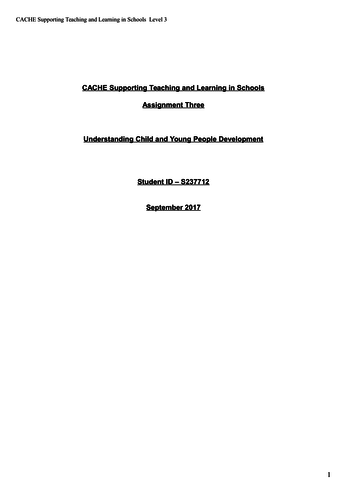 Understanding Child and Young People Development AN ASSIGNMENT THAT HAS BEEN MARKED AND PASSED FOR THE AWARD OF LEVEL 3 DIPLOMA IN SUPPORTING TEACHING AND LEARNING.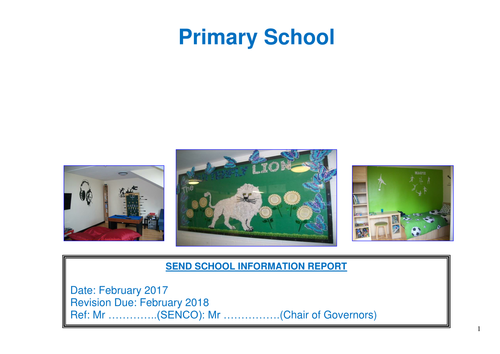 This outstanding information report meets the requirement set out in the the revised SEN Code of Practice (DfE, April 2014) which states: 'The governing bodies of maintained schools and maintained nursery schools and the proprietors of academy schools must publish information on their websites about the implementation of the governing body's or the proprietor's policy for pupils with SEN.' (p93) This information report is highly comprehensive and will save SENCOs time to write one from the beginning. It is a word document that can be edited and easily transferred to most educational settings.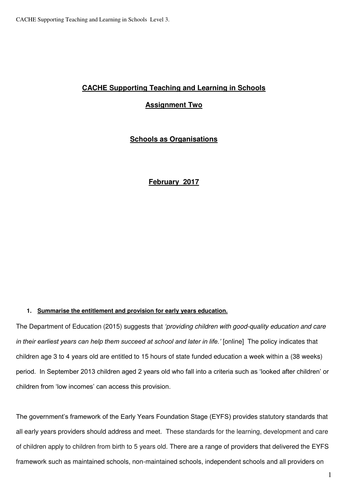 This marked assignment achieved outstanding grade feedback that meeting the requirements of the CACHE diploma and outcomes of the course. It is in word format that will allow you to edit the document and save you time researching some of the key tasks.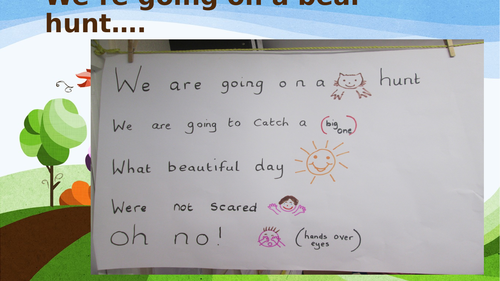 This outstanding lesson plan and resources provide an excellent Literacy lesson for Year 1/ 2 children with differentiated tasks and ideas to get learners active and engaged in the lesson. The lesson was recently grade a good by inspectors and can be used to promote writing activities linked to the process of stages for talk for writing. This is an excellent time saving lesson plan that can be adapted for your class and edited.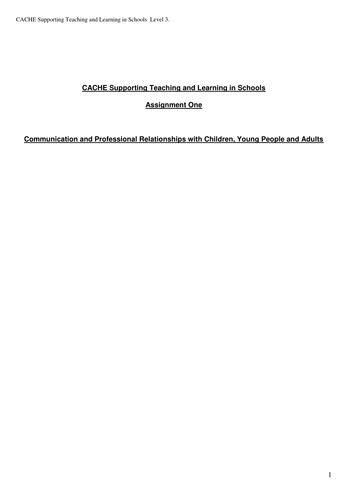 Communication and Professional Relationships with Children, Young People and Adults This marked assignment achieved outstanding grade feedback that meeting the requirements of the CACHE diploma and outcomes of the course. It is in word format that will allow you to edit the document and save you time researching some of the key tasks.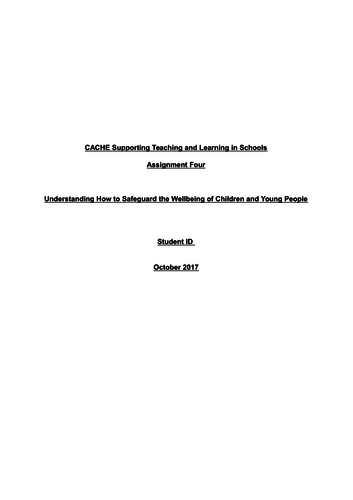 This marked assignment achieved outstanding grade feedback that meeting the requirements of the CACHE diploma and outcomes of the course. It is in word format that will allow you to edit the document and save you time researching some of the key tasks.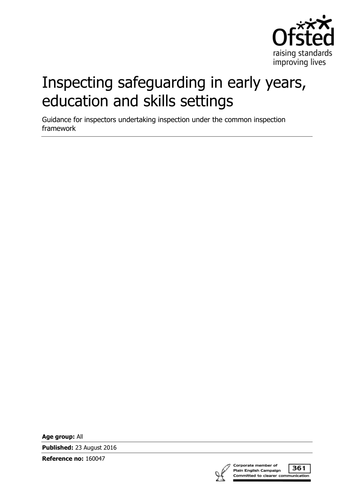 The Excellent easy to use audit resource will allow leaders to check if they have all the required evidence needed to get good to outstanding in the inspection framework.. This is a working document and has recently been provided by an inspector. Schools who use this document will be able to make sure all necessary documents are in place before the Ofsted inspection.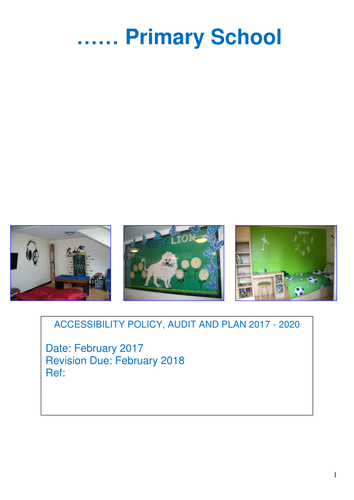 This comprehensive plan, policy and audit meets the requirements as set that schools are under a duty set out in section 28D(2) and (9) to prepare accessibility strategies and accessibility plans respectively. An accessibility strategy or plan is a strategy or plan for meeting the needs of all people with disability. This word editable document will save time and meet the requirements set out in the statutory framework so this can be placed on the schools website and satisfy the requirements Ofsted views when looking as school documentation.
The Tool Kit supports what Inspectors will look for and the evidence needed to have a professional understanding of how children and young people with special educational needs or disabilities (or both) are identified, how their needs are assessed and met, and how they are supported to move on to their next stage of education, the world of work and wider preparation for adulthood. This tool kit will support the outcomes of inspections that are carried out under section 20 of the Children Act 2004. The inspectors will also look at the way in which local areas are meeting their duties under the Equality Act 2010. This is an excellent and comprehensive time saving resources that will provide value added outcomes to your setting.
This is my submitted assessment for for the NPQSL final assessment which passed. My assessment focus is on developing quality marking and feedback leading whole school development and closing the gap in reading . This assessment is uploaded using the strict criteria required for submission and sits within the allocated page count. I received good feedback across all aspects of the assessment. This assessment will allow you to structure your work according to the assessment criteria and give you support on what you need to do to pass the qualification. The literature is wrote academically linked to Masters Level 7 standard and can support future study that will be recognised in meeting the level for a master degree qualification.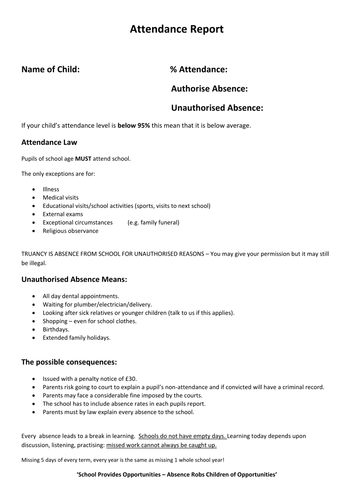 These resources provide excellent opportunities in leading successful outcomes in relation to the Ofsted framework for Behaviour and Safety. it acknowledges statutory regulation and provides resources to show Ofsted how you are successfully leading this area in practice.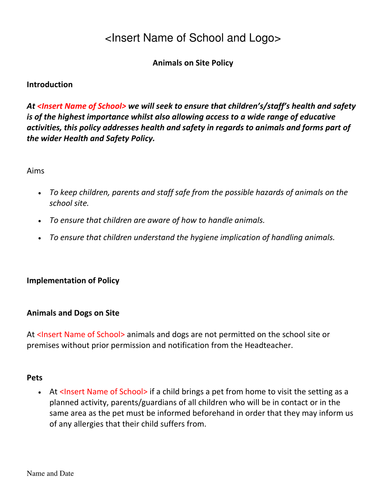 Whole school policies and documentation for leaders and school business managers to implement the legal policies required of school buildings and premises linked to health and safety requirements.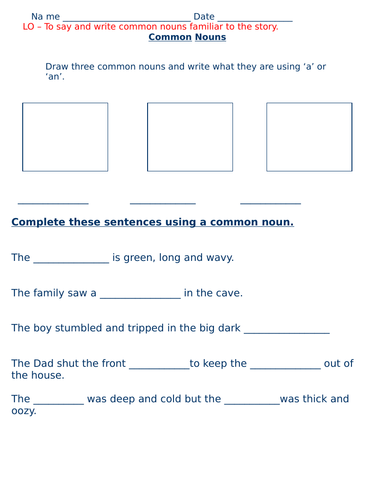 This excellent bank of differentiated work sheets can support engaging and focused GSP learning opportunities that links to the text we're going on a bear hunt. These work sheets will provide at least 2 weeks of learning focus that will allow children to explore the language used within the text and help them to compose writing opportunities at an independent level.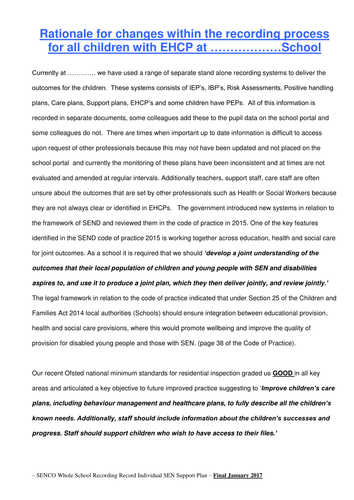 This is an excellent resources for SENCO's and Heads who need to demonstrate a system to show how all universal services are working together to deliver the outcomes of all children who have an EHCP or awaiting assessment for one . One of the key features identified in the SEND code of practice 2015 is working together across education, health and social care for joint outcomes. As a school it is required that we should 'develop a joint understanding of the outcomes that their local population of children and young people with SEN and disabilities aspires to, and use it to produce a joint plan, which they then deliver jointly, and review jointly.' The legal framework in relation to the code of practice indicated that under Section 25 of the Children and Families Act 2014 local authorities (Schools) should ensure integration between educational provision, health and social care provisions, where this would promote wellbeing and improve the quality of provision for disabled young people and those with SEN. (page 38 of the Code of Practice). As a result of the legal framework and Ofsted recomendation it was decided to devise a universal system where all provision / outcomes are identified and specific to the individual children at ………. School. Having discussed this with external professionals and researched what is identified as outstanding practice, I began to create a system that is universal with all stakeholders and acknowledges the views of the child and how to best support them. In reflection to the above a new whole school framework has been develop and I have worked closely with the Head of Care, Chair of governors, Educational Psychologist, LA SEND Department, …….. (Upper School SENCO), ……..(Team Teach Lead), ……. (PSA) to produce a system called (Individual SEN Support Plan).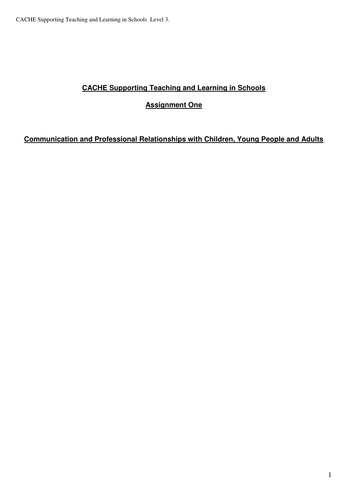 An excellent written assignment that passed with high quality marks that formulates part of the CACHE Level 3 qualification. This example assignment and additional resources will provide all what you need to pass and complete the assignment that focus on Communication with children, young people and parents.