Willow's Resource Shop
Resources and revision notes for A Level English Literature and Music
26Uploads
229Views
2Downloads
Resources and revision notes for A Level English Literature and Music Revision notes for 'The Wife of Bath's Prologue' by Chaucer. Suitable particularly for those studying for the Pearson Edexcel A Level English Literature poetry paper. Includes: Line numbers Overview Themes Language Form and structure Contextual ideas Notes covering the key features of 'The Wife of Bath's Prologue and Tale'. Particularly suitable for those studying for the Pearson Edexcel A Level English Literature poetry exam. Covers: Language features (imagery, allusions, rhetoric, humour etc.) Structure (use of tricolons, exegesis, interruptions etc.) Style (traditions, subversions, framing etc.) Form Tone Very detailed A Level English Literature notes for Scene 1 of 'A Streetcar Named Desire' by Tennessee Williams. Includes: Quotes Themes Techniques and analysis Context 6x A4 Pages Revision notes for movement 1 and movement 2 of 'Mrs Dalloway' by Virginia Woolf, with an empty grid for students to continue note-making. Divided by: Characters Themes Symbols Plot Context Key Quotes and Analysis Notes and analysis for all of the Poems of the Decade poems prescribed for Pearson Edexcel A Level English Literature. Includes analysis of the title, structure, tone and form, along with a list of themes. A 'master' grid for 'A Streetcar Named Desire'. Registers features of each scene including: Time Plot aspects Themes Characters Objects Lighting and colours Temperature Sound volume Locations Sounds/music Clothing Tone Gestures/positions/movements References and allusions Animals Exam strategies for the written paper for the Pearson Edexcel AS and A Level Music syllabus. Includes advice in regards to: Listening questions Questions about specific musical elements Dictation Question 5: Previously unheard piece essay Question 6: Set work essay 2x A5 pages Outlining how to write a poetry comparison essay, useful for any exam board or level. Includes comparative vocabulary. Notes for 'The Wife of Bath's Tale'. Suitable for students studying for the Pearson Edexcel A Level English Literature poetry paper. Includes: Lines Overview Themes Language and analysis Form and structure Contextual ideas Lists of 8 further listening works for each of the 18 Pearson Edexcel A Level Music set works. For each one, 4 are from before the set work was published, and 4 from after. A character-tracking grid with analysis for 'A Streetcar Named Desire' by Tennessee Williams. Features 4 key scenes for each character and a general summary. Characters included: Blanche Stella Stanley Mitch Allan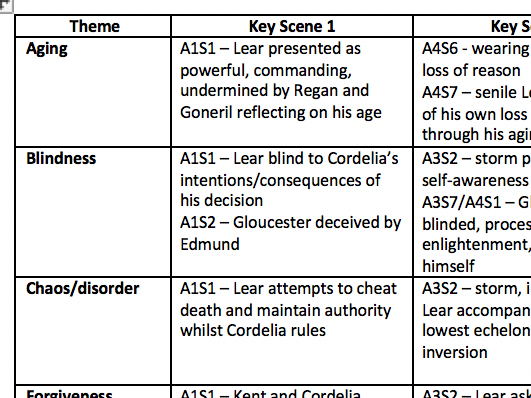 A theme tracking grid for 'King Lear'. Suitable for all exam boards. Covers key scenes for 9 themes, with an overall summary. Themes covered: Aging Blindness Chaos/disorder Forgiveness Family relationships Fate Madness Gender Justice Loyalty Man, vs nature Truth List of contextual ideas important to 'Wuthering Heights' and 'Mrs Dalloway'. Particularly relevant to students studying for the Pearson Edexcel A Level English Literature prose paper. Notes on the key features of 17 specific eras and genres of music. Related specifically to the set works on the Pearson Edexcel syllabus but useful to any board. Eras/genres covered: Baroque Classical Romantic Impressionist Cuban Indian classical Gamelan Suspense films Jazz Funk African tradition Popular music 20th Century classical Experimental Folk Musique concrète Spectralism Grid of contextual information for 'The Wife of Bath's Prologue and Tale'. Divided by: Textual Authorial Historical Social Political Genre Grid of contextual information for 'A Streetcar Named Desire' by Tennessee Williams. Divided by: Textual Authorial Historical Social Political Genre A detailed list of musical terminology, no definitions, for 10 musical elements. Suitable for GCSE and A Level Music students. Elements included: Melody Vocal style Texture Harmony Tonality Word setting Form and structure Dynamics Rhythm, metre and tempo Sonority Grid of contextual information for 'King Lear'. Divided by: Textual Authorial Historical Social Political Genre Grid for the Poems of the Decade, as prescribed for the Pearson Edexcel A Level English Literature poetry paper. Includes analysis of: Title Narrative style Themes Attitude and tone Graphology Rhyme and punctuation Language Form and structure A list of 19 shared themes between 'Wuthering Heights' and 'Mrs Dalloway' with examples for comparison. Particularly useful for the EdExcel AS/A Level English Literature Prose paper. Themes covered: Foreignness Family Love Suffering Religion Knowledge Social class The past Memory Women and femininity Men and masculinity Setting Marriage Time Reputation Madness Death Communication Dreams