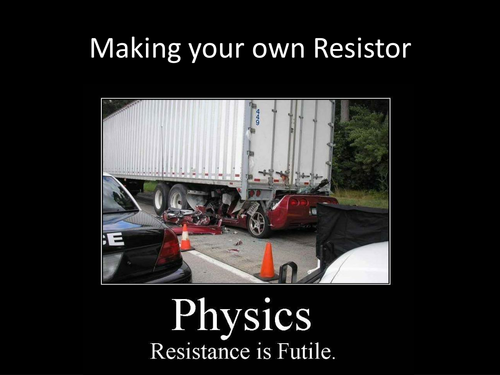 A practical I do with my year 9 group (but could be adapted for GCSE). We make a basic variable resistor by shading in an area on grid paper using graphite pencils. Then see how resistance is affected with length. I originally got the idea from a video clip I saw on YouTube, the link is attached here. You will need to have digital multimeters to do this, that have a setting to measure resistance. NB: I'm a recently qualified teacher, so constructive comments on my resources and how they can be improved are really welcome! So please leave a comment if you used them! Thanks!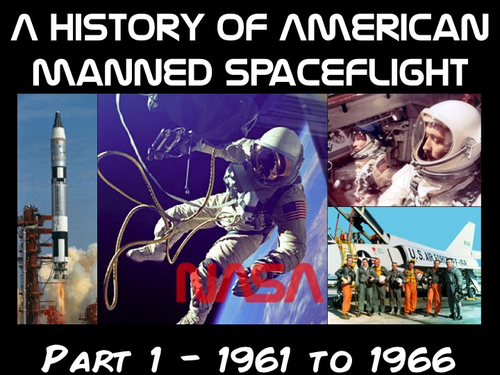 Presentation and displays of the history of manned spaceflight in the US. This is the first part and covers the Mercury and Gemini program from 1961 to 1966. All images are courtesy of NASA and are public domain.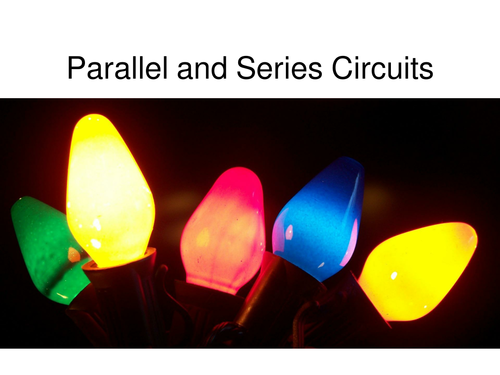 This is an introduction to parallel and series circuits for non specialist physics teacher. Included with the powerpoint slide is a worksheet, and how to set up the practical, with troubleshooting. The jpeg files are previews of the slides and what the equipment looks like. Great resource for newly qualified science teachers, student teachers and non specialists.
Lesson explaining what is a Solar Eclipse and the difference between a total, partial and annular solar eclipse. Students should use their phones to simulate the different types of solar eclipses (see cover image) and then be able to explain the conditions for the three types of solar eclipses to occur. Also includes research worksheet.
Bundle
Step by step teacher instructions and guided worksheets on classic experiments in physics that are hard to get working the first time! Designed for new physics teachers or non specialist physics teachers. Experiments include: - Parallel and Series Circuits - Measuring Refractive Index - Measuring Specific Heat Capacity - Transformers
Practical on how to measure the refractive index of a perspex or glass block. Step by step instructions (with lots of images) included on how to set up the experiment, as well as slide show of images showing how to set up the experiment for your class. Also included are student instructions.
Bundle
Revision pack for mechanics aspect of physics includes the topics: Circular motion, kinematics, conservation of energy, Kinetic Energy and Gravitational Potential energy, Newton's law of gravitation.
Two page revision guide the conservation of energy. Types of energy, kinetic energy, gravitational potential energy. Includes practice question, worked questions, and answer page for practice questions.
Bundle
Scheme of work for BTEC L3 applied science Medical Physics unit. Plus teaching material for the P1 to P6 assessment criteria.
Six high resolution images explaining some of the key concepts of radioactive decay. Original PowerPoint file is included in case you want to edit or add to them.
Bundle
Some of my most popular displays bundled together. Includes: Exam command terms Key words in science EM Spectrum History of American spaceflight Newton's Law of Gravitation Radioactive decay Particle physics The Solar System
Student activity to model the random nature of radioactive decay. Each group (2 to 3 students) will need a pack of skittles or m&ms. Document includes student instructions, table template and graph template for students to record their data.
Bundle
Bundle of some of my more popular resources on atomic physics. Suitable for IB or A Level physics
Revision sheet for students to revise: - Converging and Diverging lenses - Ray Diagrams - Properties and uses of lenses Includes answers and worked solutions
Revision worksheet for NOT, AND, OR, NAND and NOR gates. Also revision problem for combining logic gates. Includes answer sheet.
I made a PowerPoint a few years back on how to make a resistor with pencils. Here are (differentiated) instructions explaining to students how to carry out the investigation. Included is the original publisher file if you want to edit it. If you don't have publisher a PDF is also included! To do this experiment you will need a digital multimeter that can measure resistance.
Powerpoint slides explaining what a potential divider is, and explaining step by step how we derrive the equations for a potential divider. With an investigation suggestion for potential dividers. Worksheet included with 4 KS5 questions on potential dividers, and mark scheme with worked solutions.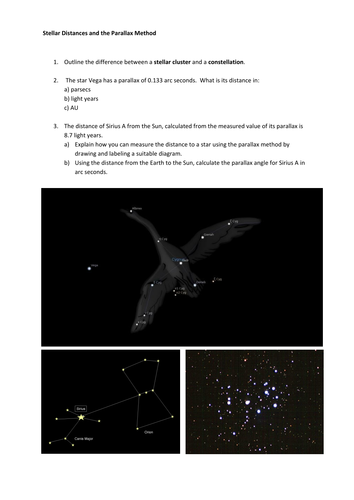 One sided worksheet with questions on stellar distances and calculations involving the parallax method. With worked solutions.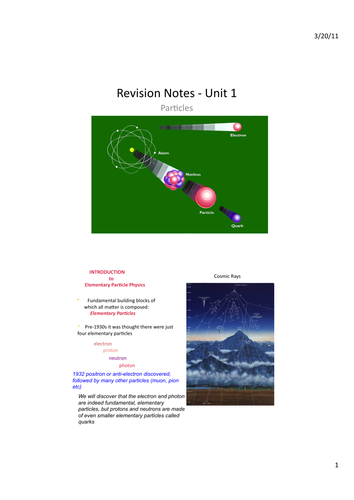 A collection of slides to help students revise the particle physics topics in Unit 1 of AQA Physics A. They are a collection of my old university notes and materials I have developed on the following topics: The Particle Zoo (Hadrons, Leptons etc) Conservation Rules Quarks The Photoelectric Effect One version is a printable PDF version, one is suitable for IWBs Feedback is very welcome as I am recently qualfied teacher always looking to improve my resources (please be kind though!)
Aimed for non-specialist physics teachers (or new teachers) who are teaching GCSE physics. A guided walk-though of how to measure the specific heat capacity of different metals. Includes teacher instruction sheet, and a student investigation sheet.
Attached is everything you will need to teach a lesson (with a class practical or demonstration) on transformers. Using a multimeter that can measure AC voltage (available at places like Maplins), and a set of transformer coils (available from Phillip Harris) students measure the voltage across the primary and secondary coil of a transformer. Included are student instructions, guided questions, and teacher set up instructions. PLEASE MAKE SURE YOU HAVE A MULTIMETER THAT CAN MEASURE AC VOLTAGE BEFORE PURCHASING! See cover image for all equipment you will need!
One side revision guide covering the definitions of Specific Heat Capacity and Latent heat. With three common examples and worked solutions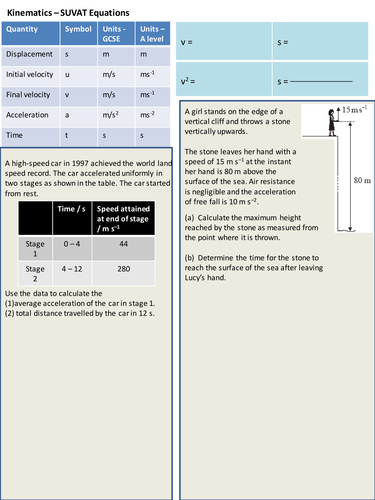 1 page revision guide on kinematics (suvat equations) with two practice problems.