Science Monkey Lab
Awesome, high quality resources, lovingly prepared!!
21Uploads
2k+Views
2k+Downloads
Awesome, high quality resources, lovingly prepared!!

Reading Thermometers - (Celsius Version) Bumper set of worksheets and activities to help students practise reading thermometers and their general understanding of temperature (UK Version - UK spellings) + Reading Thermometers Three worksheets in which students practise reading thermometer temperatures. Three different scales/resolutions (5°C/2°C/1°C) for them to practise! + Coloring Thermometers Three worksheets in which students can color the thermometer scale to match the correct temperature. Three different scales/resolutions (5°C/2°C/1°C) for them to practise! + Card Sort Three sets of thermometers and matching temperatures to cut out, and for students to sort and match - three different scales/resolutions (5°C/2°C/1°C). + Arrange temperatures of a scale Students to cut out temperatures of common things/scenarios and arrange them on the thermometer scale. + Seasonal temperatures More practice on reading thermometers and temperature association with seasonal temperatures. ANSWER KEY INCLUDED! CHECK OUT THE PREVIEW! TERMS OF USE This product is to be used by the original purchaser only – use this resource in your own classroom, with your students, or for your own personal use. Providing this resource to another teacher, department or school (via email/hard copy/cloud based services/website, etc.) is prohibited – you may buy additional licenses for others to use this product (one for each user) at a discount. This resource may not be distributed or displayed digitally for public view. Many of the graphical elements and images used in this resource are copyrighted and used with permission, under license. Use of such graphical elements (e.g. images) is limited solely to that use which is necessary in order to use this educational resource and as such must not be extracted, reproduced or used in any other way. Failure to comply is a copyright infringement and a violation of the Digital Millennium Copyright Act (DMCA).

A worksheet for students to demonstrate their understanding of how metal and non-metal atoms form ions, in order to participate in ionic bonding. Differentiated resource: Worksheet scaffolded to facilitate completion of electron configuration diagrams (of atom/ions) by less able students. Alternate version allows students to draw diagrams themselves.

Codebreaking with the Periodic Table Students are to familiarize themselves with element names and symbols through a series of codebreaking activities: identify the names of animals from lists of the elements by finding each element's symbol spell the names of animals using element symbols decipher coded messages using the atomic number to find the corresponding element symbol. Answer sheet included!

Table top card sort! Straight forward activity for students to consolidate knowledge of elements, compounds and mixtures. 15 substances require sorting and matching to definitions. Answer sheet included!

Worksheet helping students understand how electrons are arranged in atoms. For the first 20 elements, students are to: calculate the number of protons, electrons and neutrons present complete the diagrams to show the electron arrangement write the electronic configuration in numbers

Activity to assess understanding of the filling of energy levels, electron shells, sub-shells and orbitals to derive electron configurations. Structured worksheets provide students with the opportunity to fill in energy level diagrams and 'electrons in boxes' diagrams to facilitate derivation of the overall electron configuration for the first 36 elements (hydrogen - krypton). Resource contains: Worksheet set 1 - diagrams/configurations for completion for 36 elements, 4 elements to a page, set in order of atomic number (9 pages total) Worksheet designed for ease of printing - could be printed and cut out (guide lines provided) to give students specific examples to complete - mini task cards! Worksheet set 2 - diagrams/configurations for completion for 20 randomly selected elements, 4 elements to a page, in order of increasing difficulty (5 pages total). TERMS OF USE This product is to be used by the original purchaser only – use this resource in your own classroom, with your students, or for your own personal use. Providing this resource to another teacher, department or school (via email/hard copy/cloud based services/website, etc.) is prohibited – you may buy additional licenses for others to use this product (one for each user) at a discount. This resource may not be distributed or displayed digitally for public view.

Worksheets exploring the concept of ionisation energy, factors affecting ionisation energy and periodic trends in ionisation energy. Questions cover: Definition of (first) ionisation energies Representing ionisation energies with equations Describing the factors affecting ionisation energy Demonstrating understanding of successive ionisation energies Making predictions from successive ionisation energies Understanding trends in first ionisation energy, both down a group and across a period. Applying knowledge of ionization energy in unfamiliar contexts FULL ANSWER KEYS FOR ACTIVITIES INCLUDED CHECK OUT THE PREVIEW! A teaching resource providing comprehensive coverage of the theory underpinning the topic of this assessment can also be purchased - check out my store. TERMS OF USE This product is to be used by the original purchaser only – use this resource in your own classroom, with your students, or for your own personal use. Providing this resource to another teacher, department or school (via email/hard copy/cloud based services/website, etc.) is prohibited – you may buy additional licenses for others to use this product (one for each user) at a discount. This resource may not be distributed or displayed digitally for public view. Many of the graphical elements and images used in this resource are copyrighted and used with permission, under license. Use of such graphical elements (e.g. images) is limited solely to that use which is necessary in order to use this educational resource and as such must not be extracted, reproduced or used in any other way. Failure to comply is a copyright infringement and a violation of the Digital Millennium Copyright Act (DMCA). Keywords: ionisation energy, ionization energy

Worksheet helping students become familiar with the structure of atoms and the three basic subatomic particles (protons, electrons and neutrons). Worksheet provides students questions concerning labeling a diagram of an atom recalling the properties of the subatomic particles (relative mass, charge, etc.) exam style multiple choice questions limitations of models of atoms

Detailed student notes & accompanying activities on electronegativity & bond polarity. Resource includes: Comprehensive student notes on electronegativity and its role in bond polarity: ¬ Definition of electronegativity ¬ Explanation of the formation of polar bonds, with images demonstrating the asymmetrical electron distribution ¬ Exploration of polar molecules with the role molecule shape/symmetry has on molecule polarity ¬ Rules for characterizing bond type - the 'rules' (values) for determining whether a bond is non-polar covalent, polar covalent or ionic are editable to facilitate alignment with the curriculum you teach. Multiple activities to test student understanding: ¬ Determining bond type - students to deduce the electronegativity difference and ascertain bond character ¬ Multiple choice questions (9 in total) ¬ Short answer questions ANSWER KEYS FOR ACTIVITIES INCLUDED (except determination of bond type - this will depend on the values you use)! CHECK OUT THE PREVIEW! TERMS OF USE ¬ This product is to be used by the original purchaser only – use this resource in your own classroom, with your students, or for your own personal use. ¬ Providing this resource to another teacher, department or school (via email/hard copy/cloud based services/website, etc.) is prohibited – you may buy additional licenses for others to use this product (one for each user) at a discount. ¬ This resource may not be distributed or displayed digitally for public view. Many of the graphical elements and images used in this resource are copyrighted and used with permission, under license. Use of such graphical elements (e.g. images) is limited solely to that use which is necessary in order to use this educational resource and as such must not be extracted, reproduced or used in any other way. Failure to comply is a copyright infringement and a violation of the Digital Millennium Copyright Act (DMCA).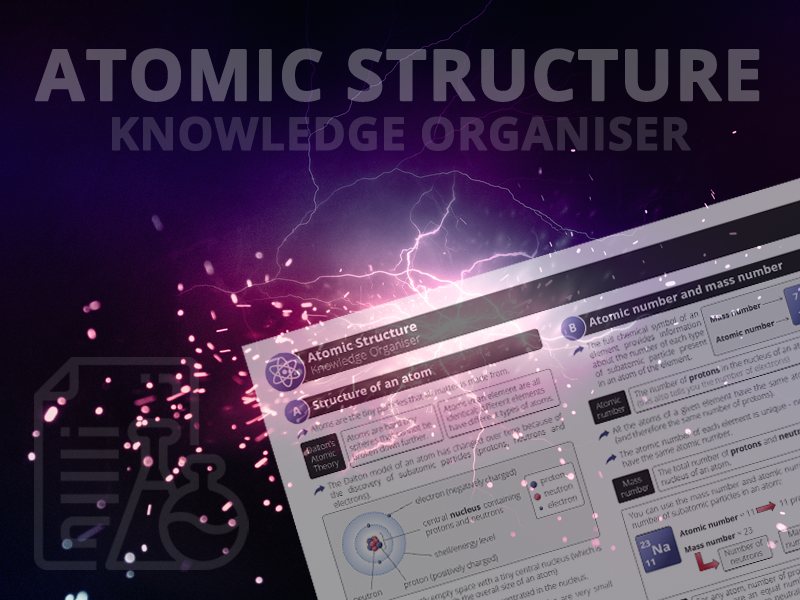 Atomic Structure Knowledge Organiser identifying the key information students need to know for Edexcel 9-1 Combined Science Topic CC3a (Atomic Structure). Key information on: Structure of an atom Atomic number and Mass number Isotopes Calculating relative atomic mass (Ar) Best printed on A3 paper

Identifying elements, compounds and mixtures Worksheet to help students consolidate knowledge of elements, compounds and mixtures. key definitions identification of elements, compounds and mixtures from particle diagrams classification of substances as pure/impure identifying the characteristics/properties of elements, compounds and mixtures Answer sheet included!

Black & white/coloured printable versions of the Periodic Table of Elements. Periodic Table shows all 118 known elements Easily printed /scaled to large size for display Group and period number labeled for convenience Coloured versions help identify well known groups (e.g. alkali metals, noble gases, etc.) Perfect for KS3/KS4/GCSE Science

Worksheet introducing the topic of chemical formulae Student notes, including worked examples, demonstrating how to interpret chemical formulae Range of activities for students to practise including determining chemical formulae from diagrams deducing chemical formulae from inspection of compound information analysis of chemical formulae to determine compound composition Answer sheet included

24 beautifully illustrated physical and chemical change cards for students to sort, covering a broad range. Images are easily recognisable to help students readily identify what type of change is being depicted. Perfect activity for a starter, plenary or assessment task. For best results print in full colour (cards could be laminated for future use) Alternative more economically friendly (less ink intensive) version included Answer sheet also included TERMS OF USE This product is to be used by the original purchaser only – use this resource in your own classroom, with your students, or for your own personal use. Providing this resource to another teacher, department or school (via email/hard copy/cloud based services/website, etc.) is prohibited – you may buy additional licenses for others to use this product (one for each user) at a discount. This resource may not be distributed or displayed digitally for public view. Many of the graphical elements and images used in this resource are copyrighted and used with permission, under license. Use of such graphical elements (e.g. images) is limited solely to that use which is necessary in order to use this educational resource and as such must not be extracted, reproduced or used in any other way. Failure to comply is a copyright infringement and a violation of the Digital Millennium Copyright Act (DMCA). Answer key included

Student notes and structured activities for students to complete concerning the reactivity series and its use in predicting the outcome of metal displacement reactions. Resource includes: Introduction to the reactivity series Student centred explanation of the reactivity series and how/why displacement reactions occur (using the theme of scary monsters!) Activity 1: Mnemonic task Activity 2: Predicting the outcome of displacement reactions Activity 3: Reactivity Series - Football cup Activity 4: Displacement word equation practice Activity 5: Metal detective - ordering metals into a reactivity series based on descriptions of their reactions with water/acid Activity 6: Reactivity Series Investigation - Analyse reactivity of metals based on experimental observation of displacement reactions Answer sheet also included TERMS OF USE This product is to be used by the original purchaser only – use this resource in your own classroom, with your students, or for your own personal use. Providing this resource to another teacher, department or school (via email/hard copy/cloud based services/website, etc.) is prohibited – you may buy additional licenses for others to use this product (one for each user) at a discount. This resource may not be distributed or displayed digitally for public view. Many of the graphical elements and images used in this resource are copyrighted and used with permission, under license. Use of such graphical elements (e.g. images) is limited solely to that use which is necessary in order to use this educational resource and as such must not be extracted, reproduced or used in any other way. Failure to comply is a copyright infringement and a violation of the Digital Millennium Copyright Act (DMCA).

Learn the rules for naming chemical compounds! Easy to follow guide outlining the rules that students need to follow to name simple chemical compounds, with worked examples. Questions to assess students understanding increase in difficulty to help stretch and challenge. Mark scheme included

Comprehensive no-prep lesson resource (PowerPoint presentation) perfect for teaching the concept of ionisation energy, factors affecting ionisation energy and periodic trends in ionisation energy. Resource includes: Comprehensive PowerPoint presentation (33 slides) with high quality visuals covering the following topics: Definition of (first) ionisation energies Representing ionisation energies with equations Describing the factors affecting ionisation energy Demonstrating understanding of successive ionisation energies Making predictions from successive ionisation energies Understanding trends in first ionisation energy, both down a group and across a period. Rationalizing how trends in ionisation energy support the Bohr model of the atom The presentation also includes worked examples/mini-assessments that you can utilize to assess student understanding of the topics covered. FULL ANSWER KEYS FOR ACTIVITIES INCLUDED CHECK OUT THE PREVIEW TO SEE WHAT'S INCLUDED! Before using for the first time, please familiarise yourself with the presentation as some slides are animated to facilitate teaching. The mini-assessments provided as part of the presentation can also be purchased separately - you can find them in my store! TERMS OF USE This product is to be used by the original purchaser only – use this resource in your own classroom, with your students, or for your own personal use. Providing this resource to another teacher, department or school (via email/hard copy/cloud based services/website, etc.) is prohibited – you may buy additional licenses for others to use this product (one for each user) at a discount. This resource may not be distributed or displayed digitally for public view. Many of the graphical elements and images used in this resource are copyrighted and used with permission, under license. Use of such graphical elements (e.g. images) is limited solely to that use which is necessary in order to use this educational resource and as such must not be extracted, reproduced or used in any other way. Failure to comply is a copyright infringement and a violation of the Digital Millennium Copyright Act (DMCA).

Worksheet to help familiarize students with use of symbols to represent elements on the Periodic Table. Worksheet includes: Brief introduction to naming convention Search and find task Spelling with symbols Short question section to help students identify people/places/things that the elements are named after. Answer sheet included

Worksheet helping students ascertain information about the atomic structure of elements from the Periodic Table. Student will learn how to determine the number of each type of subatomic particle for every element. Lots of calculations to be done!

Structured worksheet guiding students on the construction of dot and cross diagrams to represent the covalent bonding in simple covalent molecules. Resource includes: step by step guide to drawing dot and cross diagrams worked examples for single covalent bonds (fluorine, F2) and multiple covalent bonds (carbon dioxide, CO2) structured activities for students to complete for drawing dot and cross diagrams for: hydrogen, hydrogen bromide, chlorine, methane, ammonia, water, oxygen, nitrogen, ethane, etc… additional worksheet for added challenge of unfamiliar compounds: silane (SiH4), hydrogen sulfide (H2S) and carbon disulfide (CS2) Differentiation: alternate scaffolded versions of each worksheet included (with electron shells/molecule shapes already sketched out - student just need to add electrons) Light and dark grey versions included (colour of electron shells) to assist with printing. TERMS OF USE This product is to be used by the original purchaser only – use this resource in your own classroom, with your students, or for your own personal use. Providing this resource to another teacher, department or school (via email/hard copy/cloud based services/website, etc.) is prohibited – you may buy additional licenses for others to use this product (one for each user) at a discount. This resource may not be distributed or displayed digitally for public view.