Serenityponderus's Shop
I teach GCSE English resits (WJEC/Eduqas' new specification) and Functional Skills English Level 2 in a further education college.
14Uploads
12k+Views
2k+Downloads
I teach GCSE English resits (WJEC/Eduqas' new specification) and Functional Skills English Level 2 in a further education college.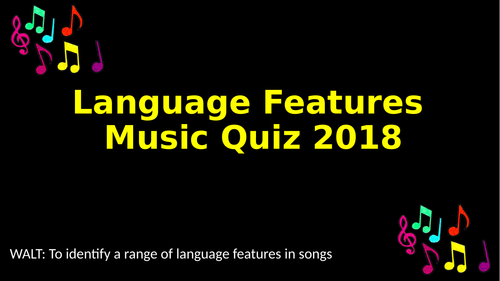 Play the music clips in this PowerPoint to your class to quiz them on language devices in popular songs from 2017/2018 such as George Ezra, Jess Glynne, Ed Sheeran and Dua Lipa. Devices include similes, metaphors, rule of three, alliteration, personification etc. Please see my other resources for a version with older songs such as Queen, Green Day, Katy Perry and Bruno Mars, along with an accompanying worksheet analysing Katy Perry's Firework for figurative language techniques.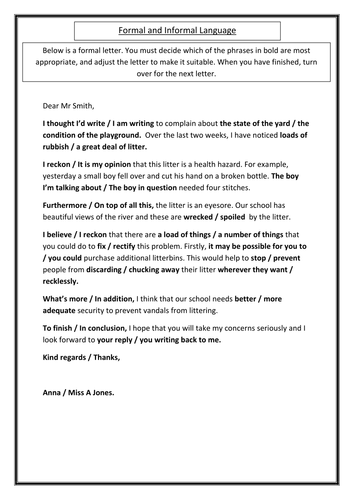 A PowerPoint and activity for teaching formal and informal language to Level 2 Functional Skills students in FE, but can be used for other ages/specs.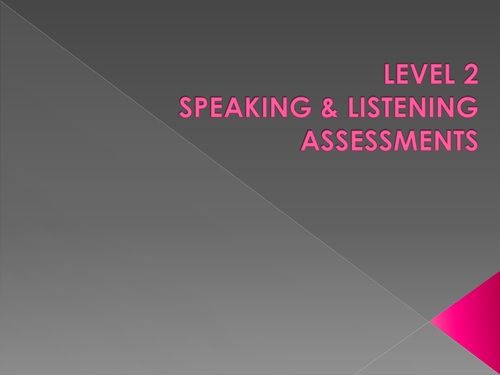 This activity is for the summative assessment of the Level 2 Speaking and Listening unit. It contains an activity where students can discuss what makes a good presentation (can be used to assess the formal discussion element) then students can give their presentations, which can also be peer assessed against the previous discussion, whilst being formally assessed by the teacher. The activity will need to be cut out so that students can rearrange the tiles. This lesson was observed by an Ofsted inspector who graded it as outstanding, and the best speaking and listening assessments he had seen. It can be used with any groups, it is very versatile for vocational or academic students.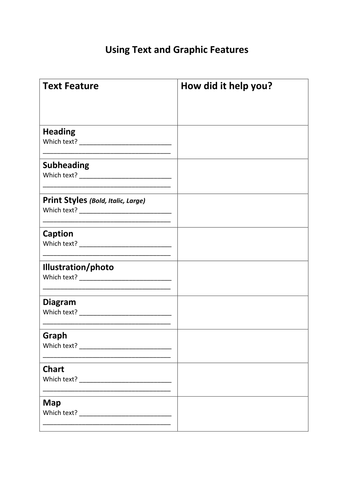 This lesson introduces adverts, leaflets, websites and articles, and presentational features. The activity to be used in conjunction will require students to be given some texts such as leaflets and articles. It is suitable for Level 2 Functional Skills but could also be used with Level 1.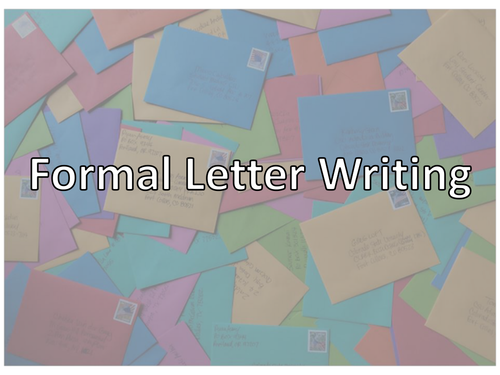 A PowerPoint guiding Level 2 Functional Skills students through writing a formal letter, including the format, examples and a task.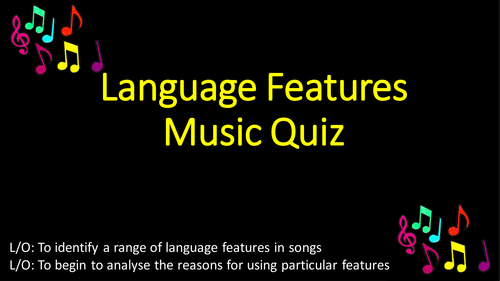 This was used as an end of term lesson for GCSE English Language students. We did the music quiz in teams against each other (they have repetition, simile, metaphor, alliteration, rule of three, hyperbole etc to identify), then there is the option to either look at language features in Katy Perry's Firework or Queen's Bohemian Rhapsody (alter PPT accordingly). Songs used include Katy Perry, Bruno Mars, Usher, Justin Bieber, Fall Out Boy, Taylor Swift, Queen, Adele, Green Day, Chris Brown and Take That.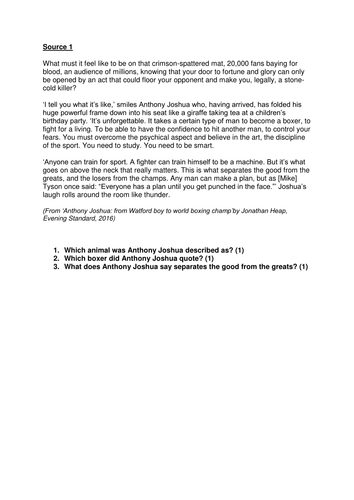 This lesson uses two extracts - a 21st century non-fiction interview with Olympic boxer Anthony Joshua and a 19th century non-fiction interview with the first ever heavyweight boxing champion John L Sullivan. It details what synthesis is, and opportunities are then given to practice the skills. There are presentations and an activity pack which were used for Unit 4 - Talking About Language. It covers Fact and Opinion, Bias, Implicit Meaning and Explicit Meaning. It is based on Making A Murderer (lesson 1) and Donald Trump (lesson 2).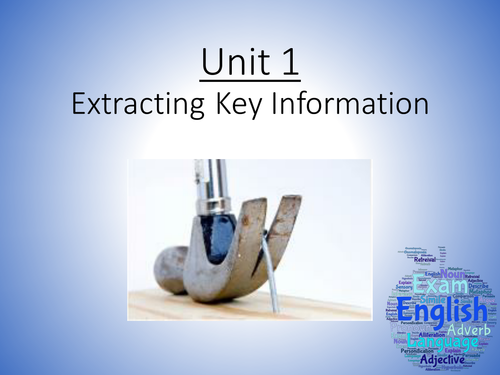 This lesson is for Unit 1 of the new WJEC/Eduqas specification - Extracting Key Information. It uses extracts from Roald Dahl (20th Century Fiction) and news articles on Donald Trump/Hillary Clinton and the Olympics (21st Century Non-Fiction).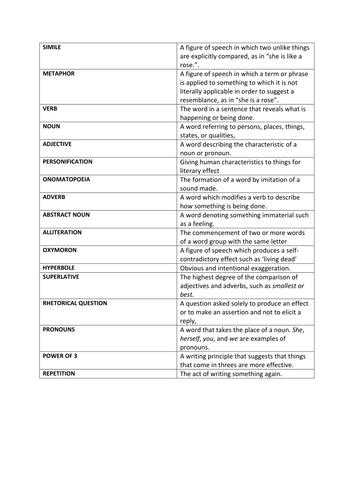 This scheme of work is designed for FE retakes of GCSE English Language, whereby Of Mice and Men is only covered for a short 6-week period. The students should have already covered the novella during their original GCSE teaching in Years 10 & 11, so should have prior knowledge of the plot, characters etc. It is intended that they take their Extended Reading controlled assessment at the end of the scheme. Please note, some resources such as the bunkhouse paragraph and Blockbusters game (uploaded to TES by user: jamiejemiah) are not my own, however the scheme is.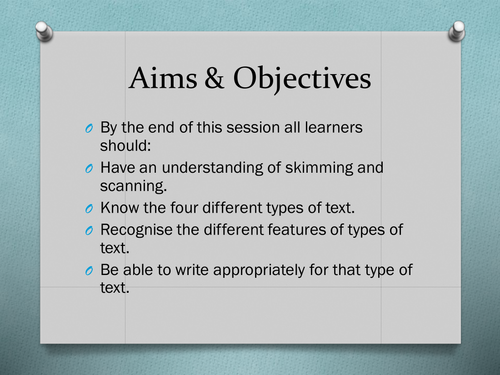 This lesson starts with skimming and scanning revision from last lesson, then introduces the 4 types of text, with a focus on descriptive and persuasive. The activity to be used in conjunction with one part of the PowerPoint is from Skills Workshop. It is suitable for Level 2 Functional Skills but could also be used with Level 1.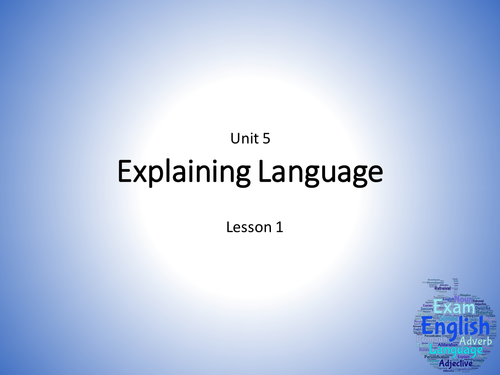 This is suitable for 2.5 hours of delivery and uses the 20th century fiction extract from Stephen King's Christine. Please note that the answers are on the back of the gap fill sheet. I cut up the PEE paragraphs and the students then matched them together in small groups.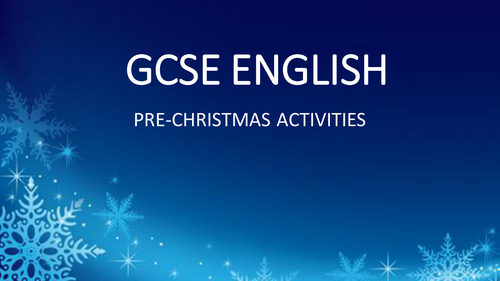 Christmas activities for GCSE students, could also be used with younger secondary students. Includes storyboarding based on Robbie the Reindeer and a selection of Christmas adverts as writing stimuli (my classes will each vote on which advert to use, so each class will only do one rather than all four). The quiz at the end is not included - it can be a quiz of your own. I have chosen to use the quiz made by Ali Chishti (available on TES - resource 11439509) which can be purchased from Ali for £2 (a bargain when you see how amazing it is!)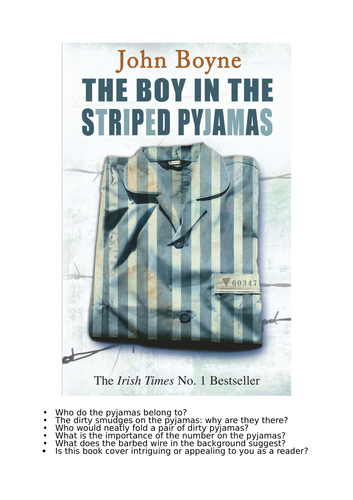 This was designed for my top set Year 7 English group. It includes 29 lessons on a Powerpoint with accompanying resources (can take more lessons once you've included extra reading time, or watching the film). Assessment on analysing a character at the end of the unit. Includes context lessons on the Holocaust. I have also included work done with my class, for example an activity on paragraphing a letter from their EBIs. Videos may not play directly in the PowerPoint so I have added the web links to the videos below each one as a back up. Some resources have been borrowed from others such as the freeze-frame cards and Holocaust sources, but the entire unit has been collated by myself.